Small Business Trends
A look at the state of small business in 2018
Presented by:


Current Small Business Trends and Statistics
Business Confidence Remains High During Political Turbulence
2017 was a notable year for the United States. Aside from it being President Trump's first year in-office, the U.S. economy saw solid growth: the unemployment rate was a mere four percent, the stock market saw record highs and there was an increase in year-over-year holiday spending. Despite a year of political turbulence, natural disasters and the largest tax reform in a decade, small business trends point to increased economic optimism and confidence, and plans for growth in the new year.
To learn more about small business trends and life on Main Street, Guidant Financial partnered with online lending marketplace LendingClub for their State of Small Business survey. More than 2,600 current and aspiring business owners across the country responded to questions ranging from their confidence in the economy to obstacles they faced pursuing business ownership and how they would spend additional capital. Here's a look at current small business trends and what to expect in 2018.
---
Who is today's small business owner?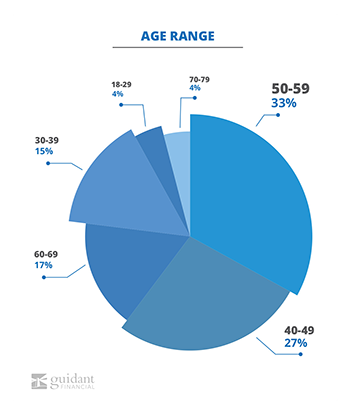 Hollywood's favorite entrepreneurial journeys typically follow stories similar to those of Mark Zuckerberg and Bill Gates — Harvard dropouts who launched monster tech companies before they could legally buy a drink. But the reality of what it means to be an American business owner today is much different, with one of the biggest differences being age. In fact, 33 percent of State of Small Business respondents were in their 50s (the largest segment of business owners), and another 21 percent were age 60 and over. And age isn't the only category with a widening audience. Compared to last year, Guidant clients had an 82 percent increase in the proportion of minority business owners, specifically with a higher percentage who identified as Hispanic and African American.
Many small business owners were running relatively small operations in terms of staff in 2017. Over 30 percent of entrepreneurs were operating independently as their business's sole employee, and over 40 percent had between just 2 and 5 employees. Even though many of these businesses had small employee rosters, they had a huge impact on U.S. employment statistics. According to the Small Business Administration, small businesses accounted for 63 percent of the net share of new jobs over the past six years.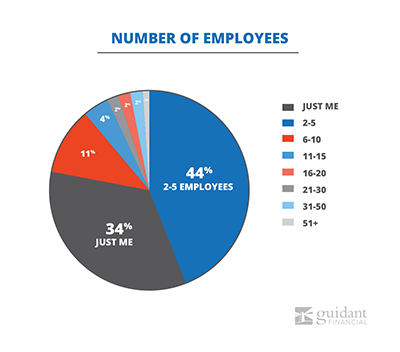 Small businesses also had a significant impact in keeping other companies afloat, even with minimal full-time staff. In 2017, outsourcing business services was a popular trend among respondents. Tax preparation was the most popular, with 56 of respondents outsourcing taxes, followed by accounting (33 percent), payroll (29 percent) and bookkeeping (20 percent).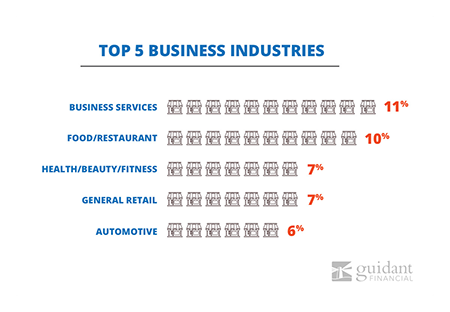 The picture of American small business held by many is a corner mom and pop shop, but the facts show the industries represented on Main Street vary greatly. From franchises to home-based businesses, there's opportunity to launch a business in almost any industry. While the top three business industries for our survey participants were business services, food and restaurant, and general retail, small businesses are also well represented in technology. Ninety-eight percent of high-tech industry firms are considered small businesses with 46 percent of those firms in the computer systems design and related services industries, according to the
SBA
.
---
A College Degree Isn't Required to Achieve Small Business Success
An Ivy League education is also not a requirement for business ownership. Only 28 percent of business owners surveyed had earned their Bachelor's degree, and the highest level of education for 34 percent was a high school degree or GED. A CNBC survey showed similar results, with 26 percent of all business owners surveyed possessing a college degree and 20 percent holding a high school diploma or GED (another 5 percent did not complete high school).
Whether it's the fear of student debt or the fact that college tuition costs are now 1,700 times higher than they were 40 years ago, aspiring business owners are seeking a less traditional path. Entrepreneur.com suggests that it may be more important to decide what you want to do as an entrepreneur and focus your studies in those specific areas rather than receiving a four-year degree.
---
Cash, Friends and 401(k) Business Financing Are Among the Top Funding Methods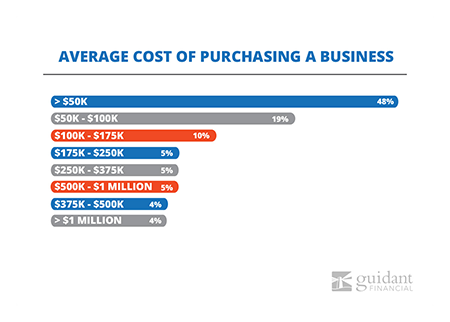 Many expect business ownership to be a very costly venture, and while it can be, almost half of all business owners surveyed said they used less than $50,000 total to acquire or launch their business. Another 18 percent spent up to $100,000.
In order to get enough cash to open their doors, the majority of business owners (59 percent) used their own cash, but many relied on more than one funding method. Funding from friends and family accounted for 23 percent of funding methods used, and 401(k) business financing came in third at 22 percent. Surprisingly, only 17 percent of respondents relied on a line of credit and 7 percent an SBA loan to launch their business.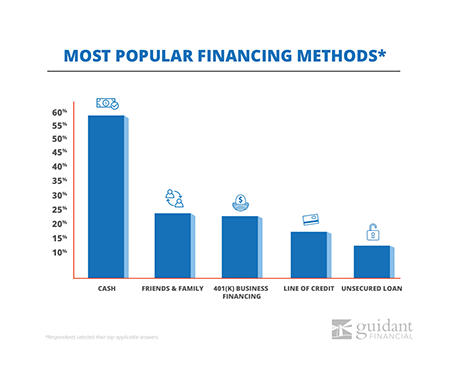 401(k) business financing, also known as Rollovers for Business Start-ups (or ROBS for short), is becoming an increasingly popular option, though it's still unknown by many hopeful entrepreneurs. Through the ROBS arrangement, anyone with at least $50,000 in a rollable retirement account, such as a 401(k) or traditional IRA, can use that money to start or buy a business — all while avoiding the tax penalties and early withdrawal fees that usually accompany removing funds from a retirement account before age 59 and 1/2.
Because ROBS isn't a loan, there are no minimum credit score requirements or lengthy application processes, and funding can be completed in a matter of weeks. Survey respondents who used ROBS funding were most likely to use between $100,000 and $175,000 to launch their business ventures. Compared to the $50,000 that 48 percent of all business owners reported spending to launch their businesses, those who used ROBS funding had greater access to capital.
While the price tag to start or buy a business is less than many would expect, entrepreneurs are finding themselves looking for additional capital once operations are underway. In 2017, the top challenge business owners faced was a lack of capital, followed by marketing and advertising efforts, and recruiting and retention of employees. Business owners also said that access to capital would lead to increased efforts toward expansion, purchasing equipment and improving marketing. Despite access to capital being an issue, 65 percent of business owners said they were looking to grow their current location.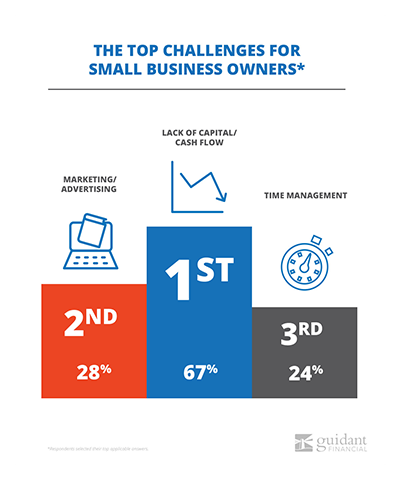 ---
Entrepreneurs Seek Independence and Find Happiness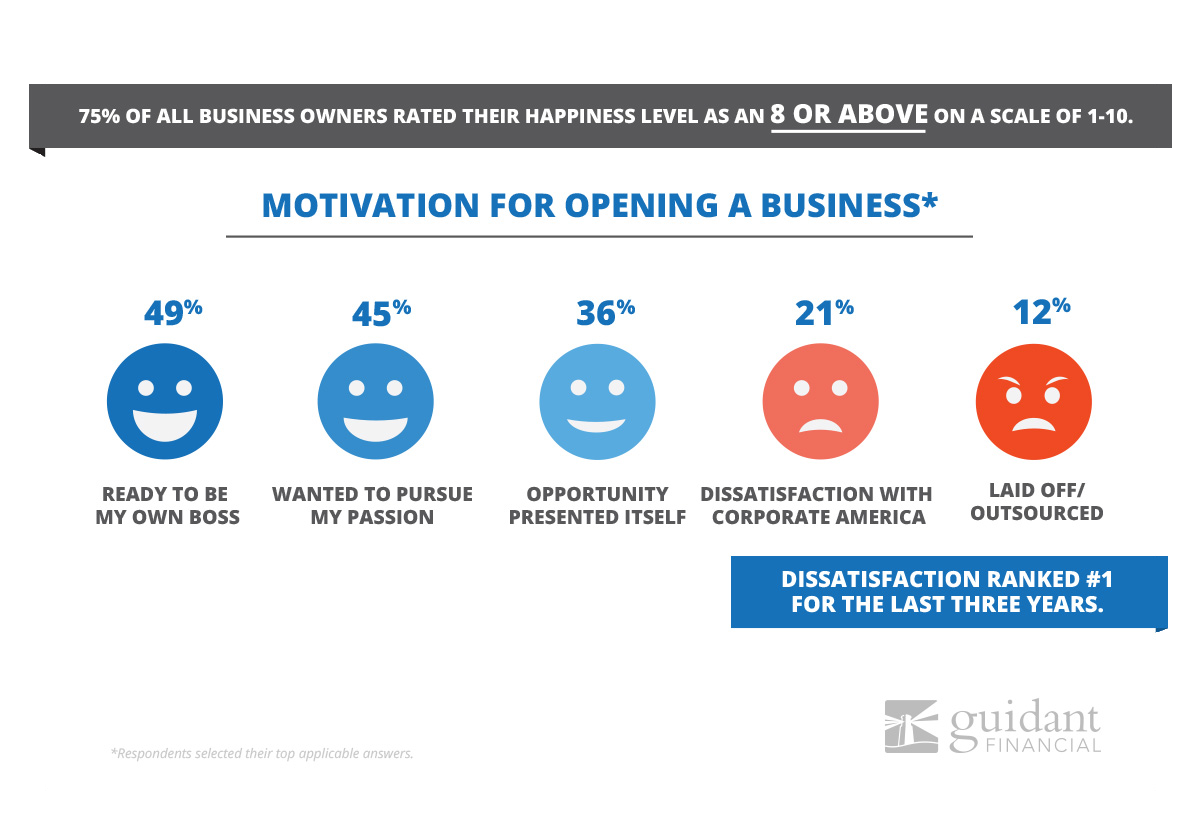 Going it alone and starting or buying a business is often viewed as a risky move, but many business owners feel it's one that pays off in the end. Not surprisingly, 45 percent of current business owners said one of the top motivators driving them toward entrepreneurship was to pursue one of their passions. Seeking a greater sense of autonomy was also a popular response — 49 percent of respondents cited they were ready to be their own boss and 21 percent were feeling dissatisfied with life in corporate America. Fortunately, making the leap into business ownership was worth it for many. Current business owners rated their level of happiness as an average of eight on a scale of one to 10 (10 being the happiest).
Not only are business owners happy, but they're also confident in the state of small business, despite a year of political ups and downs and even natural disasters. Sixty-three percent of small business owners ranked confidence in today's political climate at seven or above on a scale of 1-10. Only 37 percent ranked it a six or below.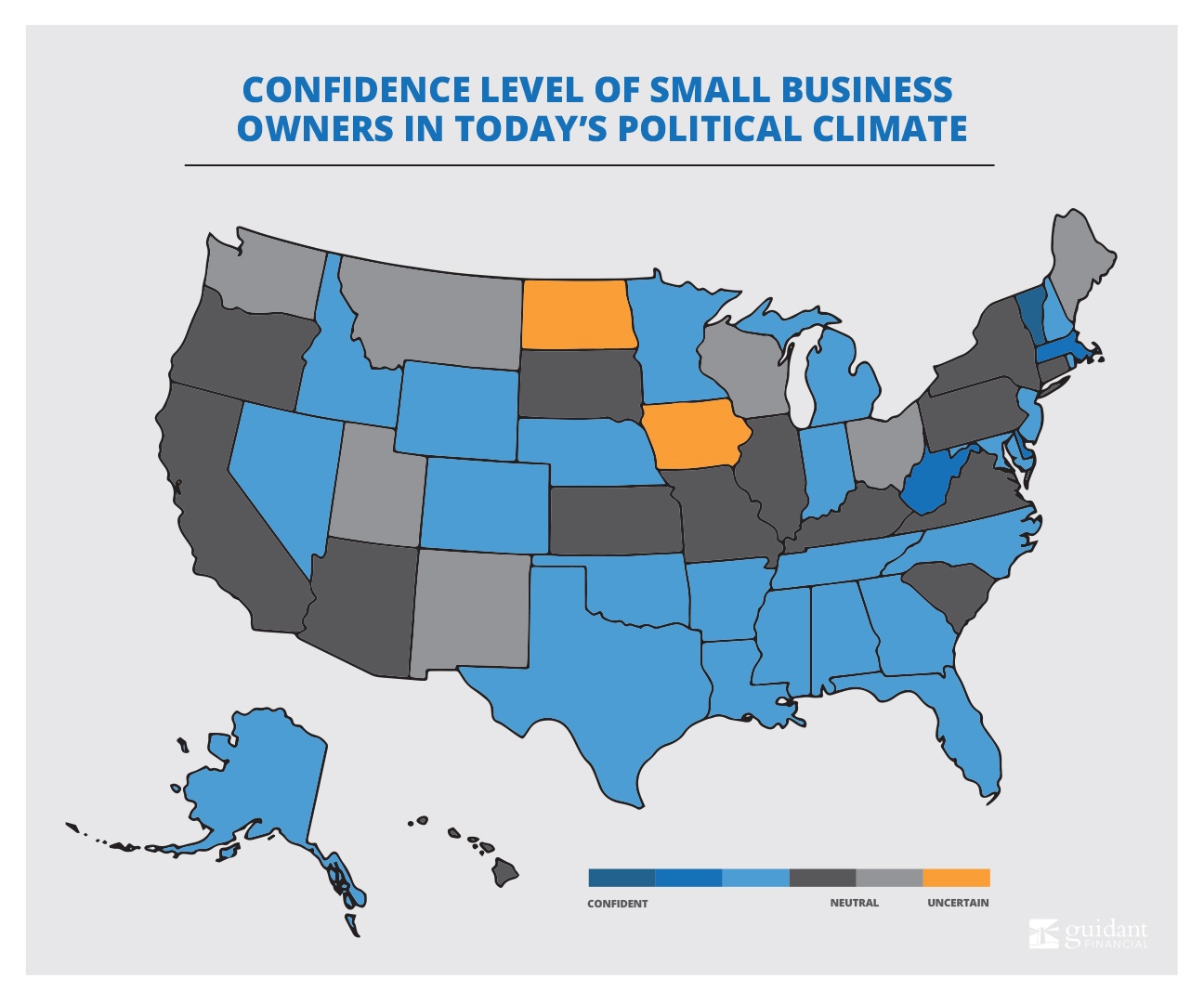 ---
Financing is a Common Barrier Faced By Aspiring Entrepreneurs
Much like their predecessors, aspiring entrepreneurs cited readiness to be their own boss, a pursuit of their passions and dissatisfaction with corporate America as motivation for embarking on their entrepreneurial journey. Even though the motivations were the same for current and upcoming business owners, there were a few prominent roadblocks keeping aspiring business owners from taking the final leap.
For most, financial struggles were keeping them from pursuing business ownership — about 66 percent of aspiring entrepreneurs noted they weren't able to find adequate funding. Other common struggles included difficulty identifying the right business opportunity (32 percent), not sure where to start (26 percent) and a lack of a support system (19 percent).
While access to capital was the biggest hurdle for aspiring business owners, there were many reasons that contributed to the stress of finding financing. Fifty-six percent of aspiring entrepreneurs saw financing as a barrier to business ownership because they weren't able to acquire enough cash for the down payment, while another 34 percent reported their credit score disqualified them from certain options. Both a down payment and a healthy credit score are crucial factors when seeking debt-based financing, but other common concerns included a lack of knowledge about financing options and not wanting to take on debt.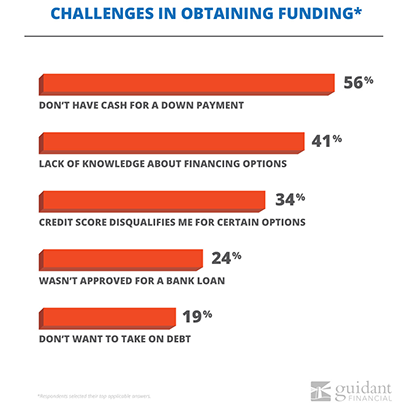 Want a PDF version of this content?
---
Women Business Owners Are Thriving on Main Street
The 2017 Webster Word of the Year was 'feminism,' and this theme of female empowerment was reflected in the small business world as more women set up shop on Main Street. Twenty-six percent of entrepreneur respondents identified as women, and although this number is far from equal representation, it's an 18 percent increase in the proportion of female entrepreneurs from our 2016 survey.
Both male and female entrepreneurs reported an 8 out of 10 for their happiness levels business owners — a good indicator that small business ownership can be beneficial for both men and women. But what's stopping more women from embarking on their entrepreneurial journey? Money may play a factor.
Not surprisingly, for entrepreneurs who were already in business, men and women reported similar funding methods for opening their business. However there may be a discrepancy in access to traditional funding as well as total funding. Twenty percent less women than men surveyed used SBA funding to launch their business, and men were 19 percent more likely to invest over $100,000 in their business than women. This theme continued when asked about difficult aspects of running a business — 10.7 percent more women reported lack of capital as a challenge. According to an Entrepreneur.com article, our survey's findings are consistent with recent statistics that women are 15 – 20 percent less likely to be approved for loans and receive only seven percent of venture capital funding.
Despite bearing the burden of less access to capital, women are still emerging as successful bootstrappers. Sixty percent of female business owners reported that their businesses were currently profitable (10 percent had not yet opened their doors yet). And although there's work to be done in equal representation, a recent study showed that over just a one-year period, revenues for women-owned businesses increased 12 percent.
---
A Bright Future
With Main Street becoming increasingly diverse and a strong economy in place, the time to pursue business ownership is now. Even with concerns over access to capital, entrepreneurs are reporting high levels of happiness and are looking to expand.
The keys to a speedy and successful start to an entrepreneurial journey include keeping an open mind when it comes to funding, understanding all available financing options and relentlessly pursuing your dreams.
Additional Learning Resources
Explore additional years and segments
Ready for the next step?
Get in touch with a Guidant Financial expert and find out which programs, and how much, you qualify for.