2018 Small Business Trends for Baby Boomers
A look at boomer entrepreneurs and the small businesses they own.
Presented by:


Baby Boomers Putting Off Retirement for
Small Business Ownership
Boomer Entrepreneurs Finding Happiness and Profitability
People over the age of 50 are more likely to be asked about their plans for retirement rather than their next career move. But the assumption that they're at the end of their professional game may be amiss. In fact, the 2016 Kaufmann Index of Startup Activity reports that 24.3 percent of all new entrepreneurs are aged 55 – 64, and that number is growing.
This small business trend of 'boomers in business' was a recurring theme in the 2018 State of Small Business survey — recently launched by Guidant Financial and online lending marketplace LendingClub. The survey, which received responses from over 2,600 current and aspiring small business owners, painted a clear picture that entrepreneurs over the age of 50 are creating a significant impact on the landscape of small business: baby boomers born between 1946 – 1964 accounted for 54 percent of current small business owners and 43 percent of aspiring entrepreneurs.
Here's a closer look at how baby boomer entrepreneurs are shaping Main Street, what factors give this group an advantage in entrepreneurship and which resources they should utilize to find success in 2018.
---
Baby Boomers are Delaying Retirement, Finding Success in Small Business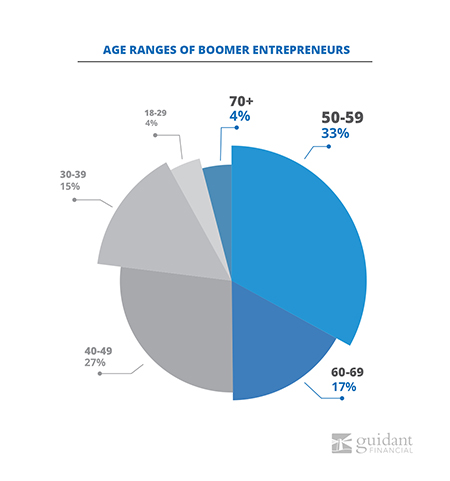 Over half of all current business owners in the State of Small Business survey indicated they were over the age of 50, with the largest segment (33 percent) age 50 – 59 and the smallest segment (4 percent) 70 and older. And though it's generally thought that younger entrepreneurs have an advantage in business because of their familiarity with technology, awareness of current trends and ability and freedom to work longer hours, boomers are using their experience in the workplace, expansive professional network and stable financial positions to become successful business owners.
In fact, small business trends point to more boomers becoming business owners rather than entering retirement. A USA Today article noted that while both millennials and boomers each make up 25 percent of new entrepreneurs, respectively, in recent years the segment of younger entrepreneurs is declining while the older group of business owners continues to grow.
Beyond experience in business, seasoned entrepreneurs have many reasons to feel encouraged about putting off retirement. Sixty-seven percent of baby boomer business owners reported their business was currently profitable in the State of Small Business survey. This success is also likely contributing to the significant happiness of the same segment of business owners — 76 percent of boomers rated their happiness level as an 8 or above on a scale of 1 – 10.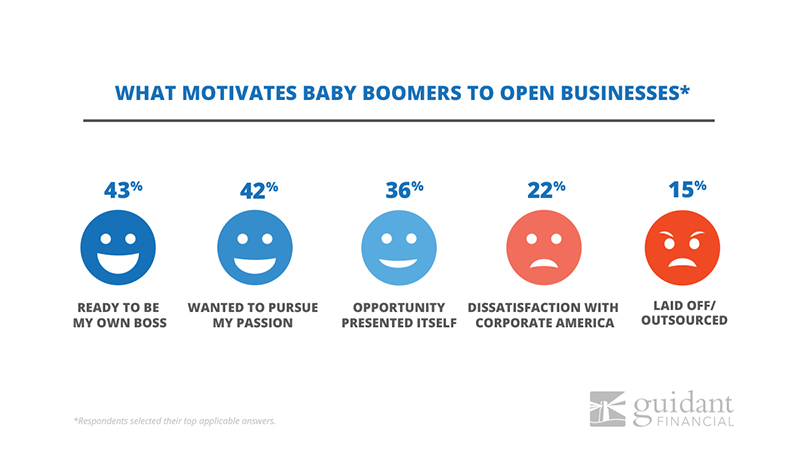 So, what's driving these seasoned professionals to start their own businesses? After years of climbing the corporate ladder, 43 percent of respondents age 50 and older reported they were ready to be their own boss, and another 42 percent said they wanted to pursue their passion. Meanwhile, 22 percent noted they were dissatisfied with corporate America. Only 15 percent reported turning to business ownership after being laid off or let go, so the large majority is coming into a second career motivated by positive influences rather than necessity.
---
Profile of a Baby Boomer-Owned Business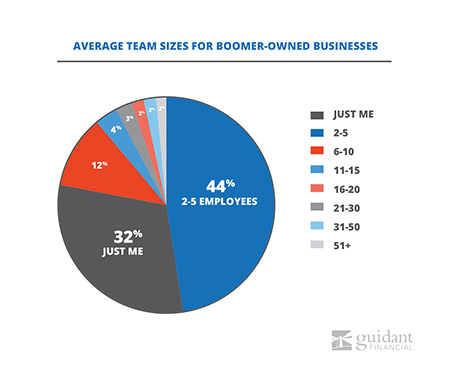 Baby boomers were only slightly more likely than the average business owner to employee more than one worker in their business, but even small teams can run big operations. To scale a growing company, it's become a common trend in small business to hire contractors and third-party providers. The No. 1 most outsourced business service for baby boomers was tax preparation — a wise move considering the IRS assessed $2.1 million in penalties against business income filers in 2016, and many tax filing penalties are caused by errors. Other common business services that baby boomers outsourced included accounting, payroll and credit cards.
The top states for boomer entrepreneurs were California, Florida, Texas, New York and North Carolina. Interestingly enough, none of these locations are on the list of top 10 states where boomers make up a higher percentage of the adult population. Meanwhile, the most popular business industries for baby boomers were business services, food/restaurant, health/beauty/fitness, automotive and technology.
As mentioned earlier, 67 percent of boomer respondents reported their businesses as being profitable, and this likely contributed to more business owners planning to remain in business. Only 6 percent of survey respondents over 50 were looking to sell their business, while 64 percent were actively working to grow their operation and another 15 percent were interested in opening an additional location.
With a wide range of financing options available to them (more about this in the next section), boomers ventured into business ownership through both franchising and starting or buying independent businesses (14 percent owned franchises while the other 86 percent operated independent businesses). And their businesses span across a wide variety of industries, of which the most popular include business services (12 percent), restaurants (10 percent), general retail (7 percent), health/beauty/fitness (6 percent) and automotive (5 percent).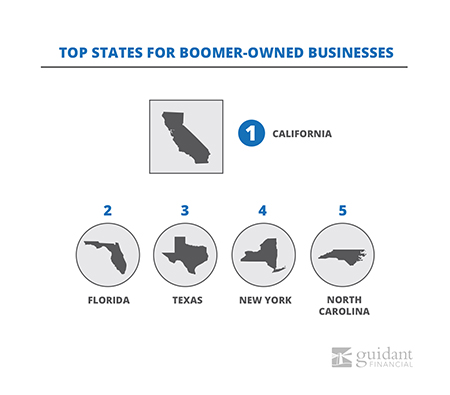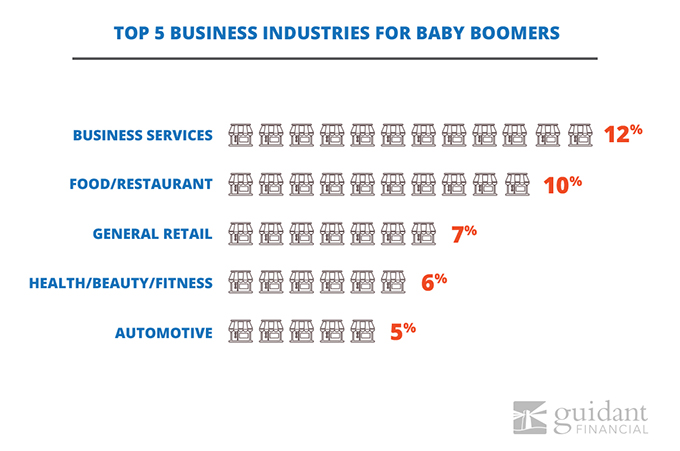 ---
Baby Boomers Prefer Debt-Free Small Business Financing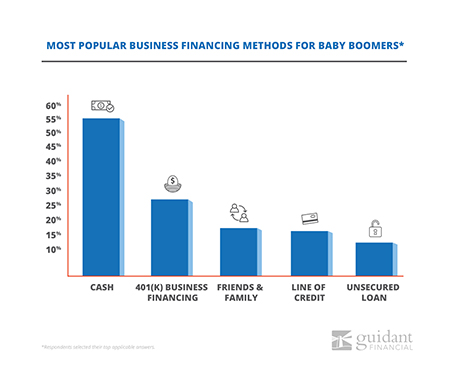 No matter the age of the business owner, funding a business is always the most challenging part when getting started. In fact, small business owners in general reported lack of capital/cash flow as the No. 1 challenge. However, boomers may have found a more accessible means of business funding by turning to their retirement savings. While using cash was still the most common funding method for survey respondents in every age group, 28 percent more baby boomers relied on 401(k) business financing compared to the national average.
It makes sense that boomers — who are more likely to have significant savings in a retirement account from years of contributions — would turn to this form of business funding. Also known as Rollovers for Business Start-ups (ROBS), 401(k) business funding makes it possible to access money in a pre-tax retirement account, such as an IRA or 401(k), to use as business capital. This funding arrangement does not trigger any tax or early withdrawal penalties.
There are many benefits to funding a business through the ROBS arrangement such as avoiding debt (ROBS is not a loan, and there are no repayments to be made) and fast funding in as little as three weeks, but the most important benefit may be increased access to capital. According to our survey, business owners who used ROBS financing were most likely to use between $100,000 and $175,000 to launch their business while others used closer to $50,000.
After cash and 401(k) business funding, other popular financing methods for boomers included funding from friends and family (19 percent), a line of credit (17 percent) and unsecured loans (13 percent).
---
2018 Boomers in Business Trend:
Using Retirement Funds to Obtain a Loan
Almost half of all aspiring business owners over 50 reported interest in obtaining a loan backed by the Small Business Association (SBA) to launch their business, but only 9 percent of boomers actually received this kind of funding. It may be due to the challenge of finding enough cash to cover a loan down payment, which was the biggest hurdle for 48 percent of aspiring boomer entrepreneurs seeking funding.
Fortunately, there's good news for boomers who are seeking traditional business funding routes in the future. A recent study by Biz2Credit found that, compared to any other age group, applicants over the age of 50 were most likely to be approved for a small business loan. What's more, boomers' retirement savings puts them in a better position to be able to cover a loan down payment through 401(k) business financing. Boomer business owners can use the ROBS arrangement to make a down payment on a business loan — increasing both their attractiveness as a borrower and their buying power.
---
Older Entrepreneurs On the Path to Small Business Success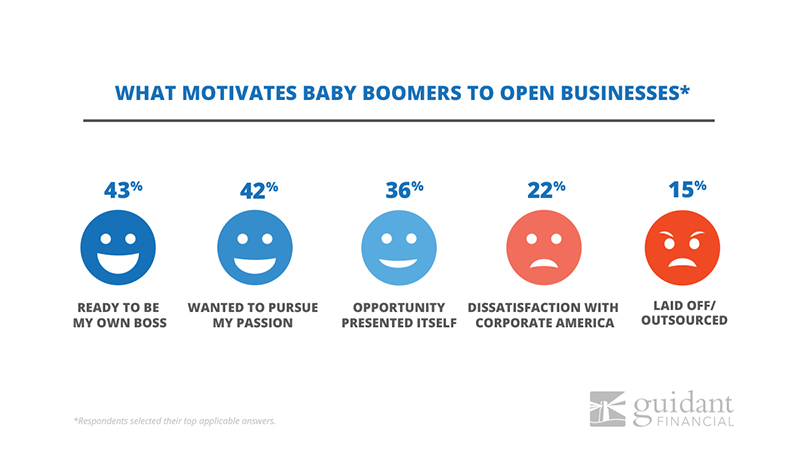 It's exciting to see that one of the most prevalent small business trends in 2018 involves older entrepreneurs trading in their golf clubs for business ownership — and loving it. Baby boomers are in a unique position to excel in small business as they're often more qualified for financing, have years of professional experience and a wide network of business contacts. When it comes to small business ownership, age is an asset — proof that it's never too late to pursue your passions.
---
Additional Learning Resources
Explore additional years and segments
Ready for the next step?
Get in touch with a Guidant Financial expert and find out which programs, and how much, you qualify for.