2018 California Small Business Trends
An in-depth look at the state of small business in California.
Presented by:


California Is the Most Popular State for Small Business
The Golden State's Business Owners Report High Levels of Happiness
As the familiar 'Visit California' ad suggests, Californians are living the dream. Just watching the ad, it's hard to deny the feelings of optimism (and a little envy) as happy people on screen golf, sunbathe, dine and shop. Fortunately, this message of 'dream big' isn't just for vacationers and snowbirds — California is a top spot for small business owners.
According to Guidant's 2018 State of Small Business survey, launched in partnership with online credit marketplace LendingClub, California is the most popular state for small business ownership (home to 13 percent of all small businesses and 4 percent of aspiring entrepreneurs). It's no surprise that one of the largest states in the U.S. is home to the majority of small businesses, but there are other factors at play making this state a hot spot for entrepreneurs.
We took a closer look at California small business trends to learn more about the individuals setting up shop there and their businesses, including owner demographics, top industries and plans for growth. Here's what we found:
---
Baby Boomers and Women Thrive in Business in California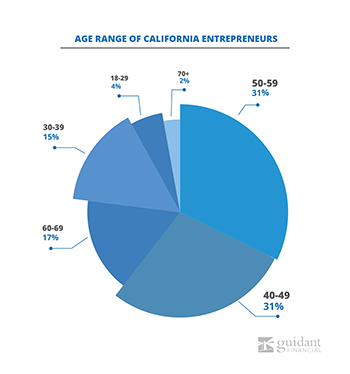 Despite the popular Mark Zuckerberg-esq stories of young men and women starting booming , it's actually more likely for middle-aged men and women to become business owners in California. Baby boomers (those born between 1946 – 1964) accounted for 51% of entrepreneurs in the Golden State. Those age 40 – 49 made up the next largest group of business owners, followed by those age30 – 39.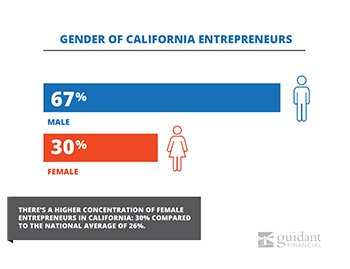 You might expect that this West Coast state (with two female senators) is ahead of the curve when it comes to women in business, and you'd be correct. Though only 30 percent of California respondents identified as female, the state's representation of women-owned businesses is 15 percent higher than the national average. And there's a good chance you'll see this number continue to increase — a recent study focused on women in business found that everyday, 129 new women-owned businesses open in California, which puts them in the lead for all 50 states.
---
Most California Business Owners Don't Hold 4-Year College Degree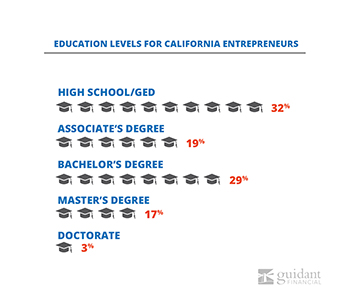 Age and gender weren't the only surprising trend when it came to business ownership in California. Even though California is home to over 300 colleges and universities, our survey revealed that a college degree isn't the norm for most business owners there. Thirty-two percent reported their highest level of education was a high school degree or GED – higher than the 29% that held a Bachelor's degree. Another 19 percent had earned an Associate's degree; so over half of business owners surveyed did not graduate from a four-year university.
---
Restaurants and Retail to California's Most Popular Business Industries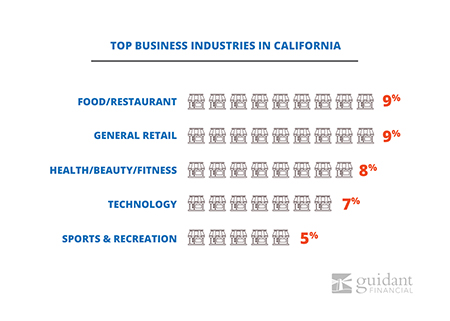 While California is home to many technology start-up companies in Silicon Valley, technology is the fourth most popular business industry at 7 percent. Meanwhile, both restaurants and general retail stores tied for the No. 1 most popular industry at 9 percent each, followed by health/beauty/fitness businesses at 8 percent. With California's great weather and active culture, it's no surprise that sports and recreation also made the list of top industries at 5 percent.
And despite what you may have heard about booming tech campuses the size of small cities, most California businesses are running much smaller operations. In fact, 80 percent of business owners reported they have five or fewer employees on staff.
So the 'Visit California' ad had it right – there's a lot of fun to be had dining, shopping and playing outside, especially if you have a little extra cash to spend. Fortunately for business owners, there's a good chance that California residents are in a good position to afford both things and experiences. According to research from the Federal Reserve Bank of Saint Louis, California's personal income per capita in 2016 reached $56,308 — over $20,000 above the national average of $33,205.
---
The Cost of Doing Business in California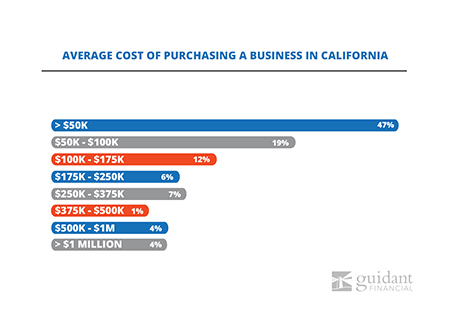 If you're considering opening a business in California, it's possible to get started for five figures. It's true; even though the cost of living is significantly higher than most locations across the U.S., starting a business is relatively affordable. According to our survey, almost half of California business owners spent $50,000 or less to start or buy their business.
The investment toward becoming a California business owner is arguably money well spent, considering entrepreneurs in the Golden State feel as though they're living the dream. Forty-one percent of respondents in this segment reported their happiness as small business owners as a 10 out of 10. Some of this happiness is possibly due to the fact that business for Californians is good — well over half of respondents indicated their operation is currently profitable and 62 percent are actively looking to grow or expand.
---
California Entrepreneurs Missing the Mark on Debt-Free Financing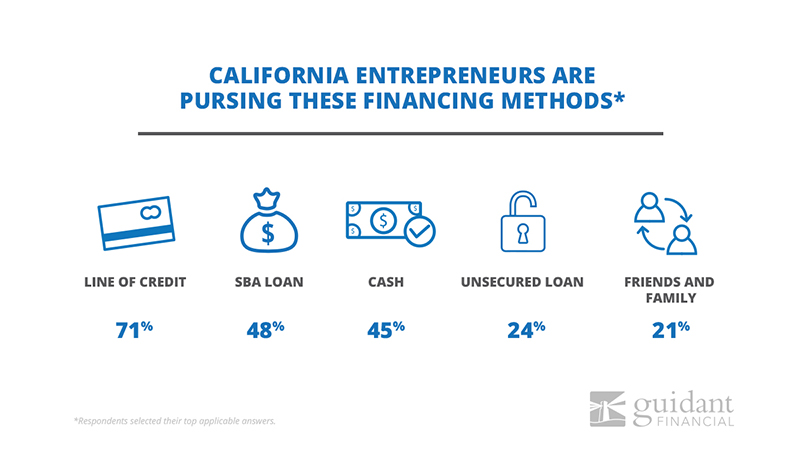 No matter how high or low the initial price tag is on a California business, one of the biggest hurdles to business ownership is always early-stage funding. Using personal cash or money from friends and family are the two most popular funding methods for California's business owners, followed by lines of credit. But among aspiring entrepreneurs, lines of credit are the No. 1 funding method pursued. In fact, that segment was 42 percent more likely to pursue a line of credit than the national average. This signals a disconnect between those who are applying for lines of credit versus those who are actually being approved.
Obtaining a line of credit can serve as a great way to make big purchases when you don't have the collateral or credit score to qualify for a small business loan, but if not repaid quickly, this form of financing can cause debt to spiral. Indeed, the inability to repay debt is a top reason why businesses fail. But there's a debt-free business funding option that Californians are missing out on: 401(k) business financing.
Also known as Rollovers for Business Start-ups (ROBS for short), 401(k) business financing allows business owners to use their pre-tax retirement funds for business financing in a tax and penalty-free transaction. Not only does it help preserve personal savings, but because ROBS is not a loan, it means avoiding monthly interest payments. At fifteen percent, 401(k) business financing was the fourth most popular funding method reported by current business owners in California, which was significantly less than national average of 22 percent of entrepreneurs who utilized this form of financing. 401(k) business financing was the No. 7 most popular funding option for aspiring entrepreneurs in California.
Seventy-four percent of aspiring business owners in the Golden State reported their biggest hurdle to business ownership was obtaining financing. And within that, many reported not having cash for a down payment (58 percent), lacking knowledge about financing methods (48 percent), having a poor credit score (39 percent) and not being approved for a bank loan (29 percent). With no minimum credit score requirements, and a fast approval and funding timeline, ROBS could potentially help more of these aspiring entrepreneurs into business in 2018.
---
California's Small Business Forecast Looks Bright
California business owners are happy, successful and looking to expand, and it's easy to see why. Besides living in a coastal state with enough sunshine to spare, entrepreneurs here can enjoy leadership that supports small business, room to grow their operations and consumers with increasing income per capita. However, both current and aspiring entrepreneurs have unique challenges.
Even though California is ranked as one of the top states for small business, 12 percent more entrepreneurs reported they struggled to find financing compared to those nationwide. Fortunately, with a strong economy in place, there are options available for anyone with dreams of business ownership. The key to success for Californians when looking for funding either for start-up capital or expansion is learning how much business financing they're qualified for and which resources they have available to them.
---
Additional Learning Resources
Explore additional years and segments
Ready for the next step?
Get in touch with a Guidant Financial expert and find out which programs, and how much, you qualify for.