2019 Trends – Aspiring Entrepreneurs
A look at aspiring entrepreneurs in 2019
Presented by:


Current Trends and Statistics for Aspiring Entrepreneurs
Guidant Financial and LendingClub teamed up to survey more than 2,700 current and aspiring small business owners across the nation. Read on to discover insights on aspiring entrepreneurs, from who they are to what's holding them back from pursuing their small business dreams.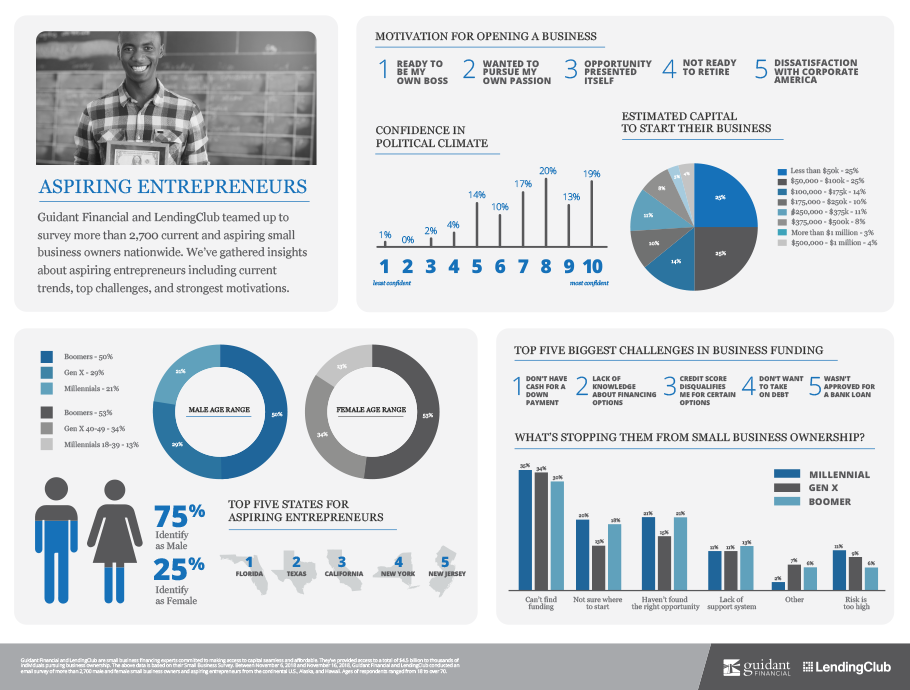 Who Aspires to Open Their Own Small Business?

Aspiring entrepreneurs shifted more towards moderate levels of confidence in the state of small business given the current political climate – on a scale of nine to 10 (10 being the most confident), there was a 13 percent drop in respondents answering nine or 10; ratings that indicate the highest possible levels of confidence. However, the average confidence level remains high, with male respondents averaging eight and female respondents averaging seven on the scale.
Being their own boss motivates more aspiring entrepreneurs than the average current small business owner, with 37 percent of would-be entrepreneurs reporting this motivation compared to 26 percent of average current entrepreneurs. However, the same percent of both are motivated to pursue their own passion, at 23 percent.
What Holds Back Aspiring Entrepreneurs?
From not knowing where to start to trouble obtaining financing, there are many barriers between aspiring entrepreneurs and the start of their small business journey. These barriers can shift in severity due to many variables.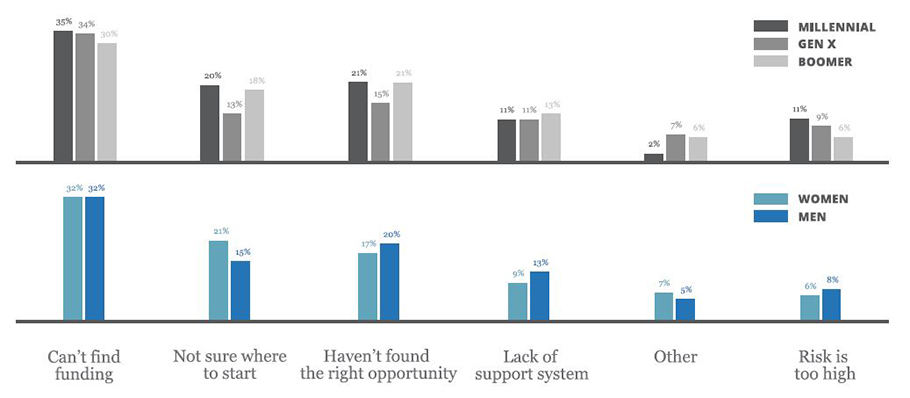 An inability to find funding is the most common situation stopping aspiring entrepreneurs from opening their businesses. Fortunately, fewer aspiring small business owners are struggling with finding funding, with last year's share at 36 percent and this year's down to 31 percent.
It's a testament to the eagerness of would-be entrepreneurs that high-risk is one of the least common barriers, showing that these motivated individuals are ready to embrace potential risk to follow their aspirations.
What Funding Challenges Do Aspiring Entrepreneurs Face?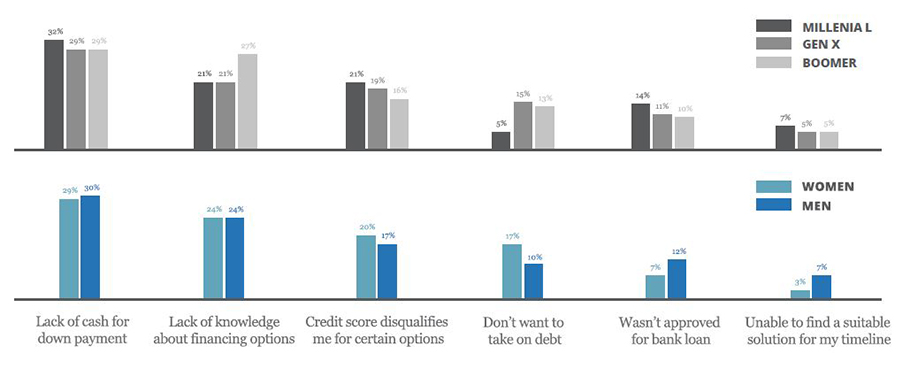 While funding challenges vary in difficulty across age and gender lines, a lack of cash, not knowing financing options, and problems with credit scores rank highly for most would-be small business owners.
Aspiring millennial small business owners are the least concerned about taking on debt, likely due to the generation's focus on achieving goals with structured planning. However, as more Americans take on debt than relieve it, the hesitation of older generations to take on more debt, especially as they come closer to retirement, is understandable. More millennials also reported being denied for bank loans (14 percent) than Gen Xers (11 percent) or boomers (10 percent).
Non-Traditional Financing can Break Barriers for Aspiring Entrepreneurs
Financing can be a major challenge for any aspiring entrepreneur, whether it be due to bad credit, a lack of cash on hand, or denial of a traditional loan. The key to success for these motivated but uncertain aspiring small business owners may lie in non-traditional financing methods such as 401(k) business financing (also known as Rollovers for Business Start-ups), SBA loans, or unsecured loans.
The dream of business ownership reflects the American dream of success and echoes across age, race, and gender. This entrepreneurial dream motivates and inspires all aspiring entrepreneurs to find the key to their success, no matter the challenges in their way.
Additional Learning Resources
Explore additional years and segments
Ready for the next step?
Get in touch with a Guidant Financial expert and find out which programs, and how much, you qualify for.