2019 Trends – Boomers in Business
A look at boomers in business in 2019
Presented by:


Current Trends and Statistics for Boomers in Business
We've taken a comprehensive look at the results of our State of Small Business survey to gain insight into trends and statistics among "baby boomer" small business owners. Read on to learn more about boomer small business owners, what their businesses, challenges, and motivations are, and how these differ from other age groups.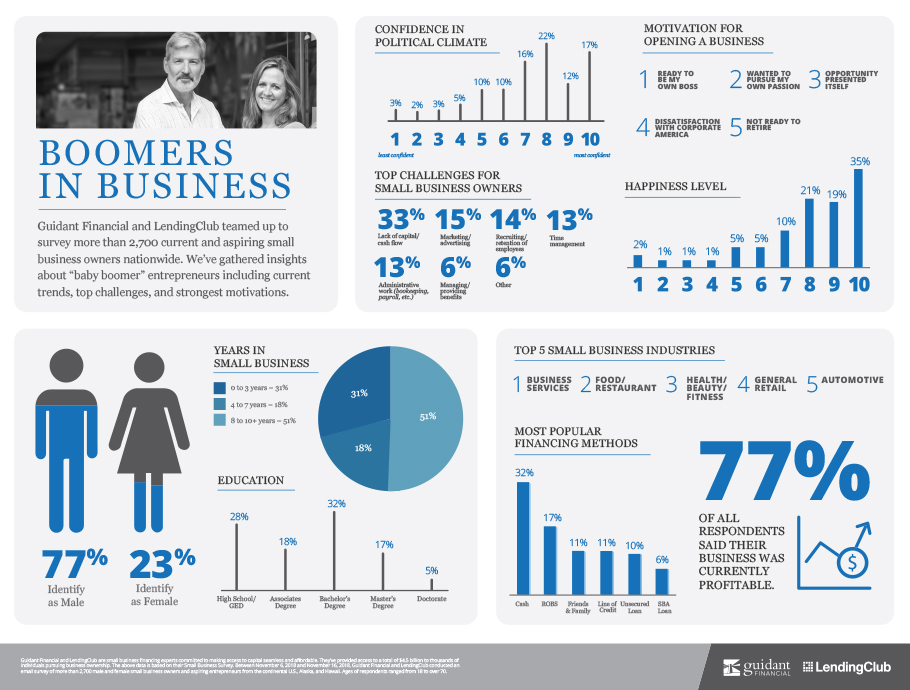 Who are Boomer Small Business Owners?

Though boomers are happy business owners, their confidence in small business in the current political climate is mildly contracting from both the lower and the higher confidence ranges. On a scale of one to 10 (10 being the most confident), eight percent of the share ranked at five or below, a decrease from last year's 10 percent of the share. However, there was also a three percent decrease in the share of entrepreneurs rating their confidence at nine or 10 on the scale. Boomer women are less confident, with only 26 percent giving a nine or 10 ranking compared to 31 percent of boomer men.
With more experience and time, boomers trend towards having acquired more education than their millennial counterparts. The most common level of education for boomer entrepreneurs is a Bachelor's degree, at 32 percent, while the most common level for millennials is a high school degree or GED, at 45 percent. Only 28 percent of boomers have just a high school degree or GED.
Boomer women trend towards higher levels of education than their male counterparts when it comes to high school and Associate's degrees. 30 percent of boomer men have only a high school degree or GED, versus 22 percent of boomer women. Meanwhile, 41 percent more boomer women have Associate degrees than men (at 24 percent to 17 percent). There is very little difference between men and women when it comes to holding Bachelor's, Master's, and Doctorates.
What are Boomer Businesses like?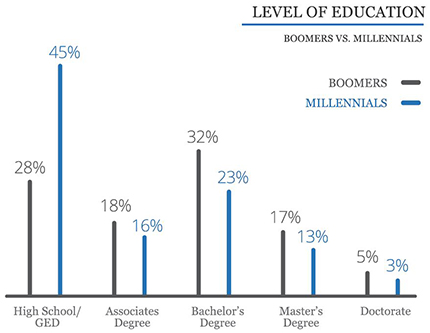 There was an impressive growth in both health, beauty, and fitness businesses and travel and lodging businesses owned by boomers this year. Travel and lodging grew 52 percent, while health, beauty, and fitness businesses increased 41 percent. Food businesses and restaurants also had healthy growth, up 17 percent.

Boomers, likely due to the longevity of their businesses, created more jobs than millennial-owned businesses this year. Sixty-nine percent of boomer-owned businesses employ two or more employees, while 60 percent of millennial businesses have more than two employees. More millennials are in business by themselves than boomer sole proprietors, comprising 40% and 31% of survey respondents respectively.

While the most challenging aspect of running a business for boomers is lack of capital or cash flow, other difficulties change depending on how long a business has been in operation. Businesses running for up to three years find marketing and advertising the second biggest challenge, whereas time management and administrative work like bookkeeping and payroll tied for the second most challenging aspect for businesses that are four to seven years old. Businesses running for over eight years found recruiting and retention of employees the second most difficult business challenge.

Boomer-Owned Small Business Financing Trends
Boomer-owned businesses make over $5.14 trillion in sales, so it's no surprise that 77 percent of these businesses are profitable. Seventy-three percent of boomers are focused on growing their current business, while 19 percent would like to open an additional location of their business. With only eight percent interested in selling their businesses, the majority of boomers have no plans of slowing down.
When asked how they would use additional capital to invest in their business, boomers were tied between expansion and equipment, both at 20 percent of the share. These aspirations are shared across businesses open for any duration, with marketing and advertising coming in close behind, followed by staffing.
The top five most popular methods of financing remain the same year over year. With 32 percent of boomer small business owners using cash to fund their business, it keeps the top spot. Rollovers for Business Start-ups follow cash at 17 percent, friends and family and a line of credit both show at 11 percent, and unsecured loans are at 10 percent. Other forms of financing are all under 10 percent of use.
Boomers and a Future Full of Choice
With high profitability, self-determination, and a thirst for growth, baby boomers set the stage for small business ownership. As this extremely productive generation grows older, many may choose (or already have chosen) to open a small business in lieu of retirement. Alternatively, they may retire and sell their small business. With this generation's strong grasp on small business ownership and journey into retirement age, many boomers deciding to close or sell their businesses all within the same period could mean a significant economic impact including driving asking prices down.
2018 was a fantastic year to buy or sell a business, and many small business owners feel 2019 will be even better. Boomers have a wide range of options; everything from retiring from corporate America and purchasing or starting their own small business to selling their small business while the market is hot.
Whatever future they choose, baby boomers will certainly continue to have one of the strongest impacts of any generation on the American economy and small business world.
Additional Learning Resources
Explore additional years and segments
Ready for the next step?
Get in touch with a Guidant Financial expert and find out which programs, and how much, you qualify for.