According to a survey from Guidant Financial and LendingClub, aspiring entrepreneurs are confident about the political state of small business, but finding money to start or buy a business is holding them back.
---
A healthy economy, increased opportunities and an abundance of online resources helped create a favorable climate for aspiring entrepreneurs in 2017. Despite the year's sweeping natural disasters and relentless political turbulence, budding business owners, including a large segment of the over-50 set, remained confident about the economy and the state of small business.
To learn more about small business trends and life on Main Street, Guidant Financial partnered with online lending marketplace LendingClub for their State of Small Business survey. More than 2,600 current and aspiring business owners across the country responded to questions ranging from their confidence in the economy to the hurdles they're encountering to what types of funding they're pursuing. Here's a look at the interests, considerations and challenges facing aspiring entrepreneurs today.
Choosing to Be Boss Tops Motivation Among Aspiring Entrepreneurs
When asked why they were interested in going into business for themselves, respondents who had not yet started businesses chose "ready to be my own boss" as one of their primary motivations. Sixty-five percent of respondents selected this option, followed closely by "wanted to pursue my passion" (46 percent).
These findings line up with trends reported in the 2017 Kauffman Index of Startup Activity, an industry standard for measuring new business creation. The index reported a rise in the "opportunity share" for new entrepreneurs — the proportion of entrepreneurs driven primarily by opportunity rather than necessity (unemployment) — reaching 86.3 percent in 2016. That's 12 percent higher than it was in 2009.
Aspiring entrepreneurs were more interested in opening new independent businesses (57 percent) than in purchasing existing independent businesses or franchises (25 percent and 9 percent, respectively). Although Entrepreneur.com reports that start-ups have a higher failure rate among independent businesses than franchises, only 12 percent of our respondents reported risk being a barrier to getting started. This attitude may be a testament to respondents' confidence in the state of small business in the current political climate, which ranked a positive 8 out of 10.
Baby Boomers Lead the Pack of Aspiring Entreprenuers
Baby boomers are one of the fastest-growing groups of entrepreneurs in the U.S., representing over half of entrepreneurs operating nationwide. Our survey results also showed that 34 percent of aspiring entrepreneurs are in their fifties, and 8 percent in their sixties. Another 30 percent are in their forties.
Those opting for their second or "encore" careers often do so as a lifestyle choice, according to a 2015 Gallup poll of entrepreneurs aged 50 – 70. The majority chose to start a business because it allowed them to be independent, follow their interests and increase their incomes, as opposed to creating a product that serves a need in the marketplace. But older entrepreneurs have advantages that often put them a step ahead of younger business owners: larger professional networks and more years of business experience, not to mention having had more years to amass savings that can be used to finance their venture.
Ready, Set, Wait: Challenges Affecting Hopeful Business Owners
Unfortunately, potential business owners of all ages face challenges aplenty. An inability to secure funding top the list, according to our survey, affecting 66 percent of respondents. Thirty-two percent have concerns about finding the right opportunity, while 26 percent are unsure where to start. Luckily, there are more resources to help aspiring entrepreneurs than ever before, and respondents are taking full advantage, with most relying on online research and personal networks/other business owners to guide their choices. One quarter of respondents are turning to professional consultants.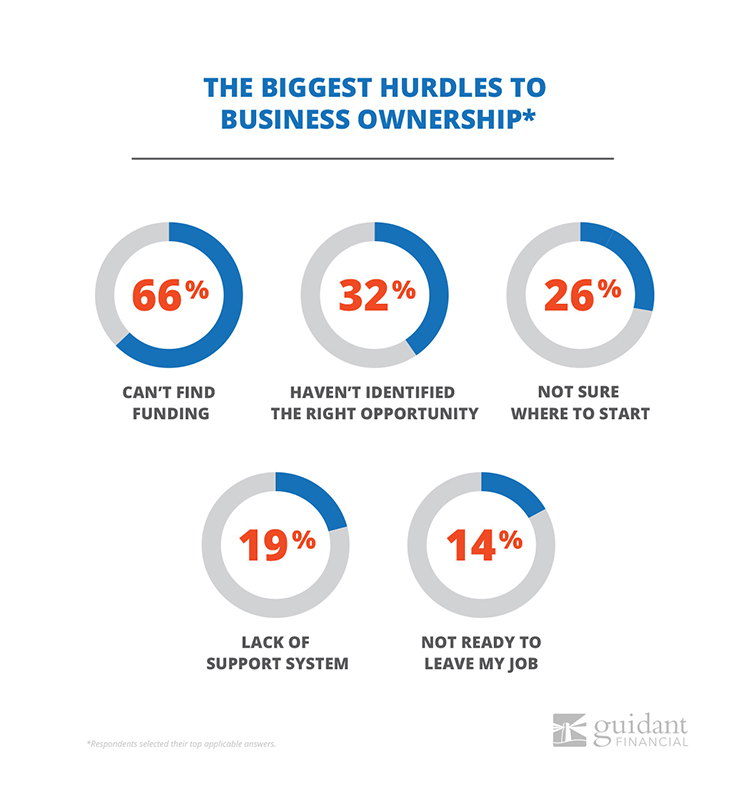 Getting Over the Small Business Financing Hurdle
According to an article in Fortune, it's easier than ever for the well-off to start a company, but harder for the average American. Having at least $50,000 available to start a business (the amount over 50 percent of prospective business owners say they'll need) is especially difficult since more than half of Americans have less than $1,000 in savings. Survey results back that up, with 66 percent of respondents saying they couldn't find funding and another 56 percent citing they didn't have enough cash for a down payment on a loan. Other financial worries include a lack of knowledge about funding options (41 percent) and a low credit score that prevents certain financing options (34 percent).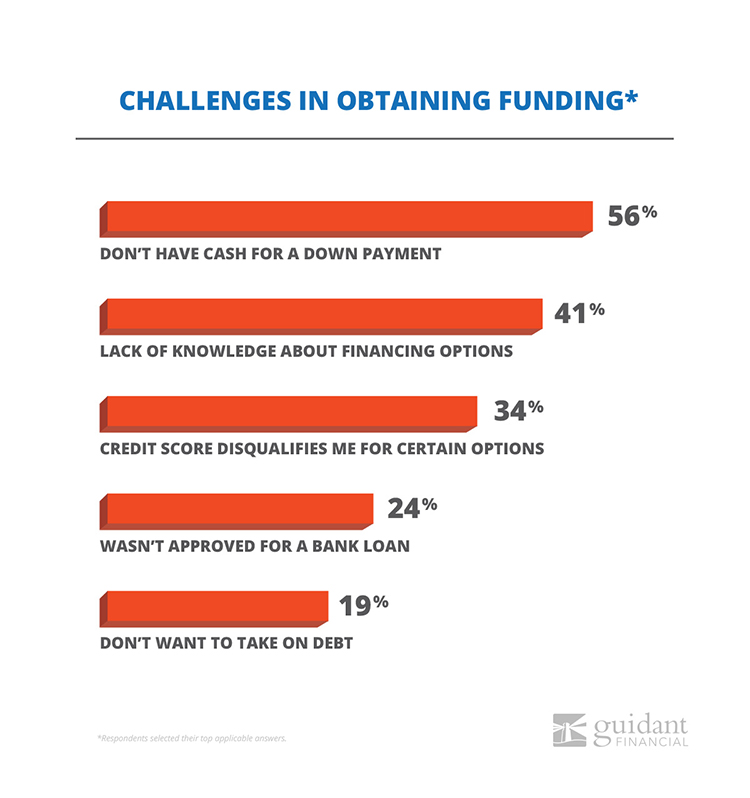 Top Business Financing Methods for Aspiring Entrepreneurs
To access the capital they need, aspiring entrepreneurs are pursuing a number of funding methods, including a line of credit (50 percent) and/or an SBA loan (47 percent). Cash is still king for 34 percent of respondents, while 24 percent are looking into 401(k) business financing.
401(k) business financing, also known as Rollovers for Business Start-ups (or ROBS for short), is becoming an increasingly popular funding source, though it's still unknown by many hopeful entrepreneurs. Through the ROBS arrangement, anyone with at least $50,000 in a rollable retirement account, such as a 401(k) or traditional IRA, can use that money to start or buy a business. Because ROBS isn't a loan, there are no minimum credit score requirements and funding can be completed in a matter of weeks — all while avoiding the tax penalties and early withdrawal fees that usually accompany removing funds from a retirement account before age 59-and-a-half.
Aspiring Entrepreneurs Come From Diverse Backgrounds & a Variety of Paths
Minorities accounted for 47 percent of aspiring entrepreneurs surveyed. This continues a trend noted by the SBA, showing minority entrepreneurship on the rise in the U.S. Both Latino and immigrant entrepreneurship, in particular, have shown impressive gains.
While more men than women responded to the survey, all reported similar aspirations and challenges. The few notable differences were women's slight preference for SBA loans over lines of credit, and their greater struggle to gain a strong a support system (31 percent of women versus 15 percent of men).
Interestingly, a college degree doesn't appear to be a prerequisite for starting off on one's own. While nearly half of aspiring entrepreneurs had a high school degree or GED equivalent, only 20 percent had earned their Bachelor's degree. As Entrepreneur.com suggests, every prospective business owner can follow his or her own path.
The important thing for all hopeful entrepreneurs is to keep their options open. In today's strong economy, there are more ways than ever to find funding, build business skills and reach customers. Passion, persistence and a little courage can go a long way towards making a dream a reality