---
Top 5 Small Business Financing Problems and Solutions
I don't have cash for a down payment.
Solution: Combine financing methods, such as using 401(k) Business Financing as the down payment for an SBA loan.
I don't know what my financing options are.
Solution: Read and research, just like you would for any other important decision. You can also contact a Guidant financing expert for a free educational consultation at 888-472-4455.
My bad credit disqualifies me from financing.
Solution: You can still get financing – you just have to think outside of the box. Try funding solutions like Rollovers for Business Start-ups (ROBS), which don't require a credit score for eligibility.
I don't want to take on debt.
Solution: Pursue equity financing. For example, the equity financing method 401(k) Business Financing lets you use your retirement funds (without tax penalties) instead of taking out a loan and risking collateralizing your home.
The bank didn't approve me for a loan.
Solution: Bank loans aren't the end-all-be-all of small business financing. Other forms of financing include unsecured financing, portfolio loans, and ROBS.
If you're staring at your bank account statements thinking you don't have enough money to fund your dream, know that you are not alone. Many other entrepreneurs before you have felt this same way. If you're unsure about what your financing options are, you're also not alone in your uncertainty. Concerned your credit score isn't perfect? Again, a common fear. The point is, small business owners just like you have struggled to find financing or decode types of funding options that fit their situation. But by putting in the time now to learn more about the common challenges in financing small businesses in 2019, you'll gain the knowledge you need to pilot the process with ease and create a thriving business.
Problem #1: "I Don't Have Cash for a Down Payment."
Nearly one-third (27 percent) of respondents to the Guidant Financial and Lending Club 2019 State of Small Business Survey listed not having enough money for a down payment as their number one barrier to starting their own small business.
If everyone who was ever strapped for cash didn't start a business, we would have a lot fewer businesses in this world. Some of these "bootstrapped" aspiring small business owners who didn't give up started companies such as Dell, Microsoft, HP, eBay, and Coca-Cola. It would certainly be a different world without them.
Solution #1: Find a Winning Combination.
Don't let slim bank accounts stop you. Instead, assess all your financing options and then pair a couple of these options together for a comprehensive solution. For instance, Rollovers for Business Start-ups (ROBS), also known as 401(k) Business Financing, is a way to use your retirement funds to start a business tax-free. A common way to use ROBS is as a down payment for a Small Business Administration (SBA) loan. That's because SBA loans often require a hefty down payment, yet yield favorable repayment rates and terms. So if you can find the cash for the down payment in the form of using the money you've already saved in your 401(k) or another eligible retirement plan, then you'll be in good shape to secure your SBA loan and reap the rewards of low interest rates and favorable repayment terms.
---
Learn more about your financing options with the Complete Guide to Small Business Funding Options.
---
There are other choices as well – such as portfolio loans and unsecured loans – and many of them can also be combined into a solution that works for your needs.
Problem #2: "I Don't Know Much About my Financing Options."
It's okay that you aren't an expert on small business financing options…yet. We all have to start somewhere, and if you haven't needed a business loan before, it only makes sense you don't know the different types of small business and franchising loans. That said, there's no time like the present to get started.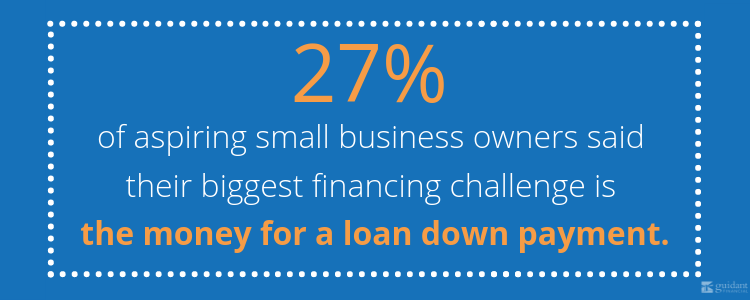 The sooner you start, the closer you are to making your vision a reality. And just as you'd never jump into any other type of financial arrangement with no knowledge, this is another area where that could be extremely dangerous.
Solution #2: Read and Research.
Pour a cup of coffee or tea, dust off your reading glasses, and dig in! An easy place to start is the Guidant Blog and Learning Center. You can even take a two-minute online pre-qualification survey to learn about your funding options (and amounts!). You can also call and talk to one of our expert consultants for free at 888-472-4455.
The Small Business Administration also offers tons of free educational materials. Thanks to the plethora of information available online, we can now all become researchers – especially when it's in the best interest of our well-being and wallets.
Problem #3: "My Credit Score Disqualifies Me From Some Options."
Don't panic if you don't have a stellar credit score. Approximately 17 percent of Guidant survey respondents claimed this as a concern when it came to financing challenges for small business. While it may initially seem hopeless, rest assured it's not. You shouldn't be eternally penalized for past financial indiscretions or bad luck. Before we get too much further, however, let's look at credit score ratings. FICO credit scores, which are the most common credit ratings, ranging from 300 to 850. Scores are usually broken down into brackets:
Excellent Credit: 750+
Good Credit: 700 – 749
Fair Credit: 650 – 699
Poor Credit: 600 – 649
Bad Credit: below 600
So, a "bad" credit score is technically below 600. If this is you, keep reading for solutions.
Solution #3: Look at Funding That Doesn't Require Credit.
Here you need to be a little creative and "think outside the (financing) box." Funding options exist that don't require you to borrow money from lenders, so you eliminate the need for perfect credit requirements.
While the Small Business Administration offers funding to aspiring small business owners in the 640 credit score range, most lenders prefer to see above a 690 score, which qualifies as "fair" credit. And of course, you'll need to meet the other requirements.
As mentioned above, 401(k) Business Financing (or ROBS) and portfolio loans both utilize the money you already have saved in your accounts. When you use your own money, of course, there are no minimum credit requirements. Your only requirement with ROBS? You need at least $50,000 in an eligible, rollable retirement account. For portfolio loans, you can borrow up to 80 percent against the value of your portfolio and repay at will, similar to a revolving line of credit.
Problem #4: "I Don't Want to Take on Debt."
Who wants to take on more debt when you already feel like you're drowning financially with mortgage payments, car loans, credit cards and more? Sometimes, it feels like we are already maxed out on our overall debt, and any more is going to be too much stress. Just under 10 percent of survey respondents listed debt as their issue with small business financing. Luckily, you have other financing options that don't require you to take on additional loans and can help you sleep soundly.
Solution #4: Find Equity Financing.
Rollovers for Small Business Start-ups (ROBS) and other forms of equity financing are strong options for the debt-averse. That's because they enable you to use the money you already have saved in your eligible retirement accounts – without tax penalties. Additionally, because you started with cash and don't have monthly interest rates to pay, you'll be set up on a quicker path to a successful business start-up. And just because you took money out of your 401(k) account doesn't mean you can't start saving again. As soon as your business is up and running and you're paying yourself a salary, you can start contributing back into your retirement account again.
Problem #5: "I Wasn't Approved for a Bank Loan."
It's not a welcome feeling to get turned down for anything – especially for financing a business that your heart and head are heavily invested in. But don't worry – there are still options open to you. As Inc. puts it, "A rejected loan application is not necessarily a judgment against your earning power, the prospects for your business, or even the value of your assets." Instead, it's a time to be resilient.
Solution #5: Find A Different Type of Loan.
We've already mentioned ROBS/401(k) Business Financing, so let's look at portfolio and unsecured loans in a bit more detail. Either of these options can help you if you weren't approved for a bank loan. With portfolio loans – which are also referred to as stock loans or securities-based lending – you can borrow and repay on your own timeline. In essence, you are leveraging your assets instead of selling them.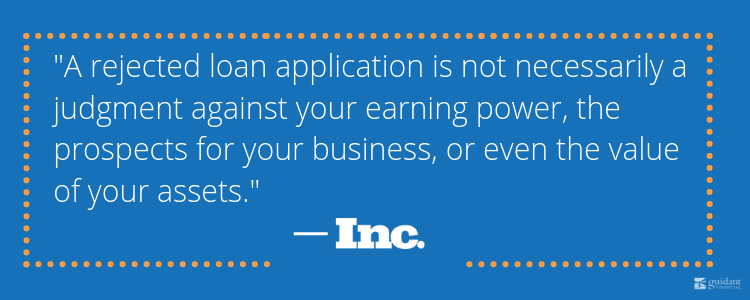 You will need to have a minimum amount of $85,000 in your stocks to use a portfolio loan, and the more you have in your stocks, the more you can borrow. The benefits of this type of arrangement? You can usually close within days – which is shorter than most other types of loans. Interest rates are lower, too.
---
It shouldn't be so hard to get small business or franchise financing. 401(k) Business Financing can help. Learn more today.
---
Unsecured loans are another fast option if you weren't approved for a bank loan. With these, you can obtain anywhere from $10,000 to $150,000 without even putting up any personal collateral like your home. That's because the lenders will be looking at your credit. So if you have a solid track record of good credit (think 690 or higher), this could be an option for you.
Forging New Financing Paths
As you can see, conquering small business financing challenges in 2019 is as simple as combining different financing methods, doing your research, and looking for equity-types of funding that don't require you to take on a new loan, have perfect credit, or be a financing guru. Rollovers for Small Business Start-ups, portfolio loans, and unsecured loans are just a few. You can even see a chart here that compares and contrasts the similarities and differences between several alternate types of small business financing options. Armed with the right information, you can be empowered to make the right decisions for your financing future. Get one step closer to your small business today by trying our two-minute pre-qualification survey and learn about your funding options.