---
2019 has been a great year for franchised businesses, by many indications. It's so good, in fact, that now might be one of the best times in a long while for you to jump into owning your own franchise.

With franchise profitability up year over year, franchise owners are happy with their decision to buy one or more franchise locations. Guidant's Small Business Trends study shows that franchise owners rate their happiness at an average of eight on a scale of 1 to 10 (10 being happiest). Franchise owners are even 28 percent less likely to consider cash a major operational challenge than independent business owners.

With talk of a possible oncoming recession often in the news, you might be thinking about what you can do to prepare for a dip in the economy. If you're interested in small business ownership, purchasing or starting a franchise before a possible recession can be a great choice. Right now, with fewer people entering into franchise ownership because of the strong job market, popular franchises are primed for opportunities from potential franchisees in a way they aren't when unemployment is higher.
---
Now is the time to get started. Fill out our two-minute assessment today and discover which franchise funding methods are best for you.
---
There are opportunities during a recession that directly benefit franchises. As prime real estate locations become available, landlords also become more eager for renters – which means they're likely to cut better deals and put more money into tenant improvements.
As the SBA says, "A recession-proof business is one that provides a need." For example, even though California was one of the states that suffered the most during the Great Recession, it was Subway's top expansion market in 2008-2010. Why? Consumers needed more affordable dining options.
Right now is also an advantageous time to secure financing to fund your franchise purchase. With the Federal Reserve recently cutting rates by a substantial quarter-point (the first cut since 2008), loan interest rates are dropping. Programs with already attractive rates, such as an SBA 7(a) loan, now have lower interest rates than have been seen in at least ten months. And with recent adjustments to the SBA's size standards, it's estimated that almost 90,000 more businesses can gain small business status – which means more small business loans – to the tune of nearly $65 million.
Ready to take advantage of 2019, the Year of the Franchise? Guidant Financial has the experience to help you get you the financing you need to get your franchise going; from franchise fees to equipment costs to real estate. 98% of qualified candidates get funded when they work with Guidant. We've helped people like you open over 800 franchises over the past two years – now it's your turn!
This year, Entrepreneur selected Guidant Financial for its Top Franchise Suppliers award, our second time winning this award. Winners are selected based on a survey of over 500 franchisors, demonstrating our excellent relationships with franchisors across the country, and the funding success of their franchisees.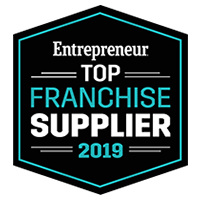 So, what do we do at Guidant to earn awards like this? To start, we offer a full suite of financing options to help get you the money to start or purchase a franchise location. These options have helped over 20,000 small businesses and franchises open. With options including 401(k) business financing (also known as Rollovers for Business Start-ups or ROBS), SBA 7(a) loans, SBA $150k loans, portfolio and unsecured loans, and more, we've got your franchise financing covered.
We also have an incredible team dedicated to helping aspiring franchise owners succeed. Our company vision is to increase the number of people who succeed in small business. The 140+ employees spread across our three offices are all focused on that vision. We even have a team that specializes in franchise financing, whose entire purpose is to make sure people who want to start or purchase a franchise location succeed in getting the funding they need. Feeling confident in your decisions when you're starting a franchise or purchasing a location is important. That's why our consultants are all extremely experienced financing experts. Your Guidant contact will help you understand the financing options that are available to you based on your unique situation and the things that are most important to you.
It's also why our process comes with a money-back guarantee. And if you take advantage of 401(k) business financing, we offer more protection and support than any other provider in the industry: including an award-winning legal team, access to personal outside counsel, and full audit security.
All of this experience and effort on your behalf is part of our commitment to helping business owners succeed. We're not here to sell you on a product; we're here to help get you the money you need to create the life that you want. Our expertise and triple-checking make sure that our clients are the best educated, best supported, and most protected in the industry.
And when you're ready to pursue funding for your franchise, we're here to get you funded fast. We partner closely with national lenders and banks to ensure that there are expedited options for many of our financing programs, including 401(k) business financing and SBA loans. Funding in as little as seven days? You got it.
But we're not just here to get you funded. We also want to help you succeed in franchising throughout the life of your business – and if the day comes when you're ready to move on, we're here to help you transfer or resell your franchise, too. With our business services, we can help you secure discounts on bookkeeping, CPA services, office equipment, payroll services, web hosting, and more. And our Seller Suite has everything you need to transfer or sell your franchise, from a business valuation to marketing materials.
Want to learn more about how to become a franchise owner? Check out some of our educational resources:
You can also complete our two-minute assessment to see what your funding options are and how much cash you can access.
If you have more questions or are ready to jump into franchising, we're here and eager to help. Give us a call at 888-472-4455 or fill out our contact form today to talk to one of our expert consultants.