Become a Seller Suite Partner
Sign up to become a Seller Suite resale and transfer partner for your franchisees to receive an automatic partner discount.
By pressing "Submit," you agree to this websites Privacy Policy. You also consent to receive information from Guidant Financial at the email address or telephone number you entered. This information may be provided by a phone system that can auto-dial. You aren't required to consent to use our services.
What's Included in a Seller Suite Toolkit?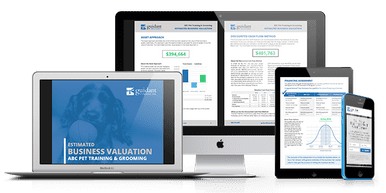 What's Included in the Price?
Valuation + resources and tools to help sell a business

Customized business valuation report featuring five valuation methods plus a weighted average estimated business value.

Business funding assessment to see available funding options.

Shareable PDF business summary flier to help promote the business.
Access to a valuation expert to help your franchisee understand the different methods for assessing a business's value.
Business funding assessment based on your franchisee's asking price.

Online business summary that can be used to easily share the business details with prospective buyers.

Buyer-facing business valuation report explaining why it's worth the asking price.

Buyer funding qualification by an expert financing consultant.