Costs, Trends, and Analysis
Industry: Gym and Fitness
Gym and Fitness Industry: Cost, Analysis, and Trends
With an annual revenue of over $3.7 billion, few barriers to entry and an ever-increasing consumer focus on health, the gym and fitness industry is an appealing prospect for aspiring small business and franchise owners. IBISWorld reports that the industry grew at a rate of 5.2% in the five years leading up to 2020, and forecasts industry revenue will hit $4.0 billion by 2023. In fact, IBISWorld suggests that the 'industry gross product' (an industry-specific version of GDP) growth is outpacing that of the overall economy.
What does that growth look like for the average gym and fitness business owner? As of 2020, the average gym and fitness business has been in operation for an average of 4.5 years – and still going strong. Individuals starting up a gym or purchasing a franchise location in 2020 invested an average of $247,799. Businesses already in operation saw a median gross profit of $193,656, an average COGS (cost of goods sold) of $85,489 and an average total value of $179,622.
Interested in the business opportunities this field affords? Take a look at average, median, year-over-year stats and more in this gym and fitness industry analysis.
4.5 Years
Avg. Years in Business to Date
$247,799
Average Startup Investment
$240,327
Median Gross Profit
$235,760
Median Total Expenses
$179,622
Average Total Value
Gym & Fitness Business Trends
This graph shows year-over-year movement of four key performance indicators (KPIs) of the gym and fitness businesses: revenue, expenses, gross profit and total value. The average and median of each KPI is also presented here, to give a more contextually accurate view of these gym and fitness trends.
Revenue shows the dollar amount a business takes in from providing goods and services, while expense is the amount spent to generate that revenue. Gross profit is the profit a company makes, minus the cost of providing and selling goods and/or services. Total value shows the value of the business, minus the cost of procurement. Average (a.k.a. mean) and median are both provided in this comparison graph, in order to provide more context around these values.
Gym & Fitness Business Ownership
Baby boomers continue to dominate in small business and franchise ownership, with over 56 percent of gym and fitness business owners born between 1944 and 1964. Boomers, with hard-earned experience and a large network, are uniquely positioned for success in small business.
Nearly 45 percent of gym and fitness business owners employ 6 or more employees, a higher percentage than many other small businesses. Employment numbers for this industry show no sign of slowing down: [IBIS World Reports] project a 7 percent increase over the next five years.
The gym and fitness industry gender breakdown falls right along traditional small business lines, with about 60 percent male ownership and 40 percent female. The number of female-led businesses has continued to increase, with an amazing 58 percent growth from 2007 to 2020.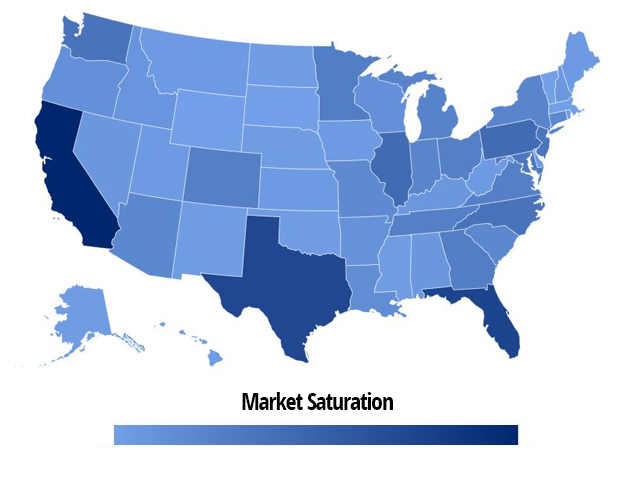 These maps show gym and fitness industry differs by state, and how the number of gym and fitness business locations, average startup investment cost and total median value in your state compare to others across the country.

U.S. Locations
2,255
Franchising Since
2002
Initial Investment
$114,950 – $677,800
Franchise Fee
$16,000 to $39,500
Ranked #1 on Entrepreneur magazine's 2016 Top Global Franchise list, Anytime Fitness is one of the fastest-growing fitness club franchise in the world, with more than 3,300 gyms and nearly 3,000,000 members worldwide. Open 24 hours a day, 365 days a year, Anytime Fitness prides itself on providing our members with surprisingly personable service in convenient and well-maintained facilities featuring top-quality exercise equipment.

U.S. Locations
475
Franchising Since
2007
Initial Investment
$75,200 – $116,800
Franchise Fee
$24,000
The 9Round Fitness franchise opportunity is breaking the mold in the fitness industry. In the decade since launching its franchise opportunity, 9Round has anchored itself as the undisputed champion of the kickboxing gym franchise world. Dedicated to keeping the business model simple and the cost of entry low, 9Round's goal is to allow people to experience the dream of business ownership with a proven business model and plan of action.

U.S. Locations
114
Franchising Since
2010
Initial Investment
$69,600 – $342,600
Franchise Fee
$50,000
With more than 140 locations across the country, barre3 is a unique brand on a mission: to make the world a happier, healthier place. Barre3 focuses on building community, with class workouts based on low-impact, isometric movement to build muscle. While the brand is increasing brick-and-mortar locations, it is also working to build a digital platform where members can engage and follow along at home to online workouts.