Women, Let's Make History
$500 Off Your Business Financing During Women's History Month
Do you have dreams of leading your own business? You're not alone.
In 2020, 27 percent of small business or franchise owners are women. But that means that 73 percent aren't women. And it doesn't help that women face big challenges getting business funding. Studies even show that loans women receive are 31 percent smaller than loans granted to men.
Twenty-seven percent isn't enough women business owners. Not by a long shot. And it shouldn't be so hard for a woman to fund her small business or franchise. That's why we're offering a $500 discount to women starting their businesses. Just mention "Women2020" when you speak to one of our business financing experts. Get started today!
Get money to start or buy your business:
Debt-free funding with 401(k) business financing
SBA loans, portfolio loans and more
Combine funding methods to get what you need
We're excited to support women-led businesses with this discount and with our
Small Business Trends reports
. Our
2020 Women in Business Report
highlights the success of women-led businesses, the top challenges female business owners face, the hottest industries women are leading, and more.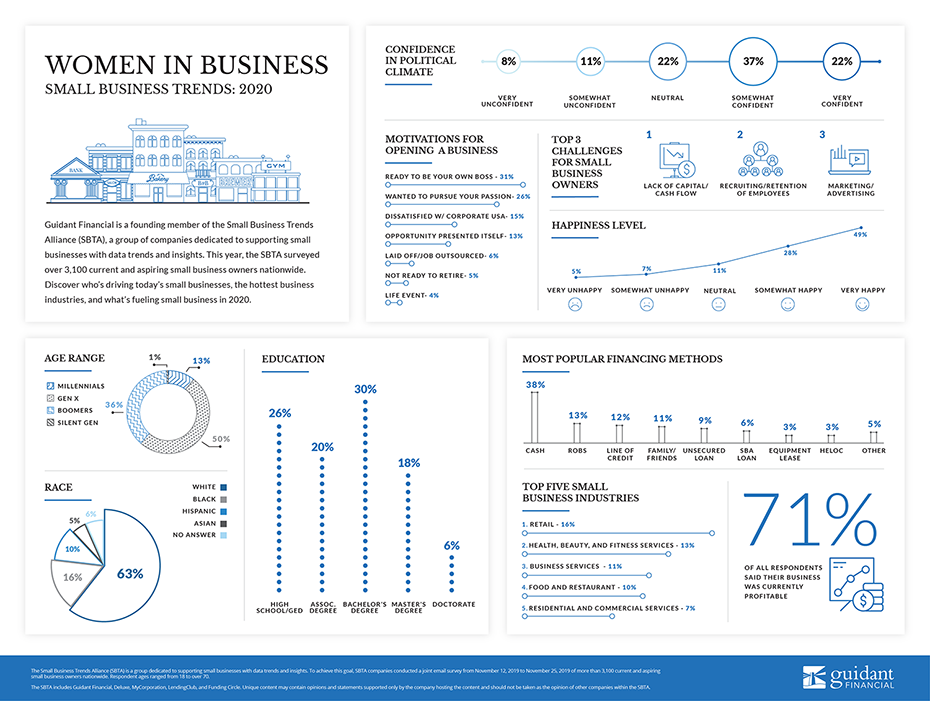 Terms and Conditions:
This discount applies to prospective small business owners identifying themselves as female and business will be majority (50.01% or more) owned by female(s) at the time of initial capitalization. Present offer code Women2020 to your Guidant Financing Consultant to receive $500.00 off the setup fee for Guidant's Rollover for Business Startup (ROBS) product. Discount valid in the US only and valid between March 1, 2020 through March 31, 2020 at 5:00 p.m. PT. Offer cannot be combined with other offers, discounts or adjustments and limited to one discount per ROBS setup. Guidant reserves the right to modify or cancel this discount at any time and offer is void where prohibited or restricted by law.