"I honestly don't think if we weren't aware of Guidant, the number one ROBS program, that we could have pulled this off."
Larry Strain, A Rustyc Spoon
A Father, Son, and Food Truck
Larry Strain, A Rustyc Spoon
This year, Larry and Rusty Strain started a father and son business: A Rustyc Spoon, a now locally popular food truck that serves award-winning dishes in Pensacola, Florida — and attracts famous chefs state-wide, even from the Food Network.
How? The origin story is in the food truck's name. About eight months ago, Rusty lost his job as a chef at one of the top restaurants in Pensacola. He didn't want to return to the traditional fine-dining restaurant scene, even as a classically trained chef. Instead, Rusty dreamed of merging fine-dining cuisine on the road and running his own kitchen.
But to make his dream come true, Rusty had to first buy a food truck. And food trucks aren't cheap. Rusty needed $75,000 to purchase the food truck alone. Then, he'd need to finance kitchen renovations, appliances, supplies, and pay employees. Starting a business, even in the form of a truck, isn't cheap.
As an experienced small business lender and banker, Larry Strain helped many small business owners secure financing to start their businesses through various methods for years. One method stood out to Larry Strain as his and Rusty's solution: 401(k) business financing, also known as Rollovers for Business Startups (ROBS).
"He had been talking and talking about it," reflected Larry Strain. "I'm 63-years-old, and this is my retirement we're talking about. Then, life happened, and I've never seen him happier."
To make his son's dreams come true — and take on a new business venture of his own — Larry Strain decided to purchase the $75,000 food truck, investing funds from his 401(k). And with his decades of financial experience, Larry Strain trusted Guidant Financial as a ROBS provider the most.
His bread and butter was Small Business Administration (SBA) lending. For years, he helped clients meet their equity requirements for SBA loans with banks and helped them navigate the ROBS process. Many of his clients chose ROBS, or 401(k) business financing, to start up their businesses.
"A lot of these folks had significant military pensions or military savings, mostly 401(k) [plans]. And they were perfect candidates for Rollovers as Business Startups," said Strain. "So through the years, I probably did half a dozen of them with Guidant. What I found was that Guidant was number one [and] an extremely affordable buy."
Out of all the other providers, Guidant was the most inexpensive, had the most seamless ROBS process, and offers a suite of integrated business services.
"I honestly don't think if we weren't aware of Guidant, the number one ROBS program, that we could have pulled this off," said Larry Strain. "We pulled this off within literally seven days. … That's amazing."
In May of 2022, A Rustyc Spoon was open for business. And business has been better than Larry Strain could have ever imagined.
A Father and Son Business Duo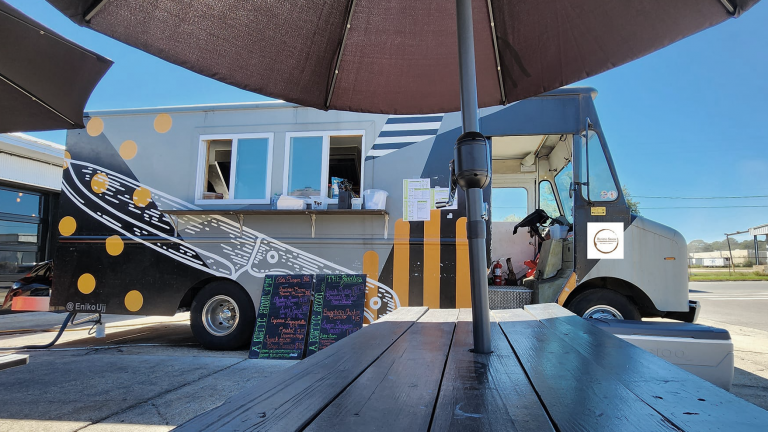 Rusty is a classically trained chef with over 16 years of fine-dining experience and kitchen management under his belt. And Larry Strain comes from a 30-year background as a director of two small business development centers, later transitioning into banking as a small business lender.
With Rusty's food and kitchen know-how, and Larry Strain's business savvy, the father and son became an unstoppable food truck business duo —and A Rustyc Spoon quickly became a community favorite.
A Rustyc Spoon offers culinary spins on classic American dishes, from chicken salads with toasted maple bourbon apple barbeque dressing to black cherry cola chicken crunch wraps to gourmet mac and cheese dishes and award-winning parmesan truffle fries.
"We do a lot of what I would call fairly innovative takes on regular classics," Larry Strain explained. "So, on a given day, you're going to find some sort of Caesar [salad] and it's either going to have a citrus and shrimp, or chicken Saison. There's always going to be a crunch wrap. Right now, it's a French onion beef crunch wrap. And there's always going to be a big burger [on the menu]."
The menu rotates seasonally, offering new and exciting flavors for foodies. The Holy Smokes Santa Burger, featuring cranberry mint ketchup and muenster cheese, is now on the menu for the holidays. Rusty puts his heart — and culinary magic — into every dish.
While Rusty crafts the menu and runs the kitchen, Larry Strain primarily works behind the scenes, bookkeeping for the business and managing payroll. But he's also still an active banker. With Guidant's Payroll and Bookkeeping & Tax Services, Larry Strain can easily manage the business' backend needs.
"I'm still actively banking, so I'm still full-time employed and plan to be. I don't have to work in the kitchen. I just up-keep the accounting and make payroll," said Larry Strain. "It's kind of the best of both worlds."
Now, Rusty and Larry Strain enjoy running a small business while Larry continues his financial career. But it hasn't always been easy.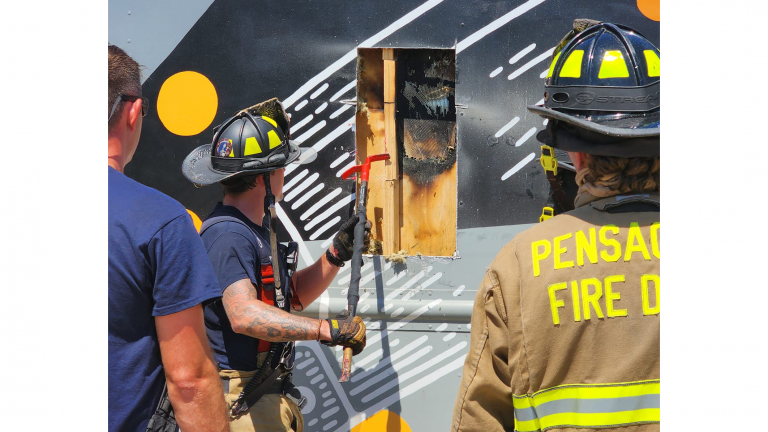 Just a month ago, A Rustyc Spoon went up in flames — with a fire terrible enough to shut down the business. The fire department did its best to surgically cut a small portion of the food truck's exterior and extinguish the fire, causing as little damage as possible. Still, the damages were enough to close A Rustyc Spoon.
"Thank God nobody was hurt, and all my boys did exactly what they were trained to do. They shut everything down and disconnected the gas lines," said Larry Strain. "We were very fortunate there."
Luckily, A Rustyc Spoon reopened in less than three weeks. The Pensacola community, including local chefs and restaurant owners, came together to help get the food truck back up and running. Their fundraising efforts, along with Larry Strain's ROBS plan, paid for all the repairs and new, upgraded equipment.
"Because of the rollover I did, we had sufficient funds to survive," said Larry Strain, "And the community really responded. Somebody started a GoFund Me page for us that raised about $5,000."
One of Rusty's friends, who owns a breakfast and lunch-exclusive restaurant, generously let Rusty and his team of cooks serve dinner for two nights of fundraising. Within those two nights, they raised about $7,500.
"It just proved to me just what kind of following we had and that we were doing something of value for the community, that they valued us — and it proved to me that we live in a wonderful community," Larry Strain reflected. "We've been community-involved for 20 years or more."
Larry Strain has served as president of the Chambers of Commerce in Santa Rosa County and currently sits on the board of directors of a local business incubator. As an SBA lender, he's also had the loving support from local small businesses he helped launch. Rusty, on the other hand, is heavily connected to chefs around the panhandle.
"I can't tell you how many businesses I've helped start, and it's a full circle," Larry Strain said. "And Russ, he's been extraordinarily involved in the food community, and it's just gratifying to see."
The community's love for the food truck and the supportive Pensacola chef culture helped speed up the repairs. And the metal piece that the fire department had removed from the food truck? It's now being integrated into an artwork on the food truck's exterior, painting a band-aid over the piece. Larry Strain says it will always remind them of how resilient they are.
"The culture here has been huge in terms of what it enabled us to do, because chefs do come and eat at our trucks," Larry Strain said.
When the business first opened, they were grateful enough to make around $500 daily. The overwhelming support from the community and chefs alike has helped A Rustyc Spoon grow incredibly — even as a new business with a fire thrown into the mix. Now, the business is more profitable than ever, despite rising costs in the food industry.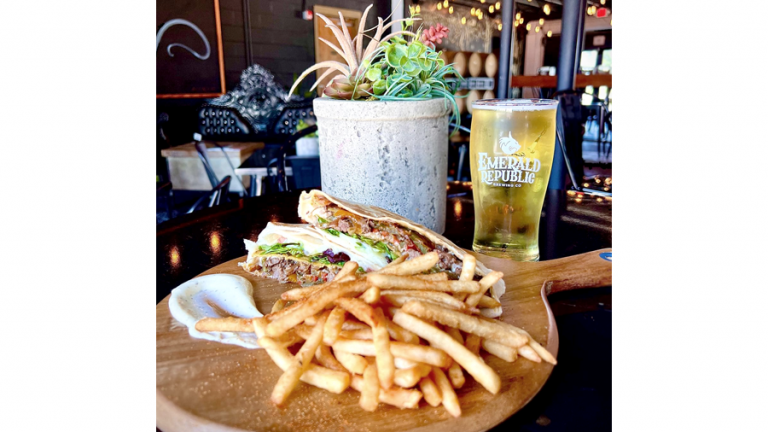 With costs rising, especially in the food industry, it can be challenging to budget and offer culinary eats with high-quality, fresh ingredients at a low cost.
"We're not very normal in terms of what we serve. We don't serve 'ground meat.' We serve wagyu. All our burgers are wagyu, or wild boar, and short rib," said Larry Strain. "You've got food costs going up. There's definitely a threshold that you can't cross because you know that people blanch at the thought of an $18.00 burger."
Rare ingredients like wagyu, or boar meat, truffles for their famous truffle parmesan cheese fries, and so on come at a cost. How does A Rustyc Spoon keep prices fair and food quality high?
For one, the food truck offers large-portioned meals. That means one meal is really two or even three meals. Customers can guarantee their money is well spent at A Rustyc Spoon — and that their stomach is well fed.
"I've never met anybody that finished a box. They always get two meals out of whatever they buy. And that's part of our value proposition," Larry Strain explained. "The rage right now seems to be mac and cheese. … We serve mac and cheese on Fridays, and even I got three meals out of [one serving.] And we were just voted best food truck, [and] a runner up in best French fries."
A Rustyc Spoon helps support young up-and-coming chefs in the Pensacola area, offering cooking internships with flexible hours. If you can cook in a food truck (especially in 100-degree-plus conditions), you can certainly cook in a traditional kitchen.
"You wouldn't think that a culinary student would want to work at a food truck, but quite honestly, it's a restaurant in a condensed setting," Larry Strain said. "18, 19, or 20-year-olds who have graduated from culinary programs and need internships can come in and work in our food truck, get their internship hours, and get paid. That's testimony to my son because his reputation is so good. People know him, and they refer him. He's got that classic training as a chef, so you're going to get a really good experience."
A Rustyc Spoon has even teamed up with a local brewery, offering fundraising and other fun events for the Pensacola community to enjoy. From corn hole game events for raising mental health awareness to biking and catering events, both businesses work together to help give back to the Pensacola community. Recently, they even catered a 50-person Navy Federal event with charcuterie, French dishes made with various meats and cheeses.
And since partnering with A Rustyc Spoon, the brewery has more than tripled its taproom business. It's no surprise that customers love pairing their beer with delicious food to match.
"We've helped them more than triple their taproom business. And, they wanted a full liquor license, but they didn't have a kitchen," Larry Strain said. "So, by running our sales as part of their organization, they can now show the necessary food sales to justify their liquor license. It's a very symbiotic relationship."
The relationship has been so great that now A Rustyc Spoon is permanently affixed to the brewery. Not only has business been great, but the brewery also provides complimentary amenities and employee benefits.
"We are permanently affixed to a local brewery. And there are a lot of reasons for that. One of which is that the minute I roll that truck [away from the brewery], my worker's comp quadruples, and so does my liability insurance," he explained. "And the brewery is extremely accommodating in that they've run a permanent gas line, sewer line, water line, [and] electric line, and they don't charge us a lease."
Larry Strain actually knew the owners of the brewery before A Rustyc Spoon, as he had assisted one of the owners with a startup advertising agency years ago. The couple had been through business adversity themselves. In 2020, Hurricane Sally completely destroyed the brewery, Larry Strain said. 
"When I say 'destroyed,' I mean the whole roof and infrastructure was ripped off," Larry Strain explained. "So, they understood adversity — and there's a really unique restaurant culture here in Pensacola. The chefs support the chefs."
Smooth Business Sailing with Guidant
Working with Guidant Financial has made running a business — even through flames — easier for Larry Strain. With Guidant's help setting up his 401(k) business financing plan, Larry Strain bought the food truck, making his son's dream come true. With Guidant's help through the ROBS process, Larry Strain and his son were able to start A Rustyc Spoon in seven days.
"Every time we've done something with Guidant, it's been quick and efficient," Larry Strain said. "For me now, personally involved, the biggest thing is all the support services; I signed up for the full program. That's the biggest thing: For me, it's become a one-stop shop."
Larry Strain integrated his ROBS plan with Guidant's Payroll and Bookkeeping & Tax Services, ensuring that taxes are correctly filed and avoiding potential fees. Every week, Larry Strain meets with his team of financial experts for updates and guidance.
"We had our weekly check-ins, and there was value added there, and there was constantly a list of needs to be done," said Larry Strain. "And then the transition to the permanent team was absolutely seamless. It's gone swimmingly."
Looking for Business Financing?
Guidant has helped over 30,000 small business owners with 401(k) business financing.
Pre-qualify today and reach out to our team at 888-472-455 for a FREE consultation!