Traditional small business funding isn't always the right answer. With bank loans, you might have to worry about getting approved, making repayments, and high interest rates. But Rollovers for Business Start-ups (ROBS), also known as 401(k) business financing, gives you the option to finance your business without needing a great credit score or to risk your home as collateral.
With ROBS, you can tap into your retirement funds tax- and penalty-free to finance your business. It's not too good to be true! With this in-depth Complete Guide to Rollovers for Business Start-ups, you'll learn everything there is to know about ROBS.
Download the Guide
Download the Complete Guide to 401(k) Business Financing – you can save it for later or print it at your leisure.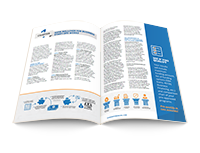 Coming Up Short While Sitting on a Goldmine
All too often, aspiring small business owners turn only to the funding sources they know. A recent Guidant Financial survey of entrepreneurs revealed that over fifty percent used a personal checking or savings account to fund their business. While this is an excellent option if you have enough cash on hand to get started, most aspiring small business owners are out of luck.
The next step most entrepreneurs take is to look for a bank loan. After all, if you got your mortgage from a bank – why should a business loan be any different? SBA loans can be an excellent source of funding, but only about 25 percent of applicants get approved. If you're one of the lucky recipients, you'll still need a 20 to 30 percent down payment and collateralize your home. If you're denied an SBA loan, can't make the down payment, or don't want to risk your home, your business funding options are limited.
There are other financing options with less attractive terms than an SBA loan. But those come with their own requirements and the burden of starting your business under a pile of debt.
There's another option that allows you to leverage the pre-tax retirement funds you've been building since entering the workforce. Your 401(k) or IRA is an untapped source of cash – and the basis for 401(k) business financing. This financing solution is Rollovers for Business Start-ups (ROBS), a debt-free option that thousands of small business owners use to make their business dreams a reality.
What is Rollovers for Business Start-Ups?
Rollovers for Business Start-Ups (ROBS) is a small business and franchise funding solution. With ROBS, you use your 401(k), IRA, or other eligible retirement accounts as capital to start or buy a business. And you don't incur an early withdrawal fee (if you're younger than 59 and a half) or tax penalties.
ROBS is often used by people who don't have the cash on hand to buy their business — the case for most entrepreneurs. It's also great for aspiring business owners who don't qualify for a business loan, don't want to go into debt, or don't want to risk collateralizing their assets. ROBS works best for people with $50,000 or more in their retirement fund, who want to grow their retirement funds by investing in themselves and their entrepreneurial dreams instead of the stock market.
What will be covered in this guide?
In this complete guide, we'll walk through everything you need to know about Rollovers for Business Start-ups:
How the ROBS process works.
The history and legality of ROBS.
The advantages of ROBS and how it compares to other funding methods.
The truth behind common misconceptions
What to look for in a quality ROBS provider.
Annual requirements and upkeep.
Dos and don'ts of the structure.
How to explain ROBS to your CPA or tax attorney.
What else you can do with ROBS after your initial cash infusion.
How to exit the ROBS structure when you're ready to sell your business.
How much of this guide do I need to read?
If you're serious about funding a business or franchise without going into debt or putting your home on the line, we recommend reading this guide from start to finish. Each chapter presents a thorough view of an element of Rollovers for Business Start-ups and proceeds in a linear order to build your knowledge before moving on to the next topic.
By the end of this guide, you'll know every detail there is to know about ROBS, the business financing solution that lets you start your business debt-free and cash-rich. Let's get started!