2020 Franchise Trends
A look at franchises and their franchisees in 2020
2020 Franchise Trends
To learn about small business and its future, Guidant Financial became a founding member of the Small Business Trends Alliance (SBTA), a group of companies dedicated to supporting small businesses with data trends and insights. To achieve this goal, Guidant Financial and SBTA companies surveyed over 3,100 small business and franchise owners nationwide.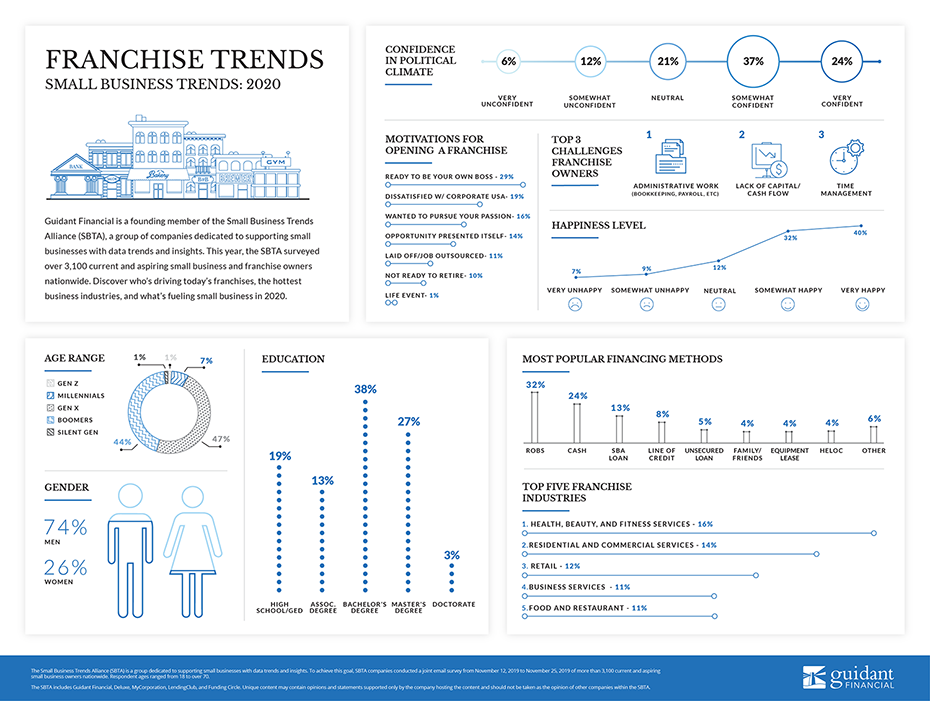 For this report, we dove into what franchise owners (also known as franchisees) say about current business trends – from the biggest obstacles to the hottest industries.
This year's Small Business Trends survey results show that more people than ever choose to start or buy a franchise because they're ready to be their own boss. With a 15 percent increase in this motivation year over year, 29 percent of franchise owners decided to be their own boss. At 19 percent of responses (a seven percent increase from last year), dissatisfaction with corporate America was the second most popular reason to go into a franchise. A desire to pursue their own passion was the third most common reason franchise owners gave for starting their franchise location, at 16 percent.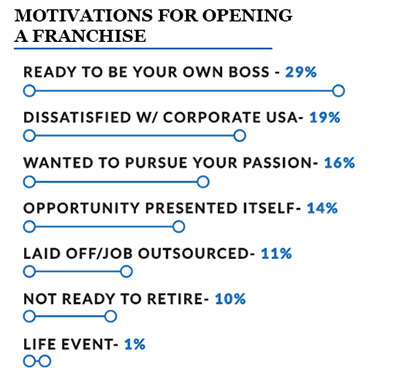 Franchisees are both happy as business owners and confident in small business in the current political climate. When asked to rate their happiness on a scale of "very unhappy" to "very happy," the average response was "somewhat happy." When asked to rate their confidence in small business in today's political landscape, the average response was "somewhat confident." Only 18 percent of responses showed a lack of confidence with "somewhat" or "very" unconfident answers, while 21 percent remained neutral.
The majority of franchises, at 58 percent, cost between $100k and $500k to launch. Rollovers for Business Start-ups (ROBS), also known as 401(k) business financing, is a very popular method of franchise financing, with 32 percent of respondents having used it to fund some or all of their franchise.* Cash is also a popular funding method, with 24 percent of respondents having used cash to cover some or all of their start-up costs. Small Business Administration (SBA) loans are also popular, with 13 percent of respondents utilizing these loans in some form.
The most popular franchise industry by ownership is health, beauty, and fitness services, such as salons or gyms. Sixteen percent of respondents own a franchise specializing in this area. Residential and commercial services such as janitorial services or landscaping are the second most popular franchise industry, at 14 percent. Retail shops come in third, at 12 percent. Business services such as mail centers or consulting and food and restaurant franchises tied for popularity, with both at 11 percent of responses.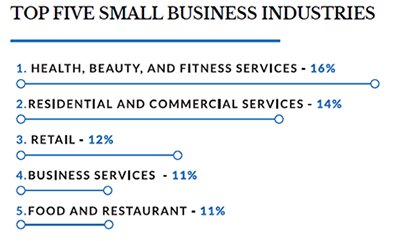 Unlike most other segments of small business owners, the number of franchise owners challenged by recruiting and retention in a tight labor market has decreased year over year by a surprising 48 percent. Instead, the number of franchise owners challenged by administrative work such as bookkeeping and payroll has doubled, making it the most reported challenge of being a franchisee, at 25 percent. A lack of capital or cash flow, at 23 percent, and time management, at 14 percent, are the next two most common challenges.
Ready for the next step?
Get in touch with a Guidant Financial expert and find out which programs, and how much, you qualify for.