Business Valuation Solutions
The right solutions at the right price.
Business Valuation Solutions
The right solutions at the right price.
When You Need to Understand the Value of Your Business:
Knowing the value of a business makes a huge difference if you're buying a new business, selling an operating business, choosing the right amount of insurance coverage, or making other important business decisions.
The Right Tools for Your Valuation Needs
You need to know the value of your business, but aren't sure where to start. What type of valuation and support do you need to get the job done? We're here with the right valuation tools for any of your needs.
When all you need to know is value of the business you're buying or selling. Choose a business valuation for handshake agreements or getting the right insurance coverage.
When you want to recapitalize your business, get an SBA loan, perform a stock buy-back, or have a taxable event, you'll want a valuation from a certified professional.
Need to know the value of your business? Start here. With our comprehensive reports and supportive dedicated valuation specialist you can confidently understand how much a business is really worth.
For $495, here is what you will receive as part of your Business Valuation: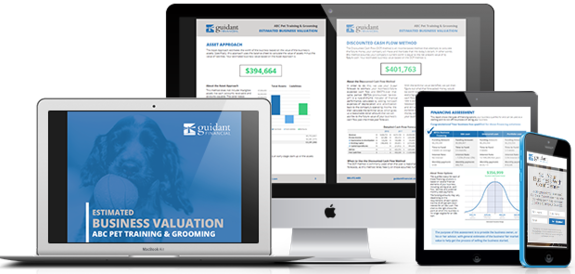 Certified Business Appraisals
Taxable events, SBA loans, recapitalizing — these situations require a business appraisal performed by a certified specialist. Our dedicated specialist will providing you with ongoing support.
Starting at $1,795, here is what you will receive as part of your Certified Business Appraisal: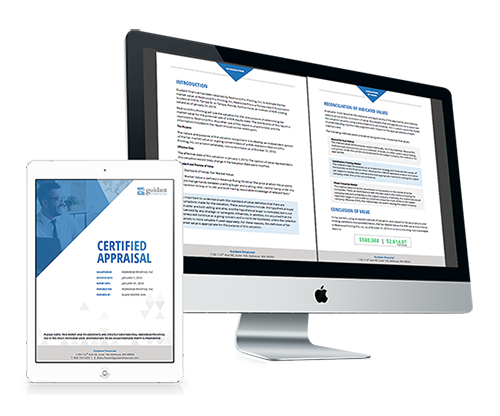 Get Started with your Certified Business Appraisal Today
By pressing "Get Started," you agree to this website's Privacy Policy. You also consent to receive information from Guidant Financial at the email address or telephone number you entered. This information may be provided by a phone system that can auto-dial. You aren't required to consent to use our services.
What's the Difference Between Valuations and Appraisals?
Estimated Business Valuation
Estimated business valuations provide you a place to start when selling or buying a business. Outside of legal situations, estimated valuations let you save money while gaining confidence in the value of your business. Estimated valuations can't be used for legal purposes like taxable events or stock buy-backs. 
Estimated business valuations have a briefer analysis than certified business appraisals. However, this allows for a less invasive, faster process. An estimated valuation is calculated based on the financial information you provide, while a certified appraisal requires an appraiser to collect, analyze, and report on your financials. This means it's extremely important that you provide accurate financial and bookkeeping data for the best estimated business valuation.
Certified Business Appraisal
A full business appraisal is the highest standard in valuing a company. Business appraisals are typically required for legal purposes such as SBA loans, taxable events, bankruptcy, tax issues, recapitalization, or repurchasing corporate stock. Because a business appraisal is used as the standard for these types of situations, this type of report is certified as an official business appraisal.
While the gold standard of business valuation, certified appraisals are generally not necessary unless you're in a situation that requires one. Due to the diligence and expertise required to perform a certified business appraisal, they are more expensive than an estimated business valuation.
Get in touch with a Guidant expert to find out which approach is right for you.