Business Valuation Solutions
The right solutions at the right price.
Why You Need to Understand the Value of Your Business.
Knowing the value of a business makes a huge difference if you're buying a new business, selling an operating business, choosing the right amount of insurance coverage, or making other important business decisions.






The Right Tools for Your Valuation Needs
You need to know the value of your business, but aren't sure where to start. What type of valuation and support do you need to get the job done? We're here with the right valuation tools for any of your needs.
Business Valuations
It's hard to know where to start when searching for the value of a business. That's where our Business Valuations come in. With our comprehensive reports and supportive dedicated valuation specialist you can confidently understand how much a business is really worth.
For $495, here is what you will receive as part of your Business Valuation:
Estimated Business Valuation
Financing Assessment
Dedicated Valuation Specialist
In-depth Industry Report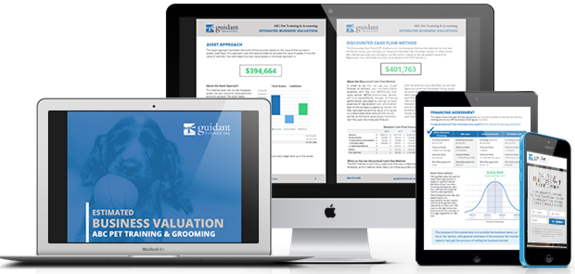 Seller Suite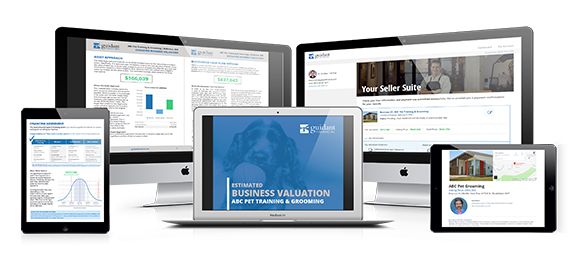 Selling a business is stressful; the entire process can take months, if not years. You don't want to sell your years of hard work short and it's a challenge to find the right buyer. Seller Suite helps take the frustration out of selling your business by adding efficiency and giving you confidence to make the right decisions. Seller Suite provides the tools you need to accurately price your business, attract qualified buyers, and speed up the selling process.
For $595, here is what you will receive as part of your Seller Suite toolkit:
Estimated Business Valuation
Financing Assessment
Shareable Flier
Dedicated Valuation Specialist
Business Summary Page
Business Valuation for Buyers
Asking Price Assessment
Buyer Funding Qualification
Certified Business Appraisals
Taxable events, SBA loans, recapitalizing – these are all situations that require a business appraisal, performed by a certified specialist. When you need to know an exact business value, look no further than our certified appraisal performed by an expert – who will also be your dedicated specialist, providing you with ongoing support.
Starting at $1,495, here is what you will receive as part of your Certified Business Appraisal:
Certified Business Appraisal
In-dept Industry Report
Financing Assessment
Dedicated CVA Specialist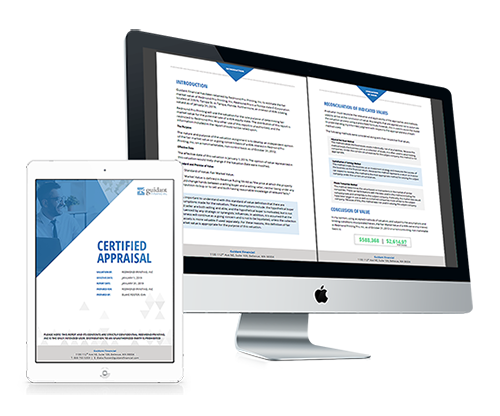 Learn About Your Business Valuation Options from the Experts
What's the Difference Between Valuations and Appraisals?
Estimated Business Valuation
Estimated business valuations provide you a place to start when selling or buying a business. Estimated valuations can't be used for legal purposes like taxable events or stock buy-backs, but outside of legal situations, estimated valuations let you save money while gaining confidence in the value of your business.
Estimated business valuations have a briefer analysis than certified business appraisals, however, this allows for a less invasive, faster process. An estimated valuation is calculated based on the financial information you provide, while a certified appraisal requires an appraiser to collect, analyze, and report on your financials. This means it's extremely important that you provide accurate financial and bookkeeping data for the best estimated business valuation.
Certified Business Appraisal
A full business appraisal is the highest standard in valuing a company. Business appraisals are typically required for legal purposes such as SBA loans, taxable events, divorce settlements, bankruptcy, tax issues, recapitalization, or repurchasing corporate stock. Because a business appraisal is used as the standard for these types of situations, this type of report is certified as an official business appraisal.
While the gold standard of business valuation, certified appraisals are generally not necessary unless you're in a situation that requires one. Due to the diligence and expertise required to perform a certified business appraisal, they are more expensive than an estimated business valuation.