2021 Small Business Trends
A look at the state of small business in 2021
Small Business Trends: 2021
Each year, Guidant Financial and the Small Business Trends Alliance (SBTA) surveys business owners to learn about small business trends and life as a small business owner. A founding member of the SBTA, Guidant Financial is proud to be part of this group of companies dedicated to supporting small business in America with data trends and insights. The SBTA reports on data to help small business owners grow their businesses as well as bring transparency to small business ownership by giving prospective business owners the information they need to be successful.
This year, Guidant and the SBTA surveyed over 2,400 current and aspiring small business owners nationwide with our annual Small Business Trends survey. We asked small business owners questions ranging from their experiences throughout the COVID-19 pandemic to their confidence in business given the current political landscape to their biggest obstacles as business owners.
Here's a look at current small business trends and what to expect in the coming year.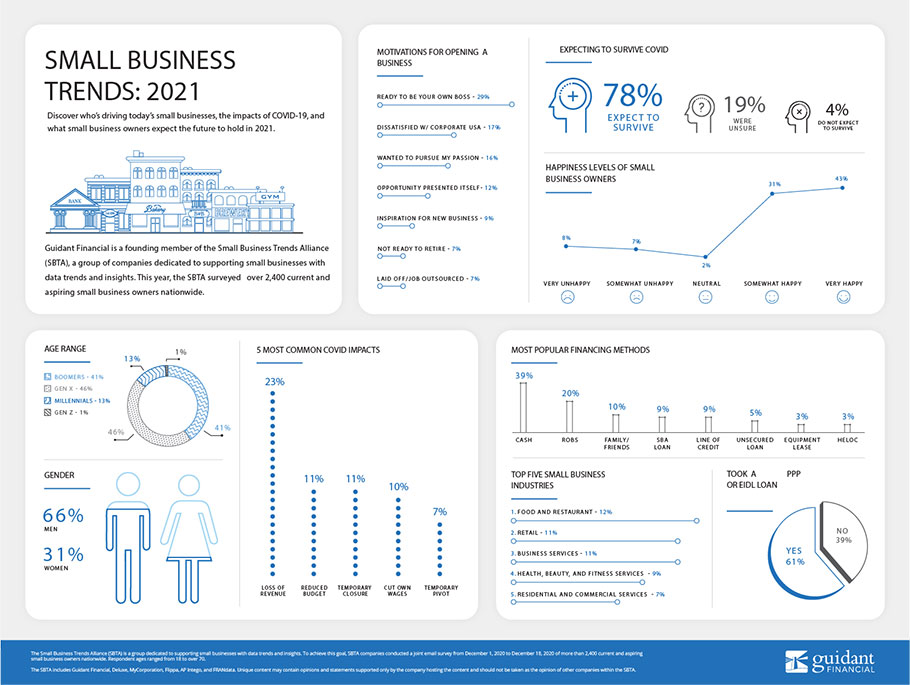 Small Business and COVID
The COVID-19 pandemic of 2020 had major impacts on small business, but the Small Business Trends survey discovered some unexpected insights into small business ownership.
Twenty three percent of respondents reported that they experienced a loss of revenue during the pandemic, while six percent reported increased revenue. Eleven percent of small business owners surveyed have reduced their budgets while another eleven percent even temporarily closed their business. Ten percent of business owners cut their own wages, more than the six percent who furloughed employees or the five percent who needed to implement lay-offs.
Seven percent of small businesses surveyed temporarily pivoted their business models to new practices such as remote workforces, curbside pick-up, delivery, or other social distancing practices. When asked if they had implemented innovative or disruptive changes in their business due to the COVID pandemic, 41 percent answered that they had. These changes ranged from investing in hands-free POS systems to pivoting to digital marketing only to adding new product lines like anti-microbial products and paint-at-home kits. These answers demonstrate how the coronavirus has impacted all industries in a variety of ways and the resilience of small businesses to continue to provide services and products to their customers.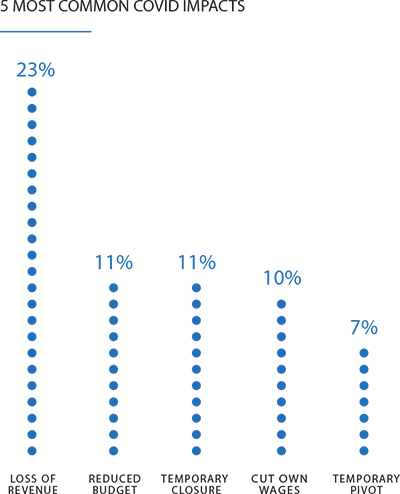 One of the largest impacts of COVID on small businesses reported was a 19 percent decrease in the number of profitable businesses from 2019. Only 63 percent of respondents' businesses were profitable in 2020, compared to 78 percent in the previous year. However, despite this concerning drop in the number of profitability, 78 percent of small business owners expect their business to survive through the pandemic, while only four percent expect their businesses to fail.
While 19 percent of respondents were unsure about their business's survival through the pandemic, our Small Business Trends survey was conducted before January's new stimulus act was in discussion, which offers significant avenues of small business financial relief including expanded access to the Paycheck Protection Program (PPP) and Economic Injury Disaster Loans (EIDL). With the majority of small businesses surveyed, 61 percent, reporting that they received either PPP or EIDL (or both) relief, the new stimulus act holds promise to continue to help small businesses through COVID challenges.
There is a generally positive outlook on the future among small business owners, despite the pandemic. When asked how confident they felt about the future of small business post-COVID, 49 percent of small business owners answers they were either somewhat or very confident, compared to the 34 percent who were somewhat or very unconfident. 17 percent remained neutral. The highest share in outlook was somewhat confident in small business after the pandemic, at 30 percent.
A Look at Small Business in 2021
What do small businesses look like right now? Our Small Business Trends survey shows the make-up of modern small businesses across the country.
The plurality of small businesses today have been opened for a decade or more, with 31 percent of the share. Nineteen percent of small businesses have been operating for a year or less, while another 19 percent have been operating for two to three years.
Most small business owners started a new, independent business from scratch, at 58 percent, while 18 percent purchased their independent business. Nineteen percent invested in a brand-new franchise location, while six percent bought an existing location. Year over year, the amount of new franchises purchased has nearly doubled, demonstrating the popularity of the business model.
Small business financing can be challenging, especially for aspiring owners who are new to running their own business. Cash is the most popular form of financing, with 39 percent of owners utilizing it to start their business. Rollovers for Business Start-ups (ROBS) also known as 401(k) Business Financing was also popular, with 20 percent of respondents utilizing it to get a debt-free and cash-rich start to their small business.* Aid from friends and family is also a common way to get started, at 10 percent utilization, while SBA loans and lines of credit each claimed nine percent of the share.
* Please note respondents include Guidant Financial clients. Guidant Financial is a ROBS provider.

Fourteen percent of small businesses surveyed were food and restaurant businesses, making this one of the most popular industries for small business. Retail stores, including eCommerce businesses, made up 12 percent of the responses, as did business services. Health, beauty, and fitness services was the next most popular industry, at 10 percent of responses. The top five most popular industries were rounded out with finance, insurance and law at six percent of small businesses surveyed.
Twenty percent of small businesses surveyed are solo enterprises, run only by the business owner without hiring any employees. Forty-four percent of small businesses have between two to five employees, making this the most common number of employees. From there, the number of staff small businesses employ drops, with 17 percent staffing between six to 10 employees. Only one percent of small businesses have over 100 employees.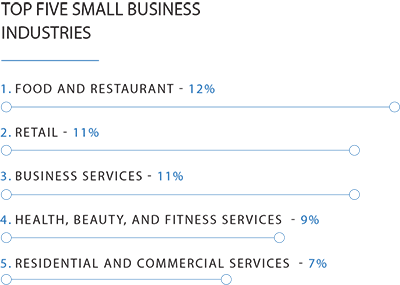 Who are Small Business Owners in 2021?
The Small Business Trends survey looks at the resilient, determined, and hard-working small business owners of America. We learn who they are, what their lives as small business owners are like, and what their plans for the future are.
The number of women small business owners has been increasing year over year, but this year saw the greatest increase in the last few years, with 13 percent more female small business owners surveyed. The majority of owners remains men at 68 percent, with women at 32 percent.
The last few years have seen a shift from the plurality of small business owners who are Baby Boomers (41 percent) to those who are Gen X (46 percent). Right now, Millennials make up 13 percent of small business owners, while only one percent are Gen Z, or "zoomers."
While everyone enters small business ownership due to their own unique circumstances, there are common themes in motivation. The plurality (29 percent) of small business owners surveyed decided to start their own business because they were ready to be their own boss, which remains from year to year, one of the most popular motivations. The number of people who went into small business due to their dissatisfaction with corporate America (17 percent) increased by 11 percent this year, possibly demonstrating the struggles employees are facing with corporate decisions during the pandemic including lay-offs. The third most common reason people started their own small business was the desire to pursue their passion, at 16 percent.
While the COVID pandemic was obviously one of, if not the greatest, challenge of 2020, there are always challenges associated with small business ownership. We asked respondents what their biggest challenges of the last 12 months were outside of coronavirus-related issues. Lack of capital or cash flow was the number one challenge at 23 percent of the share – this remains the biggest challenge of small businesses year of over. Over the last few years, employee recruitment and retention has become a more common challenge, with it becoming the second most common struggle this year, with 19 percent of respondents citing it – an increase of 17 percent from last year. Marketing and advertising is also something more business owners are struggling with, at 15 percent of owners citing it, a seven percent increase year over year. While only eight percent of small business owners surveyed counted managing or providing benefits as a challenge of their last year, that is a twenty percent increase from 2019.
Despite the COVID pandemic, economic uncertainty, and other challenges of the past year and of small business – many entrepreneurs are happy with their choice to become small business owners. When asked "how happy are you as a small business owner" the plurality of respondents answered very happy, at 43 percent, while 31 percent answered somewhat happy. From a scale of one to five, with one being "very unhappy" and five being "very happy," the weighted average of responses was 3.95, only a two percent decrease from last year.
Resilience, a positive sentiment for the future, and happiness as business owners all show that small business are ready to tackle today's challenges for a stronger tomorrow. Despite the pandemic, the majority of small business owners are primarily interested in growing their business, at 51 percent. Thirty percent are focused on sustaining their current business, while 10 percent want to open a new location. Only 9 percent are currently interested in selling their business.
Looking into the Future of Small Business
Small business owners have many plans to grow their business or make other positive changes in the coming year. By share, 49 percent of small business owners plan to increase staff and expand or remodel their business. 55 percent will pivot with the times by investing in digital marketing with 30 percent plan on traditional marketing. Twenty seven percent will be investing in IT infrastructure, while 22 percent will invest in business services such as using a third-party or software to help them manage payroll, accounting, or inventory management.
Politics and Small Business
Political unrest and dividedness has been an ongoing struggle across the country in the last few years, and small business is no exception. We asked small business owners to give us an idea of their political leanings, their feelings on how politics influences small business, and what topics are most important to them.*
Please note the Small Business Trends survey was conducted after the 2020 presidential election but before the events at the US Capital on January 6, 2021.
Thirty seven percent of survey respondents answered Republican when as which US political party most represented their own views. Twenty three percent answered Democrat. A significant 31 percent answered that they didn't belong to or feel represented by any part at all. When asked to comment, many respondents said they were independent. Some said they had previously considered themselves Republican but now found themselves disappointed in party leadership or aligning with Democrat measures.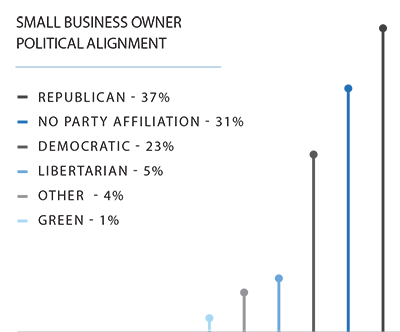 The divide between parties and candidates was further demonstrated when small business owners were asked who they voted for in the 2020 presidential election. 43 percent voted for Donald Trump, while 42 percent voted for Joe Biden. Fifteen percent answered the open-ended option other, which included answers such as Libertarian candidate Jo Jorgensen and those who choose not to vote.
As political uncertainty increased across America, we saw a reflection in respondent's confidence in small business in the current political climate. On a scale of one to five, with one being very unconfident and give being very confident, the weighted average of responses was 2.98, an 18 percent decrease from last year. The plurality of respondents were somewhat confident at 30 percent, but 24 percent answered somewhat unconfident – demonstrating the range of mixed feelings about the effects of politics on small business. Fifteen percent answers very unconfident, while 11 percent answered very confident. Twenty-one percent remain neutral.

Many current topics impact small business and small business owners across the spectrum of political belief and industry. We asked respondents to rank which current topics were the most important to them. Like last year, business taxes remain the most important topic to small business owners, followed by COVID-related issues, healthcare, economic relief, and interest rates.
The Resilience of Small Business
Even though 2020 was an unprecedented year of challenge and adversity, small business owners retain their optimism and determination to pursue success.
Ready for the next step?
Get in touch with a Guidant Financial expert and find out which programs, and how much, you qualify for.