2023 Small Business Trends
A Look at the State of Small Business in 2023
Every year, Guidant surveys America's hardworking and resilient small business owners to learn who they are, their lives as business owners, their future plans — and how their business has weathered current affairs.
Then, we gather this information into our annual Small Business Trends report to help us paint a landscape of small businesses in America. Here's a look at our current small business trends for 2023:
Why Business Owners "Made the Leap"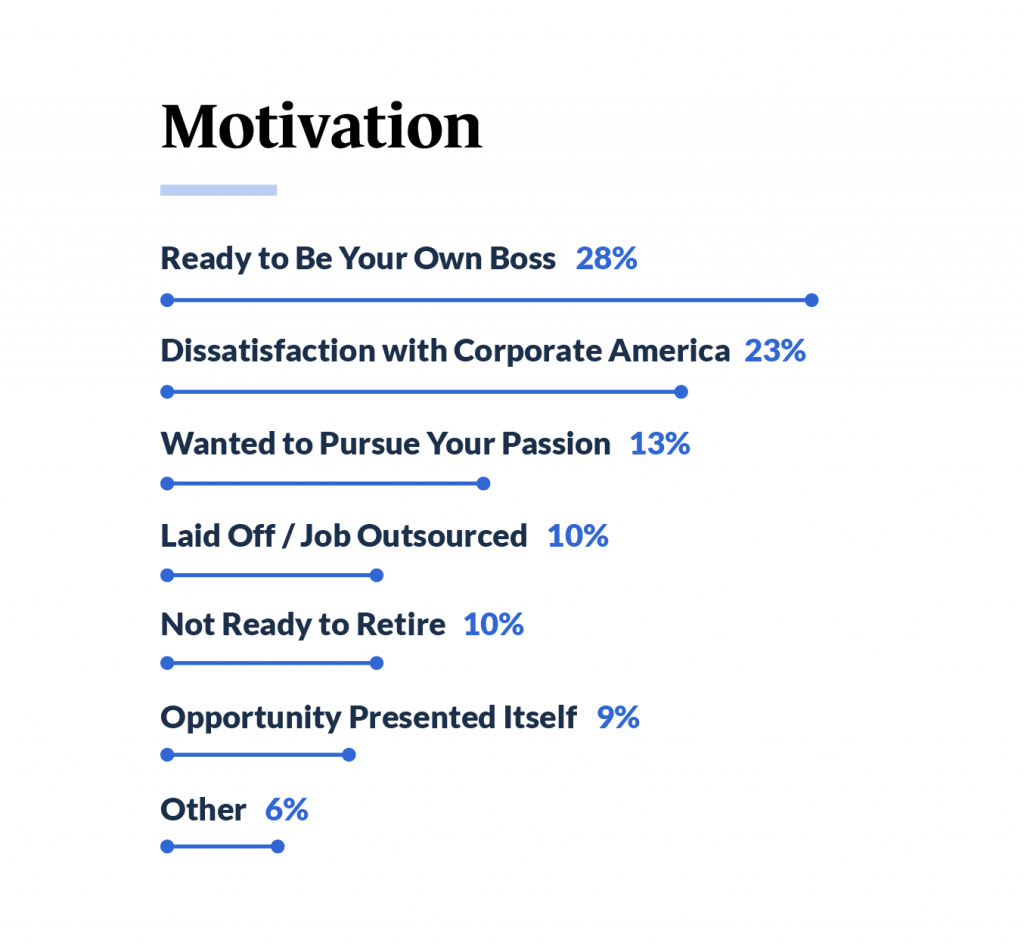 What inspires Americans to become business owners — and motivates them to "make the leap"? Our report shows that business owners primarily went into business because they were "ready to be their own boss" (28%) and overall dissatisfaction with corporate America (23%). These motivations show more people are ready to break away from a corporate lifestyle and take control of their own career path.
Many were inspired to become business owners to pursue their passions (13%). In contrast, others reported they were motivated to start a business because they were laid off (10%) — and not ready to retire (10%).
A smaller number of entrepreneurs leaped into small business ownership because an opportunity presented itself (9%), gained inspiration for a new business idea (4%), or experienced a life event, such as a divorce or death (2%).
The Generation Gap in Small Business Ownership
While the generation gap between business owners is still significant, Millennial business owners increased by six percent from last year 's Small Business Trends study, showing promising growth. And we may see more Millennials hop into the business scene within the next several years. According to Bloomberg, the average age to start a business is 35 years old.
Baby Boomer business owners, on the other hand, have slightly decreased from last year (-5.95%). The Great Retirement may account for this decrease as roughly 28.6 million Baby Boomers left the job market and retired in the third quarter of 2020 alone.
A recent study from the Pew Research Center also revealed that COVID-19 has contributed to the rapid surge of Boomers leaving the labor market. Since the outbreak, the number of Boomer-aged retirees has increased by around 1.1 million.
The Silent Generation, also known as the "Post War" generation born between 1928-1946, accounts for less than one percent (0.25%) of small business owners in our report.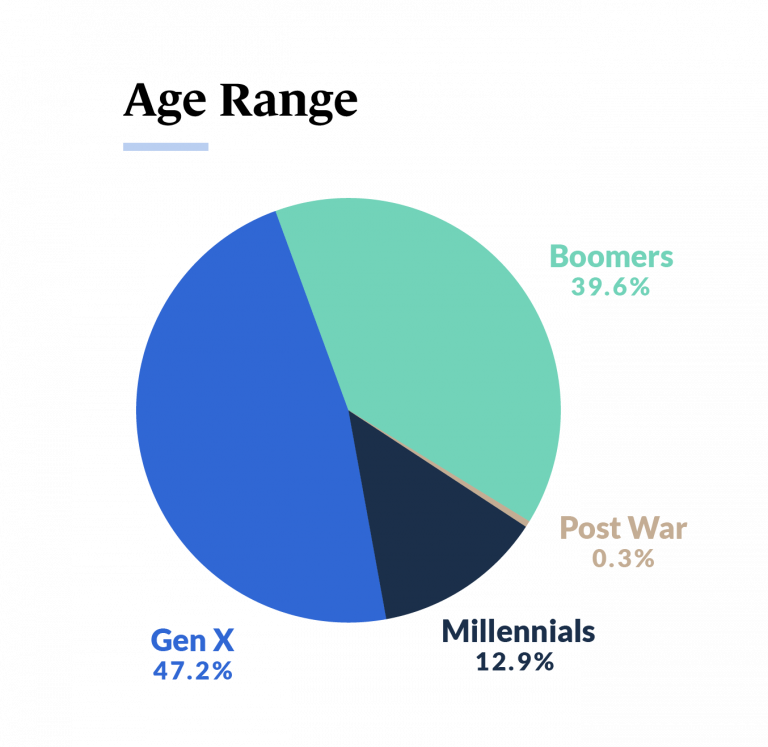 Diversity in Business: Room for More Representation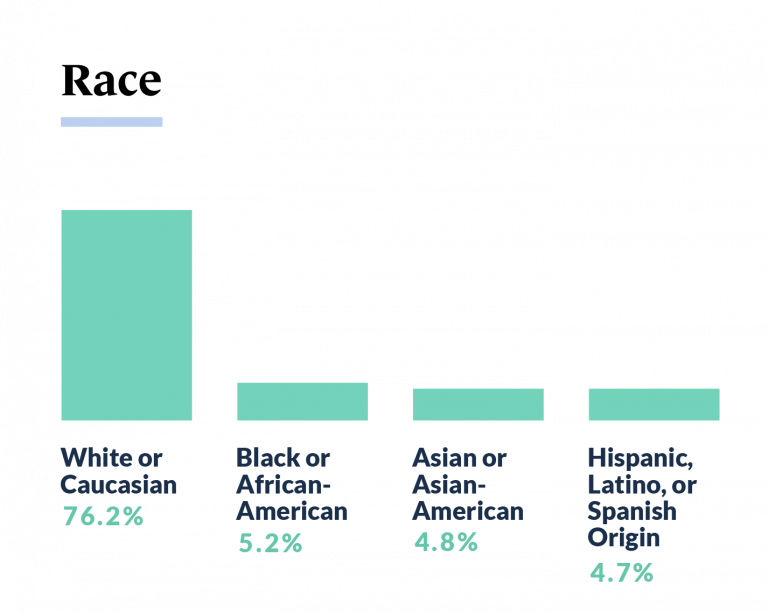 In our survey, women made up 25 percent of small business owners this year. Men continue to hold a significant presence in the small business landscape, accounting for 75 percent of small business owners. Less than one percent chose to identify as a gender other than male or female (0.37%).
The majority of survey participants identified as White or Caucasian (76%). Other ethnic groups, including "Black or African American" (5.19%), "Asian or Asian-American" (4.83%), and "Hispanic, Latino or Spanish Origin" (4.70%) were represented at roughly five percent each.
Despite progress in diversity among small business owners since last year's Small Business Trends study, there is still a significant gap — but the gap is narrowing.
Shifting Political Parties
In the past two years, there has been a shift away from traditional big political parties among small business owners. Both Democratic-affiliated (-10%) and Republican-affiliated (-9%) small business owners have decreased by roughly 10 percent since 2021.
Business owners who affiliate as "Libertarian" increased by 14 percent — and the number of business owners who feel disconnected from political parties has risen by 22 percent.
These shifts in affiliation suggest that many small business owners are discontent with the current political landscape, feeling that their values or needs are not being addressed in the system.
Despite these political shifts, the majority of small business owners still identify as "Republican" (42%), while 19 percent affiliate as "Democratic."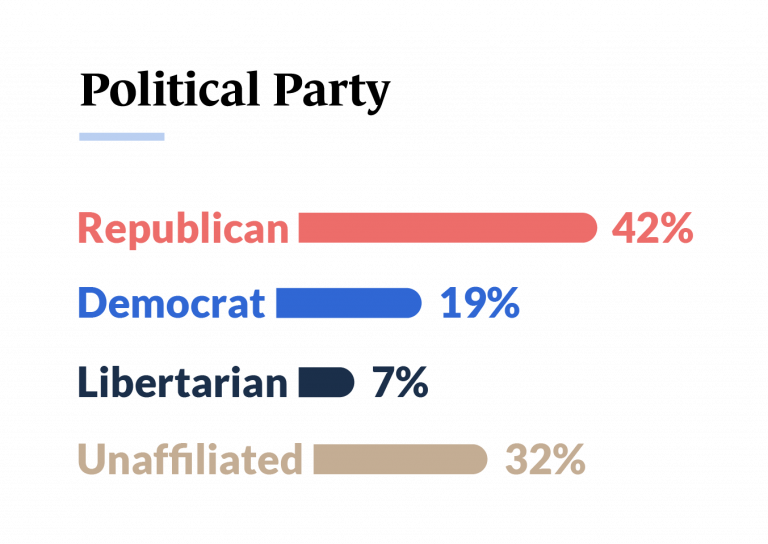 Investing in Knowledge: Education Levels Among Business Owners
How many small business owners have a degree? According to our study, most business owners have a bachelor's degree (41%) with a significant portion holding a Master's degree (29%). Ten percent of business owners surveyed hold an associate, while under five percent earned a doctorate (4%). Our study findings indicate that education plays a significant role in small business ownership, as a majority of business owners hold a bachelor's or master's degree.
A Look at the Latest Business Trends and Industry Insights
Independence in Small Business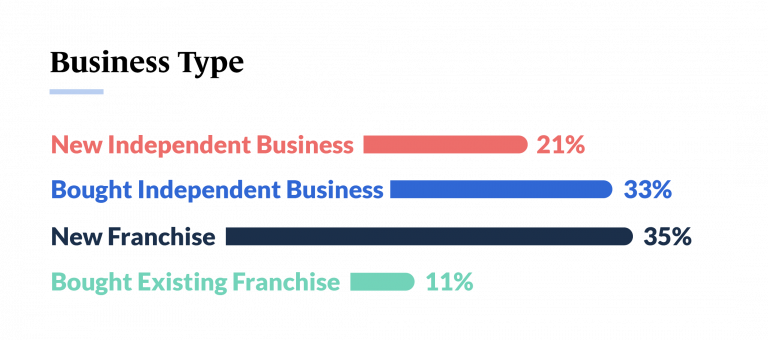 Today's small business owners face a challenging business landscape, marked by economic uncertainty and a rapidly changing political climate. Despite these difficulties, many business owners are paving the way to success — whether by starting a new franchise, purchasing an existing business, or launching a business from scratch.
From our study, many small business owners (33%) purchased an existing independent business, taking advantage of an established business and a ready-made customer base. A smaller amount of small business owners (21%) started from scratch, showing a decrease of 23 percent from last year's study.
With inflation driving up the costs of goods and services, starting a business in 2023 is certainly more expensive than previous years. Entrepreneurs and aspiring business owners also fear a looming or ongoing recession, which can make many hesitant to "make the leap" into business ownership.
Considering these economic challenges, it's not surprising that there are fewer small business owners starting from scratch this year. Still, many small business owners continue to adapt and thrive in a turbulent economic climate.
An Upward Trend in Franchisees
In recent years, franchise ownership has become more popular. The proven business model, existing loyal customer base, ongoing support, and training are especially attractive for aspiring small business owners ready to make the leap.
The popularity of franchising has risen, with the number of franchisees growing by approximately 12 percent since last year. Out of the respondents surveyed, franchisees made up 46 percent of small businesses — and most franchisees chose to start a new franchise location (35%) over purchasing an existing franchise (11%).
Top Industries Leading in Small Business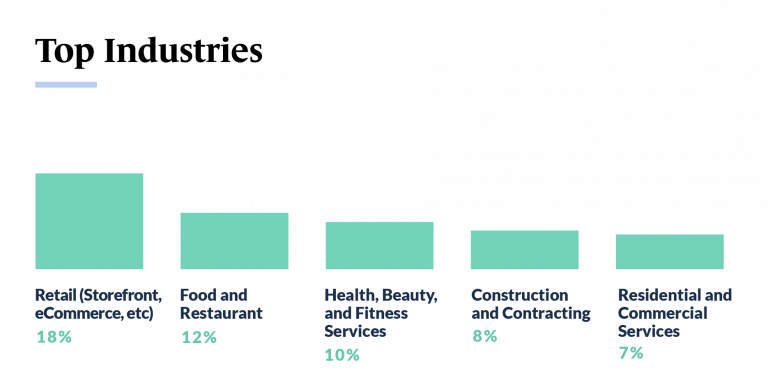 Small business industries are always evolving to meet the needs of the market. In 2023, the top small business industries have shifted. Retail continues to be the largest small business industry from our segment, making up 18 percent of small businesses. The Food and Restaurant (12%) sector maintained its position as the second largest industry.
This year, the Health, Beauty, and Fitness services industry (10%) takes third place among the largest sector in small business. The Construction and Contracting sector came in fourth with eight percent.
Business Services and Residential and Commercial Services tied for fifth this year at seven percent. The remaining top industries in small business closely follow with Lodging and Manufacturing and Machining making up six percent; and Care Services and Education and Training both accounting for five percent.
Last year, the Business Services sector held third place in our segment with Health, Beauty and Fitness Services and Commercial Services following in fourth and fifth place. The Health, Beauty and Fitness industry rose this year — and both Business Services and Residential and Commercial sectors dropped. Additionally, the Construction and Contracting industry saw a positive uptick from the previous year.
Are We in Recession or Recovery? Small Business Owners Weigh In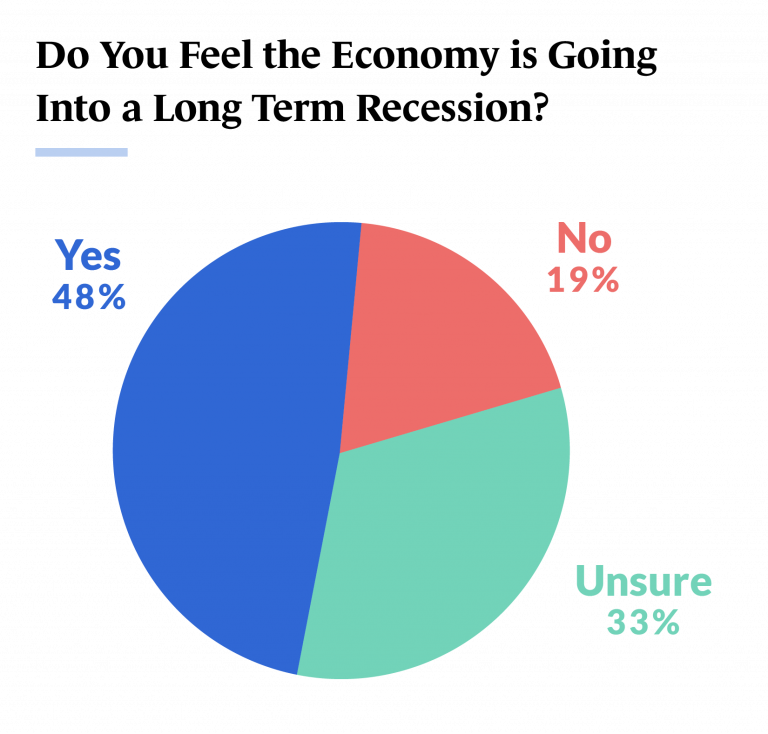 The economy is a crucial aspect of any business, and small businesses are no exception. Considered the backbone of the American economy, small businesses are often the first to experience the effects of economic changes, whether positive or negative. 
So, are we in a recession or a recovery? How do small business owners feel about today's economy?
Out of the surveyed small business owners in our segment, nearly half reported feeling that the U.S. economy is "going into a long-term recession" (48%) — whereas only 19 percent of small business owners don't believe we're headed toward a long-term recession. 
The remaining 33 percent of small business owners felt unsure.
How Inflation has Impacted Small Businesses
Inflation is taking a toll on small businesses — affecting everything from costs to profitability. According to our study, most small business owners reported increased prices (27%), loss of revenue (15%), and increased wages (13%) as the top three ways the economy has impacted their businesses. Six percent of surveyed respondents also suffered a loss of inventory due to supply chain issues.
A small portion of business owners responded to inflationary pressures by cutting their own wages (7%) and reducing their budgets (6%) to mitigate the impacts of inflation.

Amid an economic slump, a few small businesses experienced growth in revenue (6%) and even hired new employees (4%) to expand their workforces. Others reported "no significant effect" (4%).
Not all small businesses faced the same level of impact from inflation; A minority of respondents faced more devastating impacts. A small percentage of business owners reported laying off employees (2%), while another two percent had to close their doors temporarily. Sadly, a few small businesses were forced to permanently close (1%) and cut employee wages (1%).
Small Business Profitability in the Face of Inflation
In spite of recent economic challenges, many small businesses continued to thrive. A majority of business owners (66%) reported profitability, indicating that many business owners have found ways to maintain or even increase profits in the face of inflation.
The other 34 percent of small business owners stated that they were currently unprofitable. Inflation can significantly impact small businesses as the costs of goods and services rise, which can lead to a decrease in profitability. It's also worth noting that a considerable number of respondents surveyed are newly established business owners. On average, a small business typically takes two to three years to become profitable.
Many businesses have adapted and adjusted their business plans in response — seeking a number of ways to reduce overhead. According to Forbes Advisor, over 50 percent of small businesses cut costs last year to offset the impacts of inflation. 
Top Small Business Challenges in 2023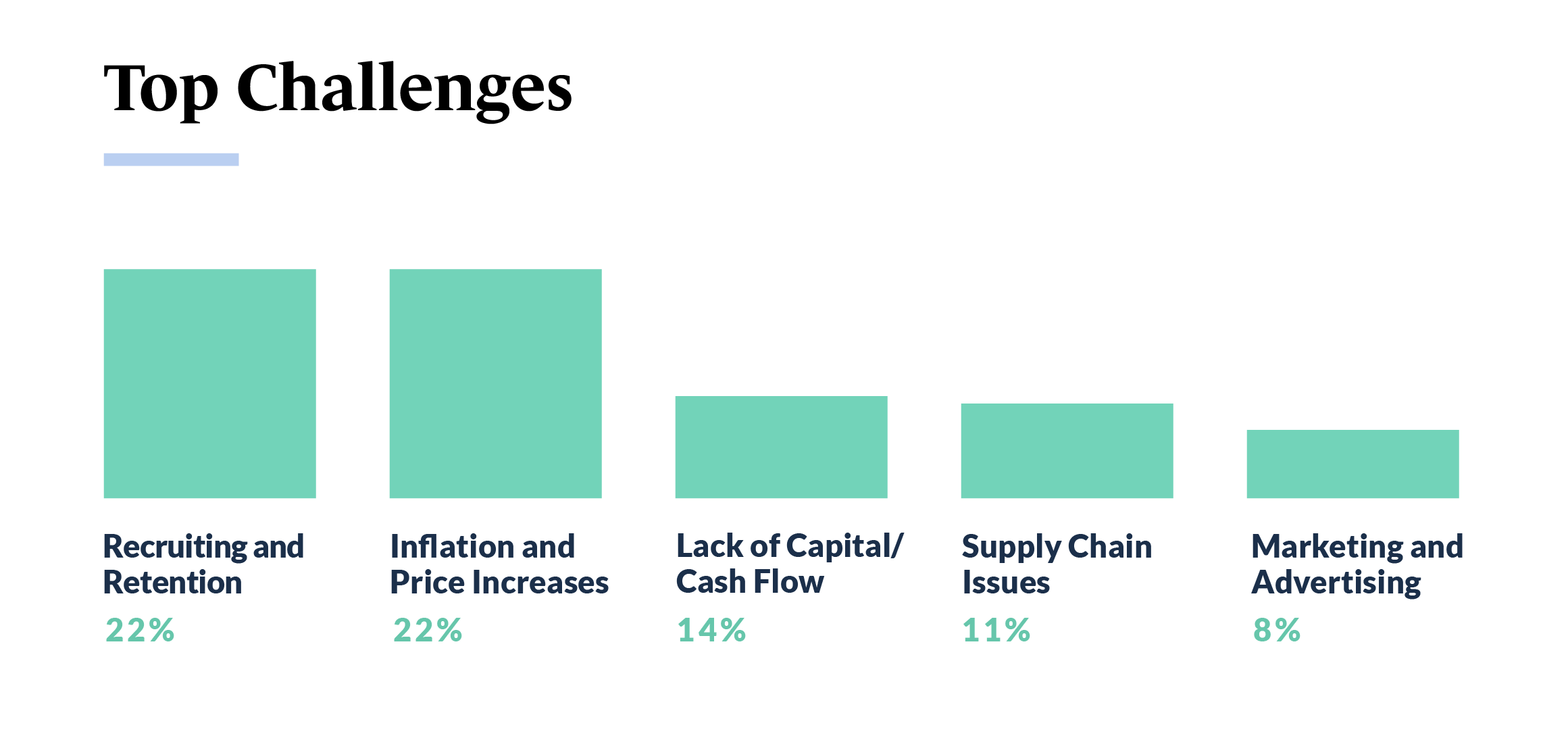 Economic uncertainty and inflation have made the road ahead more challenging for small business owners this year. Business owners' two most cited challenges are recruiting and retaining employees (22%) and inflation (22%). The second most cited struggle was a lack of capital and cash flow, reported by 14 percent of survey respondents. Supply chain disruptions, reported by 11 percent of business owners, ranked as the third most significant challenge in small businesses today.
Fewer than ten percent of surveyed business owners identified challenges with business promotion (8%), administrative work (7%), time management (6%), and providing or managing benefits (6%).
Measuring Happiness Levels

The resilience of small business owners shines through, as many business owners remain optimistic — even in times of economic uncertainty. While small business owners face unique challenges this year, most respondents surveyed still report being happy and content with their business ventures. Over 70 percent of small business owners feel satisfied as business owners, with 37 percent feeling "very happy" and 35 percent feeling "somewhat happy."
Out of those surveyed, 15 percent of business owners reported feelings of dissatisfaction, with 11 percent feeling "somewhat unhappy" and only four percent feeling "very unhappy."
Confidence Levels in Today's Economy

Despite ongoing and new economic challenges, small business owners' confidence levels in the economy have remained somewhat steady. Among respondents surveyed, 35 percent reported feeling very confident (6%) or somewhat confident (30%). An additional 17 percent of business owners felt ambivalent about today's economy. 
Still, the majority of small businesses fear economic uncertainty. Over 40 percent of respondents reported feeling very unconfident (12%) and somewhat unconfident (36%). 
While the road ahead may be uncertain, it's encouraging to see that many small business owners have remained confident in the face of a changing economy. 
Confidence Levels in Today's Political Climate

The current political climate is concerning for many small business owners. Many business owners said they feel "somewhat unconfident" (31%) about today's political climate, while 14 percent feel "very unconfident."
Though confidence in today's political climate among small business owners may seem bleak, a large number of respondents surveyed reported feeling "somewhat confident" (28%). Only six percent of business owners feel "very confident," — and the remaining 21 percent feel "neutral."
This mixed outlook highlights American small business owners' wide range of opinions and experiences. With the economic uncertainty and fears of an ongoing recession, nearly all business owners are hoping for more clarity, stability, and supportive small business policies.
Over 80 percent (81%) of respondents strongly feel that the government should put more effort into supporting small businesses with initiatives such as stimulus or grants, educational resources, and support programs. Under 20 percent of small business owners felt unsure (18%) and satisfied with current government efforts (19%).
Confidence in the Future of Small Businesses
Despite economic uncertainty and challenges over the past few years, a large number of small business owners remain optimistic about the future of their business ventures.
Most small business owners said yes when asked if they felt their business would survive current economic hurdles, such as inflation, rising interest rates, marketing fluctuations, and recession (76%). A small number of business owners don't expect their businesses to survive (6%), and 18 percent said they were unsure.

Securing the Future: Small Business Plans for 2023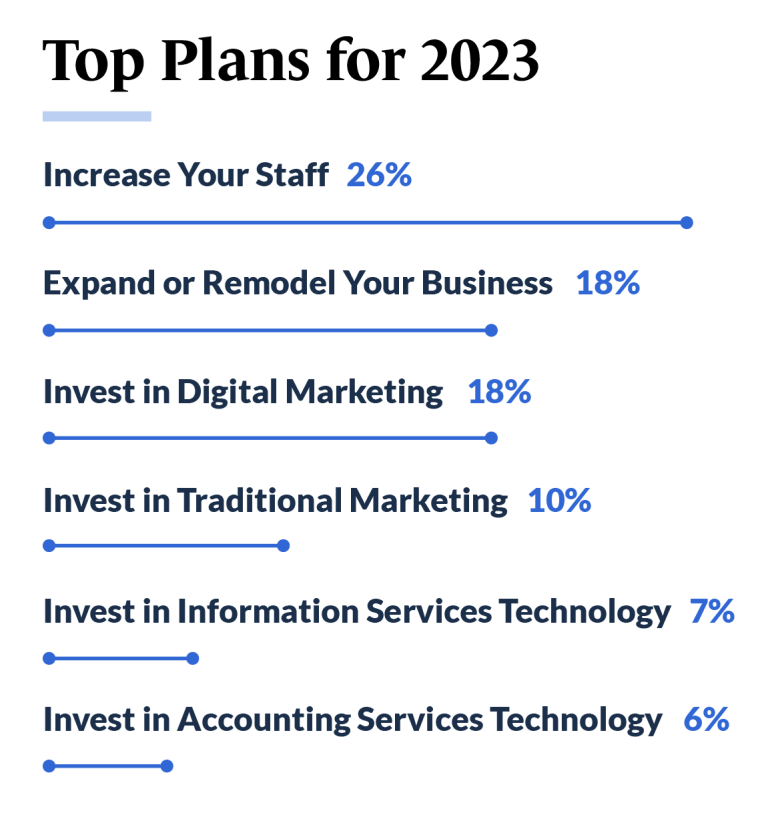 In response to the dynamic economy, many small business owners are strategizing to secure the future of their businesses. Nearly half of the business owners surveyed plan to grow their current location, service, or website this year (48.61%). In contrast, under 12 percent of business owners plan on opening an additional location, service, or website (11.13%).
The second largest group of respondents have plans to sustain their current location, service, or website (28.40%). These business owners are taking a more cautious approach — seeking to sustain their current successes while navigating the changing economy.
A small portion of business owners plan to sell their businesses (11.86%) in 2023, possibly due to new opportunities or economic uncertainty.
The Great Resignation Continues
Recruiting and retaining employees remains a key challenge among small business owners. Of business owners surveyed, 22 percent reported recruiting and retaining as one of their biggest challenges this year — tied with inflation.

Nearly 50 percent of business owners described the hiring process as "very difficult" (23%) or "somewhat difficult" (24%) compared to other years. Over 20 percent of respondents described the hiring process as "the same compared to other years" (22%), while 24 percent didn't hire this year. A minority of business owners described the hiring process as "somewhat easy" (4%) and "very easy" (3%) relative to previous years.
While recruiting and retaining employees remains a top challenge, there was a 16 percent drop of business owners who feel staffing is a major issue. This suggests that more small business owners have a positive outlook on hiring new employees.
In fact, many small business owners aim to grow their workforce this year, with 26 percent of those surveyed planning to increase their staff. A majority of small business owners plan to focus on growth this year, demonstrating their confidence in the future of their businesses — and need to expand their workforce.
Small Business, Big Challenges: The Talent Search Struggle
Although small businesses play a vital role in job creation, innovation, and economic growth, finding and hiring the right talent can be a major hurdle for many. Given the limited recruitment resources and budgets available to small businesses, staffing can be particularly daunting — especially when the skills needed are scarce and the competition is high.
The biggest challenge small business owners face in filing positions, according to respondents surveyed, is a lack of interest in the workforce and a low number of applications (27%). 
Many business owners cited the lack of necessary work experience among candidates as a primary challenge (18%), while 17 percent of respondents surveyed identified competition from other employers as their main hurdle.
In addition to work experience, small business owners also reported challenges with finding candidates who have the right technical skills (12%) and soft skills (11%).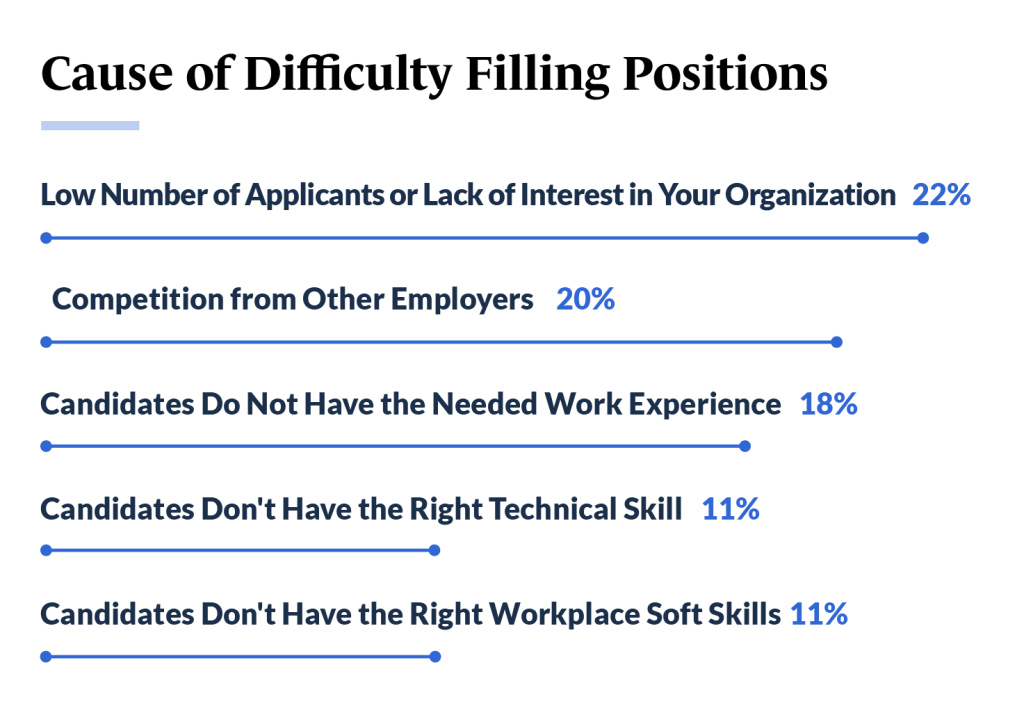 While finding candidates with sufficient work experience and needed skills are proving difficult, small business owners also continue to struggle with a gap in talent. Our study found that sales positions are the hardest to fill for small businesses, with 24 percent of business owners identifying it as the most difficult. The demand for skilled and experienced sales professionals is high — and many small businesses may struggle to compete with larger corporations in attracting top sales talent.
Construction and maintenance roles come in second, with 18 percent of small business owners reporting difficulty in filling these positions. With the rising demand for infrastructure projects, many small construction businesses are facing a shortage of skilled workers, making it challenging to fill critical roles. According to the Associated Builders and Contractors, the construction industry will need to attract an estimated 546,000 additional workers on top of normal hiring to meet the demand for labor in 2023.
Food service is also a challenging position for small business owners to fill, with 14 percent identifying it as a significant difficulty. Despite the high demand for workers in the food service industry, small business owners often must compete with larger restaurant chains to attract top talent — especially after the impacts of the COVID-19 pandemic. According to the Bureau of Labor Statistics, the restaurant labor force is still over 450,000 jobs below pre-pandemic levels as of January 2023.
Healthcare/childcare and management roles are also proving challenging for some small businesses, with ten percent reporting difficulty hiring for these positions each. The skills and qualifications required for these roles are often highly specialized, which can be a big roadblock for business owners in finding qualified candidates.
Overall, small businesses are still in strife with the talent gap in recruitment — with many business owners struggling to find candidates with the right skills, experience, and qualifications.
Overcoming Recruitment Challenges
How are small business owners addressing recruitment difficulties? In our segment surveyed, 27 percent of business owners increased compensation to ease hiring difficulties this year.
To reduce employee turnover, 16 percent of small business owners focus on improving retention efforts for their current employees, such as providing more opportunities for growth and development. This shows that many small business owners are committed to keeping their current employees satisfied and engaged. Nine percent of business owners are also increasing benefits and six percent are offer hiring bonuses as incentives to attract new hires.
In our study, small business owners have a relatively small staff — with the majority of respondents employing around two to five employees (38%). A small portion of business owners has a larger staff, with six to eight employees (18%), while 16 percent operate as solo entrepreneurs.
The number of businesses with a larger workforce is limited, with just six percent reporting a team of 16 to 20 employees. Only a fraction of small businesses in this segment has a staff size greater than 20 employees.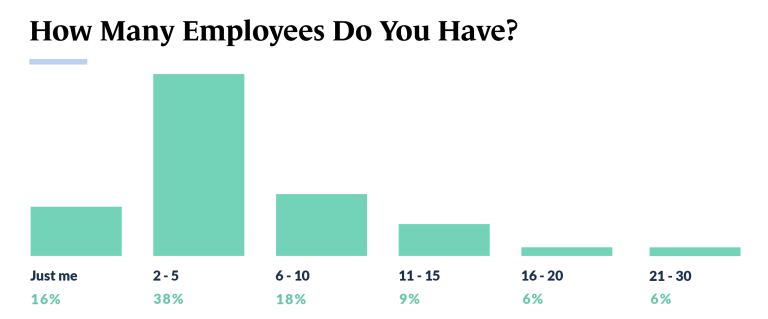 Remote Work Revolution: The Small Business Response
Despite the growing popularity of remote work, many small businesses have yet to embrace the trend. According to our study, a small percentage of business owners (2%) plan to offer remote work options. Similarly, only two percent of respondents are investing in remote work technology this year.
The COVID-19 pandemic caused a shift in how many businesses operate, with working remotely increasingly becoming the new norm. While larger companies may have been more prepared for this shift, it's worth noting that many small businesses rely more heavily on in-person interactions, making it more challenging to embrace remote work. Small businesses also typically have a unique nature of business operations that sets them apart from larger companies. For example, running a restaurant or food truck requires a physical presence and relies on face-to-face interactions with customers. Similarly, a local shop that sells specific products or services may depend on more personal interactions with customers. 
Still, even small businesses can benefit from embracing remote work in certain aspects — like outsourcing payroll or accounting and tax services or using online tools to manage inventory or scheduling. We're likely to see more business owners utilize more remote methods to help streamline their operations, reduce costs, and expand their reach in the coming years. 
Business Financing Trends
With inflation on the rise, the cost of starting a new business can quickly add up. For most small business owners surveyed, their startup costs were between $250k to $500k (27.3%). The second-highest reported startup costs were between $500k to $1 million (16%),

Another 15 percent reported startup costs of $100k to $175k, while other business owners reported $175k to $250k (15%).
The average cost of launching a new business is no cheap feat in a competitive and changing economy. Under 14 percent of business owners reported startup costs of less than $50k (3%) and between $50k to $100k (11%).
Even with today's economic challenges, Americans created over ten million new businesses this year — with experts anticipating the momentum to continue. Why? Recessions and economic downturns have historically driven growth in American small businesses, and economists forecast an upward trend in growth this year.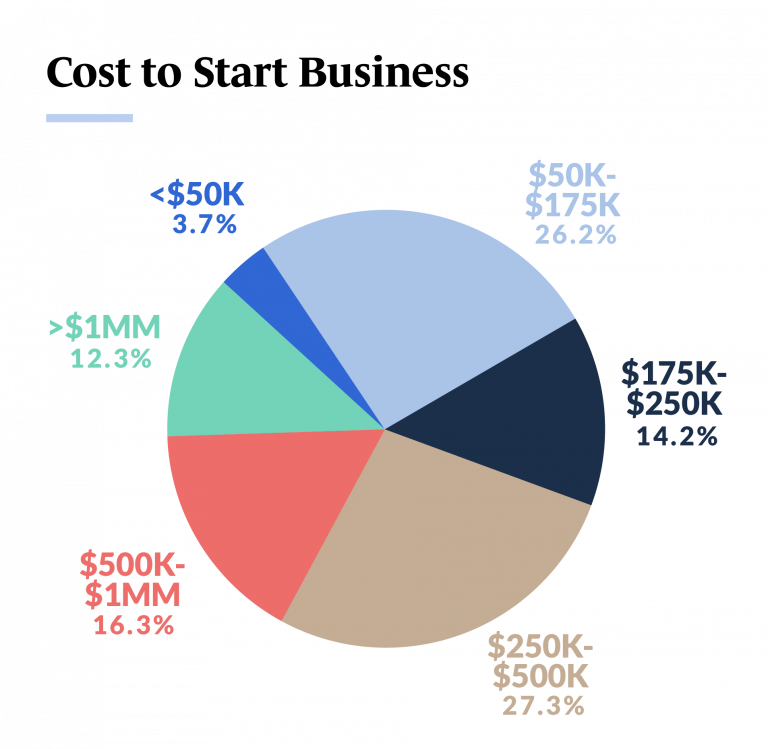 Rising Business Financing Methods of 2023
In today's economy, small business owners are especially on the lookout for new and innovative ways to secure business financing. 401(k) business financing has become increasingly popular among small business owners as this method — also known as Rollovers for Business Startups (ROBS) — offers a debt-free way to start a business.
Over 50 percent of respondents surveyed (52%) used ROBS to fund their new business this year. Cash was another popular method, with 19 percent of business owners opting to use their savings as capital.
It's important to note that our data study is taken from over 1,000 current and aspiring small business owners who work with Guidant. Due to this, a significant portion of respondents utilize Guidant Financials' Rollovers for Business Startups (ROBS) program for business financing, as Guidant is the number one ROBS provider in the US.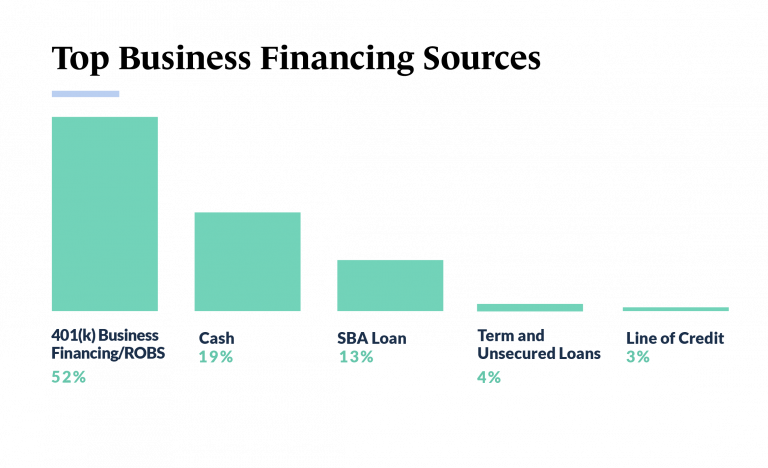 Small Business Administration (SBA) Loans continue to be a staple financing option for business owners, coming in third place among popular funding options. Thirteen percent of the surveyed segment of business owners used SBA loans to start their businesses in 2023. While SBA loans are more competitive to secure, they often offer business loans with more flexible terms. SBA loans are additionally backed by the government, which can make them a solid funding option.
With an unstable economy, many small business owners are looking for more reliable, lower-risk funding options. This may explain why we're seeing more and more entrepreneurs utilize ROBS, which is a great option for those seeking to sidestep climbing interest rates — especially in times of economic uncertainty. SBA loans also continue to be a trusted source of funding for small businesses, while many business owners rely on their personal savings and use traditional capital to start their business ventures.
Boldly Moving Forward: The Next Frontier of American Small Business
Despite economic hurdles, this year's Small Business Trends study highlights the resilience and optimism of small business owners. This positive outlook, combined with the prospect of a growing number of new businesses, points to a promising future for small businesses.
Although the impacts of the COVID-19 pandemic crisis and the Great Resignation seem to be receding, the reality of running a small business remains challenging in 2023. Our study showed that while some small businesses experienced substantial loss, a majority remained profitable. On top that, many business owners anticipate growth in the coming year and feel confident in surviving the challenges posed in the current economy.
American business owners are forging ahead — through inflation and recruitment challenges — to boldly venture into the next frontier of American entrepreneurship.
Ready to use your retirement funds to start your business?
No more questions about ROBS? Great! Let's get the process started today.