The money you need to start or buy a franchise.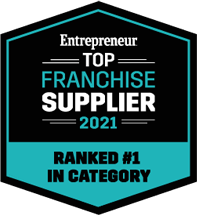 The #1 trusted funding solutions provider for franchises and their candidates.
Starting a small business from scratch is complicated. Instead of dealing with the unknown, you can feel confident with a franchise's proven business model. Guidant works with thousands of franchises from emerging concepts to established brands, making it easy for you to find the perfect fit for your small business dream.

Franchises already know how to operate successfully. As a franchisee, you'll have an experienced helping hand to guide you in opening and operating your new business.

Marketing is easier when you're buying into an already well-known and recognized brand. Many franchises have spent years developing their brand so you don't have to.

Trusted sources like Entrepreneur and Fit Small Business consecutively rank Guidant as a top financing supplier based on voting from franchisors and industry experts.
Why Franchise
How It Works
FAQs
Why Franchise and Why Guidant
Nearly 30% of small business owners start their business because they're ready to be their own boss. But it can be overwhelming to start from scratch. You need to develop a business idea, create a model for success, and oversee all aspects of your new business from building to advertising. That's why franchising is a popular option. By buying into a model that's already successful, you benefit from a franchise's experience, guidelines, and support, all while following your small business ownership dreams.
Why Start or Buy a Franchise?
Starting or buying a franchise lets you own your own business without many of the unknowns that come with developing a new business from scratch. Your franchisor will help you with designing, training, and marketing, taking much of the effort out of your hands. As a franchise owner, you're in business for yourself, but not by yourself. You have a proven system in place and a team behind you to support your success.
Proven Success
When you buy into a franchise, you're buying into a model that's proven to be successful. The hard work of building a profitable system is already done — all you need to do is follow the guidelines. With a franchise, the risks of your business failing are lower than starting an independent business.
Less Work, More Support
As a franchisee, you'll have the support of your franchisor behind you to back you up and save you much of the effort you'd spend as an independent business owner. Your franchisors will provide you location suggestions, construction instructions and building sources, front-to-back training, marketing, advertising and brand support, and continuing education for the duration of your time as a franchisee.
Easier to Fund
Thanks to a franchise's proven model of success, many lenders are more likely to fund franchises than startup businesses. Franchises often work with franchise financing suppliers like Guidant to help you through the funding process by providing financial statements, loan application support, and more.
Why Get Your Franchise Financing from Guidant?
Starting or buying a franchise requires a capital investment, which can range from a few thousand dollars for home-based franchises to millions for larger, more recognizable brands. But you don't need to have that money on hand — most franchisees use financing to meet their funding needs. As a leader in franchise financing, Guidant has over 15 years of experience helping franchisees like you get the funding they need to open their doors.
Accessible Funding Solutions
We offer a full suite of financing options to help get you the money you need to start or purchase a franchise location. These options have helped over 20,000 small businesses and franchises open. With options including 401(k) business financing (also known as Rollovers for Business Start-ups or ROBS), SBA 7(a) Loans, SBA Express loans, portfolio and unsecured loans, and more, we've got your franchise financing covered.
Industry Relationships
We've developed relationships with thousands of franchises and industry experts over our 15 years of franchise funding support. We work with successful leading franchises from established brands with hundreds of locations to fresh, emerging concepts rapidly gaining popularity. We also work with industry experts, including networks of franchise consultants who can help you discover the perfect brand fit for you.
Lifetime Support
We're here for the life of your franchise. Our mission statement is to help people succeed in small business, so we're committed to supporting you beyond funding. We offer business services to help you manage and grow your business, such as integrated payroll and HR services. We also offer access to various discounted services through industry-leading providers. And if you decide to sell your franchise, we're here to make it as easy as possible with our Seller Suite. We'll complete a business valuation to suggest a fair asking price and provide the tools you need to attract qualified buyers.
401(k) Business Financing (Rollovers for Business Startups)
Debt-Free Funding. No Tax Penalties.
Star or buy your franchise with your retirement funds. You'll avoid tax penalties and extra debt, giving you a cash-rich start.
A Quicker Path to Profitability.
401(k) business financing isn't a loan or a distribution. You don't have to worry about racking up interest or monthly payments. With 401(k) business financing, you make money sooner rather than later.
You don't need to risk your house as collateral or have a minimum credit score. If you have $50,000 in rollable retirement funds, you can use Rollovers for Business Startups (ROBS) to fund your franchise.
Funding Your Franchise With an SBA Loan
Big Loans. Low-Interest Rates.
Small Business Administration (SBA) loans offer big benefits like low interest rates, long repayment terms, and no ballooning costs.
One Application. Many Lenders.
We make it easy for qualified borrowers to get an SBA loan. You'll reach our extensive network of lenders with one application — and get the perfect fit with a competitive advantage.
Comprehensive Loan Analysis.
SBA loan applications are complicated. We give you the best chance of success by providing a thorough analysis to make sure everything is right before you apply.
Unsecured Loans for Franchises
Fast Funding. No Collateral.
If you have good credit and don't want to risk your home or other assets as collateral, an unsecured business loan offers you fast, easy financing.
It's easy to apply for an unsecured loan, unlike many other business loans. Because the process is so simple, most loans close in three weeks or less — so you can get started faster.
Interest rates for unsecured loans start from 0% to 3%. Low interest rates make unsecured loans an ideal solution for business owners who need short-term financing.
See How Much Money You Qualify For Today
Receive a list of funding options tailored for you.
By pressing "Get Started," you agree to this website's Privacy Policy. You also consent to receive information from Guidant Financial at the email address or telephone number you entered. This information may be provided by a phone system that can auto-dial. You aren't required to consent to use our services.
Use 401(k) Business Financing as a Down Payment for Your Franchise Loan
You don't need to have enough funds in your retirement plan to completely cover the costs of your franchise needs. You can combine small business financing methods by using your 401(k) business financing funding as the down payment on an SBA Loan — without triggering any tax penalties or draining your savings.
While both 401(k) Business Financing and SBA Loans have advantages as stand-alone programs, together they can set you up on a path for franchise success with a higher funding amount and lower monthly payments.
"[Guidant walks] you through the entire process of buying a business. You're in business for yourself but not by yourself."
Bohnne Jones
Decorating Den; Nashville, TN. After experiencing a series of layoffs, Bohnne was ready for a career makeover. She took control of her future and embarked on an encore career as a business owner.
"Guidant is a perfect vehicle for small businesses to get established. We would not have been able to start the brewery without them."
Suzie & Todd
Noda Brewing Company; Charlotte, NC. For husband and wife Todd and Suzie, the key to spending more time together was small business ownership. With Guidant's help, the couple transformed their long time home-brew hobby into their dream business.
Ready to take the next step?
Get in touch with a Guidant expert to find out which programs, and how much, you qualify for.