"One day, I woke up and realized that I've always wanted to have my own business — so, I made the leap!"
DONALD BENTON, GRANITE AND MARBLE SOLUTIONS
No (Business) Stone Left Unturned
Donald Benton, Granite and Marble Solutions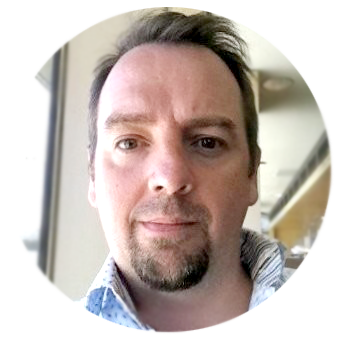 After 20-plus years working in the IT world and as a Delta Airlines consultant, Donald Benton grew tired of meeting hectic deadlines and overseeing a large corporate team. He sought other opportunities, but the market was tough. Benton couldn't find the job of his dreams. That's why he made his own dream job instead.
"One day, I woke up and realized that I've always wanted to have my own business, so I made the leap," Benton said. "I've been a lifetime entrepreneur, and that entrepreneurial spirit is really where I excel."
Benton decided he wanted to become a small business owner, but he had to find the perfect business opportunity first. After searching for several months, Benton found it: Granite and Marble Solutions.
Granite and Marble Solutions is a full-scale and well-established fabrication and installation company in Atlanta, Cumming, and Alpharetta, Georgia. The business offers high-quality granite and marble materials. Whether clients want to bring their dream kitchen to life or retile their hotel lobby for a fresh look, Granite and Marble Solutions can help them through the process — from start to finish.
The business sets itself apart from its competitors with its craftsmanship, competitive pricing, and reliable service in the Metro Atlanta and Cumming, Georgia market.
"I'm a granite guy. We do countertops and other stone installations in people's homes or even hotels," Benton said. "My whole world has completely changed."
Unlike many business owners, Benton didn't necessarily take a hobby and turn it into a job. He knew that purchasing Granite and Marble Solutions was a great business opportunity. But Benton actually didn't know much about granite before he became a business owner.
"Matter of fact, I used to think I had the most beautiful, coolest countertops. I realized later that it was bottom grade," Benton said. "So, I had no clue — even quality of materials — when I walked into this."
As a hobbyist woodworker, Benton could relate much of his current skill set to stone-working. And he wasn't afraid to get his hands dirty. With his years of experience in corporate America and entrepreneurial spirit, Benton was confident he could run a business. But getting the funds to buy Granite and Marble Solutions was tricky at first.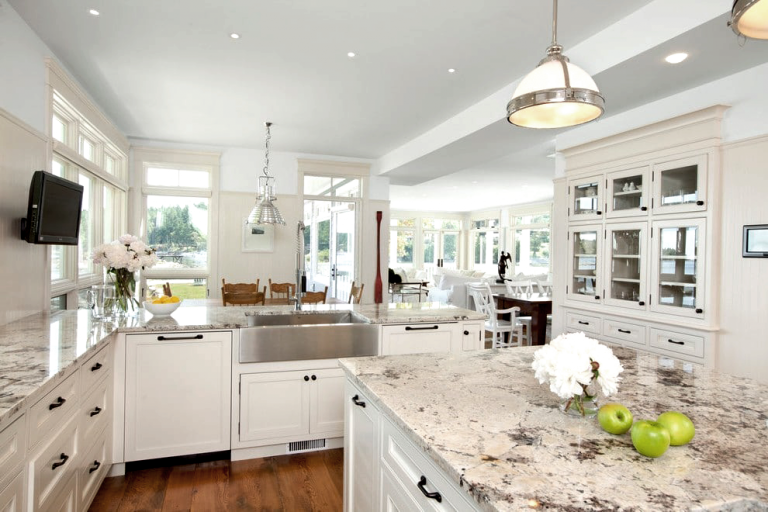 A recent study in 2022 revealed that the average American savings account balance is $4,500 — and 42 percent of Americans have less than $1,000 in savings. Like a majority of Americans, most of Benton's savings were in his 401(k) retirement plan. Tapping into your 401(k) early, however, usually comes with significant withdrawal and tax-penalty fees.
"I was trying to find out how to tap into this 401(k) money without being penalized," said Benton. "Being a corporate guy, that's where all my money was sitting."
Then, Benton learned about something called 401(k) business financing, also known as Rollovers For Business Startups (ROBS). He wanted a partner with decades of business financing experience, so he chose to partner with Guidant Financial to use ROBS.
"There were only a couple of companies that really seemed to know what they were doing when it came to the [ROBS] process," said Benton. "I was nervous going into the process. … You're taught never to touch your retirement money, right? But there's risk that's always associated with [starting a] business."
With ROBS, Benton can use his 401(k) money to fund his business — without tax-penalty fees. And because ROBS isn't a loan, he doesn't have to worry about accruing debt. And with help from Guidant, Benton easily secured the funding he needed from his 401(k) to buy his dream job.
"Guidant kind of guides you along and does a lot of the hard work for you. So, it was a very easy process — the whole thing," he said. "My wife and I were surprised by how easy it was! It was harder to buy our last house."
Benton officially closed the deal and purchased the business in September 2020. The owners trained him for a couple of months, and Benton has been the proud owner of Granite and Marble Solutions since. And life as a small business owner is better than he could have imagined.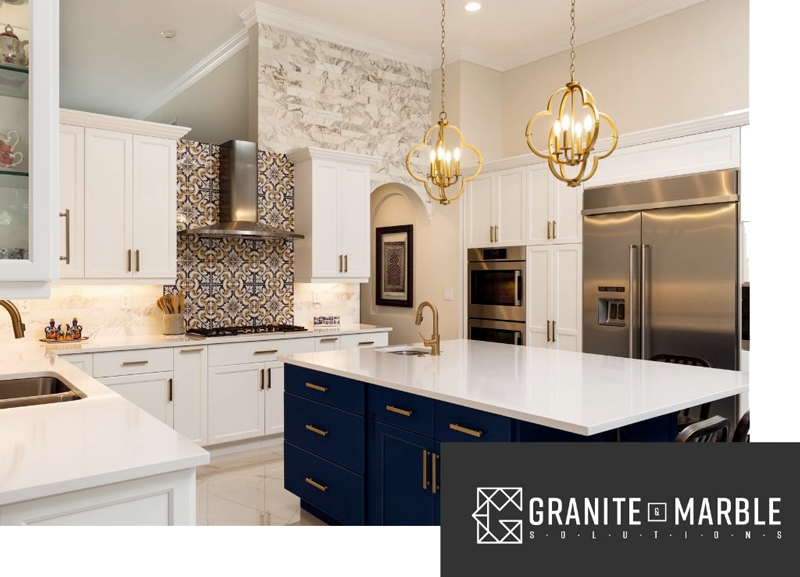 Coming from a corporate background, Benton was well-versed in management. But managing a small business is a whole different ballpark. When Benton took over, all 13 employees stayed on board. Benton now has up to 15 employees. As a small business owner, Benton feels he gets to create more genuine connections with his employees than he could as a manager in corporate.
"Now as an owner, especially at this smaller business, employee retention is very important," said Benton. "You really kind of need to help nurture these people along. … It's a different mindset as an owner than just a manager or a director."
Benton enjoys mentoring and connecting on a deeper level with his employees, but his favorite part about being a small business owner? Being his own boss — and helping clients achieve stone envy.
"No one tells me when I have to be at work and when I have to go home. With that being said, I'm here early, stay late, and work on the weekends," said Benton. "But it's liberating to know that you have that choice."
While he loves the freedom of being a small business owner, Benton enjoys changing his clients' lives with stone envy the most. Any kind of renovation can be stressful for clients. Granite and Marble Solutions aims to free the stress of any remodeling project and installs quality "gems" for people looking to upgrade their homes or commercial spaces.
"I like to think we provide 'gems' on everything," he said. "When people walk into your kitchen, and you have this awesome piece in there that's unique and beautiful — those are what I call 'gems.' And that really makes people feel good, and they let you know it!"
Facing Uncertainty in Business
While being a small business owner is rewarding and liberating, running a business isn't always smooth sailing, especially in uncertain times.
But Benton is no stranger to business uncertainty. The previous owners of Granite and Marble Solutions faced a downturn in March 2020 due to the COVID-19 pandemic. Initially, Americans were hesitant to spend during an economically challenging time. And then that changed as more and more people transitioned to remote work. More people were spending more time at home — and naturally, many wanted to upscale their surroundings. That's why some of the effects of COVID-19 unexpectedly helped the business boom.
"The pandemic, overall, was pretty good to get started in [business]," Benton said. "This gave me a leg up, and it's been an interesting landscape for business."
With prices steadily climbing in the U.S., Benton — like many small business owners — now faces a different kind of uncertainty.
"My labor costs are going up. My stone costs go up all the time, especially any manufactured materials," Benton explained. "So, it's been a real challenge right now with the inflation driving up the costs of everything."
Despite the challenge, his business hasn't slowed down. Benton just got more creative in his supply chain and focuses on educating his clients more. For example, the manufactured, lower-end materials cost nearly the same as the real stuff now. That's why Benton encourages clients to get more bang for their buck on natural stone that will last.
"Man-made materials are pricing themselves out. So, I started to focus on really highlighting natural stone and bringing all the positive aspects to the market," he said. "What used to be considered 'economical' is not anymore. … You can now get something really nice for the same price."
Business for Benton continues to thrive. His only regret? At times, Benton wishes he had entered the world of granite — and small business — sooner. But Benton believes when the timing is right, you'll know.
"Sometimes I wish I'd done this sooner, but I think that the right time always shows up," said Benton.
And if it is your time to become a business owner, his best advice? Don't do it alone.
"When the time is right, don't try to do it all yourself. That's a recipe for disaster," Benton advises. "It's liberating to understand that there are people out there that can help you."
Since Benton partnered with Guidant to use ROBS, he also decided to use Guidant's Payroll Services. Guidant's business and funding services fully integrate together, so Benton's 401(k) data can sync seamlessly with payroll. Plus, Guidant's financial and payroll experts are always a call or text away if any issues arise.
"It just made sense to tie it all together. So, I knew if I ever had any problem, I could talk to someone at Guidant," he said.
The best part? With Guidant's payroll services, Benton doesn't have to expend any extra brain power on the payroll process. And he always has backup if issues show up in the backend.
"I've got someone there to help me out with Payroll, so I don't have to dedicate a lot of brain cells to that," Benton said.
Ready to start your business journey?
We can help you with the first step. Pre-qualify today for business financing — and reach out to us at 888-472-455 for a FREE consultation!