Learning Center: Break-Even Analysis Calculator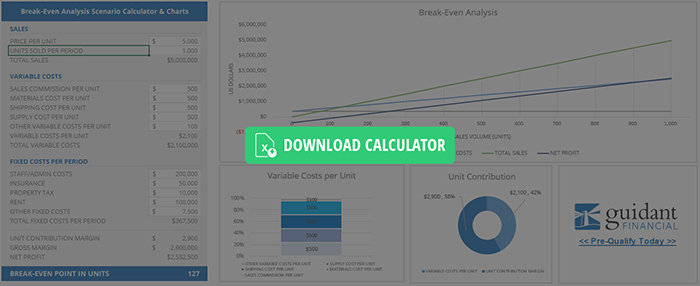 Break-Even Analysis Calculator
The million-dollar question all business owners want to know is "when will my business break even?" In other words, at what point will the business's sales revenue outperform its expenses so it can start making a profit? Our break-even analysis calculator makes answering this question easier by evaluating a business' sales, variable costs and fixed costs to calculate how many units must be sold to break-even. It also allows you to run different scenarios to see the impact on net profit, such as price per unit, sales commission, staff/admin costs, etc.
Ready to take the next step?
Get in touch with a Guidant Financial expert to find out which programs, and how much, you qualify for.