"If you are going to do a ROBS, why not keep it with the people who actually are experts? It's going to save you a ton of time, frustration, and paperwork in the business."
Mike Brown, Flying Locksmiths
Unlocking Success: One Veteran's Path to Building a Thriving Business
Mike Brown, Flying Locksmiths
Metro West, Massachusetts
Service and hard work have always been a core part of who Mike Brown is. As a U.S. Marine Veteran with strong values in honor, courage, and commitment, Brown always knew he wanted to make a positive impact on the world. After leaving the military, he pursued a 25-year-long career in marketing and advertising — but something felt missing.
Brown had dreamed of running his own business for years. With help from Guidant, Brown decided to take the leap and open a Flying Locksmiths franchise location in MetroWest, MA.
Now, as the owner of a thriving physical security business, Brown's military background and commitment to excellence shine through every aspect of his work. To Brown, the Flying Locksmiths is more than a locksmith service. It represents his dedication to providing security services and advocating for trade smiths in his community.
So, how did a U.S. Marine veteran with a strong background in marketing and sales become a successful business owner? In this story, we'll explore Brown's background, experience with starting a business, and the challenges he's faced as a business owner — followed with key advice for aspiring business owners.
From Working-Class Roots to Entrepreneurial Success
Brown's upbringing in the small, blue-collar town of Western Massachusetts played a crucial role in shaping his values and career trajectory. With a father who served in the Navy and many family members as firefighters and police officers, it's no surprise that Brown always felt a strong sense of duty and service. His mother, a hardworking school bus driver, also instilled a strong work ethic in him.
Both of Brown's parents encouraged him to attend college while working at the reserves in the Marine Corps infantry. At Boston College, Brown pursued a degree in media and advertising — a choice that would eventually lead him to New York City, where he would start his career in media and advertising.
He later gravitated toward sales and worked his way up the ranks, eventually becoming a sales manager. Over the years, Brown worked with high-powered clients and sold to big markets. He even sold advertising space for major events like the Super Bowl.
Despite his success in advertising and sales, Brown eventually realized that his lifestyle wasn't sustainable. He found himself burned out and unhappy with the direction of the industry.
"I was trying to figure out how to maintain the lifestyle and quality of living that I provided for my family," said Brown. "I was burnt out and didn't really like where the business was going."
As an assistant coach at his son's little league, Brown and the head coach often talked about opening their own business someday. But that someday would never come for the head coach. When Brown learned about his friend's tragic death in a car accident, he realized he couldn't wait for "someday" any longer.
"We'd always talk about 'someday.' 'I got to get out of this someday.' He was talking to me about the same things," Brown recounted. "So, for me, that day, I decided that I am going to actually do something to better my life."
Over the next couple of years, Brown learned everything he could about being a business owner and running a business. He listened to podcasts, read books, and researched different industries. As the first one in his family to pursue entrepreneurship, Brown wanted to be sure he made the right career choice for himself — especially as a man in his mid-40s with a wife and family to provide for.
With the need for guidance and a significant career change, Brown decided to work with a career coach to help him map out his future. His coach believed in Brown's potential to become a successful business owner. Together, the two began looking into business opportunities, which eventually led Brown to the Flying Locksmiths franchise and Guidant Financial.
Funding His Business Dreams
When Brown was ready to leap into business ownership, the legal and financial aspects of starting a business felt daunting and overwhelming. He had no idea what steps to take to fund his new franchise until his career coach introduced him to Guidant Financial.
Guidant is the top provider of Rollovers for Business Startups (ROBS) in the U.S. and has helped over 30,000 small businesses nationwide with funding and support. ROBS enables entrepreneurs to use their retirement savings from 401(k) or IRA accounts to fund their businesses — without facing early withdrawal penalties or getting stuck with ongoing debt.
"I had no idea what went into creating a business, legally and all of that, until I was turned on to Guidant," said Brown. "I did ROBS, and that's how I funded my business. I didn't want to go into debt."
With Guidant's help, Brown established his company as a C Corporation and easily transferred funds from his 401(k) account to invest his hard-earned money into his own business and himself as a business owner.
"This is basically just an investment, diversifying out of my 401(k) into this investment, which is me," he added.
Guidant's experts provided Brown with the funding to start his business and the necessary guidance and support throughout the process. By opting for the ROBS program, Brown could get the capital he needed to purchase a location and run his business without being tied to traditional loans or funding sources. 
While purchasing the location for his business was an important milestone, the veteran knew that it was only the beginning of his journey as a Flying Locksmiths franchisee. But with the funds secured through the ROBS program and expert support from Guidant, Brown was poised to face any challenges ahead.
Running a Flying Locksmiths Franchise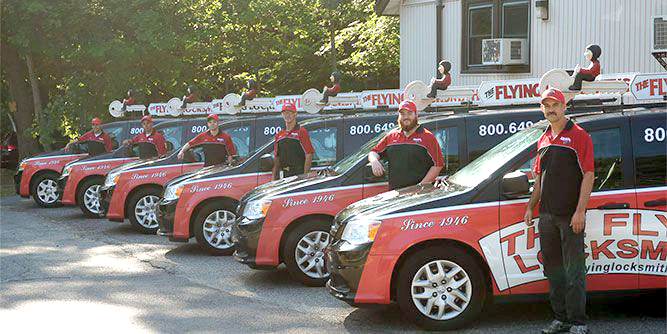 The Flying Locksmiths is the Leading Nationwide Provider of Commercial Door Security Solutions with over 70 years of experience in the industry, spanning across 35 states in the U.S. with over 90 locations across the country.
But the Flying Locksmiths isn't your ordinary locksmith service. The Flying Locksmiths offers certified physical security experts who specialize in all sorts of areas, such as access control, door and frame repair or replacement, and installing intercoms and security cameras. According to Brown, the modern-day locksmith needs knowledge and expertise across multiple services.
As an owner of this franchise, Brown has faced many unique challenges, including finding skilled locksmiths to work in his business. Recognizing the need to bolster the locksmithing trade, Brown worked closely with the Flying Locksmiths franchise to create a task force in Greenville, SC, offering a two-week training boot camp for technicians and apprentices. The veteran's goal is to eventually create a regional training center, providing formal training for locksmiths in all aspects of the trade.
"The hope is to create a regional training center where they will have formal training for locksmiths," said Brown. "We get a lot of electricians who didn't get their license and realized 10,000 hours was too much."
Locksmithing has a very similar skillset to other trades and allows people to continue working with their hands — in a profitable way, Brown explained. He also noted that locksmithing has evolved beyond basic services like key duplication or lock picking. In fact, Brown said that "basic locksmithing is literally the last thing we do."
Nowadays, locksmithing also involves replacing doors and frames, installing access control systems and security cameras, and handling other low-voltage security measures. Brown's goal is to eventually structure a training center that offers courses in all the different services, from basic locksmithing to emergency exit devices and hardware installation.
"This is one of the paths I'm trying to help make," Brown said of his mission to strengthen the locksmithing trade. By collaborating with the Flying Locksmiths franchise and working to improve the industry as a whole, Brown hopes to create a pipeline of skilled locksmiths that can meet the ever-growing demand for advanced security systems and other services.
As a veteran himself, Brown is also committed to helping other veterans by providing job opportunities and training programs. Brown believes that veterans have the potential to be successful in any industry because of their commitment to hard work, discipline, and integrity. And in the locksmithing industry, those qualities are highly valued. What's more, veterans typically have a strong technical background that can translate well in the modern-day locksmithing trade.
"They have a technical skill set. We just need to take that and train it," Brown explained.
He also noted that the government and military often provide funding to offset some of the training costs. Through educating, creating jobs, and offering training opportunities for local veterans, Brown hopes to strengthen the community and give back to those who have served.
Facing Unprecedented Challenges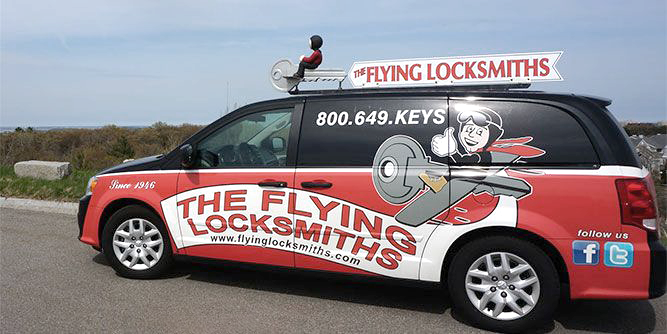 Brown faced uncharted territory when a pandemic, inflation, and supply chain issues struck nearly all at once, challenging him and his business in ways he would never have anticipated. Brown managed to stay afloat by serving essential businesses, such as medical and senior living facilities and schools.
"We had a little flow of business accounts that were still open and functioning during the pandemic, then we come out of it, and we get hit with supply chain [issues] and crazy prices," said Brown. "When I first opened, the economy was booming. Everybody wanted upgrades, and then the pandemic hit. Everything stopped, and everyone got scared."
The pandemic also had a ripple effect on client relationships. Brown had to implement new strategies to manage client relationships effectively — not only were previously reliable clients not paying their bills, but supply chain issues were creating delays and disrupting operations.
"When the supply chain issues hit, it just jammed everything up. I actually feel people getting scared again," Brown acknowledged. "One of the reasons why I did this franchise is because it is technically recession-proof. In good times, people want to lock up all their good stuff. In bad times, people really want to lock up their stuff. And there are industries that are always going to need to be secure. If you can build those relationships with them, you can at least keep moving."
Brown successfully navigated economic challenges and uncertainty by being adaptable and resourceful. His ability to pivot the business, reach out to essential businesses, and provide services that were always in demand, helped him and his team to stay afloat and continue to grow even during difficult times.
The Magic Sauce for Success
In Brown's experience, there is no single secret or magic sauce to success as a small business owner. But with a combination of hard work, consistency, and a commitment to putting the customer first, Brown believes any business can thrive, no matter the times.
"I wish I could tell you that I have some magic sauce that I found that's brought me success these past five to six years," said Brown. "This company, even though we have had the pandemic and supply chain issues, on top of labor issues, I still grow every year. And I'm not a magician."
While Brown acknowledges that he has no secret sauce for success, he believes that having a solid mindset will always pave the way.
"Just work on your mindset. I understand that it's scary at times, but it's going to pay it back in the end because you can't do it all yourself. That's a recipe for disaster," he said.
In Brown's experience, applying your unique skillset to your business can lead to success. His best piece of advice for aspiring business owners is to identify what you enjoy and are good at — and delegate the rest.
"As a business owner, stop and remember what you like doing and what you're good at doing. Then, delegate the rest," said Brown.
As a small business owner, Brown stresses the importance of not trying to do everything yourself. He acknowledges that he's not a lawyer or an accountant and prefers to avoid the nitty-gritty work of legal or administrative tasks.
"It's an investment back in my time to be happy to do what I'm good at and to push my business forward — not sitting here trying to do my own taxes or end-of-year reporting. That would be a nightmare to do without any help," he explained.
Partnering with Guidant's Payroll and Accounting & Tax Services
When Brown realized the payroll service he was using was far too expensive for his business, he was pleased to learn that Guidant's Payroll Services were tailored to meet the needs of small business owners like himself. He quickly made the switch and was impressed with the Guidant team's expertise and professionalism, especially with the guidance he received from the Director of Payroll Services, Phil Cooney.
"My experience has been great. Guidant added additional services, which I participate in," said Brown. "In the payroll HR admin side of it, Phil couldn't be any better. He's amazing!"
Brown also plans to partner with Guidant for his accounting and tax needs in the coming years. He knows that keeping everything in one place frees up valuable time — and as a small business owner — time is priceless.
"Now they're offering bookkeeping and taxes. Having everything in one place saves me so much time. And as a small business owner, time is the most valuable thing I have," Brown explained. "When I can't get back some of it back to either enjoy my life, I'm going to invest further into the business by doing something that's going to generate revenue. Time is invaluable to me."
One of the things Brown appreciates most about Guidant's services is their expertise in ROBS. Having executed the plan to create his business, Guidant continues to be a valuable partner throughout his business journey.
"If you are going to do a ROBS, why not keep it with the people who actually are experts?" Brown said. "It's going to save you a ton of time, frustration, and paperwork in the business."
Thanks to Guidant's help, Brown has less paperwork to worry about and more confidence in his business's financial future. "I have so much more confidence should the IRS come knocking," he added.
From payroll to bookkeeping and tax services, Guidant makes it possible for Brown to focus on what he does best — all while delegating the more time-consuming and tricky tasks to experts in the field.
Mike Brown's Key to Happiness
For Brown, the key to happiness is simple: the freedom that comes with being his own boss. Being his own boss has given him control over his schedule and more time for the things that bring him joy, like hitting the golf course.
"I make a commitment to myself to play at least once a week because that makes it worthwhile. It keeps me happy, fills my heart, and I meet people," he shared.
Thanks to his business ownership, Brown can also now spend more quality time with his family. Whether he's running his business, coaching his son's little league team, or playing a round of golf, Brown is grateful for the flexibility that comes with being his own boss.
"I see my kids so much more since I bought this business because I'm free to do what I want, and to me, that's worth everything," he said.
Six years on, the Flying Locksmiths franchise in the Metro West, MA, area is still strong. The business has become an integral part of the community thanks to Brown's unwavering leadership and deep commitment to customer service and excellence — with a shining 4.9 review rating average to back it up.
Brown is eager to keep serving his community and cultivating a new generation of local locksmiths.
Ready to start your dream business?
We can help you with the first step. Pre-qualify today for Small Business Financing.