"Guidant just takes care of things that matter. And that's the most important part of this business that we've started together — knowing it's going to be taken care of."
— Doug Ross, No-H20 Car Cleaning
Working at the (No-H20) Car Wash
No-H20 Car Cleaning, Doug Ross
After a 40+ year career in finance, Doug Ross decided to make a change — and spend more time with his sons. Franchising in the automotive industry, particularly in No-H20 waterless car washing and detailing, fit the bill.
"I wanted to do more with my five sons, and I spent a lot of years away from them in my career," said Ross. "Franchising seemed to be one of the best ways for us to work together in something that we could all enjoy."
Six months ago, Ross franchised and built a No-H20 Car Cleaning business with his three sons, Gino, Jake, and Rocco. Not only does his son Gino especially love the environmentally friendly aspect of the No-H20 business, but all his sons share a passion for the auto industry and cars. Even his two younger sons, who are still in school, help when they can — and plan to spend more time working at the business after they graduate. The Ross family's affinity for autos only grew as they experienced more luxury and rare vehicles close-up.
"Gino loves cars, Jake loves cars, and this was related to cars in such a cool way. Cleaning them is kind of cool but seeing all the different brands of cars has been the biggest surprise," Ross explained. "We've done some at car dealerships that [we thought] we'd never work on, [like] a $500,000 car."
Working on a higher-end car over $500,000 was intimidating at first. But now, Ross and his sons routinely detail Porsches, Audis Mercedes, and BMWs. And they also get opportunities to detail rare vintage cars, like the 1968 Chevrolet Chevelle.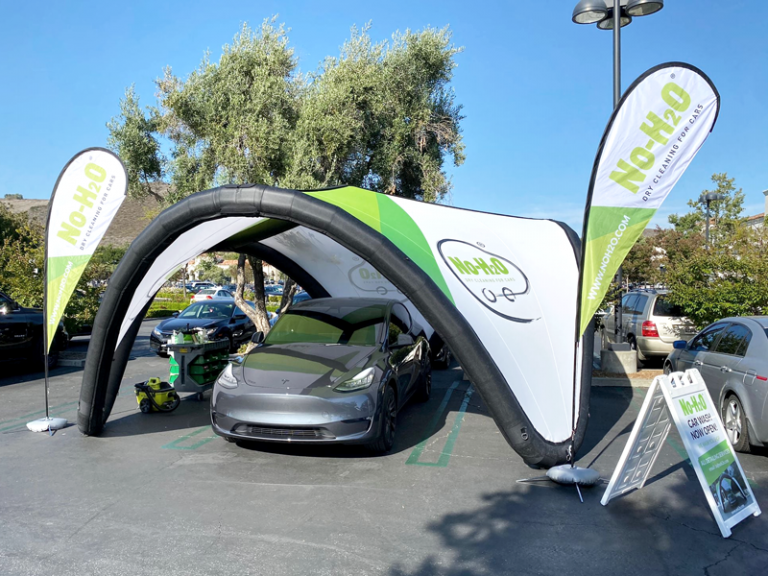 With each car wash and detail, No-H20 Car Cleaning saves over 30 gallons of water by using non-toxic and biodegradable, no-scratch solutions. Customers love this eco-friendly service because of its convenience. And in Ohio, there's no shortage of customers who need a car wash. The harsh and cold Ohio weather means more people spend more time in their cars — and that, along with the salted roads, naturally takes a toll on the vehicles.
"Our customers are finding us because their cars are dirty. The Ohio weather is sort of brutal, and we're in our cars a lot," said Ross. "So, our target market — kind of surprisingly — started out to be moms who have a lot of kids and needed their cars detailed. And then one thing led to another."
At first, their main target market was busy parents who desperately needed their cars detailed. But the word of their No-H20 service spread around the area, and the business quickly boomed. The convenience of their services made the business especially popular.
 "It's a different message than water shortage — like it would be, say, in California, Colorado, Arizona, Florida, or Texas. It's a convenience message here," said Ross. "In the business, we're having the time of our lives, and we're growing organically in Ohio."
From everyday cars to vans to work vehicles and trucks, the family-run franchise take care of it all. No-H20 Car Cleaning takes care of everything from beginning to end, all while offering a unique way to conserve water. Ross and his sons put convenience, community, and connection first — and the rest followed.
Partnering with Goodyear and Building Connections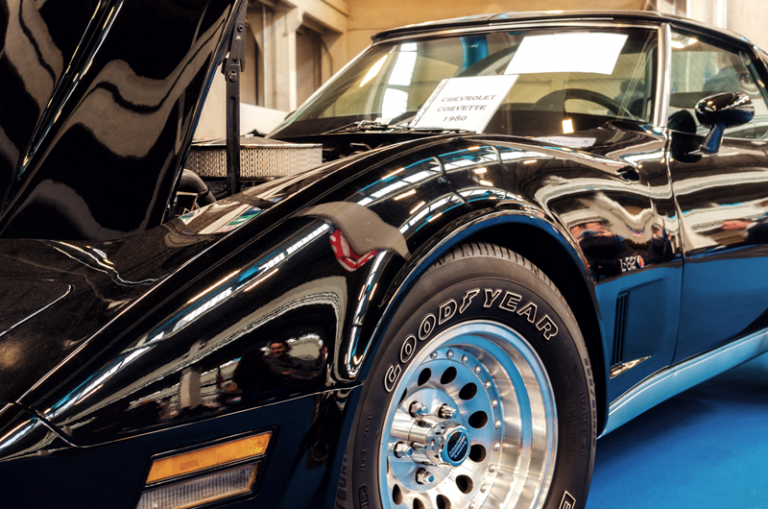 When Ross first dreamed of starting a business with his sons, he never imagined that their business would lead to exciting opportunities, like partnering with Goodyear, a prominent tire and rubber company that's been in the automotive industry for over 30 years.
"We got introduced to Goodyear, and I can't believe it — but now we're doing Goodyear's 90 executives' fleet trucks, vans, and work vehicles in their heated garage," said Ross. "I can't believe how this thing has taken us to people in areas that we never dreamed of. … Don't be surprised if, in a year from now, we've done a Goodyear jet!"
While Ross' sons work on the vehicles, Ross enjoys taking breaks to network and build relationships with local families and business owners. The Ross family and their business is now well-known in the community, especially because they uniquely offer in-home service on demand. Funnily enough, Ross also knows many of their clients from his former career in finances.
"We show up to customers' houses or their businesses. And it's funny because a lot of them were from my wealth management business," Ross explained. "I start talking to them, and the boys are working on the cars, and I'm sitting there having a profiling conversation with them."
When it comes to business, coming from a background in financing certainly helps, but Ross didn't expect his connections and community loyalty to be so rewarding in his new business.
"There are some parallels to this business that are very strange to my career that I didn't anticipate," Ross reflected.
Ross and his sons have been running No-H20 Car Cleaning service since June 2022. Ross says they're now living the dream. His goal was to work with his sons while building a successful business and family legacy. And he's done just that. 
Since launching six months ago, the family-run business has partnered with stadiums, arenas, malls, golf courses, country clubs, and more, offering convenient on-site auto-cleaning services. But it all wouldn't have been possible without Ross' discovery of something called 401(k) business financing.
Franchising and Franchise Financing
How did Ross and his sons discover the No-H20 Car Cleaning franchise? Ross first hired a franchise consultant, an expert in franchise opportunities, to find the perfect franchising opportunity based not only on his values — but his investment value, too.
"We hired a franchise consultant to help screen opportunities. Obviously, I was looking for something that had a big upside opportunity," Ross explained. "Sustainability and conservation were a big deal to me in my career investment."
No-H20 Car Cleaning checked all the boxes. After Ross chose a franchise, his next step was securing the funds needed to build the business. Like many with a decade-long career in corporate America, most of Ross' money was sitting in his 401(k) retirement plan.
When he heard of something called 401(k) business financing, also known as Rollovers for Business Startups (ROBS), Ross thought it was a no-brainer opportunity. ROBS allows you to draw funds from your retirement plan, like a 401(k) or IRA, to start or fund a business — tax-penalty free.
"It made a lot of sense to me because I didn't want to spend a lot of non-taxable money. I wanted to keep that ammunition ready in case of surprises or needs down the road," Ross said. "ROBS was brand new to me, and it was the perfect fit because I had several IRAs available. It was just the perfect fit for me in my situation — it fits like a glove."
And with Guidant, one of the leading ROBS providers in the U.S., Ross didn't have to sweat the process or paperwork.
"Guidant made this easy in the respect that I can focus on my business. There's a lot to this [ROBS process] and it's not plug-and-play," Ross said. "Guidant just takes care of things that matter. And that's the most important part of this business that we've started together — knowing it's going to be taken care of."
Ross also chose to partner with Guidant for his payroll, bookkeeping, and tax services, which all seamlessly integrate with Guidant's ROBS program. Even as a financial expert himself, having a team of financial experts at his aid has made his life as a business owner smoother. With Guidant's Business Services, Ross can focus on what really matters in his business: building relationships and offering high-quality service.
"Not many places offer everything. At least, that's what my experience was," Ross said. "Guidant helps us focus on the customer relationship, which is how we're going to grow."
Addressing Inflation and Safety Concerns
In today's economy, most current and aspiring small business owners worry about inflation — and how inflation will change their business plans. While Ross could have never predicted a pandemic or recession, he stays positive as a small business owner. He knows his industry is in high demand — even during times of economic turmoil. 
Americans not only love spending time in their cars but rely on them for daily commutes. Supply-chain issues affected the automobile market, but people didn't abandon their everyday, reliable cars. Luxury car spending dropped, and the demand for car services continued.
"I knew that cleaning cars were going to be something that would be a big draw and benefit," said Ross. "And had I known we were heading into a recession after the pandemic, for crying out loud? I mean, what a time to start a business. But we haven't seen a universe of customers pulling back on wanting their cars cleaned. … It's an important necessity — keeping your car clean."
Some may consider keeping your car tidy a luxury, but safety plays a bigger role in routine car maintenance, according to Ross. Unkempt cars are more accident-prone — and the dangers of objects getting wedged in your gas or brake pedal are real.
"I have two dogs and regularly have a tennis ball roll up to the front. I think about the dangers of that," Ross explained. "There are some concerns if you're not regularly checking that stuff. So, it's good to have someone detailing your car regularly. I see the safety connection there."
Ross also considers No-H20 solutions a safer option compared to traditional car washes. In Ohio, if you drive through a car wash, your car doors can freeze shut from the water or cause a fatal sliding accident.
"I've seen cars come out of car washes, sliding all the way into the intersection because the water drips into the parking lot," Ross said. "Safety is a message we may not really be talking enough about in the northern states with this franchise."
Life as a Small Business Owner Today
Business for Ross and his sons continues to flourish. Their passion for the business, customer experience, and community have paid off. And Ross has learned that's really all a business owner needs to be successful.
"Having a good product and process and work ethic has been surprising that we can create a business that we knew nothing about. And people will actually pay us for it," Ross said. "Of course, that's why I went into this. I wanted to show the boys some hustle. You don't need a Ph.D. or an MBA to make money today in this world."
But Ross' favorite part about being a business owner? Working with his sons. Running a business with his family has enabled him to live his dream. Now, he's surrounded by family and creating a family legacy with his career.
"Working with the boys has been, hands down, the best experience," Ross said. There's a lot of fear about working with family, right? Whether we get in each other's way or have conflicting personalities. … That idea of working with family always comes with fear. But this has been an absolute joy."
Ready to start your dream business?
We can help you with the first step. Pre-qualify for business financing below today and call our team at 888-472-455 for your FREE consultation!