Having a long-lasting marriage is a big accomplishment in and of itself, but when your spouse is also your business partner, it makes success that much sweeter. Over 3 million of the 22 million small businesses in the U.S. are owned by married couples who not only fell In love with each other, but with entrepreneurship as well. This Valentine's Day, Guidant Financial interviewed a few of our successful couples in business to find out what it takes to have a happy marriage and a profitable business.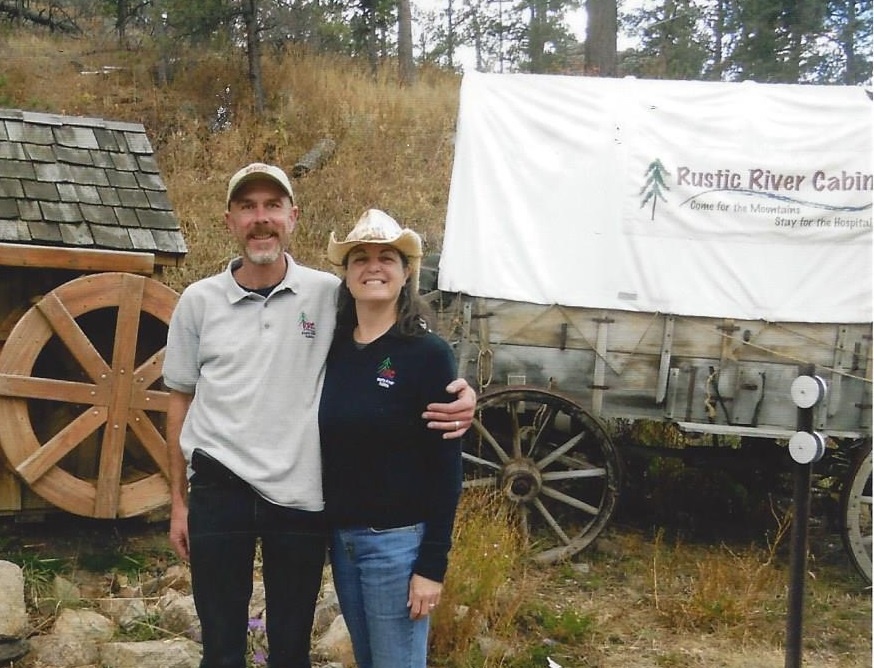 James and Jeanine Pruitt
Rustic River Cabins –
Estes Park, Colorado
When James and Jeanine Pruitt first met at a Dave & Buster's 20 years ago, their very first conversation revolved around a mutual dream of owning a bed & breakfast. Now, the couple is the proud owner of Rustic River Cabins, a vacation getaway in Estes Park, Colorado and are about to celebrate their 15th wedding anniversary and their 6th year in business. Find out the secret to success for this working couple's successful business.
How did you get your start in business ownership?
---
Jeanine:
I have a degree in hotel/restaurant management. I started in a restaurant when I graduated but I left it early on when I met James right here in Denver, and he moved me out to Texas. Then we got married a couple of years later. In 2011, my friend was getting married at the YMCA of the Rockies. We came out that summer, and…to be in the Rockies was just amazing. I finally convinced my husband to bring me back to Colorado. That's really when our journey started back in 2011 trying to figure out how and what we could do to get back to Colorado.
James:
We had dreamt this. Out first conversation was actually about a bed & breakfast, and from there, it's grown into what is now Rustic River Cabins. We didn't have a name or a place, but we've had many a conversation throughout our lives as we got here, trying to build up the courage to do so…It took us 15 years of dreaming to finally step off the deep end.
What made you take the leap?
---
James:
Faith. We came off the dip in the recession at the tail end of it. When we bought Rustic River Cabins, it has been owned by the credit union for 5 years in foreclosure. So it was finding that diamond in the rough that we could afford.
Jeanine:
I really think it was timing…We found the right broker, we found the right place.
What's the key to having a happy marriage and running a business?
---
Jeanine:
Going to the spa because we just got back from there. Vacation.
James:
Vacation is key, and we just started being able to take vacations. We just took our first two vacations in the 5 years. We were starting to get really tense there at the end. You've got to find a way to still have fun together. It can't all just be work and life. We used to date; now we don't really get to have date night, so we build up for our vacation, and we take as much advantage of our two weeks down as we can.
How do you balance your work and personal lives?
---
James:
With us living on site, we don't.
Jeanine:
Because of our guests, we get our human interaction quite often with a lot of other people, so our whole day isn't spent together. Most days, especially during the [busy] season, we leave the house at 10 o'clock in the morning, so we won't actually have a conversation until we sit down for dinner.
How do you divide your work duties?
---
Jeanine:
We never really assigned each other's duties, it kind of just fell into place with that I was good at and what he was good at. I take care of all the guests prior to them arriving – the reservation system, emails, etc. James really takes care of them after they get here. He does the walk-through and the check-in with them. He's the one that's out tending to their hot tubs and maintenance, so he's in and out of cabins if they need it. He's really the person that talks to the guests, plus he's good at that too!
What's the most exciting thing about business ownership?
---
Jeanine:
I think the most exciting thing is watching my business grow: reading the notes that the guests leave us … A lot of people say that they feel at peace here. That makes both us happy.
What's been the most challenging aspect of owning a business?
---
Jeanine:
I think the fact that I was doing the accounting work, and I really didn't know what I was doing … Not only learning it, but learning when to ask for help and when to just figure it out. It was probably a self-confidence thing, and I think it did hurt my relationship a little bit. After that first four years, I was like, 'we need a vacation. We've got to get away from here, because I'm going to end up in the looney bin because my brain needs a break.' That was the year we started to pay ourselves.
What advice would you give to other couples in business?
---
Jeanine:
If they don't have a strong relationship going in, and maybe they aren't happy in certain parts of their marriage, those parts are going to amplify. But if you have a strong relationship, those little hurdles that we had to get over, we were able to get through then because of our communication, because we love each other, because we love what we're doing. It really took two people to be on board with the same dream. If you don't have two people with the same dream doing the same thing, it would be very difficult.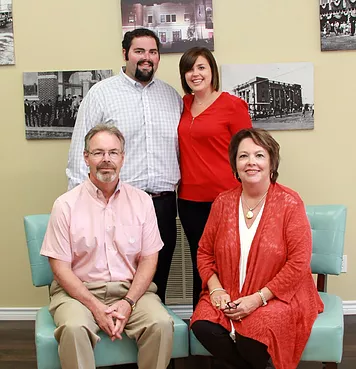 Ron and Kathy Boyce
Polk County Abstract –
Livingston, Texas
Ron and Kathy Boyce met when they were both students at Texas A&M University and got married before the start of their senior year. That was 44 years ago. Business ownership had never been on their radar, but when the opportunity arose to buy a title business Ron had worked for, they couldn't pass it up. They used Ron's retirement funds to buy the Polk County Abstract title business and are now growing a family business they hope will be passed down to the next generation.
How did you get your start in business ownership?
---
Ron:
I actually have a degree in forestry from Texas A&M University, and I ended up in the title business. I really can't explain it!
Kathy:
It really was without a plan. When Ron was in forestry, he bought timber, and so he started running records…and then he got into working for a title company, and it progressed. We talk about our journey never having been planned out, but it was always leading us to where we are.
My background is totally different. I was a bank officer, a social worker, I have a Master's in counseling, I was a counselor at a prison. When we decided to do this, Ron was working for the bank I had worked at years before. They had bought a title company and recruited him to come work for them. Then they wanted to sell the title company and wanted him to buy it, and that's where I got involved. I had to figure out a creative way for us to be able to buy it.
What made you take the leap into small business ownership?
---
Kathy:
Ron always wanted to own a title company, but the difference in our personalities is I'm the risk-taker, and he's the safety guy. He wasn't sure he wanted to do it. I pushed him to do this, but it was because of his expertise and his ability. It has been a partnership because he's the one that knows everything about the title business. I just gave him a swift kick!
Ron:
We've been fortunate, we've always been busy and made money.
How do you divide your work duties?
---
Kathy:
My background and my position in the company has been bookkeeping, insurance, personnel. I don't really work in the nuts and bolts of the company as far as titles. Ron does all that. That's how our partnership works out in the company. My areas that I know about have nothing to do with the business we're in, but they're things that have to be done in any business.
Our son and daughter in law are also working for us now. It's truly a family business … and now we have a grandson who's 19 months old, and we're thinking 'Wow, this could be a legacy endeavor.' We hope our son will take over and then one day his son and that it will continue in this family.
How do you balance work and personal lives?
---
Kathy:
We talk about business a lot. When we go to lunch, and we take our son and our daughter-in-law with us, it usually ends up being a business discussion. It's kind of hard to turn it off because we're so focused on it … But we love it. We like to have fun, we like to go places and travel, but we're very much interested in our business too, and our kids are too.
Ron:
I haven't found [the balance]. [laughs] I usually bring a box of files home every night to look at, and I don't really have a lot of [free] time. Kathy and I do go on a trip now and then to get away from it and try to enjoy it.
What's the most exciting thing about business ownership?
---
Kathy:
[Business ownership has] really been a life-changer for us. We changed our lifestyle in a good way. There's a lot of stress and you have a lot of worry, but that comes with the reward. It's been great for us. We don't regret it at all … There's nothing like owning your own business. It can be very satisfying. You're the one making the decisions, and if it works, you're really happy, and if it doesn't work, you've learned a lesson.
What advice would you give to other couples in business?
---
Ron:
I think planning ahead of time and get a game plan together and make sure there's a reasonable chance you'll have some success. From there, it's just a leap of faith.
Kathy:
I'd say that both parties need to be on board. You need to be united. It's a team effort, and if one person doesn't really want to do it and the other one does, that's going to make it a little bit more difficult. Ron and I have been married so long that we already worked out most of our goals in life, and we have a lot of commonalities in what we want to achieve.
In some ways, I think it made it easier because we know each other. Of course you do have to go home and see each other too!
Ron:
But we have separate offices!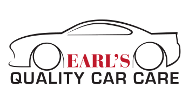 Joel & Laura Cheek
Earl's Quality Car Care –
Peachtree City, Georgia
Joel Cheek had worked in corporate America for 30 years when he finally said enough was enough. He was tired of working to achieve someone else's dream, so he and his wife of 28 years decided to take matters into their own hands and buy their own car repair business. As the owners of Earl's Quality Car Care, they're less stressed and having more fun than ever.
How did you get your start in business ownership?
---
Joel:
I worked in corporate America for 30 years. I knew my job was going to end – I couldn't stand my boss. He didn't like the direction I was going, and I didn't like the direction he was going; I was just waiting it out to get my severance. When all that ended, I told Laura I was never working for corporate America again. I was never going to work for anyone again. The same day I left the company, I started looking up businesses to buy. We had talked about buying a business for a long time. I found an ad for this place that same day … and within two days, we had a non-disclosure signed and two months later we closed on it, thanks to Guidant.
What made you take the leap into small business ownership?
---
Joel:
I always wanted to own a business, and for some reason, I always wanted to be in this business.
Laura:
I was raised by my grandparents, and my grandfather owned an independent insurance agency. Some of that affected it, and I said, "You know, when you own your own business, you're stable." We're not really people who love a lot of change, and I started looking at the fact that if we took another corporate job, we're going to have to move … It was pretty easy for me to say, "Let's try this. Nobody's going to retire you and nobody's going to fire you. You don't have to worry about that."
How do you divide your work duties?
---
Laura:
We have totally separate skills. I do all the money and the bookkeeping, which I'm well-suited for because I have an investment banking background … Joel's a jack of all trades. He does everything all day long. If he needs to wait on a customer, he does that. If he needs to drive a customer home, he does that. If he needs to fix a car, he does that. He does more of the overall management of it. I'm more of a money person.
How do you balance your work and personal lives?
---
Joel:
I don't know that there is a balance between work and personal life. You don't slow down, you don't take any time off, but to me, it's not work, it's just the next activity. I've got this feeling if I'm not doing something constructive, I'm wasting my life.
Laura:
We're not sit on the porch, go play golf people … At the end of the day, if I've accomplished something, I'm going to feel better than if I laid around. We try to take a few days off now and again, but that's been a change; we can't really take weeks off yet from this business. We just shoot for a 3-day weekend and go to the beach – and then we totally relax and chill out.
What's the most exciting thing about small business ownership?
---
Joel:
People say to me, "I bet you're under a lot of stress, aren't you?" And I'm thinking, no, I'm actually under a lot less stress. Owning our own business is much less stressful than having to go out to corporate America and battle in the trenches every day. I'd had enough of that. This is way more fun, way less stress.
Laura:
When you're running your own business, when there's something you don't like, you can fix it and change it. Unlike in corporate America, if you don't like something you're just stuck with it.
What advice would you give to other couples in business?
---
Laura:
As in all things in life, whether it's owning a business or having children, you need a good relationship on firm ground before you start anything like that.
Joel:
Respect. I respect her position, she respects my position. I could do her job; she could do my job if she wanted to, but I don't ever second-guess her. It's 100% trust.
While there can certainly be challenges when your spouse is your business partner, success is even sweeter when you're able to share it with the one you love. Couples in business also have the benefit of being able to pull from multiple assets when financing their business, as was the case with the couples highlighted here. Many of these couples used one or both of their retirement funds to finance their business tax and penalty free through 401(k) business financing (called Rollovers for Business Start-ups). This funding method doesn't have any credit or collateral requirements since it's not a loan, and its offered a path to business ownership for those who otherwise might not have been able to afford it.
Learn more about Rollovers for Business Start-ups in our complete guide.