To run a successful business, you'll need to be an effective communicator. But what does effective communication in business look like — and why should you prioritize communication in your business?
By using key communication skills in your business, you'll easily avoid and resolve workplace problems. And productivity in the workplace will boost. Before we break down some methods and tips for improving communications in the workplace, let's look closer at the benefits of a solid communication strategy.
Benefits of Effective Workplace Communication

Communication in the workplace should go a lot further than giving orders. You'll want to foster a positive company culture with a healthy and open dialogue.
When businesses lack open communication with employees, they invite productivity issues in the workplace. Studies by the McKinsey Company Advisory Firm show that employee productivity increases by 20 to 25 percent in companies where employees feel highly connected.
Here are the top three benefits of building effective communication in the workplace:
You'll Overcome Problems Faster
Every workplace will experience adversity. But misunderstandings and disagreements can lead to undesirable halts and results.
Focusing on building healthy two-way communication is a proactive step you can take to avoid problems. And if they arise, your team will also be better equipped to break down past communication barriers that may have prevented better solutions.
Poor communication can also cost your business. According to a study from the Society of Human Resource Management (SHRM), companies with over 100 thousand employees lose up to $62.4 million annually due to "inadequate communication to and between employees." Even smaller businesses with less than 100 employees lose an average of $420,000 yearly due to poor communication.
You'll Build a Stronger Team
Positive communication builds trust with your employees, minimizing their fears of confrontation. Your team will actively problem-solve or discuss problems with you openly. When you open these direct lines of communication, business stability and productivity increase.
You'll See Boosts in Morale and Engagement
Positive communication also promotes better morale and motivation in your business. When your team feels valued and heard, your team is more likely to work harder — and smarter — for your business.

In fact, one study reported that companies with winning organizational cultures have 72% higher employee engagement ratings than organizations with weaker cultures. Higher employee engagement translates to higher productivity.
Workplace satisfaction will improve as employees feel recognized for their work and efforts. And in turn, you'll form a positive, energizing work environment that's more likely to retain high-quality employees. When the workplace culture is happy, you'll have intrinsically motivated employees who go above and beyond — without you having to micromanage.

Ineffective communication is considered the leading cause of project and product failures by 86% of employees and executives.
Top 5 Ways to Improve Business Communications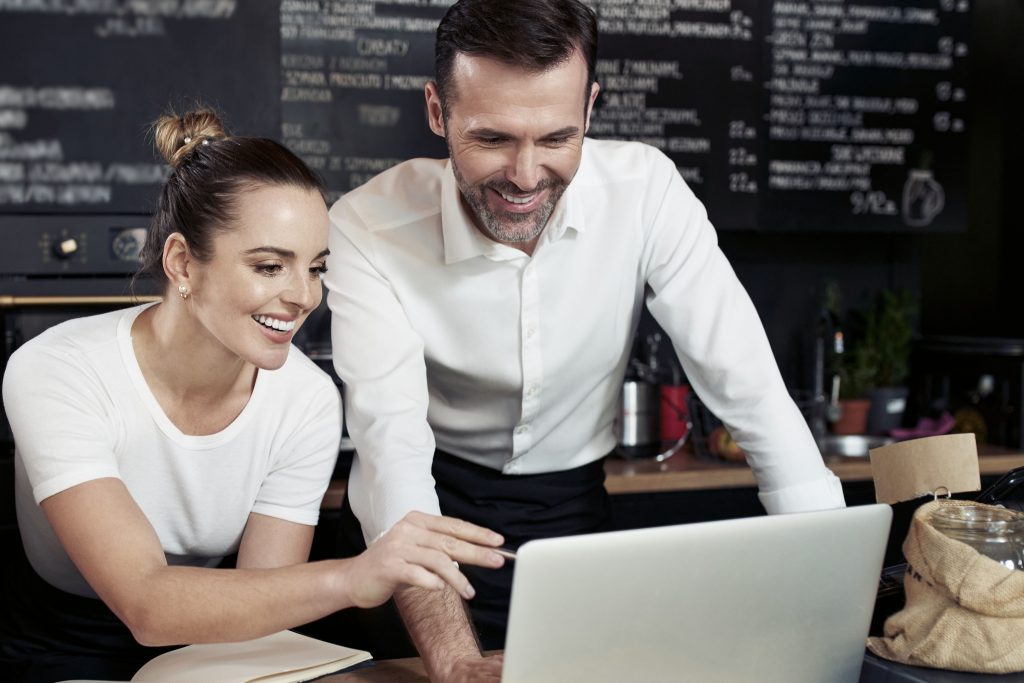 Effective communication will help you quickly overcome business challenges, fortify your team, and boost employee morale. But how do you start strengthening communication in the workplace?
You can transform the way your business operates with these top five communication methods:
1. Use Face-to-Face Communications
The internet has made texting and emails part of everyday life. As a consequence, many businesses now neglect face-to-face communication. But the beauty of communication is really in face-to-face conversations.
Face-to-face conversations shouldn't be rare. They allow your team to see and interpret each other on a human level. In fact, 93 percent of communication effectiveness is determined by non-verbal cues. Non-verbal communication includes facial expression, voice tone, movement, and gestures.
2. Resolve Conflicts In-Person
Attempting to resolve disagreements with written communication only tends to make tensions worse. When you use email to resolve a conflict, the conflict usually escalates. This can damage relationships with your employees. While email may be convenient, it's tough to know how you should adjust your tone of voice or how you're being interpreted.
In face-to-face meetings, you can pick up on posture, gestures, and other mannerisms that will give you a clearer understanding of your team's feelings.
If you're struggling to resolve conflicts, encourage your team to have more face-to-face conversations. With straightforward, in-person communications, you can avoid passive-aggressive language and cold responses by seeing each other on a human level.
3. Remove Meeting Barriers
If your employees aren't using face-to-face meetings much, it might be because something's stopping them. Consider scheduling meetings with your team regularly or requiring all employees to download and utilize video call software, such as Teams or Zoom. Remember: Face-to-face meetings allow you to read nonverbal cues and bring humanity back into discussions.

You'll also want to encourage your employees to meet with you regularly. "My door is always open" should be the motto of any business leader looking to strengthen communication in the workplace. When an employee expresses concerns or seems to be struggling, try to schedule a time to meet with them. Showing that you're readily available will establish open communication between you and your employees.
4. Organize In-Person Presentations
Do your presentations fall flat — or do you struggle to gauge the reactions of your online audience? Consider presenting in-person instead. While it may be more convenient to present online or share your slide deck, you'll restrict your ability to see your team's reactions and hear their thoughts in real-time. And it'll be more ambiguous whether your team took value away from your presentation or not. Plus, it's easier to persuade and connect with your audience face-to-face.

If you must give a virtual presentation, try to present face-to-face using video call software and encourage your audience to engage with video too.
5. Use Strong Eye Contact
We've all heard that maintaining eye contact is key to good communication. But why is it so important?
Eye contact shows you're fully engaged in the conversation and allows you to quickly pick up on facial expressions. You also appear more confident and knowledgeable when you hold great eye contact. In fact, we make assumptions about people's personalities based on how much eye contact they make — and how often they look away when we're talking to them.
If you're uncomfortable making direct eye contact with someone, try looking to the sides of their eyes or eyebrows instead. You can also try the 50/70 rule: Maintain eye contact 50 percent of the time while speaking and 70 percent when listening.
Workplace Communication Tips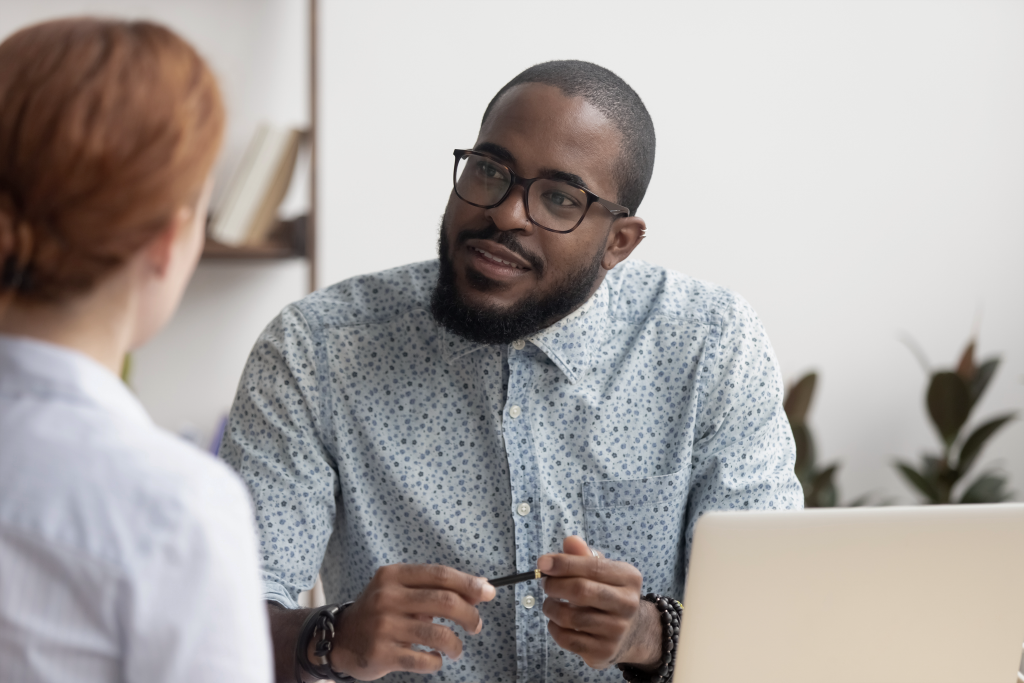 Now that you know the top five ways to improve communications in your business, let's look at some tips on how to communicate more effectively as a whole.
Face-to-Face Communication Tips
Set up a system that makes it easy to arrange in-person or face-to-face meetings
Practice maintaining strong eye contact and engaging in active listening
Identify the key points you'd like to get across before starting a conversation
Develop a plan to resolve conflict face-to-face
Schedule meetings in a place where you won't be interrupted
Demonstrate a positive and approachable attitude to set the tone of a conversation
Share your appreciation of other's insights and work
Listen to and encourage feedback from your team
Practice your emotional intelligence skills to better navigate conversations
Written Communication Tips
While it may seem simple enough to send an email, you'll want to pay extra attention to detail to avoid negative tone and phrasing. Again, it's in your best interest to meet face-to-face with your employees, especially if you need to address conflicts. But we can't always avoid emails and texts. Written communication plays a huge role in the workplace — and it's not going away anytime soon with remote work becoming more commonplace.
Here are some questions to ask yourself the next time you compose a message:
Are Your Messages Clear Enough?
Clarity should be your number one priority when writing. You don't want to confuse your employees or have them spend extra time trying to interpret what you're asking. That's why it's essential to use simple language and present information clearly.
When writing a message, you'll want to:
Present the goal quickly
Explain the intention behind your goal with simple, direct language
Provide precise steps if necessary*
Offer resources or contact information for follow-up
For example: "From now on, all pizzas should be baked at 640°F to ensure all pizzas are consistently crispy. Please direct questions to your head chef if you have any questions."
* Using short and clear bullet points to present steps — or even to request tasks — can be a game changer. Readers are more likely to comprehend instructions and tasks when they're segmented into small, digestible pieces.
What's your Tone?
"Tone" refers to the voice and emotion behind your words. Business leaders with poor communication skills may fail to apply the correct tone for certain scenarios. In the business world, your tone should generally be professional but with a nuance of formality. Bluntness, accusations, and aggressive language should be avoided.
How do you use Grammar?
You shouldn't just use proper grammar and punctuation to sound professional. Grammar can also be used to express emotions and importance. If used wisely, grammar can be your friend!
Brief sentences that end in full stops can seem blunt. Similarly, commas, verb tenses, and basic grammar can make every message you send easier to read.
Should you Invest in Soft Skills?
Investing in communication courses and resources may be worth considering. Written and verbal communication skills are critical soft skills for everyone in your business, including yourself. A study from Harvard University, Boston University, and the University of Michigan's Ross School of Business revealed that training in soft skills produces a 256% return on investment.
You can find just about any course on soft skills online. For example, LinkedIn has an educational platform, while other sites such as Udemy provide independently made courses.
How often do you use Text and Email?
Text and email are great solutions if you struggle with slow responses. Your messages can easily be ignored, however, if you send too many messages regularly. To avoid this, try to send emails or texts sparingly — and only send a message if it's important. Employees report that 62 percent of emails received are unimportant.
TLDR;
Improving your communication skills can foster a more connected, positive culture in your business. Employee productivity, satisfaction, engagement, and collaboration in your business can drastically improve with a solid communication strategy. And as a result, you'll most likely see better employee retention.

About 60% of companies don't have long-term strategies for internal communications. Don't let your business be one of them. You can jump-start your communication strategy by outlining your methods and direction, such as:
Meeting with employees regularly face-to-face
Improving verbal and written soft skills
Making time for one-on-one meetings with all your employees
Using online platforms such as Teams, Lifesize, Monday, and Zoom for virtual collaborative spaces
See our How to Become a Master Communicator Complete Guide to level up your business communication skills more.