To learn about small business trends and life as a small business owner, Guidant Financial partnered with online lending marketplace LendingClub for our annual State of Small Business survey.
---
More than 2,700 current and aspiring business owners across the country responded to questions ranging from their confidence in the economy to obstacles they faced pursuing business ownership. Check out the full State of Small Business 2019 report to discover more small business insights.
Here are just a few of the interesting insights found in this year's report.
Small Business Owners are Happy and Confident
With 78 percent of small businesses reporting profits, it might not be surprising that current business owners rated their level of happiness as an average of eight on a scale of one to 10 (10 being the happiest). A substantial 53 percent of business owners surveyed ranked their happiness at nine or above, showing a majority as happy in their role as a small business owner.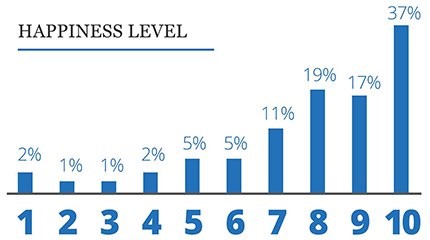 ---
Download the full Small Business Trends report now.
---
Small business owners aren't just happy in their roles; they are also confident in the state of small business in today's political climate. Only 24 percent of small business owners surveyed rated their confidence under five on a scale of one to 10 (10 being the most confident).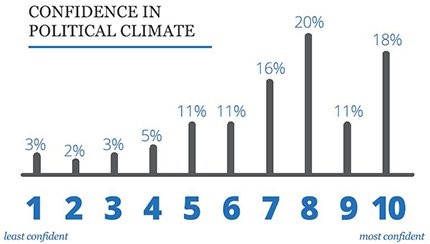 Learn more about what it's like being a small business owner today.
Education isn't a barrier to successful entrepreneurship
While the overall percentages of education in small business owners hasn't changed dramatically from the last year, there are great shifts in the share of levels of higher learning. There was a 32 percent increase in the share of business owners with doctorates and a 9 percent increase in those with Master's degrees — possibly due to the influx of those over 50 years old seeking degrees.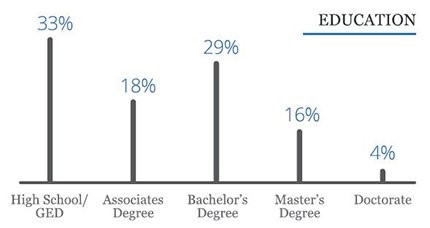 Despite the changes in the share of entrepreneurs with high-level degrees, the largest segment of small business ownership education remains at the high school level, at 33 percent of small business owners surveyed.
The majority of business owners are profitable, regardless of education. There's very little difference between the levels of education, with all segments showing profitability within a few percent points of the 70 percent average. Higher education doesn't predicate entrepreneurial success, as demonstrated by the business owners surveyed.
Learn more about who today's small business owners are.
Cash and 401(k) Financing Reign as the Most Popular Small Business Financing Methods
While the top five forms of funding remained the same as the previous year, there were numerous shifts in less-utilized forms of financing. The share of mortgage refinancing increased by 33 percent, SBA loans grew by 29 percent, and home equity line of credit (HELOC) grew 27 percent (thanks to low-interest rates, a trend likely coming to an end).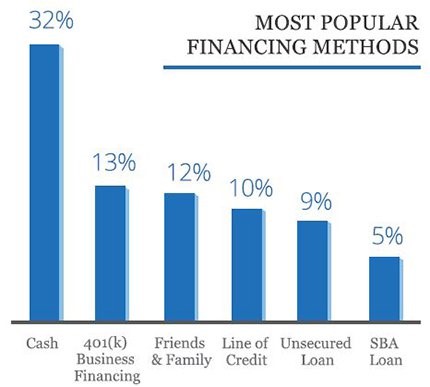 Cash remains the most popular funding method with 32 percent of business owners opting for it. Rollovers for Business Start-ups (ROBS), a method of using retirement funds to start a business without incurring tax penalties, remains in second place at 13 percent. Crowdfunding, no longer the "new kid" in class, takes the bottom of popular funding methods with under 1 percent of respondents using it to fund their businesses, a 10 percent decrease from the prior year.
Learn more about financing trends for today's small businesses.
These are just some of the findings from the initial State of Small Business report. Over the next few months, we'll dive deeper into the results to deliver insights into more entrepreneur demographics and small business trends. Keep an eye on the Small Business Trends page for more!