We're Better Together
Once your candidates are ready for small business funding, you'll want to send them to someone you trust — and we think we're that someone. At Guidant, we understand the care of your candidate is paramount to their success, so we'll work to secure funding fast and dedicate a team of our finest professionals to see the deal through.
Full Suite of Small Business Funding Services
We offer a variety of business financing options, most of which can be combined to produce the total amount of desired startup capital.
How it Works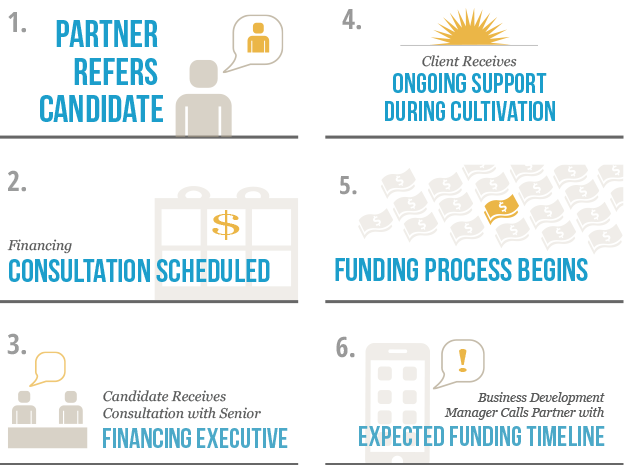 Why Business Brokers and Franchise Consultants Love Partnering With us
Prequalification Tool
Our proprietary system allows candidates to pre-qualify for funding in 5 minutes or less.
Financial Training Webinars
These online workshops help candidates understand their financing options.
Outside Counsel
Our funding packages come complete with time for your candidate to meet with an outside attorney.
Audit Protection
In the event your client is audited once their business is open, our expert legal team will support them 100%.
What Consultants & Brokers Are Saying About Us
Find out what it's like to partner with Guidant, straight from the mouths of industry professionals:
Ready for the next step?
Get in touch
Interested in referring a client?