"If you're committed to it and you have a vision, then Guidant is the way to make it come to life. But there is a reality that it's not just a dream. It's something that requires a lot of work."
MARC WARNER, BOVINE BURGERS
Marc & Lisa Warner, Bovine Burgers
It started almost as a joke. One day at a neighborhood child's birthday party, Lisa and Marc Warner stole some time away in a hammock on the porch of their neighbor's house, talking about what-ifs. Both had full-time jobs, but what if they addressed a need they saw in their suburban Middlesex County New Jersey township of Monroe? Having previously lived together in New York City and then the relatively large township of Woodbridge, NJ, each time the couple moved, they realized that their choices for restaurants got smaller and smaller. What if, they thought, they changed all that and provided a new craft burger option for their township and surrounding communities?
Together, the two envisioned starting a new restaurant. And that business idea would eventually transform into Bovine Burgers, a burger joint and bar in Jamesburg, New Jersey that's currently considering expanding its locations across the U.S.
But at the beginning, that dream, like many dreams, needed fuel. To finance their dream of launching Bovine, they decided to use a more innovative financing strategy: Rollovers for Business Startups (ROBS).
Innovative Funding for Innovative Businesses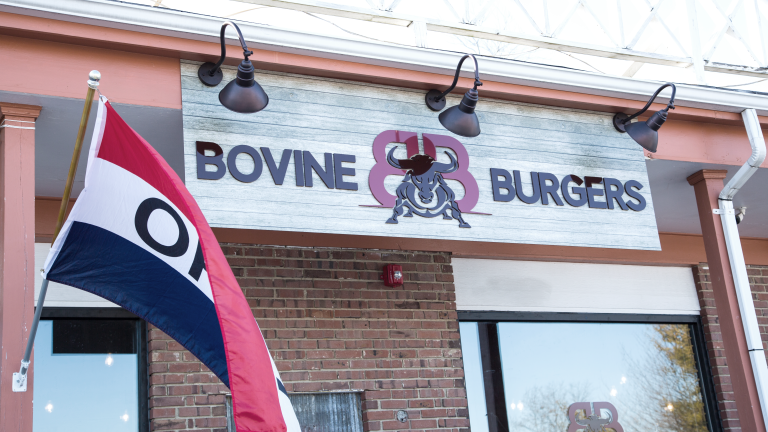 Bovine prides itself on serving custom-blend, never-frozen 100% Certified Angus Beef burgers since they opened in 2017 — along with a variety of sides and a full bar. (Photo from Bovine Burgers.) Shunning the typical route of business loans, Marc and Lisa discovered the innovative world of ROBS, also known as 401(k) business financing, through Guidant Financial, partnering with Guidant's Michael Stein to realize their vision. Rollovers for Business Startups (ROBS) is a rising business financing strategy for up-and-coming entrepreneurs like Marc and Lisa.
Unlike other funding methods, ROBS is a tax-penalty and debt-free method. That means entrepreneurs can tap into their retirement funds to finance their business — and continue to build their retirement funds as the business grows. ROBS works as your business' "angel investor." As such, it doesn't require collateral, a down payment fee, or a good credit standing like competitive traditional business loans do. Marc and Lisa realized the power of ROBS — and its potential to help their business launch debt-free and cash-rich.
In collaboration with Guidant, Marc and Lisa easily set up their ROBS plan while Guidant's team of financial experts ensured the plan was always compliant, smoothly managing the often-complex administrative backend of a ROBS transaction so Marc and Lisa could focus on what they do best: making amazing burgers. The fact that they rarely thought of Guidant during the whole process was a testament to the efficiency.
"You know, with a ROBS you're dealing with the government, you're dealing with retirement savings. You're trying to avoid penalties and do everything by the book and on the level," said Marc. "Knowing that Guidant is going to make sure that we're totally compliant and everything's on the up and up… that's one less thing for us to worry about. The fact that we don't have to think about Guidant means that they're doing a really good job."
While many would gravitate toward conventional loans, Marc and Lisa were drawn to the concept of leveraging their own savings — viewing this as a strategy to foster their business dream without the shackles of debt. Taking a leap of faith, the couple asked, "Do we want to place a bet on ourselves?" Deciding to go for it, the two decided to invest their retirement savings into a dream that began to take shape in 2016. And as they say, the rest is history.
Bovine Battles with Unprecedented Times
Managing a fledgling business during economic uncertainty is daunting — and the onset of the pandemic amplified the Warners' concerns about the future of Bovine. Yet, the belief that the economy couldn't stay stagnant permanently due to COVID kept their hopes alive. As restrictions eventually eased, businesses began to regain momentum, and that also held true for Bovine.
To adjust to the changing economic landscape, the business-duo couple also showed understanding and support to their staff, many of whom were high school students. Marc and Lisa assured their employees that didn't feel comfortable during the pandemic that their jobs would be waiting for them once they felt ready to return.
"We made prudent choices to react to the situation and position ourselves for success on the other side of the pandemic and ensuing lockdowns," explained Marc. "It was and remains challenging, but the fact that we're doing it for ourselves made it all worthwhile."
Adapting to the new normal, Marc and Lisa transitioned their business strategy toward expanded delivery, a greater focus on take-out over dine-in, and curb-side pickup. Ensuring their establishment adhered to cleanliness protocols, they not only worked to ensure the safety of their customers but reassured their employees of job security and a commitment to their health and well-being as well. The rounds of the Paycheck Protection Program (PPP) — combined with their strong leadership — fortified the business, enabling them to reward their staff that continued to work during the pandemic with bonuses. Despite facing these economic challenges, Marc and Lisa kept the business afloat — and maintained profitability.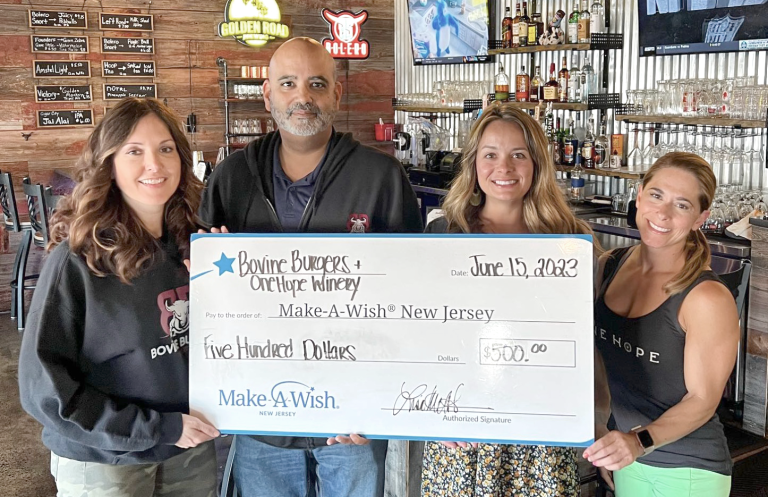 More Than Just Burgers and Fries
As Marc and Lisa explained, Bovine isn't just another burger joint. At its heart, it's a "hospitality-company that happens to sell burgers." In fact, it's not uncommon for patrons to make an afternoon of their visit — or dine and enjoy the restaurant's atmosphere for over eight hours as one party did recently over the summer – a testament to the business's warm and welcoming atmosphere.
"It's not about selling burgers, it's about creating an experience and building relationships," Lisa explained.
Further extending their hospitality mantra online, Bovine also collaborates with BentoBox, ensuring smooth online ordering, delivery and take-out order management. But it's their method of managing customer feedback that truly stands out. Negative reviews aren't just addressed; they're seen as opportunities to correct and improve processes and engage with and do right by their guests. The business is currently rated at a strong 4.6 out of 5 on Google Reviews with over 900 customer reviews.
Now, Bovine is a community and family favorite place to escape for good food and company. Between regular live music, Family Feud and Trivia games throughout the week, the business keeps customers hungry to come back. At Bovine, the belief is clear: it's the everyday, little interactions and relationships that build a brand — and contribute to the very fabric of the community it serves.
Guidant and the Entrepreneur's Leap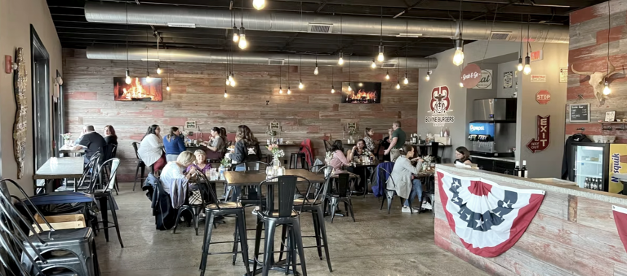 "If you are willing to take a chance on yourself, Guidant is the ideal [place] to truly 'put your money where your mouth is'," Marc said. "You've earned your retirement money. You're ideally not touching it until you can retire. But if you want to utilize it now and leverage it for the future, then Guidant is absolutely ideal. If you're committed to a vision, then Guidant is the way to make it come to life."
The Joys of Business Ownership
For Marc and Lisa, the pleasure of being business owners extends beyond the four walls of Bovine. There's pride in realizing that they've built something, transforming an old Subway franchise location into their own burger haven. The seed of this venture sprouted from a simple observation: the lack of a quality burger joint within a seven-mile radius of Bovine's location.
This burger joint has since been recognized by various media outlets as "Best Burgers in the Garden State," "Best Restaurant in Each Town of Middlesex," "Best Onion Rings in New Jersey," and has been featured on Middlesex County's "Best Dish." The best part about Bovine? It's family-owned and passionate about "creating the best damn burger you've ever had."
For one, Bovine doesn't skimp on quality, with patties made from their own unique proprietary blend of three choice cuts of fresh, never-frozen 100% Certified Angus Beef. Pair that with a menu of delicious sides, a full bar with specialty cocktails, alcoholic adult milkshakes and local craft beers on tap and a warm, welcoming customer experience, and you've got one successful burger joint.
Pulling up to the restaurant, Marc and Lisa cherish the culmination of this journey — the realization that they've built a warm, welcoming, and thriving business from the ground up. While the business will soon expand through franchising, Jamesburg, New Jersey will always be the original home of Bovine.
"This is the neighborhood burger joint and bar that's proud to call Jamesburg and Monroe home," said Marc and Lisa.
Ready to take the next step?
Get in touch with a Guidant Financial expert and find out which programs, and how much, you qualify for.