After you make your payment it will take us 4-7 business days to produce your reports.
What's Included in Your Seller Suite Toolkit
Valuation Report + Supporting Materials
Business Valuation Material:
Tools for Potential Buyers
A Hassle-Free Approach to Selling a Business
We understand how frustrating it can be when selling a business doesn't go as planned. Our Seller Suite makes selling a business more efficient by providing the information needed to accurately value your business and the resources to attract qualified buyers.
For $595, here is what you will receive as part of your Seller Suite toolkit: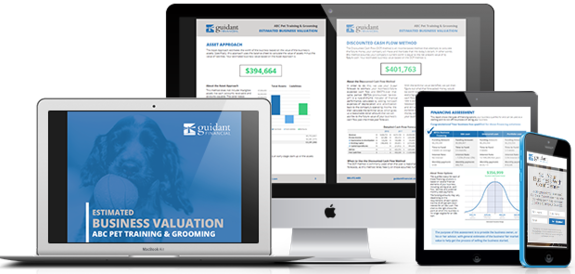 The Business Valuation Methods
The methods for calculating a business's value depend on the business and scenario. We make sure to explain them in clear language so you feel knowledgeable about how to influence you business value in the future.
The weighted value is a mix of the five other methods. Calculated with a weighted valuation formula.
The asset method estimates price based on the value of the business's assets minus liabilities.
The market method uses the previous sale prices of comparable business to estimate value.
The discounted cash flow method is based on the future value of a business translated into today's money, using a discount rate.
Capitalization of Earnings
The capitalized of earnings method is based on the future value of today's earnings, using a capitalization rate.
The EBITDA method calculates the business's potential value ceiling.
Ready to take the next step?
Get in touch with a Guidant expert to find out which programs, and how much, you qualify for.