Never Axe Your Dream: From Corporate America to Axe-throwing Success
Michael Roberts, The Horse's Axe
Michael Roberts worked for corporate America for 25 years in the wireless technology industry — until he was laid off at the beginning of 2020.
As many would do after receiving this devastating news, Roberts began applying and interviewing for similar corporate positions. But then he had another thought: What if I don't want to go back to corporate America?
"When the layoff came, the first thing I did was what anyone else would do. I went out and did interviews. You can get out of corporate America and go right back into corporate America," said Roberts. "Every time I did an interview, I just had this hollow feeling in my stomach of 'I don't know if I want to do this again.'"
Roberts knew one thing for sure. He had to do something with his 401(K)-retirement savings, which was a decent size after 25 years of working in a corporate role.
"When I got laid off, I had to do something with my 401(K). And you can either roll it into another 401(K) at a new business, or you can roll it into an IRA," Roberts explained. "I just kept thinking: 'I could really use this money to start a business.'"
So, he did. Roberts and his family decided to launch their own axe-throwing business: The Horse's Axe.
Roberts had this business idea in the back of his mind after going to a company event at an axe-throwing locale. A colleague approached him and said, "Hey Mike, I've got a retirement idea for you… Open an axe-throwing venue!"
Roberts' immediate response was, "Yeah, that's not going to happen."
But then he looked around that place — at that moment — and thought he just might be capable of running an axe-throwing venue. Maybe even better than other axe-throwing venues, Roberts considered. That was the spark, or the beginning, of what would become one of the most popular axe-throwing venues in the Dallas-Fort Worth Metroplex region of Texas.
After Roberts heard about Guidant Financial, he knew that using Rollover for Business Startups (ROBS), also known as 401(K) Business Financing, was his solution to starting The Horse's Axe.

"Guidant was really the number one step for us to fund this company — and if I hadn't found Guidant, I don't know that we, The Horse's Axe, would exist," said Roberts.

With his business financing secured through ROBS, Roberts' next step was seeking a building to lease for his very own axe-throwing venue.

Roberts and his brother-in-law, Darin Guynes, found the perfect location for The Horse's Axe. They and their wives, Holly Roberts and Michelle Guynes, dreamed up exciting plans for their new business. Unlike some other axe-throwing venues, The Horse's Axe would offer drinks, food, various activities, merchandise, and an area for customers to mingle.

Then, the country shut down a week after they signed the lease. It was March 2020, and the COVID-19 pandemic had thoroughly swept the U.S. But Roberts wouldn't let a pandemic stunt his vision.
Launching in the Midst of a Pandemic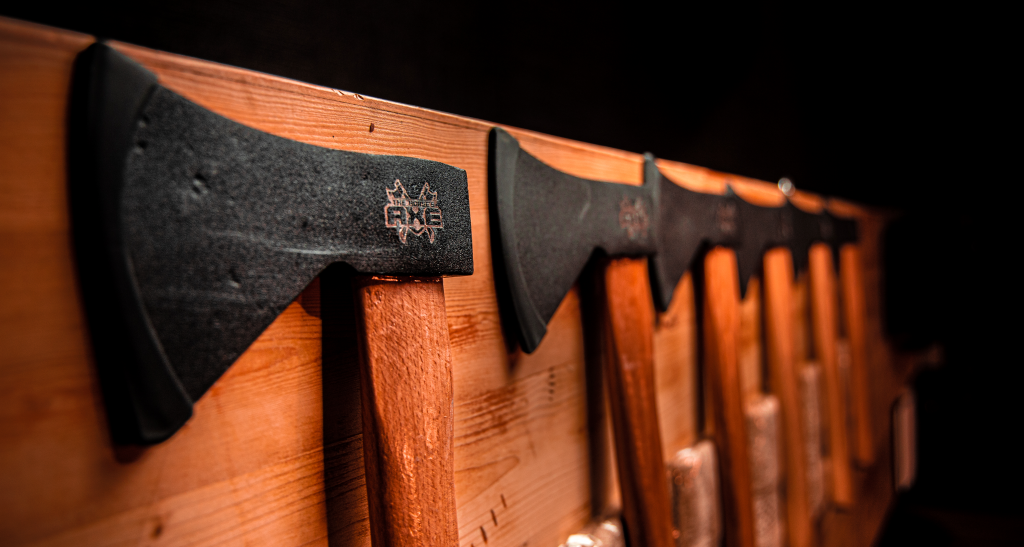 It took roughly six months to build and set up the venue. During that time, Roberts and his partners discussed COVID-19 safety measures for when The Horse's Axe would open.
"It became pretty apparent that COVID wasn't going away that quickly," said Roberts. "As we were getting closer and closer to the [opening] date… we were discussing, well, 'How do we keep people safe?'" 
How do you sanitize the porous wooden handle of an axe? Even if people wore gloves, that wouldn't necessarily keep the axes sanitary.
The solution? Importing thousands of axes printed with the Horse's Axe logo. If everyone had their own brand-new axe to keep, then they would be safe from transmitting or contracting COVID-19.
"Literally, we order axes by the ton and sourced thousands of axes," said Roberts. "And we decided that everybody was going to take home an axe." 
When they opened on November 20, 2020, every customer got to take home their very own Horse's Axe. Returning customers could even bring back their axe to act like a coupon. 
"We did it because we wanted to keep people safe. Forget about the safety of throwing an axe. Now, we're talking about the safety from a disease." Roberts explained. "So, we just kept sanitizing the place, and everybody got a brand-new axe." 
Roberts didn't know at the time that this idea would become the hallmark of The Horse's Axe experience.
A Safety Measure Becomes a Selling Point
Business was slow when The Horse's Axe opened. Roberts and his family posted flyers across Denton to get more customers in the door. They also gave out free "punny" branded facemasks at football games and boosted their social media presence. Roberts even spoke at local functions to promote his business.
When their mailing list reached over 200 people, Roberts decided to host and plan a huge New Year's Eve bash at The Horse's Axe with complimentary champagne. Sadly, no one showed up that night. Roberts and his wife watched the ball drop on TV together, feeling defeated.
But in the next two days, something incredible happened: The Horse's Axe got slammed with customers. The axe-throwing lanes were packed every hour. It was so busy that they even had to turn people away at the door.
At the end of the night, Roberts and his wife couldn't believe what had just happened. How did they go from struggling to get customers through the door — to turning customers away at the door?
The realization of why they were so busy that night wouldn't click for Roberts until an eager couple from Midlothian, Texas, showed up to axe-throw the next day. Roberts couldn't understand why they would drive over an hour — past six to eight other axe-throwing venues — to throw axes specifically at The Horse's Axe.
As it turns out, they had seen his business all over social media. And they specially traveled all this way to take home their own Horse's Axe.
"Right then, it started clicking in my brain," said Roberts. "When we were slammed the day before, all the people were coming in and asking, 'Is this where we get to take home an axe?'"
Although giving customers their own axes started as a safety precaution from spreading COVID-19, The Horse's Axe became widely known because of it. Customers loved keeping their own branded Horse's Axe after their axe-throwing showdown.
"Taking home an axe just became our thing," Roberts said. "And it became 'our thing' so much that we were profitable by March."
The business would go through hundreds of axes a month. The Horse's Axe became a successful, lucrative business within four months of opening. But it wasn't just the axes that made The Horse's Axe special.
Customers would come — and keep coming back — because of its special and family-friendly atmosphere. The Horse's Axe is more than an axe-throwing venue. They offer billiards, darts, arcade games, and even drinks and food.
The venue also offers full-time axe-throwing coaches to teach customers how to throw and stick an axe. Clearly, The Horse's Axe doesn't horse around when it comes to the art of throwing an axe.
"Not only do we take people through the action of showing them how to throw an axe and helping them get it to stick," said Roberts. "But we also hang out in the room and get to know people."
Since opening, Roberts and his family have built a warm community around their business and have already opened their second location in Denison, Texas.
Between the variety of activities, the dedication to the axe-throwing art, and the friendly atmosphere, The Horse's Axe quickly rose to popularity, especially for families.
"A lot of good things have happened for us, and I think it's because we just try to make people smile," said Roberts. "Especially coming out of a pandemic… That's something people need right now."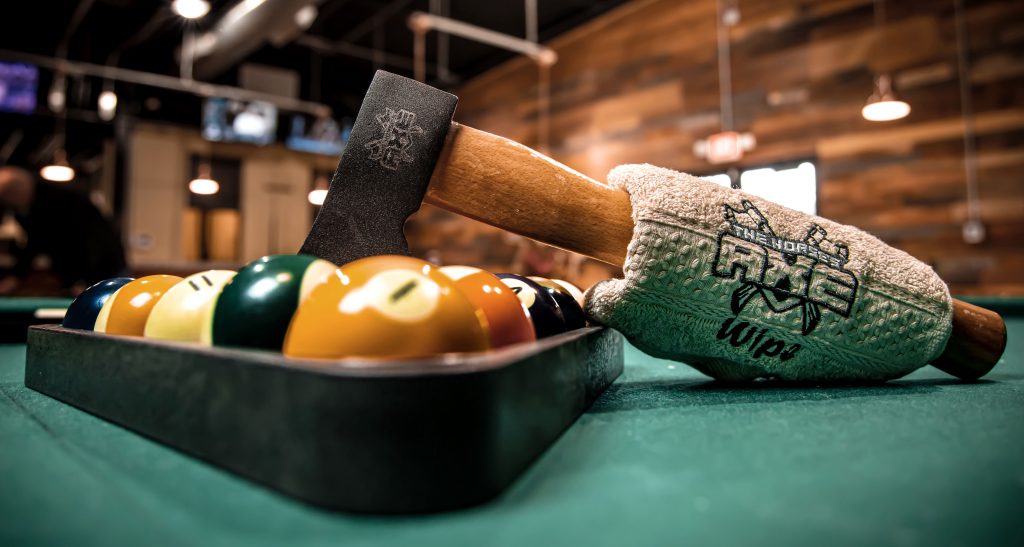 The Horse's Axe won the Best of Denton for the most fun indoor activity last year. And with all their success, The Horse's Axe even started franchising to work toward opening multiple locations. The first franchise, which will be their third location, is scheduled to launch in early 2023.
The Horse's Axe all started with Roberts' vision to take his future — and his retirement savings — into his own hands. Sure, it wasn't always easy. Roberts said goodbye to corporate America for good. He invested himself entirely into his small business' success. And even when a pandemic was thrown into the mix, Roberts never dared to axe his dream.
Funding His Dream Business
Planning for and launching a business amid a pandemic was challenging. But getting the funding needed to start up Roberts' business wasn't. With Guidant Financial, he easily rolled his retirement funds into his business with Rollover for Business Startups (ROBS).

"My experience with Guidant was simple," said Roberts. "It was very step-by-step and pretty easy to follow, even if I didn't understand every bit of the minutia."
Ready to start your dream business?
We can help you with the first step. Pre-qualify today for Small Business Financing.