"Guidant is our one-stop shop for us to do it all. And I will say that one of the characteristics of Guidant that I really appreciate is the commitment to service and getting it right."
Tom Gonzalez, Woof Academy
Unleashing Success: The Inspiring Story of How One Couple's Passion for Dogs Led Them to Launch Woof Academy
Tom Gonzalez & Pamela Chandler, Woof Academy
When Tom Gonzalez met his future wife, Pamela Chandler, it was apparent to him from their very first date that Pamela was passionate about dogs. Little did the couple know that nine years later, they would become the proud owners of a premiere Southern California doggy paradise.
Tom has spent the last 30 years as a small business owner, launching and leading numerous successful businesses, mainly in the tech sector. But when his wife Pamela — an experienced dog trainer with over 15 years of experience — suggested launching their own dog-focused business, Tom welcomed the opportunity to dive into a completely different industry.
With a vision to turn the property into Woof Academy, a top-notch dog daycare and training facility, Tom and Pamela were determined to make their dreams a reality. Using 401(k) business financing with Guidant, the couple successfully purchased the multi-million-dollar business Woofingham Palace in July of 2021.
Now, Woof Academy is renowned as the only facility in Southern California to offer a complete puppy training and socialization program. Woof Academy has become one of the most sought-after dog daycare and training facilities in the region, with hundreds of loyal customers who swear by its services.
Join us as we delve into the story of Tom and Pamela — the dynamic duo behind Woof Academy — and explore how they financed, built, and grew their thriving dog-centric business.
The Creation of Woof Academy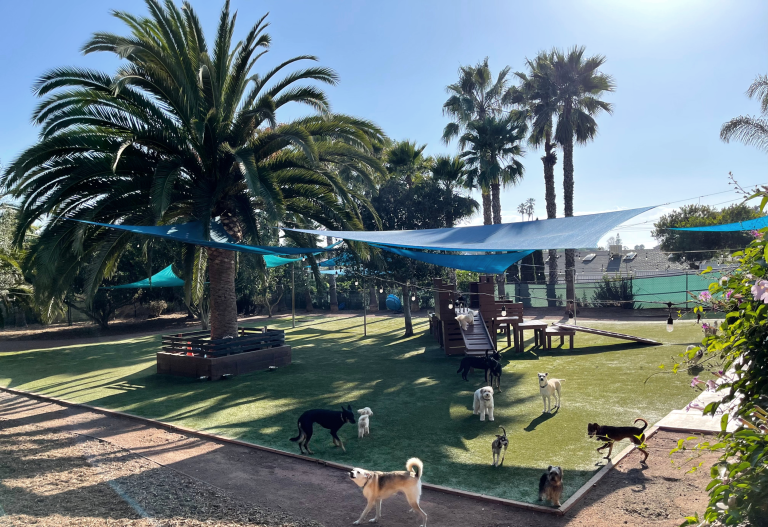 The couple's shared passion for entrepreneurship and Pamela's knowledge and love for dogs have been the driving force in building their business. Before purchasing Woofingham Palace and transforming it into Woof Academy, both had impressive backgrounds in animal care and business.
Pamela is a Certified Dog Training Knowledge (CDTK) professional and was also the Executive Director and Adoption Coordinator of a local non-profit (501c3) rescue she helped found. Tom is a serial entrepreneur with decades of experience in the tech industry, having started and run several successful small businesses.
With their complementary skill sets, Tom and Pamela knew that together they had what it takes to run a thriving dog daycare and training business. And they knew exactly what they needed to bring their vision to life — a location and the finances to make it happen.
Tom and Pamela had their eye on a local doggy daycare business just a few minutes down the street from where they reside in the beautiful community of La Costa, but the couple never thought the business would be for sale. After spending over a year scouting local properties, they nearly gave up on their dream when they realized the cost of permitting, financing, and finding a location was just too big an obstacle to overcome. But Pamela still wasn't ready to give up. She began to scour the internet for local doggy daycare businesses for sale. To her surprise, she stumbled upon a listing that struck a chord with her — it was none other than Woofingham Palace, the business she and Tom had once admired from a distance.
Not only was the location perfect, but it also had a rich history as a well-established dog-centric business. Jon and Samantha Mears, who moved to California from London a decade ago, founded Woofingham Palace in 2014 — a well-known dog daycare and boarding facility that gained popularity under their ownership. The establishment was renowned for its unique British-style features, such as areas designed after popular landmarks like "Windsor Castle" and "London Bridge" where dogs could explore and cool off.
July 2021 marked a new chapter for Woofingham Palace when Tom and Pamela purchased the business and property, aiming to build upon its success and maintain its legacy as a British dog haven in the Californian sun.
The couple drew inspiration from the emblem of AFC Richmond — as seen in the popular show Ted Lasso — to create Woof Academy's logo, which features a dog at the center of an emblem with a scroll overlay. The emblem is a powerful symbol that resonates with Tom and Pamela's personal journey of transforming Woofingham Palace into Woof Academy, much like the transformation of a British football team in Ted Lasso by an American football coach.
Taking ownership of Woofingham Palace was the opportunity of a lifetime for Tom and Pamela, but with a price tag of over one million dollars, they knew they needed a solid plan to make Woof Academy a reality. With Guidant Financial's help, the couple secured the financing they needed through a combination of 401(k) business funding and an SBA loan. The result? A cash-rich start to their new business venture.
Using 401(k) business financing, also known as Rollovers for Business Startups (ROBS), Tom and Pamela were able to access their retirement funds without dipping into their cash reserves. They worked with Michael Stein, a knowledgeable senior sales representative at Guidant, who gave them the confidence to pursue an "outside of the box" structure when it came to financing their business.
Businesses with steep price tags can pose a challenge for small business owners, which is why SBA loans can be a popular choice for those seeking large-scale funding. SBA loans, however, come with substantial down payment requirements.
ROBS offers entrepreneurs the ability to utilize their retirement funds to start or run a business — all tax-penalty-free. By using this 401(k)-based financing method, the couple was able to secure a large SBA loan. However, ROBS also comes with more strict regulations.
As Tom explains: "A lot of businesses might fail, especially first-time businesses, independent of how you finance. But the ROBS structure requires a level of diligence and planning, especially on the exit."
When you're looking to buy a business, having a strong financial partner in your corner is key. And for Tom and Pamela, that partner was Guidant — with a wealth of resources and support to make the ROBS process easy and stress-free.
Guidant knows that every small business owner has unique needs, which is why their team of experts can help across multiple financing strategies. For Tom and Pamela, rolling over their retirement savings was the best plan to secure an SBA loan and purchase the business of their dreams.
"I didn't quite understand the level of complexity when I started, but I had all the resources to figure it out. And here's the benefit: We were able to purchase a multi-million-dollar business [with] no cash out of pocket, but with rolled-over retirement [funds]. Not a huge amount either," Tom said. "It's a down payment for an SBA, and there's no impact on our liquid assets."
The benefits of partnering with Guidant went beyond just financing. Woof Academy also utilized Guidant's bookkeeping and payroll services, and Tom had high praise for Phil Cooney, Payroll Director at Guidant.
"I'm using [Guidant's] payroll and bookkeeping services. I have no complaints. Phil's been awesome. Super smooth, highly responsive," Tom said. "I would honestly say across all of my contacts and experience at Guidant, I'd put Phil at the top. His service level and commitment are awesome."
Tom's advice to other small business owners considering ROBS financing is to be clear on their risk profile and the execution of their plan. But with Guidant's support, Tom and Pamela were able to take their business to the next level without impacting their liquid assets. It's just another example of how Woof Academy has found success through innovative solutions and partnerships.
"Guidant is our one-stop shop for us to do it all. And I will say that one of the characteristics of Guidant that I really appreciate is the commitment to service and getting it right," Tom said.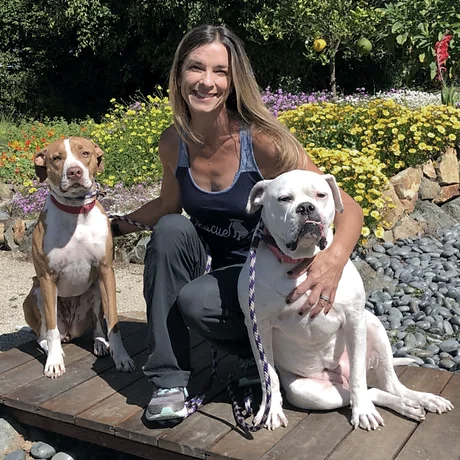 When Tom and Pamela took over Woofingham Palace, they knew that turning it into a thriving enterprise would be no small feat. But their entrepreneurial spirit and love for dogs gave them the drive they needed to succeed.
In 2019, on the heels of Pam's highly successful personal dog training business Tom and Pamela launched their first joint venture — Dog Sense Community, an online community with over 100 dog training videos. Dog Sense Community didn't reach as wide an audience as Pamela and Tom hoped for, but rather than letting that setback deter them, the couple used it as an opportunity. Today, the Dog Sense training videos are used widely by both customers and staff for training aids and instruction.
"What we quickly realized what people love about their dogs is interreacting with them, not so much learning how to teach them," Tom said.
That's what drove Tom and Pamela to look at opening a training facility, eventually leading them to the Woofingham Palace in Encinitas. While the location was a perfect fit, it's also technically located in a mix-use neighborhood.
Running a doggy daycare in a mixed-use neighborhood brought its own unique challenges. From navigating zoning regulations to appeasing neighbors concerned about noise, Tom and Pamela had their hands full from day one. But their dedication to providing top-notch care for every four-legged client kept them going.
Over time, they made a number of process improvements to streamline operations and increase customer satisfaction. Implementing a subscription model helped ensure repeat business while also providing a steady stream of revenue. And by increasing wages for their hard-working employees, they bolstered morale and productivity across the board.
The results of their hard work speak for themselves. Since taking over Woofingham Palace, they've seen a 150 percent increase in top-line revenues. Their reputation for excellence has spread throughout the community, with happy customers referring friends and family on a regular basis. In fact, Woof Academy has 450 active clients with an extensive waiting list.
"In the industry, there's such a high demand for services. Other than puppies, we don't take new customers anymore," Tom said. "We have 450 active customers, and there's a waiting list that's a mile long."
With the business booming, Tom and Pamela have set their sights on expanding Woof Academy across multiple locations. Tom also plans to explore more business opportunities as Pamela takes the helm of the business.
"Pamela is really good on the intuitive side. I love dogs, but I'm not a dog expert," Tom explained. "We have dogs of our own, and I know quite a bit about dogs, but it's not my forte. This, for me, gets me back in my passion space. It's awesome that we've built a business, but Pam is pretty much running it by herself now."
Making a Difference, One Paw at a Time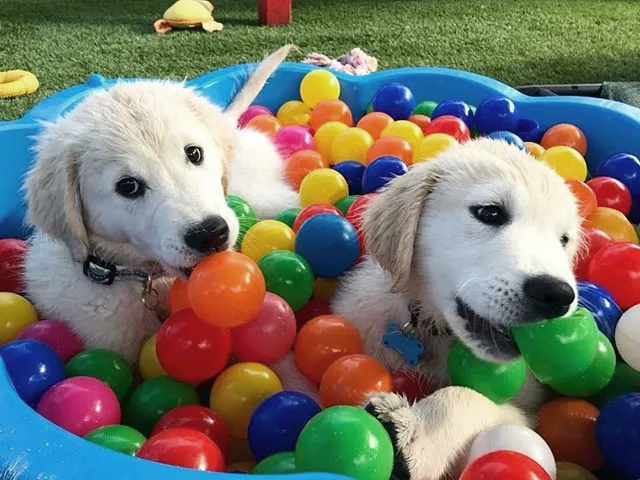 What sets Woof Academy apart from other dog daycares and training facilities is its innovative approach to specialized training classes and comprehensive dog care. Unlike traditional dog care centers, they understand the unique needs of each dog and design specially tailored training sessions.
For example, younger dogs get to enjoy playing in their designated puppy yard while other dogs play in the main yard. Dog groups are segregated based on age, type, and activity level — with Wednesday mornings reserved for big, active dogs and Tuesday afternoons dedicated to small, shy dogs. Even Fridays have a special Yappy Hour session for all to enjoy.
But what truly sets them apart is their attentiveness to every dog's welfare. They're highly selective about which dogs go into which session, with employee meetings dedicated to discussing dog placement.
"We are very selective and very mindful in what dog goes into what session. We will have employee meetings to talk about dog placement," Tom explained. "The level of attention and care given to every dog's welfare is through the roof. This isn't to say that other doggy daycares don't care about their dogs. They do — but I think when you ask what's the differentiator? We're a little over the top with it. Everyone on staff would die for a dog. They love these animals like they're their own."
Woof Academy bases its scaling model on adding better, more specialized care rather than just increasing the number of dog clients. To Tom and Pamela, it's important for their staff to provide incredible care and attention to each dog. And for customers, interacting with Woof Academy is often the highlight of their day.
"Our model to scale is not to add more dogs. It's to add better care," said Tom. "Here's another cool thing about the job: Generally, people love their animals, and when they think about them, it makes them happy. So, our interactions with our customers generally tends to be a high part of their day."
Planning for the Worst, Hoping for the Best
As a successful business owner, Tom knows firsthand the struggles that come with entrepreneurship. His advice for aspiring business owners is simple: Give yourself permission to fail, but don't let that failure bring you down.
"Give yourself permission to fail, but don't make that failure catastrophic," Tom advised. "Plan for the worst, hope for the best — and make sure you're okay with the worst outcome."
This mindset has helped Tom weather the ups and downs of running a business, from the early setbacks of the Dog Sense Dot Community to the ongoing challenges of managing a doggy daycare in a mixed-use neighborhood. By embracing the reality of potential setbacks, he's been able to stay focused on his goals without getting derailed by unexpected obstacles.
Tom and Pamela have proven themselves to be an unstoppable duo as they continue to grow and improve Woof Academy — all while honoring the legacy of Woofingham Palace.
For Tom, there are two things that he loves most about being a business owner. The first is being the "master of your own destiny." As a business owner — and his own boss — he's able to chart his own course, make decisions that impact the future of his business, and create something truly unique. But the real joy of entrepreneurship for Tom is in the creative process and being able to build something from the ground up.
"The creative process and seeing that creative process manifest, there's something very unique about that and very rewarding," Tom said.
Together, these things — the freedom, creative process, and providing an exceptional level of care and service to their customers— are what make being a business owner so rewarding for Tom.
Ready to start your dream business?
We can help you with the first step. Pre-qualify today for Small Business Financing.