Healthy food is one of the hottest business trends in a growing industry. Why are healthy food franchises thriving right now? Well, for one, consumers — especially in the U.S. — want more affordable, healthy food options.
And you might have noticed an increasing emphasis on healthy-based food trends advertised on products up and down your grocery shelves. Organic, gluten-free, plant-based, low-sugar… The health food industry keeps growing because more Americans care about healthy living — and American dining habits changed since 2020.
In fact, over 70 percent of Americans are more health-conscious post-pandemic. And 71 percent believe the COVID-19 pandemic "taught them to be more observant of their health." In other words, health and living healthier lifestyles are a top priority for many Americans, especially coming out of a pandemic. That's why the demand for healthy food franchises is high right now.
What makes a business recession-proof? Check out our Top 10 Recession Proof Businesses.
Top Healthy Food Franchises
If you're looking for a recession-proof business, purchasing a healthy food franchise can be a great, low-risk business opportunity for 2022 going into 2023. Let's take a look at some of the hottest healthy food franchises of this year!
Clean Juice
Safe For You & Your Family.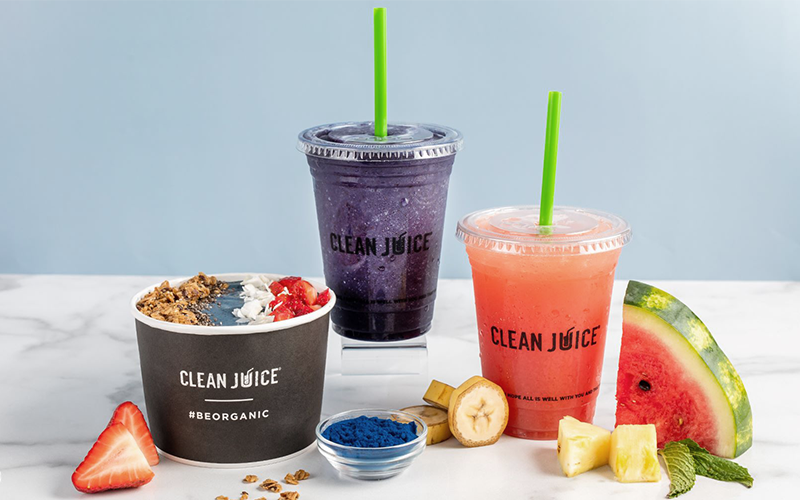 Founded in: 2014
Franchising since: 2016
Franchise units: 129
Initial investment: $275K – $576K
Initial Franchise Fee: $45,000
Clean Juice is a certified organic juice bar with over 100 locations across the U.S. And over 85 of those bar outlets are owned and operated by franchisees. Clean Juice values health, wellness, and fun. If that sounds like you, this franchise could be a great opportunity for you going into 2023.
This healthy food franchise ranked at number 260 in Entrepreneur's Franchise 500 this year, growing at a 67.5 percent rate in just three years.
Founded in 2014, Clean Juice set out a mission to provide USDA-certified organic juice bars that support a healthy lifestyle. That's why Clean Juice doesn't add syrups, sugars, additives, or anything GMO to their smoothies or other products. And they call it the "Clean Juice difference." Health-conscious consumers can drink easily when it comes to Clean Juice products.
Clean Juice is the first — and only — USDA-certified organic juice and food bar and smoothie franchise, paving its way in the health food industry. The company regularly updates its menus and introduces new ingredients over the years, always looking for new ways to innovate and grow. In fact, Clean Juice has more than just juice and smoothies on its menu. They also offer acai bowls, wraps, and other healthy eats.
AWARDS: Entrepreneur's Franchise 500 2022, Inc. 5000, Top Franchise Satisfaction Award, Top Franchise for Women, Top Franchises Award Culture, Top Food Franchise, Top Franchise Award – Rockstar
Nautical Bowls
Super Foods, Super Life.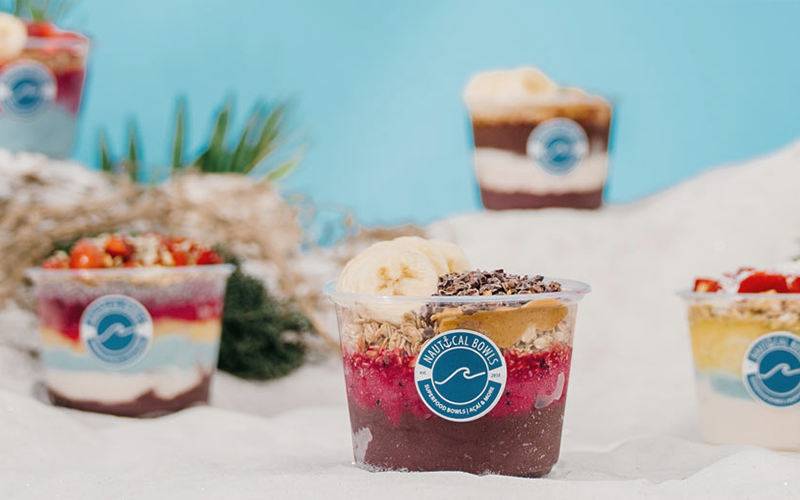 Founded in: 2018
Franchising since: 2020
Franchise units: 17
Initial investment: $243,750 – $423,250
Initial Franchise Fee: $39,500
Even though it's new to the game, Nautical Bowls has been making big waves as a healthy food franchise. The company saw a 1,600 percent growth over three years according to Entrepreneur — and with only about 17 franchise outlets open, franchising Nautical Bowls can be a great opportunity for a new business owner.
Nautical Bowls has 129 locations in the U.S., quickly rising to popularity among healthy-food lovers who want fresh, nutritious meals — without all the added sugars and preservatives. And customers love that the restaurant provides hearty, organic food bowls that are also gluten-free, dairy-free, plant-based, and soy-free. Its bowls are made from scratch using natural, whole nutritious foods such as fruits, vegetables, grains, nuts, seeds, and beans.
The company was founded in San Diego, California by two brothers looking for a healthier alternative to fast food restaurants. Since then, Nautical Bowls has set out to give more Americans quick, healthier meal options. This fastly growing healthy food franchise is one to keep an eye on!
Chop Stop
More Than a Salad.
Founded in: 2010
Franchising since: 2015
Franchise units: 25
Initial investment: $375K – $699K
Initial Franchise Fee: $35,000
Chop Stop is fast food. But it's not "fast food." Instead, Chop Stop provides healthy, quick, and filling salads for Americans on the go. Its fast-growing, low-cost chopped salad concept has made it a rising healthy food franchise. Chop Stop is ranked number 198 in Entrepreneur's 2022 Franchise 500 — with a 78.6. percent growth over three years.
Since 2010, Chop Stop has brought its delicious food to over one dozen locations in the U.S., starting in California. The founder, Mark Kulkis, was surprised that Los Angeles lacked more salad options in the fast food industry.
"I could sometimes find a single chopped salad on a menu," Kulkis said. "But even those were few and far between. I couldn't believe a health-conscious city like L.A. didn't offer more."
It turns out Kulkis wasn't alone. Chop Stop quickly became popular in L.A. and across the west coast. Customers love their chopped salads as much as their other healthy options, including Chopurrito™ bowls, wraps, soups, and specialty beverages.
AWARDS: Entrepreneur's Franchise 500 2022
Zoup! Eatery
Good, Really Good Soup and Broth.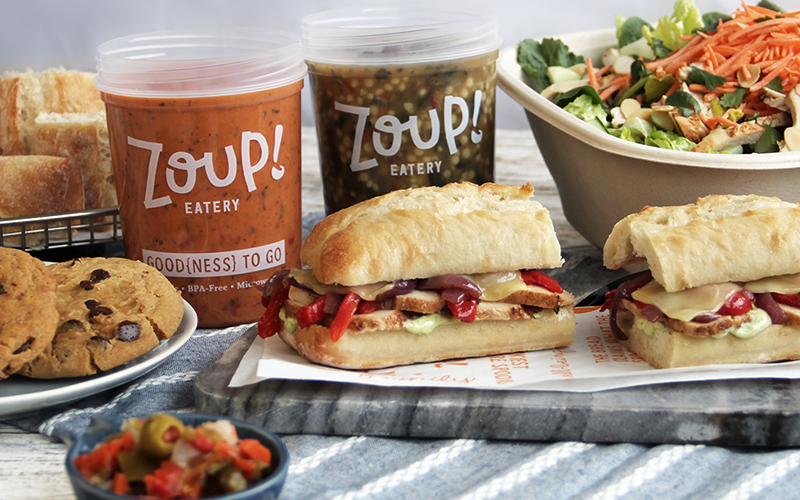 Founded in: 1998
Franchising since: 2003
Franchise units: 65
Initial investment: $478K – $662K
Initial Franchise Fee: $35,000
Nothing's better than a hearty, warm soup on a chilly day. Spice merchant Eric Ersher dedicated his life to making soup, finding Zoup! Eatery in 1998. Now, Zoup has over 60 franchise units across U.S. and Canada, meeting soup lovers' cravings across the region.
In the early days, the company rotated over 10 different soups daily at their first Zoup! Eatery in Southfield, Michigan. People couldn't get enough soup. Soon, the eatery opened up five more locations in the Detroit area and began franchising in 2003. The fast-casual dining chain now also offers salads, sandwiches, mac and cheese, and fresh-baked ciabatta — all foods that typically pair well with soup.
Zoup is over two decades old, so you can be sure it has an established culture and vibrant community. And the company also offers plenty of franchise support and hosts annual events to bring franchisees together. So, you can be proud to join the Zoup brand and community if you're looking to run a healthy food franchise!
AWARDS: Entrepreneur Franchise 500 2017, Franchise Times Top 200+, Top 100 Movers and Shakers
UFood Grill
Delicious, Healthy, and Balanced Meals.
Founded in: 1999
Franchising since: 2004
Franchise units: 19
Initial investment: $418K – $599K
Initial Franchise Fee: $35,000
UFood Grill is another fast-growing healthy food franchise — and it's been around since 1999, standing the test of time. In the past three years alone, UFood Grill has grown by 26.7 percent, meeting the current and increasing demand from healthy-conscious customers.
UFood Grill's menu has always–baked, never-fried fresh dishes under 700 calories along with a customizable "Better-For-U" food menu to meet all dietary needs and restrictions. As a trendy, fast-casual restaurant, this business isn't slowing down anytime soon.
Fast-casual franchises have been the consistent winner in the market share battle being waged in the chain restaurant industry since the recession. And UFood Grill is at the forefront, serving "better-for-you food" with a wide variety of whole grain, organic, grass-fed, fast casual service food options, and selected beverages.
Lean Kitchen Company
Eat Clean, Stay Lean.
Founded in: 2016
Franchising since: 2018
Franchise units: 31
Initial investment: $151K – $441K
Initial Franchise Fee: $40,000
Lean Kitchen Company's mission is to bring Americans fresh, delicious grab-and-go meals. And with over 31 franchise locations across the U.S., it's thriving as a healthy food franchise — seeing a whopping 210 percent growth in the last three years.
Fresh, healthy, and convenient is what Lean Kitchen stands for, advocating for Americans to maintain a more well-balanced diet of healthy ingredients, including lean proteins, complex carbohydrates, and fibrous vegetables. Lean Kitchen Company offers several services: breakfast and brunch catering, buffet catering, vegan options, diner catering, gluten-free options, holiday catering, and more.
As a meal prep franchise company, Lean Kitchen provides guidance throughout the entire buildout and planning process, the location development, and the ongoing operation, making the process easy. Plus, Lean Kitchen is the only meal prep franchise in the country that teaches franchisees how to operate their own kitchen and maximize profits for the store owner.
Acai Express Superfood Bowls
Eat. Energize.
Founded in: 2013
Franchising since: 2014
Franchise units: 52
Initial investment: $146K – $429K
Initial Franchise Fee: $25,000
Acai Express Superfood Bowls has been in the healthy food franchise industry for eight years — with over 50 franchise units state-wide. And this year, Acai Express Superfood Bowls ranked number 476 in Entrepreneur's Franchise 500. The business grew by 160 percent within three years, too, making it a promising opportunity for new business owners.
From acai, pitaya, and coconut bowls to smoothies, natural juices, artisan toast, and everything in between, Acai Express Superfood Bowls serves health-conscious fruit lovers looking to embrace an honest, organic, and nutrient-rich diet with healthy ingredients.
The founder, Hector Westerband, developed the smoothie and superfood bowls business concept in Puerto Rico. He aimed to create an easily scaleable company that would be easy to operate. When Westerband's food trucks grew from one to thirteen, he knew for sure that his franchise system works. It turns out that the quick-service bowl and smoothie concept appeals to every generation looking for a healthier option for breakfast, lunch, or dinner.
AWARDS: Entrepreneur Franchise 500 2022
Maui Wowi
Coffees & Smoothies for the 'Ohana (Family).
Founded in: 1982
Franchising since: 1997
Franchise units: 128
Initial investment: $35,000
Franchise Fee: $30,000 – $50,000
Get ready to live the "flip flop lifestyle" in Maui Wowi, a business that offers the finest Hawaiian coffees and smoothes — when and where you want. What makes Maui Wowi unique as a business franchise model is its mobility. That's right: Maui Wowi is on the go, operating mostly through food trucks, carts, kiosks, and concession trailers. But that doesn't mean they don't have shops that host community events, offering a dining customer experience in Hawaiian paradise.
Maui Wowi has 128 franchise units, including hundreds in nontraditional venues such as racetracks, convention centers, and college campuses. If you're looking for a flexible healthy food franchise inspired by the aloha state, Maui Wowi might be the perfect franchise opportunity for you!
An ideal prospective franchisee should fit the Maui Wowi brand culture of 'Ohana and be willing to follow a proven mobile business model.
AWARDS: Entrepreneur Franchise 500 2005, Inc. 500
Toastique
Gourmet Toast & Juice Bar.
Founded in: 2018
Franchising since: 2019
Franchise units: 7
Initial investment: $45,000
Initial Franchise Fee: $45,000
Toastique elevates toast — a beloved breakfast favorite — from a classic side dish to a "health-focused power meal." In doing so, the business has seen a consistent increase in net profits, growing by 250 percent within the last three years.
While Toastique has only been franchising since 2019, there are already seven franchise units open in the U.S. — showing the power of gourmet toast. The "unique" in "Toastique" is reflected in their fully customizable menu with natural ingredients, providing guests with wholesome, healthy, and convenient meals the way they want them.
Founder Brianna Keefe started Toastique because she wanted to offer people quick, healthy meals that could be enjoyed on the go. Toastique's well-balanced menu items of grab-and-go meals, all-natural smoothies, cold-pressed juices from fresh fruit, açaí bowls, and other healthy snacks make them a particularly unique healthy food franchise!
AWARDS: Best of D.C. 2019 – Best New Restaurant, Best Brunch
Baya Bar
An Acai Shop.
Founded in: 2016
Franchising since: 2018
Franchise units: 22
Initial investment: $161K – $340K
Initial Franchise Fee: $35,000
With acai and smoothie bowl restaurants sweeping the West Coast, Bill Loesch dreamed of opening his own healthy-food restaurant. And in 2016, Loesch made his dream a reality and founded Baya Bar. Now, Baya Bar already has 22 franchise units — even with only franchising for four years. And the business has grown by 266.7 percent over the last three years.
Baya Bar's menu has an array of acai, kale, pitaya, and coconut bowls along with smoothies, cold-pressed juices, and boosters made from fresh fruit. Customers can choose a bowl from the menu — or build their own a la carte version. Plus, the business stocks 100 percent organic cold-pressed juice, coconut milk, granola, and other fresh ingredients to promote healthier food markets.
"The goal is to emphasize a healthier life. The whole point is to eat wholesome, healthier food," said the Founder and CEO of Baya Bar Loesch.
The company is passionate and committed to educating customers about healthy living — and offers plenty of support to health food franchisees who want to open a Baya Bar of their own.
Franchise Funding and Opportunities with Guidant
Are you thinking of becoming a health food franchise owner — but don't know where to start, or how to fund your new business? Don't worry. With decades of experience, Guidant Financial has helped launch over 30,000 small businesses. And with our team of franchise experts, we can help you find the perfect franchise opportunity at the right price. We partner with multiple franchises, including health food franchises like Clean Juice, Nautical Bowls, and Zoup! Eatery.
Learn more about our franchise partners and Franchise Opportunities with Guidant — or get started with our franchise financing today!