It's the most wonderful time of the year… And it's also the most stressful time of the year for many of us. If you're a small business owner or entrepreneur, the holiday stress can be even more challenging to manage.
According to the Bank of America's recent Small Business Owner Snapshot, over 50 percent of entrepreneurs experience holiday stress — with over 60 percent expecting to face challenges this holiday season, including balancing work and personal commitments, creating customer demand, and keeping prices competitive.
No matter the season, using effective strategies to manage your time — and stress levels — is important for all aspiring and current business owners. The good news? With some time management tweaks and coping techniques, you can enjoy a more stress-free holiday season. (And be well prepared for the coming months!) Let's review some of the best methods to manage your time and business owner stress this season.
Proven Strategies to Manage Your Time and Holiday Stress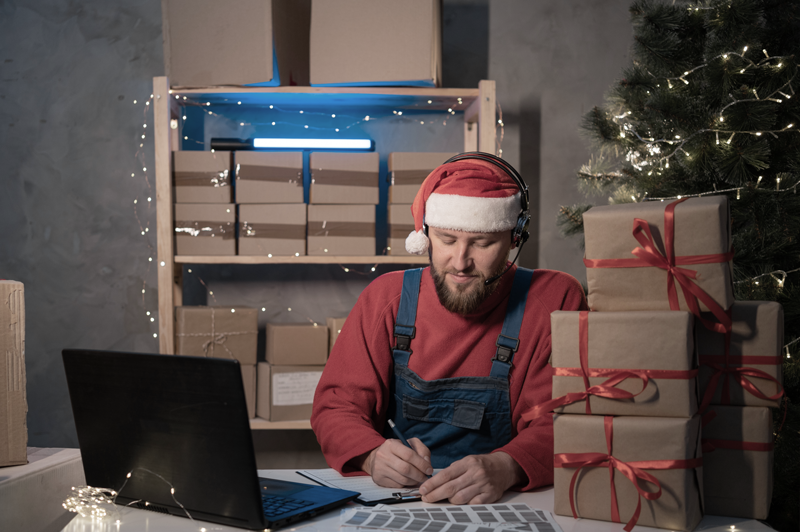 1. Plan for the Unexpected
With the holidays just around the corner, you might think planning is useless at this point. But the truth is, a little planning can go a long way — and it's always a good idea to review your inventory and supply.
Are you expecting any surge of last-minute shoppers — and do you have enough products to last until the end of the holiday season? How long will your current stock of materials and supplies last? Are there any products to clear out or discount before the new year? Answering these questions can help you stay on top of your supply and business needs, especially as the year closes.
This is also a great time to review your business systems and automate processes, payments, communications, and reminders to help you and your employees stay on track. Life happens. Planning for the unexpected can keep your business afloat and help you manage any holiday stress that comes your way.
Tip: Looking back at your previous sales around this time of the year can help you anticipate what your business operations needs are this year. Tracking your business' yearly sales and expenses can help you plan ahead!
Is your business ready for the holiday season? Here's How to Prepare Your Business for the Holiday Season.
2. Create a Support Network
With the holiday season being a critical time for your business, don't forget that your family and friends can support you. Communicating with your loved ones is key here.
Let the people you care about know how you're feeling and coping with holiday stress. It's best to be upfront about your plans and needs during this time. Not only can you find help in areas of need, but letting others help you will reduce your holiday stress — and allows you to prioritize your needs, both in your business and personal life.
And don't forget that small business owners love supporting other small business owners, especially during the holidays. Take this time as an opportunity to reach out and connect with other local businesses! You can collaborate to expand your customer base with seasonal events or promotions — and make like-minded friends in the process. Having the extra support of other small business owners can help you smoothly navigate the holiday season.

3. Take Control of Your Time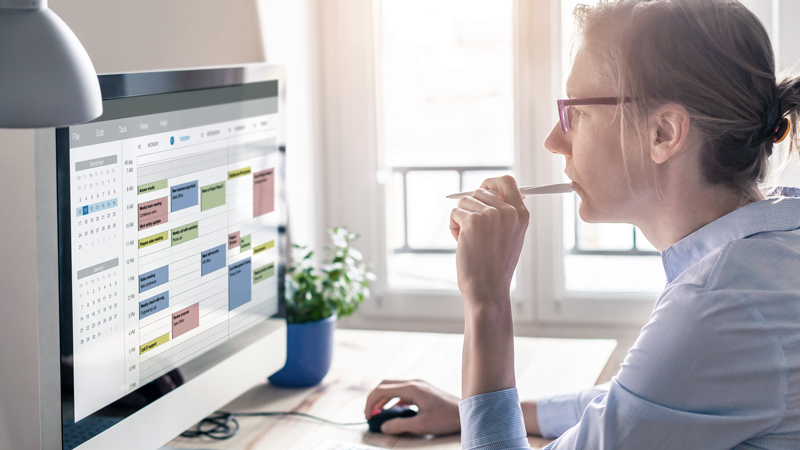 Do you feel like you're always "running out of time" or don't have enough time in a day? Without time management skills, you can burn yourself out — and let more important, urgent tasks slip. But what if you could work less while being more productive?
With proven time-management techniques, you can get more work done and create more free time for yourself. Taking control of your time can help reduce holiday stress, both in your professional and personal life! Let's look at a couple of the most popular and entrepreneur-approved time management tips that can help you boost your time management skills:
Time blocking
Have you heard of time blocking? It's a popular time management strategy for a reason. Time blocking is a straightforward and effective concept. It's the practice of segmenting your day into chunks or "blocks." So, instead of checking your emails throughout the day, you can set a designated block of time devoted to responding to emails, for example. Once your set amount of time ends, you stop doing that task and move on to the next.
Using this technique can help you be more productive and cross off more items from your to-do list faster. And you won't feel overworked while constantly playing catch-up. You can time-block easily using your favorite digital calendar or use physical time-blocking planners.
But don't forget to schedule personal time for yourself, too! You'll want to also block in time for breaks and self-care routines for realistic and effective time management.
Tip: The key to time blocking is sorting and prioritizing your task list — and then setting a specific timeframe to only focus on those tasks. Multitasking, daily interruptions, and other time wasters can throw you off track. That's why time blocking can be so effective for many business owners!
The Pomodoro Technique
What's the Pomodoro technique — and what does "Pomodoro" even mean? "Pomodoro" translates to tomato in Italian. And this tomato-inspired time-tracking tool has been rising in popularity among business owners and entrepreneurs alike.
The Pomodoro technique, created by Francesco Cirillo, has helped thousands of people all over the world to increase their productivity and work more effectively. Cirillo named this technique after a tomato-shaped timer. But how does it work?
As you might have guessed, you'll need a Pomodoro timer to use this time management method — but it doesn't necessarily need to be tomato-shaped! What makes the Pomodoro timer special is its ability to set 25 – 30 minute work intervals and 5 – 10 minute breaks in between. Setting time limits creates uninterrupted time to work, allowing you to focus on the single task at hand fully. That's why it's a great method to avoid burnout, all while taking care of business!
The built-in breaks in the Pomodoro technique let you refresh your mind, allowing you to focus for another 25 – 30 minute burst. And you can even pair this technique with time-blocking to ensure you're getting the most important tasks done during your timed work sessions!
Tip: If you can't find a Pomodoro timer in stores, try one of the many free Pomodoro timer apps available across platforms! You can even use the Pomodoro technique with a regular stopwatch or timer by manually planning your work session and break intervals.
4. Practice Self Care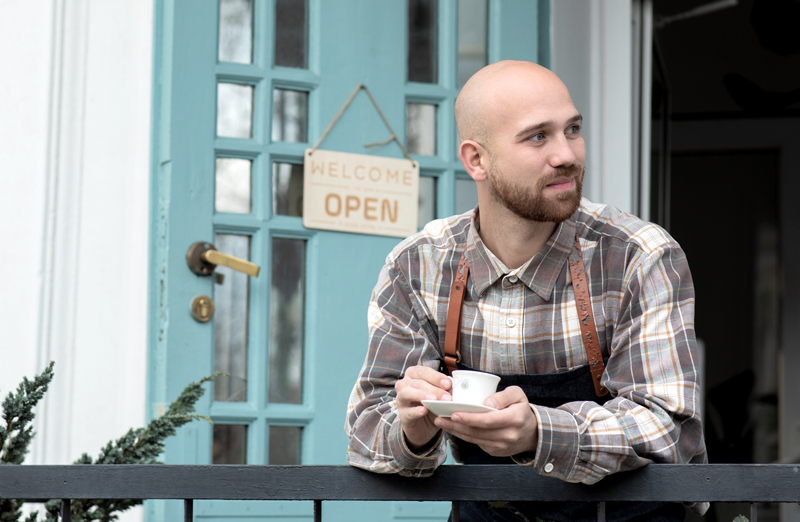 While your entrepreneurial spirit might scoff at the idea of a vacation or self-care practices, it's necessary to give yourself breaks and practice self-care daily. Why? For one, ignoring your needs and not taking time to relieve stress can quickly lead to burnout. And during the holiday season, your to-do list is likely longer (and scarier) than usual. You may be tempted to work extra hard, pushing yourself to the limit until the holidays wind down. But doing so will make you less productive in the long run — and you'll make yourself miserable.
So, take that vacation. Take that 10 – 15 minute walk during your lunch break to unwind. Take frequent breaks and pace yourself in-between tasks. When you're ready to get back to work, you'll be recharged and refreshed now that you've had some personal time!
What if you don't have time for self-care? If you don't make time to take breaks, then you're setting yourself up for failure. Remember: Taking care of yourself is just as important as taking care of your business.
Here's a list of self-care practices you can try to implement throughout your daily schedule or weekly schedule:
Exercise or take a walk.
Eat a nutritious, well-balanced meal.
Clean and organize your workspace.
Take breaks to meditate or read a book.
Unwind with a cup of tea or coffee in between work sessions.
Plan and schedule time off in advance.
Try a deep-breathing exercise.
Engage in activities or hobbies you enjoy outside of work.
Spend time with or call your loved ones.
Take a 20-30 minute afternoon nap.
Stick to a healthy and regular sleeping routine.
While the holiday season can be an exciting time for your business, don't let your work-life balance slip! Here's how to Find Work-Life Balance Over the Holidays.
5. Focus on Convenience
As the holiday season comes to an end, many shoppers are now on the hunt for gifts in-person as shipping deadlines approach. That means more holiday shoppers are on the rise, seeking convenient, last-minute presents at local stores and businesses. And sales usually spike as a result.
Compared to 2020, searches for "gift shops near me" have increased by 60 percent. Retailers that offered curbside, drive-through, and in-store pickup last year saw sales increase by 54 percent year over year in the five days leading up to Christmas. Retailers that didn't offer these options only saw a 34 percent increase in comparison, according to Salesforce.
So, how can you highlight in-store options for your business — and help reduce your customer's holiday stress while reducing yours in the meantime? If your business is more convenient and tailored to shoppers than its competitors, you're more likely to see sales boost this holiday season.
Are you stressed about holiday revenue? Improve your holiday sales with these 5 Effective Seasonal Promotion Ideas to Boost Holiday Sales.
6. Spread Seasonal Cheer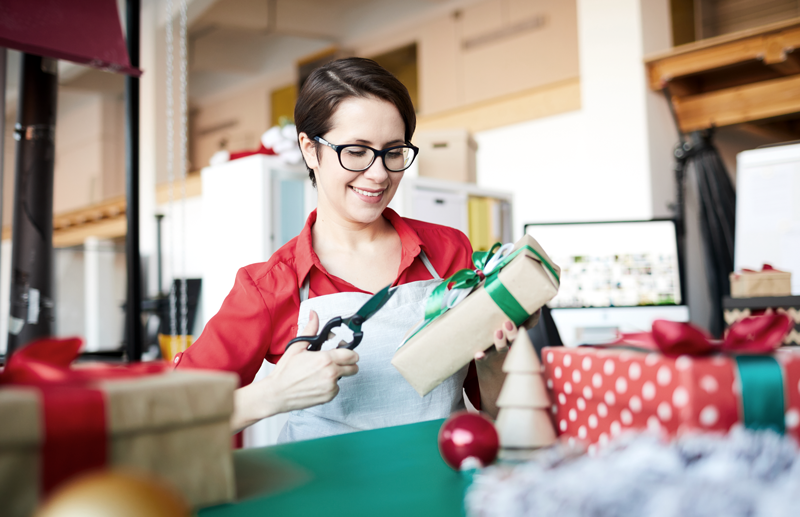 Do you suffer from the holiday blues? If so, you're not alone. Many Americans experience sadness and stress during the winter season. According to the American Psychological Association, 38 percent of people surveyed said their stress increased during the holiday season. Lack of time, financial pressure, gift-giving, and family gatherings are often the culprits behind holiday stress.
But you can make a difference. This year, aim to uplift spirits! Whether you're cheering up your employees or customers, your energy can be contagious. And that energy helps everyone — including you — prepare for the holiday hustle and bustle in a positive way.
How can you spread seasonal cheer? Here are some tips for business owners to get started:
Host fun, holiday employee-centric or promotional events.
Donate to or partner with charities.
Volunteer at a local shelter with your team.
Offer your employees project extensions or extra time off for the holidays.
Run a festive raffle or contest for your employees or customers.
Make time to check in with your employees.
Decorate your workspace or business to celebrate the season.
Send personal seasonal greetings to your employees or customers.
Offer resources to help reduce common holiday stressors for your employees or customers.
Build stronger relationships with clients.
7. Streamline Your Business
And last but not least, one of the most effective time management strategies that can help reduce stress? Streamline your business. Evaluate your business process to determine what business functions might be worth delegating to someone else — or outsourcing. What aspects of your business do you dislike the most? Which business processes or routine tasks take the longest?
As a small business owner, delegating or outsourcing tedious business tasks or functions can make your life easier and protect your business' livelihood. Payroll, accounting, and taxes, for example, are all services you can easily take off your to-do list this holiday season. And third-party service providers or automation tools can be more cost-effective for your business. With the right tools or team of financial experts, you could potentially save hundreds on penalty taxes or fees. But most importantly, you'll save hours of your valuable time each week on paper-pushing — and spend more time focusing on what really matters in your business.
Is payroll stressing you out? Check out our payroll guide on How to Streamline Your Business and Save Time.
Less Business Stress with Guidant
At Guidant Financial, we're in the business of empowering small business owners. From business and franchise financing to a suite of affordable business services, we support aspiring and current business owners throughout their business journey.
Over 30,000 small businesses choose to partner with Guidant. We take an educational, transparent approach to business. And we're dedicated to helping you reach your business goals.
Pre-qualify today for business financing, or call us at 425-289-3200 to book your FREE business consultation!