If you enjoy teaching — or want to care for children as a living — you're in luck. Childcare franchises can be rewarding, fun, and often recession-proof. And the industry varies. Keep reading to discover some of the top childcare franchises of 2022 going into 2023!
Childcare franchises can provide childcare, support programs for parents, and offer youth enrichment programs. These programs can include learning or physical activity and socio-emotional development opportunities for children.
Location and types of childcare franchise opportunities also vary, from in-person schools to home-based childcare and standalone daycare centers. Some daycare and childcare centers focus on infants and younger children, while others focus on older, school-aged children. Some centers will care for and teach babies as young as six weeks and up to 12 years old.
Looking to start a business in the new year? Check out the Top 10 Recession Proof Businesses to keep an eye on going into 2023!
Childcare is Here to Stay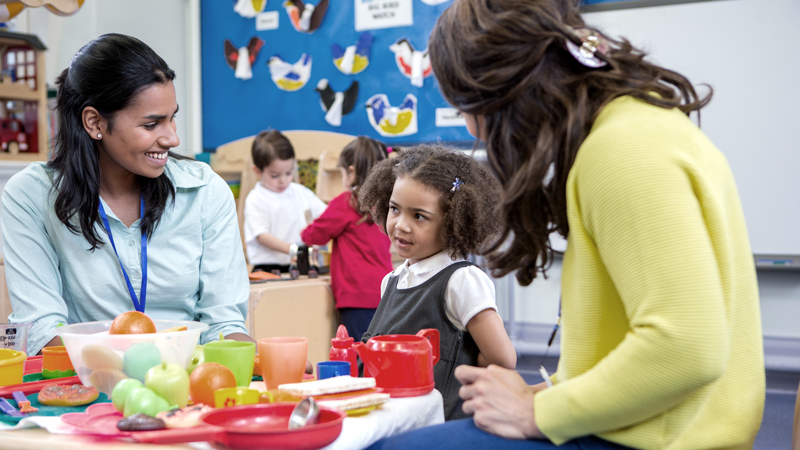 When it comes to the longevity of a daycare franchise, even the COVID-19 pandemic and changing economy didn't stop the need for childcare business. Many frontline workers relied on daycare or other programs to care for their children. Not going to work during the pandemic as a healthcare worker wasn't an option.
According to IBISWorld.com, the daycare industry and childcare market size is $61 billion, with 634,528 businesses and 1,532,222 employees. In 2021, more than 53% of families were dual-income, and that number is rising, according to Magnify Money by LendingTree. Balancing work and family is — and will always be — a challenge for many parents. And with increasing costs in the U.S., we'll likely see dual-income households rise. It's safe to say childcare will always be necessary for many American parents.
While business owners could start a small business in the childcare industry, starting from scratch is riskier and requires much more upfront work. That's why many small business owners choose to start with a franchise instead. As a franchise owner, you reap the rewards of trusted marketing and advertising, training, and support.
Let's review some of the best childcare franchises of 2022 going into 2023, so you can compare them and see if any of these opportunities interest you in the coming year!
Interested in learning how to best finance a franchise? Here are some Essential Resources for Franchise Funding.
2022 Top Childcare Franchises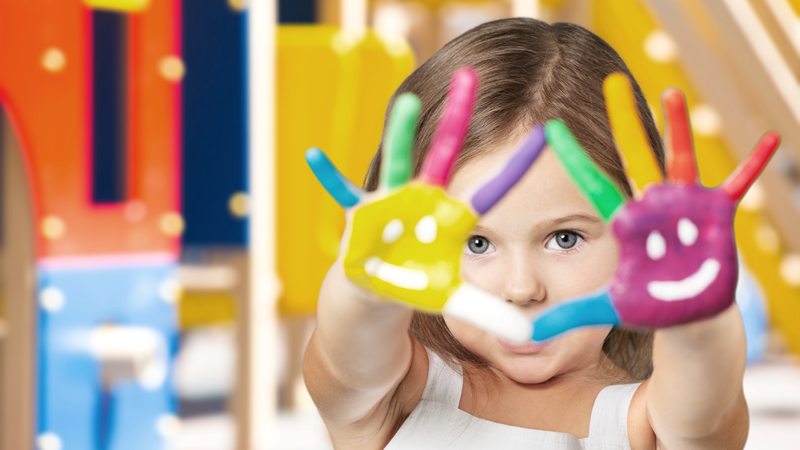 Primrose Schools
Primrose Schools have been around since 1988 and are considered a leader in the industry for franchise owners, offering early childhood education to 600,000 kids in 425 locations around the country.
Ranking High on the Lists
Ongoing, on-site training from Primrose Schools keeps franchisees current on the latest early childhood education curriculum. Primrose Schools also ranks on the Entrepreneur Franchise 500 each year for this reason and other considerations such as fees, costs, size, growth potential, and more. The school also ranked fifth on Forbes' List of America's Best Franchises to Buy in 2019.
Primrose Schools keeps the bar high with its 30+-year-old model and Balanced Learning® path that focuses on play, teacher guidance, character development, school readiness, and life skills.
Primrose School Franchise Summary
Primrose Schools offers early childhood private schools.
The initial franchise fee is $80,000, with a total investment of $4,497,500 to $6,771,000.
Royalty fees: 7%
Franchise Grade: A+
The Learning Experience Academy of Early Education
Founded in 1979 and branching out into franchising in 2003, The Learning Experience Academy of Early Education now has 250 locations throughout the country.
Focusing on Fun and Community
This childhood education center and daycare care for children from six weeks to five years old. The center strives to be fun with a business model that focuses on bold, bright colors in its centers, monthly themes, and hands-on learning.
One differentiator for The Learning Experience Academy of Early Education is its belief in giving back to the community through different charities. Franchisees can earn a type of bonus for giving back.
Like Primrose Schools, The Learning Academy of Early Education ranks on the Entrepreneur Franchise 500 list often.
Franchise Summary for The Learning Experience Academy of Early Education
The Learning Experience Academy of Early Education is a fun-based community-focused early childhood learning center and daycare.
The franchise fee is $60,000 with a total initial investment range of $589,419 – $5,225,419.
Royalty fees: 7%
Franchise grade: N/A
Veterans can receive 20 percent off the franchise fee so take note of this perk if you're a veteran.
---
Kiddie Academy
Kiddie Academy's name fits its program as it creates academic and social enrichment for a wide range of ages, from 6 months to 12 years. Started in 1981, Kiddie Academy has grown to 250 locations in the U.S. — and is a nationally recognized leader in the childcare industry.
Focusing on Character and Curiosity
At Kiddie Academy, the curriculum focuses on a philosophy of "Life Essentials," or the natural curiosity in children. The company focuses on building character, S.T.E.M./technology, and health and fitness.
Entrepreneur's Franchise 500 list continues to highlight Kiddie Academy over several years due to its standard criteria of cost and fees and other data points such as growth potential.
Kiddie Academy Franchise Summary
Kiddie Academy is a childhood learning and daycare center.
The initial franchise fee is $135,000, with a total investment range of $345,000 to $1,035,000.
Royalty fees: 7%
Franchise Grade: A
---
The Goddard School
The Goddard School is another leader in the childcare franchise industry — and has been franchising since the late 1980s. That's why it's one of the largest of its kind across the country. Currently, there are nearly 600 Goddard Schools in the U.S., offering education and care to children ages six weeks to 10 years.
Offering Summer School and After-School Programs
Whereas some childcare programs that offer preschool operate only during the school year, The Goddard School also offers after-school and summer programs. The company touts its Goddard systems, such as the F.L.E.X. Learning Program, as another differentiator. F.L.E.X. stands for Fun Learning EXperience — emphasizing that its program offers an academic and creative environment to support children's growth socially, emotionally, and creatively.
While The Goddard School utilizes the name "school," it's not technically licensed as a school. Instead, The Goddard School is licensed as a childcare facility.
The Goddard School Franchise Summary
The Goddard School is one of the largest childcare franchises in the country.
The initial franchise fee is $135,000, with a total investment range of $697,100 to $863,600.
Royalty fees: 7%
Franchise Grade: A+
---
Kids 'R' Kids Learning Academies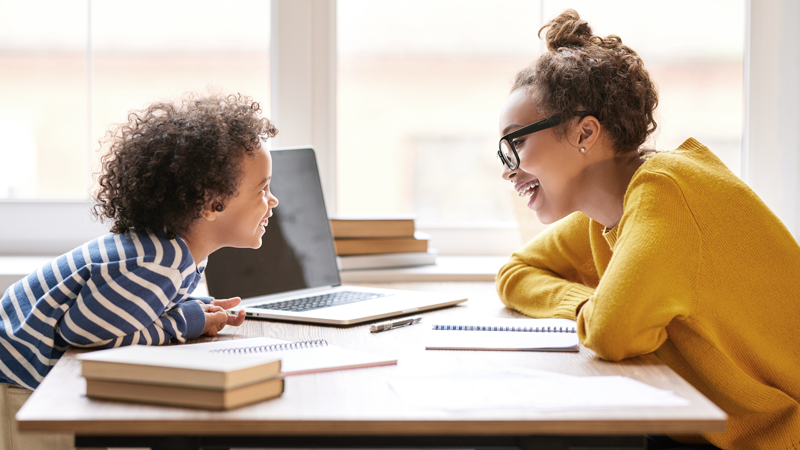 Kids 'R' Kids Learning Academies focus on helping all children learn — from 6-week-old infants to tweens (12 years) and all ages in between. The childcare franchise notes that many of its teachers come from varied backgrounds and industries — not just from education — including engineering and healthcare.
Global Focus on Innovation and Care
Kids 'R' Kids Learning Academies has 170 franchises in nearly 20 states and over 30,000 children in their care. Passion, innovation, and academic readiness drive this franchise to success. This franchise has also expanded internationally and continues to grow its international presence.
Kids 'R' Kids Franchise Summary
Kids 'R' Kids is an international and national early education and childcare franchise.
The initial franchise fee is $125,000, with an initial investment of $4.6 million to $5.8 million.
Royalty fees: N/A
Franchise Grade: N/A
---
Lightbridge Academy
A newer kid on the block, Lightbridge Academy began franchising in 2011. It currently has more than 120 locations that are either operational or in development.
Focusing on Family
Relationships rule when it comes to Lightbridge Academy. The franchise's curriculum focuses on a caring environment and family values for all the families, teachers, and administration. Lightbridge Academy also has evening hours and hosts other activities, as well as an e-Communication app called ParentView® to help facilitate communication and connection.
Lightbridge Academy Franchise Summary
Lightbridge Academy provides quality early education and care.
The initial franchise fee is $135,000, with a total investment range of $697,100 to $863,600.
Royalty fees: 7%.
Franchise Grade: A+
Lightbridge Academy is proud of its accolades, highlighting the following:
Newsweek-Statista's ranking of America's Best Customer Service Brands of 2021
5000 ranking of fastest-growing franchises, the Franchise Times Top 200+ awards, and Entrepreneur Magazine's Franchise 500
Newsweek's 2021 list of America's Best Customer Service
---
Tumbles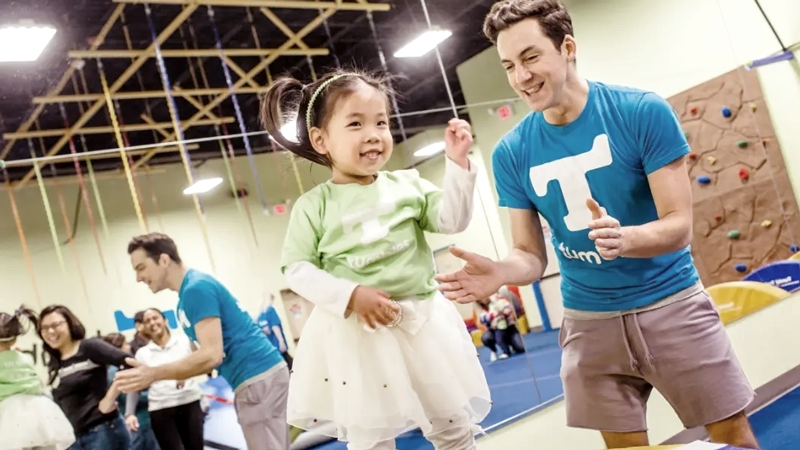 Tumbles is a kids' gym and STEAM (Science, Technology, Engineering, Art, and Math) franchise that has provided childhood educational programs for nearly 30 years. Where Tumbles shines is with its mission: "Shaping the minds and bodies of the future."
Movement Matters
At Tumbles, teachers encourage kids four months to nine years old to get active, learn how to problem-solve, and explore. Tumbles all started with a father who wanted to make a difference for kids and get them moving. He understood the importance of developing healthy habits as children — and he wanted to make a positive impact on the next generation. Today, Tumbles has six locations and will soon open a seventh in New Jersey and an international location in Qatar.
Tumbles Franchise Summary
Tumbles is a childcare center focused on physical activity and S.T.E.M.
The franchise fee is $42,000, and the total investment is $198,500 – $282,500.
Royalty fees: 7%
---
Le Village Co-Work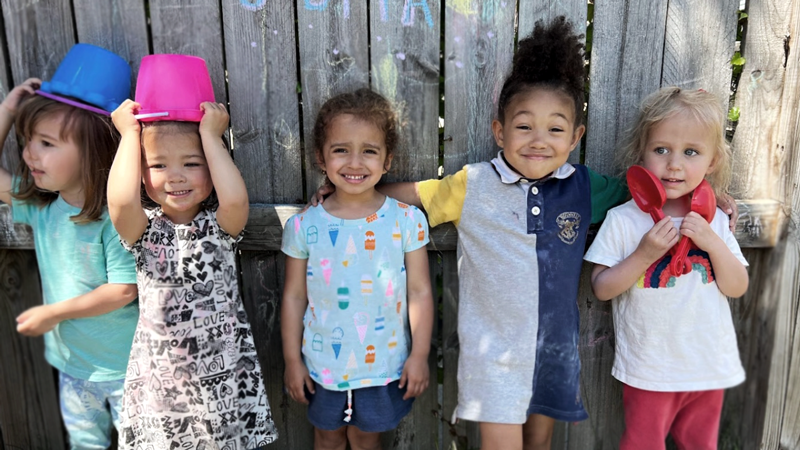 This "child-centeric co-working space for parents" takes a new spin on childcare. Instead of dropping off your kids at daycare, teachers at Le Village Co-Work teach and take care of your children while you conveniently work on-site. This is an especially appealing program for working parents who want to spend more time with their children throughout the day — and continue to be productive in a vibrant remote community of parents.
Started in 2020, Le Village Co-Work is a unique childcare franchise that has flourished through a pandemic and is poised to expand, ready to open new franchised locations for more parents to enjoy.
Finding a New Way of Working
Le Village Co-Work was founded on the idea that parents shouldn't have to choose between their career and their children. Currently, one location is open in Chicago, Illinois, with plans to expand more from Michigan to Indiana.
The curriculum is flexible, play-based, and focused on fun. Don't have a background in daycare? That's no problem, according to Le Village Co-Work. They're looking for passion for the well-being of young children and a bachelor's degree in any field. With some training, Le Village Co-Work is confident that anyone with a passion for childcare can be a successful franchise owner.
Le Village Co-Work Summary
Le Village Co-Work is a new way to do daycare: Teachers care for your children while you work on-site.
Le Village Co-Work suggests a $220,000 loan to start up, a $75,000 cash "runway," and a $75,000 buildout budget. The down payment is $50,000, which includes a franchise fee and loan down payment.
Royalty fees: N/A
Franchise Grade: N/A
Discover the story of how Le Village Co-Work began in Creating a Community for Working Parents, a true and inspiring Guidant client success story!
---
Creative World School
Around since the 1970s, Creative World School started franchising in 1999. This "school inspired by children" focuses on early childhood education for infants to school-aged children with a proprietary curriculum, age-specific playgrounds, and a model known as the three E's: Education, exploration, and enrichment. Currently, there are 23 Creative World School franchises in the U.S. and Canada. No experience is required other than a passion for child development.
Creative World School Summary
Creative World School is a "school inspired by children," promoting creative thinking in children.
The total startup investment is $2,445,300 – $5,206,000.
Royalty fees: Start at 5% and are capped at 7% after two years.
Franchise Grade: N/A
Note: Veterans can receive $10,000 off the franchise fee, and owners of multiple franchises can also receive a discount.
---
Children's Lighthouse
Children's Lighthouse touts itself as a private preschool offering "value-based care" for infants to school-aged children. The school was founded in 1996, and has 60 locations in the country today.
Similar to many other schools and daycares on the list, Children's Lighthouse has a proprietary curriculum called CARES that focuses on "age-appropriate, comprehensive learning" that also encompasses character values. A Children's Lighthouse approach to learning is built around relationship building and school enrichment.
Relationships Rule
Building community and family relationships are important for Children's Lighthouse, as is a focus on friendships and social skills for the kids. Another differentiator is that the education kids receive at Children's Lighthouse is accredited through Cognia.
Children's Lighthouse Summary
Children's Lighthouse is a preschool that offers "value-based care" that focuses on social skills and comprehensive learning.
The initial franchise fee is $75,000, and the initial investment is $4,336,318 – $6,604,406.
Royalty fees: 7%
Franchise Grade: N/A
Note: Veterans can receive $25,000 of the franchise fee.
Explore more Top Franchises of 2022 going into 2023 and more in our Start a Business category.
---
Final Thoughts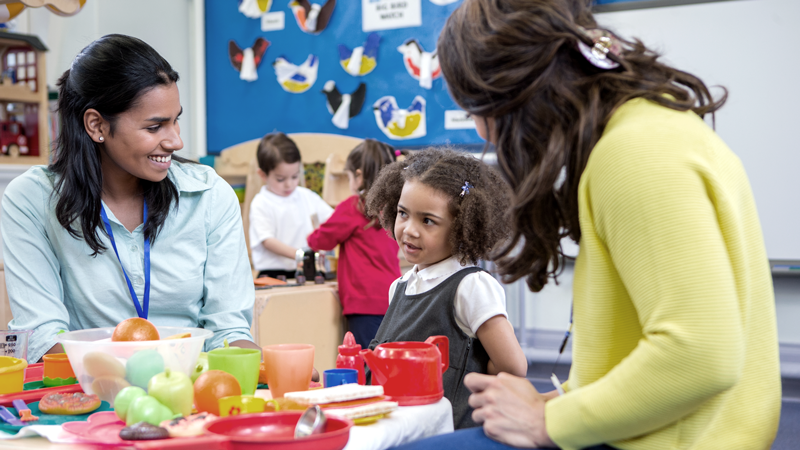 From this list, you can see that many daycare or childcare franchise opportunities are available now. Many are national franchises — and there are a variety of franchise models, learning styles, and types of curricula. In this industry, there's something for every small business franchisee.
And many franchisors don't require an early childhood education or a past profession as a childhood education provider — just a passion for kids and helping them thrive, learn and grow. The childcare industry is ready for busy families and new franchisees, showing promising growth for the new year.
Financing a Childcare Franchise
Did any of these childcare franchises sound like an exciting business opportunity for you? Do you want to know more about top franchises — or get your business financed?
At Guidant, we're dedicated to helping you make your business dreams a reality. Whether you're still browsing Franchise Opportunities or need Franchise Financing, our franchise teams and financial experts can support you in every way you need.
Take the next step and get pre-qualified now, and call us today at 425-289-3200 for a FREE consultation!