Small Businesses Are Still Going Strong in 2023 — 76% of American Business Owners Expect to Survive and even Thrive Despite Economic Downturns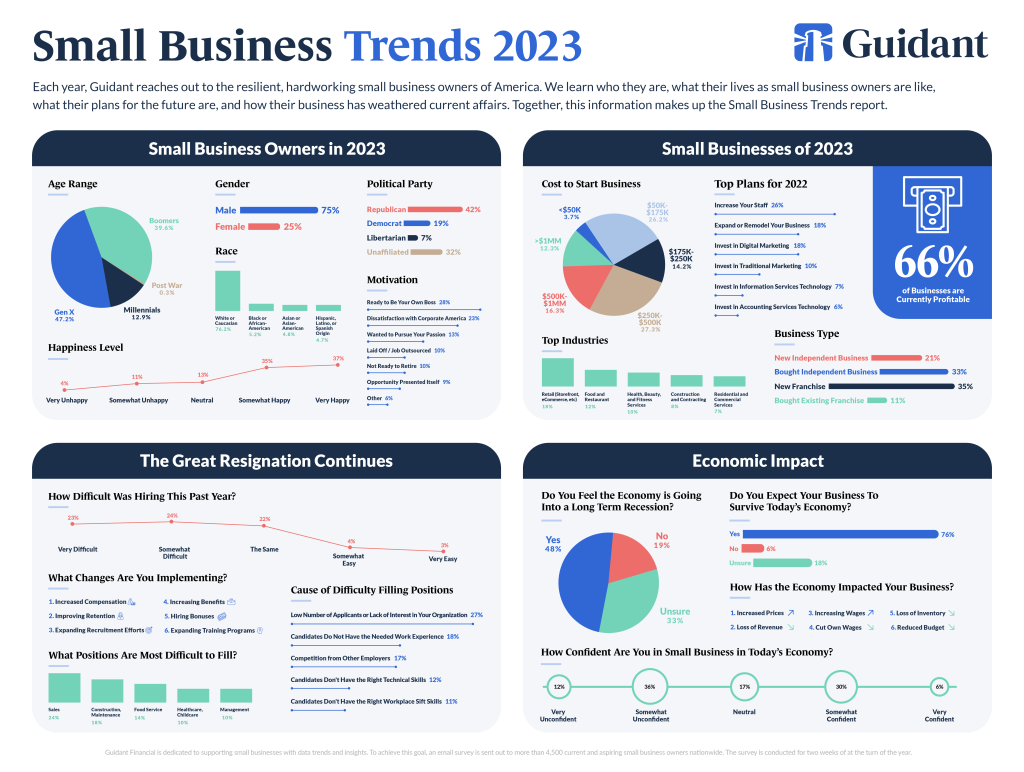 Guidant Financial's 2023 Small Business Trends study has shown that small businesses are gaining an upward momentum with most being profitable despite inflationary pressures, fears of an upcoming recession, and new economic challenges. 
This year, 66 percent of surveyed small business owners reported profitability — which is especially impressive considering most respondents were new business owners. While small businesses turn a profit within three to four years on average, a significant number of businesses surveyed are bucking the trend. This trend bodes well for the future of small businesses in the economy as profitability has seen an uptick since last year.
Though almost half of the polled business owners believe the U.S. will likely experience a long-term recession (48%), the prevailing outlook is positive. Seventy-six percent of business owners expressed confidence in in their businesses' ability to survive the current economic downturns and market fluctuations. Only a small portion worry about their business' potential to survive (6%), while others feel unsure (18%). 
"The past couple of years have presented numerous challenges for small business owners, who have had to make difficult decisions amid a pandemic, inflation, and supply chain issues. This data provides insight into how small businesses are adapting and staying resilient in spite of economic adversity."

— Jeremy Ames, CEO and co-founder of Guidant Financial
Between the economic aftermath of a pandemic, increasing prices of goods, and the Great Resignation, small business owners have had to fight an uphill battle over the last few years. Recruiting and retaining employees (22%) along with inflation (22%) were cited as top challenges, followed closely by lack of capital and cash flow (14%). Many also reported grappling with supply chain disruptions (11%).
Although businesses still face recruitment and retention hurdles, there has been a considerable decline of business owners who identified it as a key challenge compared to last year (16%) — forecasting a promising shift for small businesses in the staffing arena.
"It's inspiring to see how far these businesses have come since the start of the pandemic, and it speaks volumes about their commitment to success. Based on our projections, we anticipate greater growth for American small businesses across the board in the coming years." 

— Jeremy Ames, CEO and co-founder of Guidant Financial
The study also indicated that small businesses look forward to taking advantage of new opportunities in the coming year. Investing in marketing initiatives (28%), hiring new personnel (26%), and expanding or remodeling (18%) were the top three objectives for small business owners this year.
Despite having to adapt to an ever-changing economy, small businesses continue to survive and thrive this year. Many business owners also feel optimistic about what lies ahead in 2023 and beyond.
Explore the changing landscape of small businesses across America and gain in-depth insights into the emerging trends of small business ownership — spanning diversity in businesses, franchising, and beyond in Guidant's full 2023 Small Business Trends report. 
About Guidant Financial

Guidant Financial is a leading provider of small business resources, specializing in business financing from SBA loans to 401(k) financing. Over two decades, Guidant has helped fund and support over 30,000 American small businesses with innovative financing strategies and business services.
Each year, Guidant sends a survey to thousands of small business owners to uncover rising trends, key challenges, top industries, and more insights into the small business world. This information is then gathered into a Small Business Trends report — painting a picture of the current landscape of small businesses across the nation.
Guidant's Small Business Trends studies are designed to support and empower small business owners by offering valuable insights through monitoring up-and-coming business trends.