"I created Le Village for everyday working families. I knew that I needed a funding partner that would be a reflection of the community we are trying to serve — and that is really where Guidant shines."
Daniella Cornue, Le Village Cowork
Creating a Community for Working Parents
Daniella Cornue, Le Village Cowork
Daniella Cornue spent most of her life building a successful career. From being a marketer and account executive to a business manager to an events coordinator, Cornue took on a variety of roles over 15 years. Then, her whole focus shifted when she took on another title: Working mom.
Cornue didn't know if she could continue working in the same capacity — and still be the type of mother she aspired to be. She didn't want to miss her daughter walking for the first time or hearing her first words. She wanted to be with her daughter every step and babble of the way. But Cornue also didn't want to give up her career. 
"I found myself kind of at a precipice where I loved being a working woman. I had spent my entire life building my career. It was central to my identity," said Cornue. "But now I had this new tiny person in my life, and all of a sudden, she was also very central to my identity."
Cornue couldn't choose between her child and her career. And she didn't believe other parents should have to choose, either.
That's why she founded Le Village Cowork, a child-centric co-working space for parents.
Parents can work on-site at Le Village in Irving Park while certified caretakers and teachers look after their children. It's essentially a daycare, learning environment, and co-working space for professionals all in one. After all, it takes a village.
"Everybody [at Le Village] is in the same life phase, struggling through the same thing," said Cornue. "You have parents from different industries and backgrounds… They all work together and raise their kids together."
Starting a Business Preceding COVID-19 Lockdowns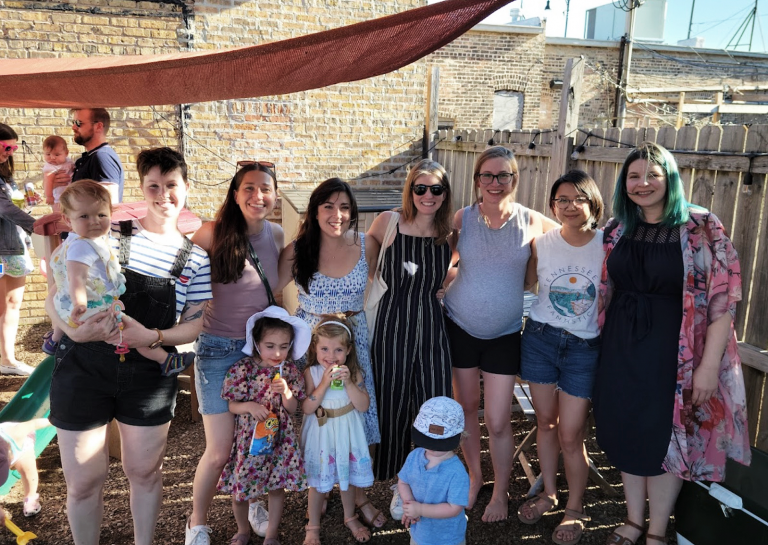 Le Village opened in November 2020 — and business looked promising. But when the COVID-19 pandemic swept the nation, Cornue had to pivot. She didn't know if her business, which relied heavily on offering services on-site, would survive. Still, Cornue didn't give up. 
She worked even harder and adapted her business model. Community and connection are at the core of Le Village. If that couldn't be experienced in person, then it could be virtually replicated in the meantime. 
Cornue moved all classes online for teachers and students to continue seeing each other and learning. She created virtual happy hours, meet-up groups for the parents, craft boxes, and new curriculum. This continued connection and community that Cornue built for her business kept it afloat.  
"It was a really unique time to start a small business, and it was kind of hectic… It taught me a lot about it myself. It taught me a lot about the lengths I would go to keep the business," said Cornue. "But you know what? It's all turned out amazingly. Now, we're trying to figure out what our next steps are and how to get more of these open in the marketplace." 
The business closed on March 2020 and began gradually reopening in June 2020, following all  COVID-19 safety guidelines at the time.
Becoming a Guidant Franchise Partner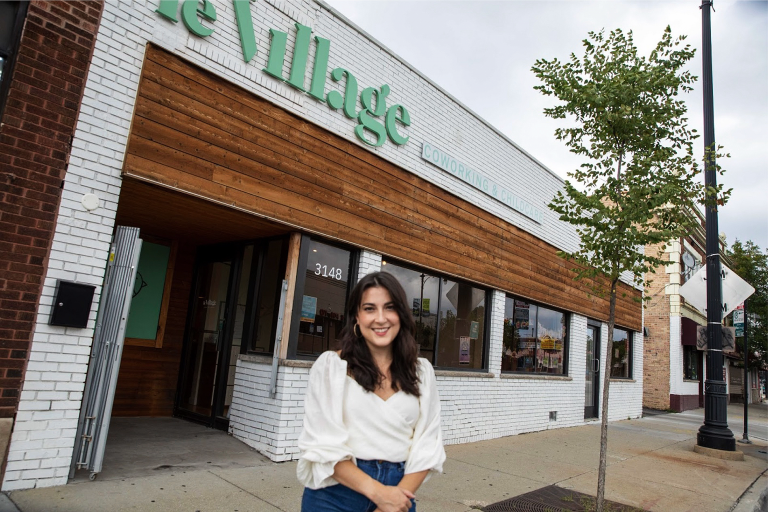 When everyone started going back to work in person, Le Village attracted even more parents who enjoyed the flexibility of working remotely and spending more time with their children throughout the day. 
Le Village partnered with Guidant Financial to create more Le Village communities through franchising. Cornue is currently looking to expand in Illinois, Michigan, Wisconsin, and Indiana. With more locations open, more working parents can enjoy the close-knit feeling of Le Village. 
"Community is so central to our model," said Cornue. "I could try to open more businesses myself, but you lose that small support system… I really want the owners to have a piece in that joy of building community." 
Through Guidant's Franchise Funding, those with an entrepreneurial spirit can become small business owners — with the financial and business support they need. Guidant Financial specializes in helping small businesses succeed and grow. 
"I created Le Village for everyday working families. I knew that I needed a funding partner that would be a reflection of the community we are trying to serve," said Cornue. "And that is really where Guidant shines." 
With Guidant helping launch and support over 25,000 small businesses, Cornue chose to become a Guidant Franchise Partner. She knew Guidant would find unique solutions for her franchisees to secure funding and support them throughout the whole process.
"Guidant eases the pathway for getting a Le Village business off the ground for me as the owner and founder, but also for the franchisees," said Cornue. "We needed and found a partner that would be with us every step of the way."
By franchising, Le Village has an opportunity to grow and impact more lives — and give career and business ownership opportunities to more working parents. 
Challenges as a Hispanic Woman in Business
As a Hispanic business owner and a woman, Cornue studies the challenges small business owners face, especially Hispanic women in business.
About 43.1 percent of small business owners are women, according to the U.S. Small Business Administration. Even fewer women of color own businesses. Latina or Hispanic women own 2.3 million businesses out of nearly 13 million women-owned businesses in the U.S. But why? 
For one, female entrepreneurs struggle to get financed. Women-led startups received only 2.3 percent of venture capital funding in 2020. And even less will go toward women of color. Between 2009 and 2017, Latinx women received 0.4 percent of $400 billion in venture capital funding. 
"Understanding the hurdles against us is a big part of knowing what we're fighting for… I've definitely faced a lot of 'no's,' and I'd like to think that it wasn't because I'm a woman of color, but it very well might be." said Cornue. "It took me a lot of fighting to get to the right 'yes.' So, holding our candidates' hands throughout that process so they find the right 'yes' is really important to us." 
At Le Village, 64 percent of staff are women of color, and 80 percent of members are working mothers. 
Celebrating National Hispanic Heritage Month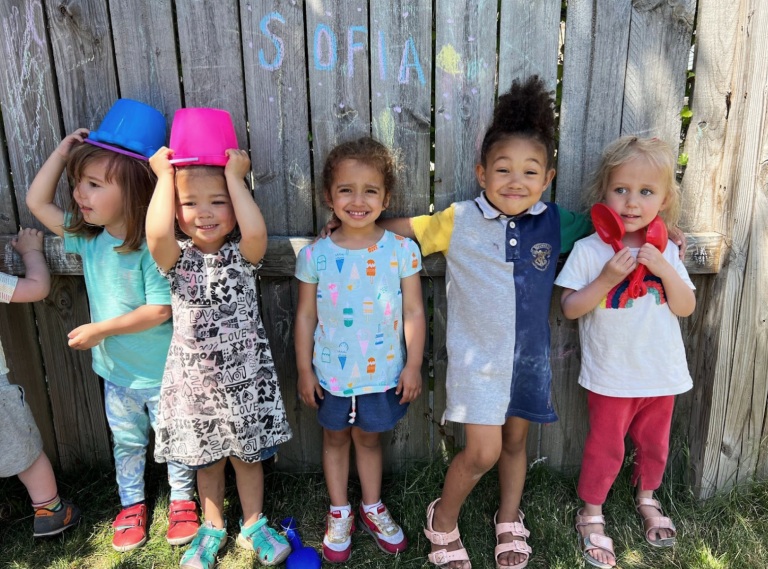 Cornue is excited for National Hispanic Heritage Month, which to her is a special time to celebrate the differences that make us unique in this country. Differences weren't celebrated or recognized during her childhood. 
"When I grew up, everyone was trying to be the same. We're the same, we treat everyone the same," Cornue reflected. "When my dad grew up, we were all Americans — you're an American in this country, and we act like Americans." 
For her grandmother, it was literally dangerous for her to be different, to be Mexican. She did everything she could to hide her heritage and assimilate. But now, Americans are more widely recognized for their different cultures and backgrounds. 
"It's refreshing to be in a time of our history where we get to celebrate our different nationalities and heritage," said Cornue. "At Le Village, we are teaching our kids about all of the different cultures, religions, backgrounds and identities that make us special and support our friends for the aspects that make them special too." 
Advice on Starting a Business
Despite all the challenges Cornue came up against, she would do all of it over again. Cornue learned that the universe tests even the best business plans. But through determination, resilience, and a little creativity, your business can thrive. If you want to run a business and build your dream life, you can't let fear hold you back. 
"Don't think that the fear is bad. Everybody is scared to do something different. Everyone is grappling with all the 'maybes.' Don't let them hold you back," said Cornue.
There's never really a perfect time to start a business. Life throws curveballs, and nothing is guaranteed. To be a successful business owner, you must genuinely believe in yourself and your business. You have to be able to pivot, learn, and overcome challenges as they come. 
"It's never going to be perfect. There's always going to be a reason not to do it," said Cornue. "But when you get started, and it starts to fly, it's the most amazing experience. And you're going to create the balance and the control for yourself that you've always wanted."
Ready to start your business?
We can help you with the first step. Pre-qualify today for Small Business Financing.