Franchising has always been a dynamic and evolving landscape — playing a crucial role in shaping the future of small businesses across the U.S.
As franchises transform, understanding the key trends that drive it can help you stay ahead of the franchising game. In this blog, we'll highlight the top key findings from Guidant's Franchise Trends 2023, taken from our annual Small Business Trends study conducted with over 1,000 American small business owners.
Explore Guidant's full 2023 Franchise Trends study for a comprehensive breakdown of franchise businesses in 2023 and beyond.
Franchise Evolution in 2023
This year, the franchise industry has become an increasingly popular option among entrepreneurs. Why? For one, franchises offer a proven business model and often training — helping franchisees become well-running, successful small business owners in little to no time.
In times of economic hardship, franchising becomes especially appealing among those looking to start and run their own business quickly, with constant support. That could explain why we've seen a significant increase in franchises this year, including among diverse and younger franchisees. Let's take a closer look at the latest trends and insights from franchisees surveyed in Guidant's 2023 Small Business Trends Study.
Ready to discover the latest and rising trends in small businesses? Check out Guidant's Small Business Trends 2023 study, providing an in-depth look into all facets of business ownership — including Franchise Trends, Women in Business, and Entrepreneurs of Color.
Top Trends Among Franchisees 2023

Of all franchise owners surveyed, 77 percent started a new franchise location, while 23 percent bought an existing one this year.
The primary motivator for franchise ownership was the desire to be one's own boss (29%), which holds true in our main study, Women in Business segment and Entrepreneurs of Color segment.
Discontent with corporate America also drove a significant amount of respondents to pursue franchising (24%). Job loss prompted 13 percent of respondents to start a franchise, with an equal percentage (12%) doing so because they weren't ready to retire or out of passion.
Franchise ownership predominantly belongs to Gen X (50%) and Baby Boomers (38%), with Millennials making up the remaining 12 percent.
Gen X franchise owners surpassed Baby Boomer franchise owners this year, as Baby Boomer ownership decreased by approximately 15 percent. Meanwhile, the number of Millennial franchise owners grew significantly this year, increasing by 163 percent or 2.6 times since 2022. A continued future increase in both Millennial and Gen X entrepreneurs pursuing franchising is anticipated.
While White or Caucasian males still constitute the majority of franchisees, there is increasing diversity in franchise ownership, with a rise in minority franchise owners. "Black or African-American" franchisees experienced an impressive 2x increase in the past year. "Asian or Asian-American" franchise owners have also seen significant growth — with an 86 percent (nearly 2x) increase.
Male franchise owners made up 71 percent of survey respondents this year, with 29 percent being female. Despite the gender disparity, female franchise owner representation has increased by 25 percent over the past year.
Guidant's 2023 Small Business Trends study shows a positive shift toward diversity in business ownership this year. Uncover our key findings in Insights from Guidant's 2023 Small Business Trends Study: Entrepreneurs of Color and Women Business Owners Insights and Trends: Guidant's 2023 Small Business Trends Study.
Top Franchise Trends and Industries

California, Texas, Florida, and Georgia were the top states for franchising this year, followed by Ohio, Arizona, Michigan, Missouri, Pennsylvania, and Washington.
Among franchisees, 42 percent identified as Republican, a significant 29 percent felt unrepresented by any political party, and 22 percent identified as Democratic. The remaining 7 percent are affiliated as Libertarians.
The current political landscape caused unease among franchisees, with 43 percent expressing uncertainty or lack of confidence — though many remain confident about the future. Nearly a third of franchisees felt equally "somewhat confident" (29%) or "somewhat unconfident" (29%) about the current political climate, with 23 percent reporting feeling neutral.
Despite supply chain disruptions and price hikes, 37 percent of franchise owners felt "somewhat happy" and 27 percent "very happy" about business ownership this year. Meanwhile, 15 percent felt neutral, and 16 percent were somewhat dissatisfied. Only five percent reported feeling very unhappy.

Seventy-seven percent of surveyed franchisees chose to open a new location, with the remaining 23 percent buying an existing one.
Franchisees were 66 percent more likely to open a new location than independent business owners in 2023, which could reflect the confidence gained from franchisor support and proven business models.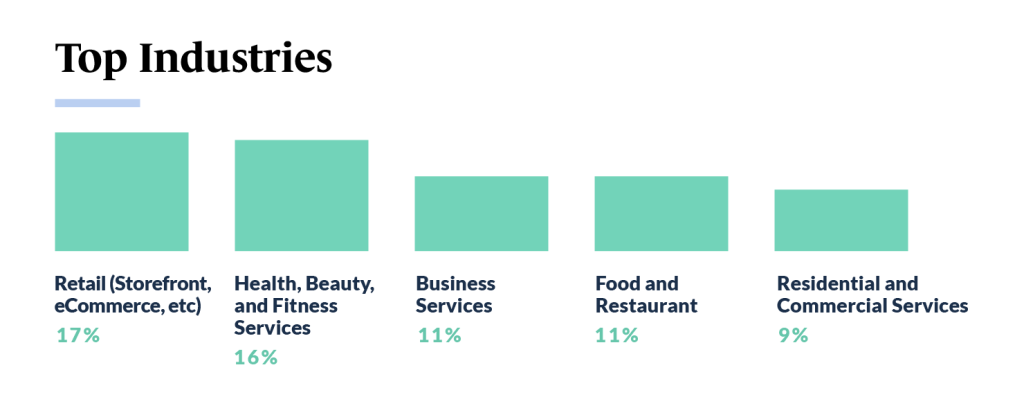 The largest industry category for franchisees was retail (17%), followed closely by Health, Beauty, and Fitness services (16%), and Food & Restaurant and Business Services (at 11% each).
Recruitment and retention remain significant challenges for franchisees (24%), followed by lack of capital/cash flow (19%), marketing/advertising (9%), and supply chain issues (8%).
Despite challenges, most (61%) of franchise owners reported profitability in 2023, a 19 percent boost from 2022. The remaining 39 percent were unprofitable.
FranData's 2023 Franchising Economic Report predicts continued growth in franchising, with an estimated 790,492 franchised businesses increasing economic output to $825.4 billion in 2021-2022, a nearly five percent rise. FranData anticipates the total number of franchised units to reach 805,436 in 2023.
See FranData's full 2023 Franchising Economic Report for an in-depth breakdown of franchising growth and forecast for this year.
Top Franchising Challenges and Business Plans

The Great Resignation has significantly affected small businesses, with 48 percent of franchise owners reporting the hiring process as "very difficult" or "somewhat difficult." However, this represents a 62 percent improvement since 2022.
Franchisees struggle to find candidates with adequate work experience (17%), soft skills (12%), and technical skills (11%). Additionally, there is a reported lack of applicants (27%) and high competition from other employers (18%).
The hardest roles to fill for franchisees are in sales (30%), management (15%), healthcare/childcare specialists (12%), and food service professionals (10%).
To mitigate hiring issues, franchise owners increased compensation (29%), invested in retention efforts (19%), enhanced benefits packages (10%), and broadened recruitment advertising strategies (10%).
In response to challenges, 31 percent of franchisees intend to increase staff, 34 percent plan to invest in marketing, and 15 percent plan to expand or remodel their businesses.
Other key challenges include inflation (19%), lack of capital/cash flow (16%), marketing (9%), and supply chain issues (8%). However, those who reported capital and cash flow challenges have decreased by 47 percent since last year.
The economic outlook among franchisees varies: 45 percent expect a long-term recession, 35 percent are unsure, while 20 percent anticipate no major market changes.
Despite economic difficulties, 33 percent of franchisees expressed confidence in their businesses, with 36 percent feeling slightly unconfident, 18 percent neutral, and 12 percent expressing fear for the future.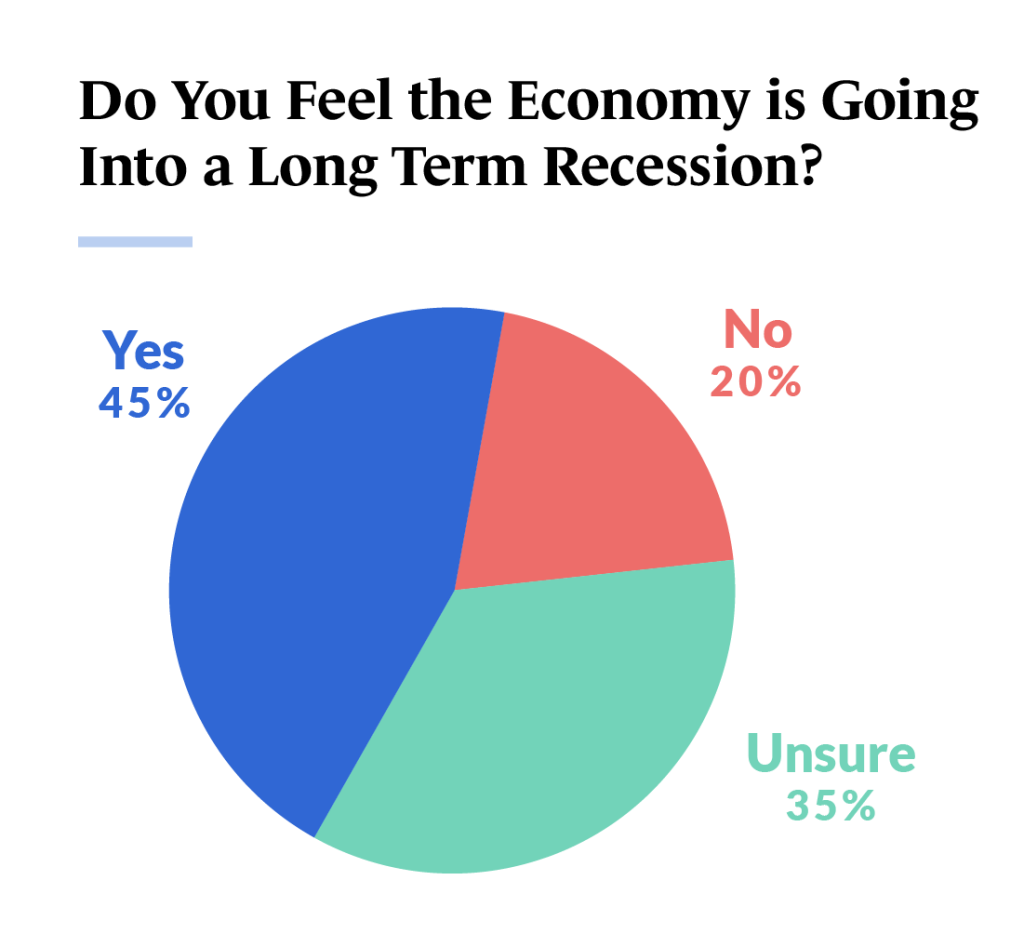 Inflation has had the most significant impact on franchisees (26%), causing loss of revenue (17%), increased wages (13%), wage cuts (9%), and reduced business budgets (6%).
Looking ahead, 52 percent of franchisees plan to grow, 24 percent aim to maintain their current businesses, and nine percent plan to open additional locations. Only 15 percent intend to sell their businesses in 2023.
Interested in franchising? Discover the hottest best franchises that thrive especially during the Summer season in Top 10 Hottest Summer Franchises.
The Future of Franchising
Our 2023 Small Business Trends study underscores the resilient spirit of franchisees ready to brave and overcome new economic challenges. Their dedication to the continual growth of their business paints a positive future for franchisees and aspiring business owners alike.
The rise of franchising as a preferred choice for entrepreneurs highlights its undeniable appeal as a business strategy in an unpredictable economy. Franchising provides a proven business model on top of access to marketing resources and experienced support networks, all invaluable tools in the current economic landscape. This resilience — combined with the exponential growth and power of franchising — fuels confidence in our findings.
In the face of economic uncertainty, the future of franchising remains bright. Find Guidant's full 2023 Franchise Trends study for a comprehensive breakdown of franchise businesses in 2023 and beyond.
Empowering Aspiring and Current Franchisees
Franchising can provide excellent opportunities for current and aspiring small business owners, with relatively low barriers to entry and a higher chance of success than beginning your own business from scratch. Franchises offer significant support to their franchisees, ranging from business plans and advice to mentoring and coaching. Plus, franchises have various business models, from individual enterprises to large retail operations.
Guidant Financial has worked with thousands of franchisees to find the best opportunity, offering financing advice and counseling to ensure the best chance of success. If you're interested in franchise opportunities, contact our team today!
Call us today at 425-289-3200 for a free, no-pressure business consultation to get started — or pre-qualify in minutes for business financing now!
---