Women-owned small businesses are on the rise, boosting the economy and shaping the landscape of small businesses. From transforming industries to empowering communities, women business owners are leaving a lasting impact across America.
According to Guidant Financial's 2023 Small Business Trends Study, many women business owners are thriving in a variety of industries — from retail to health and fitness — and their businesses are becoming increasingly profitable. But starting a business as a woman is still no easy feat. Women entrepreneurs often face unique challenges that can make it even more difficult to succeed in small business.
Guidant's Women in Business report dives into the challenges women-owned small businesses face, growing trends, and the latest insights from women business owners. In this blog, we'll explore some of the top highlights from Guidant's Women in Business segment in its 2023 Small Business Trends study — and explore the future of women-owned small businesses.
Discover the latest insights and trends from Guidant's 2023 Small Business Trends Study, which also includes in-depth reports on Women in Business, Entrepreneurs of Color, and Franchise Trends.
Top Trends for Women Business Owners
While our study has only seen a slight increase in women-owned small businesses this year, the National Women's Business Council (NWBC) Annual Report for 2022 shows rapid growth and development for women business owners. Between 2012 and 2019, women-owned employer firms saw an impressive 16.7 percent increase compared to only 5.2 percent among companies owned by men, while gross receipts within that same period rocketed 51.9 percent. What's more, the ten million+ workers employed by women-owned businesses increased by 28 percent — over double the expansion of male counterparts.
Despite some progress, the small business realm continues to be male-dominated, with women making up just a quarter of business owners, according to this year's survey.

With its Women in Business series, Guidant aims to gain insight into the lives of women small-business owners across the country, exploring their motivations, challenges, and plans for growth and profitability. Let's explore some of the key insights, trends, business prospects, and challenges among women business owners surveyed in Guidant's 2023 Small Business Trends study, starting with a portrait of women in business.
Are you an inspiring or current woman business owner in need of financing? Explore the Top 7 Grants for Women Entrepreneurs.
A Portrait of 2023 Women Small Business Owners
The top motivators for becoming a business owner among women surveyed are the freedom of being their own boss (27%) and dissatisfaction with corporate America (22%).
Women entrepreneurs were 20 percent more likely than men to launch a business based on their passions.
Over 60 percent of women business owners surveyed reported being somewhat to very happy as business owners. Sixteen percent of respondents felt neutral, 14 percent somewhat unhappy, and only 6 percent very unhappy.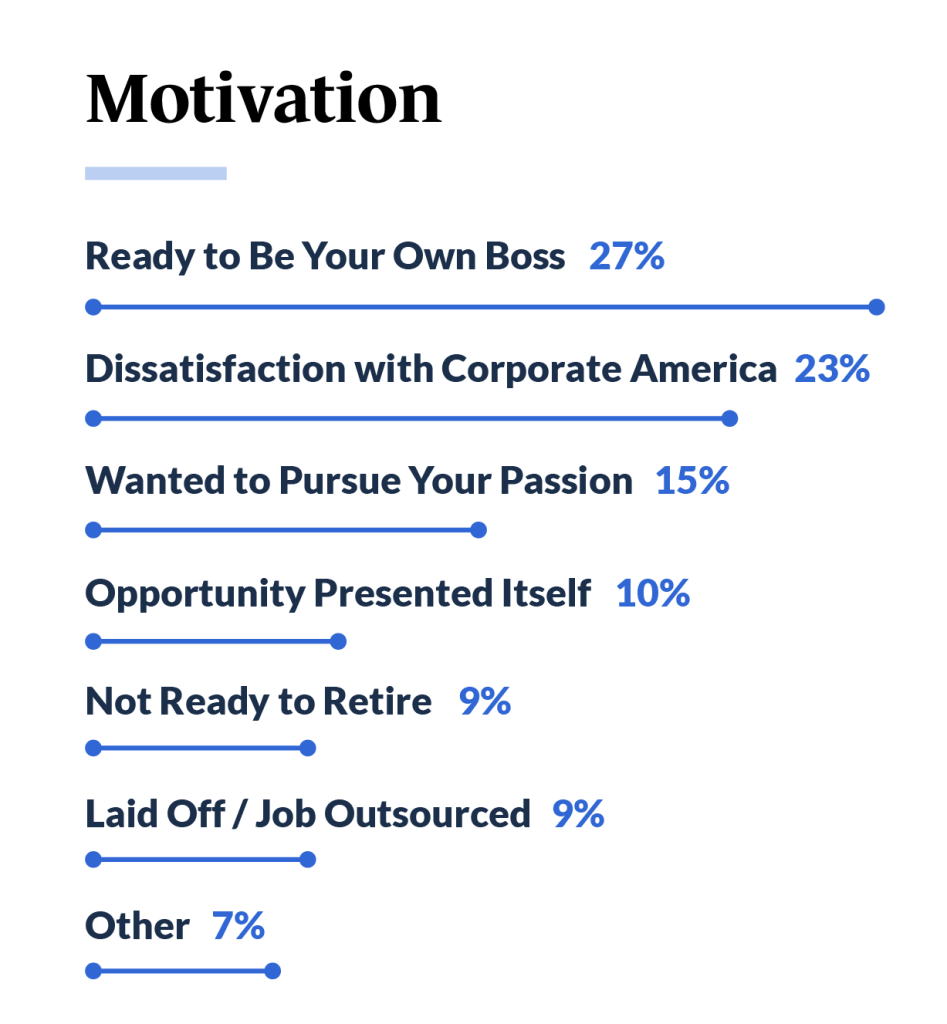 Women-owned businesses were more likely to align with a major political party compared to our main study. Approximately 30 percent of women business owners affiliate as a Republican, Democrat, or Independent, while four percent identified as Libertarian.
There is a growing trend of small business owners, particularly among women, who are moving away from traditional political parties. Women business owners who are unaffiliated with any leading political party increased by 15x — jumping from roughly three percent to 33 percent within only a year.
While much more progress needs to be made, our study showed a positive shift toward women from diverse backgrounds owning their own small businesses. Women-owned businesses are still predominantly "White or Caucasian" (78.4%). However, women business owners who identify as "Black or African-American" increased by 33 percent from 2022 to 2023 — and women entrepreneurs who identify as "Hispanic, Latino or Spanish Origin" and "Asian or Asian-American" both doubled since last year.
Most women business owners belong to Generation X (55.7%), and nearly a third belong to the Boomer (29.9%) generation.
Despite the long-standing generation gap, a rising trend in millennial business ownership is seen among women entrepreneurs (14.4%).
Millennial women are outpacing their male counterparts by 36 percent in business ownership this year.
Top Industries and Business Types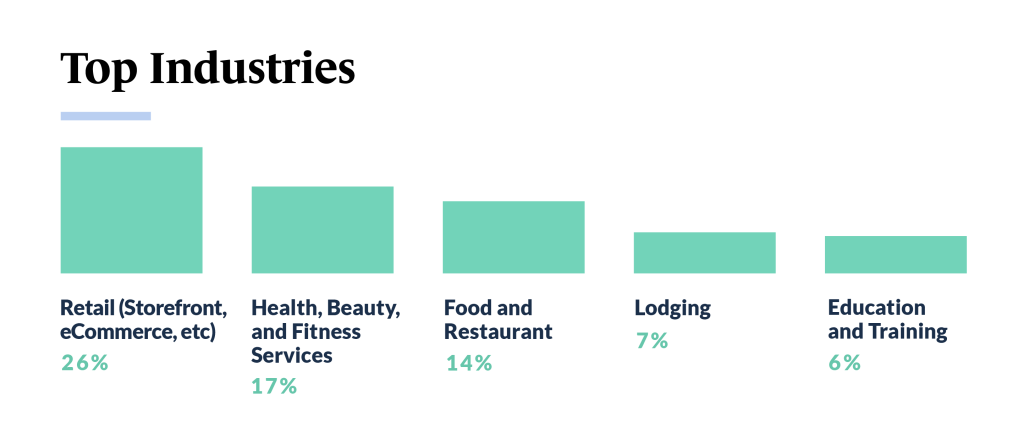 Women business owners were far more likely to franchise. Over 40 percent of women business owners started a new franchise, and 11 percent bought an existing franchise.
Twenty-nine percent purchased an existing independent business, and 18 percent started a new independent business.
Top industries in Women-owned businesses this year are Retail (26%), Health, Beauty and Fitness services (17%), and Food and Restaurant (14%).
Women entrepreneurs are especially influential in retail, health, beauty, and fitness services. In fact, women are twice as likely to own businesses within these sectors compared to men.
The majority of women-owned businesses were profitable this year (60%), while 40% were unprofitable. Considering most respondents are new business owners — and small businesses, on average, are profitable within two to three years — this data is especially encouraging.
Challenges for Women-Owned Businesses
Among respondents surveyed, 24 percent reported inflation and price changes as the biggest challenge this year.
Recruitment and retention remain a top challenge among small business owners, including women. Twenty-four percent of women business owners described the hiring process as "very difficult" compared to last year. Despite these ongoing challenges, there has been marked improvement from last year — with 43 percent fewer women business owners finding the hiring process difficult.

Most women business owners reported a low number of applicants (29%), a lack of needed work experience (18%), or a lack of the right workplace soft skills (11%) as the reasons behind recruitment and retention difficulty. Competition from other employers (14%) and the inability to offer competitive salaries or benefits (10%) are also contributing factors.
The majority of respondents (32%) plan to address retention and recruitment issues by increasing compensation, followed by improving retention efforts for current employees (19%) and expanding recruitment advertising efforts (11%).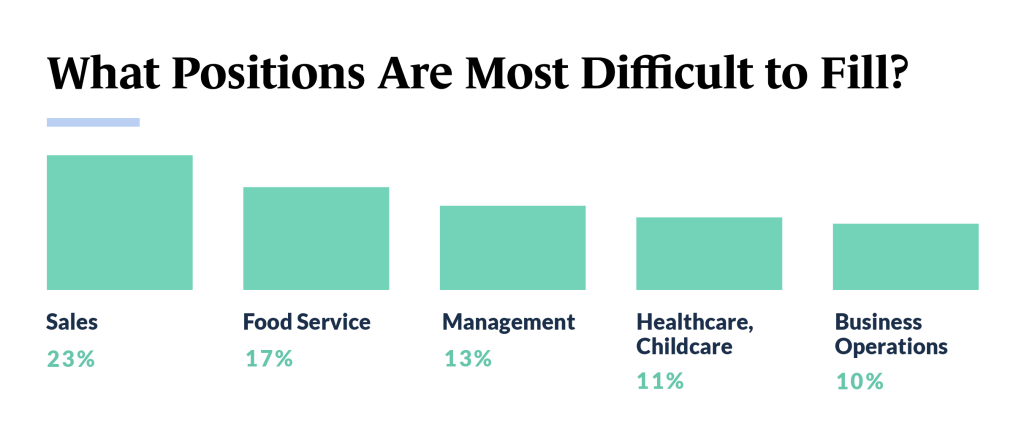 Women business owners experienced the most difficulty filling roles in sales (23%), food service (17%), and management (13%). The next most challenging industries were healthcare and childcare (11%) and business services (10%). Supply chain issues (9%) and marketing/advertising (8%) were also identified as key challenges.
Lack of capital and cash flow was another main challenge (17%). Women business owners were 55 percent more likely to report this as a significant challenge compared to men among surveyed respondents.
Economic uncertainty and inflation have made the road ahead more challenging for small business owners this year — 28 percent of surveyed women entrepreneurs battled rising prices, 19 percent reported a decrease in revenue, and 12 percent had to increase wages to address economic pressures. Some even reported having to cut their own wages (7%).
Women Business Owners' Economic and Business Prospects

Despite ongoing and new economic challenges, small business owners' confidence levels in the economy have remained somewhat steady since last year. Over half of women entrepreneurs (38% somewhat unconfident and 17% very unconfident) feel unconfident about small businesses in today's economy. Still, women business owners were 21 percent more likely to lack confidence compared to male entrepreneurs.
Almost half of respondents expressed uncertainty about the likelihood of a prolonged recession (45%), while a significant portion feel the economy is entering a long-term recession (43%). Twelve percent of surveyed respondents felt confident about the future economy.
Most women business owners expect to survive (67%) in current economic conditions, while 27 percent are unsure and six percent do not.
Women business owners plan to invest in three main areas in 2023: increasing staffing (30%), investing in marketing (29%), and expanding/remodeling their businesses (17%). This data shows consistent investment trends from the previous year.
The Future of Women in Business
The rise of women-owned businesses is an exciting trend, both transforming the economy and shaping the world of small businesses as we know it. In Guidant's Women in Business study, most women-owned small businesses reported profitability this year. On top of that, many women business owners seem fulfilled and satisfied in their roles, with a majority reporting feeling happy. The study also highlighted an increase in the number of younger and more diverse women business owners, which is a promising sign of progress toward a more inclusive business world.
Still, women entrepreneurs continue to encounter significant challenges, with funding being a major hurdle on top of recruitment, retention, and inflation issues. Women business owners in Guidant's survey also expressed lower levels of confidence in the economy and were more likely to worry about the impact of a long-term recession on their businesses. Even so, a majority of women expect their businesses to survive and even thrive in the coming year — showing their strong determination and ambition. Get the in-depth Women in Business report here.
Read the inspiring stories and learn the secrets to success from five trail-blazing American women business owners in Breaking Barriers: 5 Women Entrepreneurs You Should Know.
Empowering All Entrepreneurs and Small Business Owners
At Guidant, we are committed to promoting success and equal opportunities for all small business owners, particularly those from underserved communities such as women in business, entrepreneurs of color, and other minority groups. We're excited to see a more diverse business landscape emerge in the coming years, and we are proud to support and uplift women-owned businesses and their vital role in boosting our economy.
Since 2003, Guidant has helped over 30,000 American small businesses — including thousands of women entrepreneurs — get the funding and support they need to succeed. Our financial experts are here to create personalized funding strategies for your business that actually work. And we offer affordable Accounting & Tax and Payroll services to support all your business needs so you focus less on admin work and more on your business. Reach out to our team today at 425-289-3200 to learn more about how Guidant can support your business dreams!