Boomers are trending again, thanks to many retirees aged 65 and older choosing to stay in their homes and age in place instead of moving to retirement homes. Why does it matter? Because there are 52.5 million people aged 65 and older in the U.S. today, making boomers just barely the second largest age group (right behind millennials). The effect of this phenomenon is that the in-home senior care market is bursting and poised to continue growing with revenue of $10.2 billion, and annual growth of 9.1% (2013-2018), according to an IBISWorld market research report.

This report also states that there are 7,775 in-home senior care businesses in the U.S. today, many of which are franchises. Services range from traditional home healthcare/nursing care to home hospice and homemaker/personal services. By far, most services – nearly 63 percent – are traditional home healthcare and home nursing care.
Investigating the In-Home Senior Care Industry: Advances and Rising Costs Drive Growth
What other factors are influencing the rise of the in-home care industry, in addition to the boomer generation's desire to age gracefully in their homes? Medical and technological advances play a part in the upsurge, as do the escalating costs of assisted living centers. It's getting more and more expensive for retirees to pay for healthcare, including assisted living options. The annual national median cost of assisted living is $48,000 in 2018 (Genworth Financial 2018 Cost of Care Survey).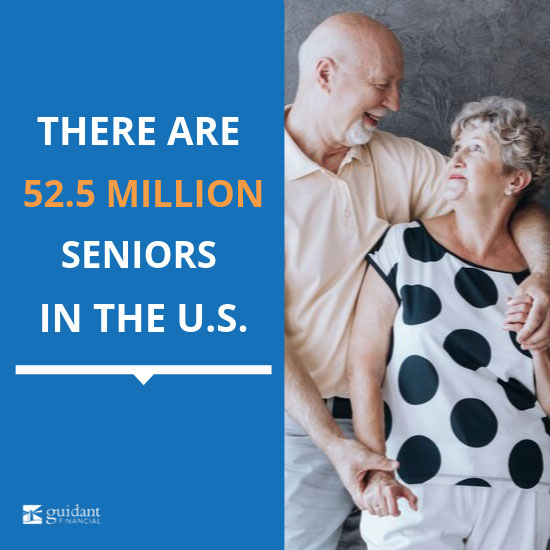 You may also recall the Patient Protection and Affordable Care Act (PPACA) of 2010, which changed nursing services and encouraged the transition to in-home managed care. With the industry enjoying its growth stage, let's look at how you can get involved – and most importantly – succeed.
How to Succeed with In-Home Senior Care
These key factors are important to help you realize your goals in the in-home senior care industry.
Like other industries, location is everything. Make sure you are near your key market of aging adults aged 65 or older. For example, look to California and Texas, where the population of older adults is plentiful, and the weather is sunny and warm.
Ensure you practice quality control with your services. Liability is high in this industry, so it's important to be known as a safe care provider.
Take advantage of government subsidies and grants from Medicare and Medicaid to run a profitable business.
Loved ones and family members will be looking for accreditation from organizations such as the Joint Commission on the Accreditation of Healthcare Organizations when they are considering in-home senior care options. Once you've gained accreditation, keep upholding it through the life of your business.
An in-home senior care business is likely to spend the most money on employee wages. The price of your skilled in-home healthcare and caregivers is high, continues to rise thanks in part to a shortage of nurses in the U.S. today. For example, Texas is expected to face a shortage of over 16,000 nurses by 2030, and California may be short 45,000 nurses.
---
Get Funding Options Tailored to You Today
---
In addition to the expenses of your providers, franchise fees (more on this next) and associated costs such as marketing or product and operational expenses will also affect your bottom line.
Finding the Right Franchise
The in-home senior care market has quite a few franchise opportunities. Franchising is a quick and less expensive way to get involved in a business. You benefit from the franchise's brand awareness, products, and advertising resources. Often, it's faster to get a franchise up and running than a from-scratch business. Currently, there are over 60 franchise brands in the in-home senior care industry.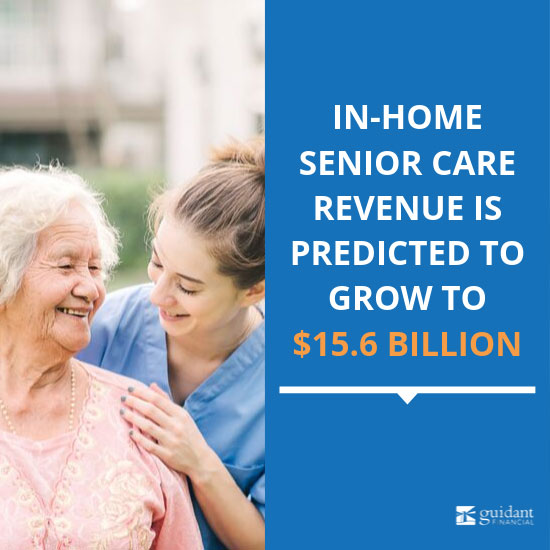 Products and services differentiate franchises; while some provide medical care, others focus on daily tasks such as help with dressing and bathing or errands. The largest brand in the U.S. in-home care franchise business is Home Instead Inc., with eight percent of the market share. This model provides nonmedical services for seniors who don't have medical needs but need assistance with other aspects of their daily lives. Interim Healthcare, on the other hand, holds 6.6 percent of the market share and focuses on providing nurses, therapists and other healthcare providers to its customers. Other top names include Living Assistance Services and Right at Home Inc., among others.
Learn more about becoming a franchisee with our Complete Guide to Buying a Franchise.
Financing Your In-Home Senior Care Franchise
If you're interested in the potential of an in-home senior care franchise, the next step is to investigate your financing needs. With 401(k) business financing, also known as Rollovers for Business Startups (ROBS), you can avoid taking out a loan by using your eligible retirement account funds: The Small Business Administration (SBA) guarantees small business loans to qualified applicants, and is one of the more sought-after forms of small business funding. It can also be helpful to use a ROBS arrangement as a down payment on an SBA loan, lowering your long-term debt. Other financing or cost-lowering options include portfolio loans, unsecured loans, and equipment leasing.
Learn much more about financing your small business for franchise with our Complete Guide to Small Business Funding.
The Future is Golden
Seniors are growing older and needing more in-home care for everything from daily tasks such as grocery shopping to help with chronic conditions such as Alzheimer's. Over the next five years, IBISWorld estimates revenue for the in-home senior care industry to grow at an annualized rate of 8.9 percent to $15.6 billion.
If this fast-growing marketplace sounds good to you, now is a great time to buy a franchise or start a business. Technological advances in medicine have also merged with a strong economy, and the in-home senior care industry is thriving. Spirited boomers are redefining their golden years, and you can be a part of their care – and enjoy the benefits of entrepreneurship at the same time.