SBA business loans require up to a 30% down payment. But with 401(k) business financing, you can use your retirement funds as an SBA down payment without incurring tax penalties or depleting your savings. Learn how this little-know financing method can set your business up for financial success.
---
For many entrepreneurs seeking financing, a traditional small business loan is often the first method they seek. But when average loan amounts are $400,000 or more, down payments for these loans can be cumbersome to say the least. Now that the Small Business Administration (SBA) has mandated a minimum 10 percent down payment on all SBA loans (and most individual lenders require up to 25-30 percent), the necessary cash needed as an SBA down payment can range from $40,000 to $120,000 for an average-sized loan.
Understandably, many hopeful entrepreneurs are intimidated by coming up with enough cash to cover this hefty amount for a down payment. In fact, according to Guidant Financial's State of Small Business survey, 66 percent of aspiring entrepreneurs found lack of funding to be the biggest hurdle to business ownership. What's more, 56 percent said the biggest challenge in obtaining funding was they didn't have enough cash for a down payment. Even well qualified borrowers won't be approved for small business financing if they're not able to provide a sufficient down payment.
But the journey to business ownership doesn't have to end when traditional financing methods don't appear accessible. And making a down payment doesn't have to mean depleting your personal savings. For entrepreneurs needing an SBA down payment, 401(k) business financing can help close the gap between obtaining a loan and the cash needed to qualify.
What is 401(k) business financing?
Also known as Rollovers for Business Start-ups (ROBS), 401(K) business financing allows you to use your retirement funds to start or buy a business while avoiding the tax penalties and fees that usually accompany any retirement withdrawal. Anyone with a minimum of $50,000 in a rollable retirement account (such as an IRA, 401(k) or 403(b)) can obtain business financing using this method in a matter of weeks, regardless of their credit score, and because ROBS is not a loan, there are no monthly payments to make.
Using Rollovers for Business Start-ups (ROBS) as an SBA Down Payment
When used as the down payment on a loan, ROBS helps entrepreneurs become more qualified and confident borrowers. Not only can the retirement funds rolled over in a ROBS transaction fulfill the cash requirement on an SBA loan, but this method also helps business owners to preserve personal savings. Accessing retirement funds for business financing also likely means making a larger down payment, which can help make monthly payments more manageable, and in many cases means better loan terms. In short, a larger down payment means more buying power and increased flexibility when launching a business.
In fact, Guidant's State of Small Business survey showed that when entrepreneurs are able to access their retirement funds for business financing, they have more access to capital. Respondents who used ROBS funding were most likely to use between $100,000 and $175,000 to fund their business, which is significantly more than the $50,000 that almost half of all other business owners reported using.
How ROBS and SBA Down Payments Work Together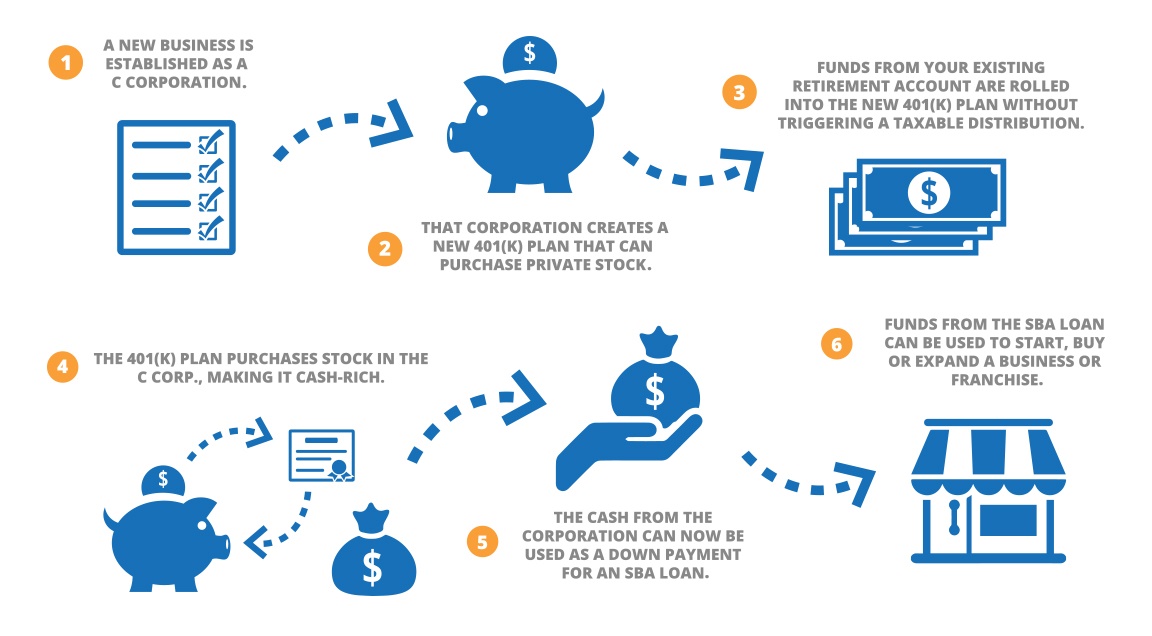 The ROBS transaction is completed by rolling up to 100 percent of your original retirement account into a new 401(k) account, established on behalf of a new C corporation (this sounds complicated, but a third party ROBS provider will walk you through each step).
Once the funding transaction is complete and the funds have hit your new corporate bank account, the money can then be used for business activities — including using the money as a down payment on a SBA loan or seller financing agreement.
Benefits of Using ROBS as a Business Loan Down Payment
Using 401(k) business financing as a loan down payment may be the best way, and in for some business owners, the only way, to obtain an SBA loan or seller financing. Fortunately, this accessible funding method also comes with additional benefits that put your business on the path to success:
Fast Funding — You can gain access to your retirement funds in as little as three weeks with ROBS. Speed of funding is often a crucial component of closing a deal with sellers, loan officers and business brokers.
Protect Your Savings — Using ROBS as a down payment allows you to protect your personal savings, so you have cash on-hand for emergencies, unexpected expenses, etc. ROBS funding is not a loan, so there are no monthly payments to make or interest incurred.
Larger Down Payment — Having a larger down payment makes you a more attractive borrower. Putting more cash down reduces the risk for the lender, which means they are more likely to approve you for the loan, lend a larger amount and provide more competitive terms.
Qualifying for ROBS Business Financing
There are no collateral or minimum credit score requirements to be approved for ROBS funding, so using your retirement funds as the down payment on a business loan is fast and easy. ROBS requirements include:
Having at least $50,000 in one a pre-tax retirement account, including 401(k)s, traditional IRAs, TSPs, 403(b)s, Keoghs or SEPs. (Note: Roth IRAs do not qualify since those funds have already been taxed.)
The company funded must be an active, operating company. In other words, ROBS cannot fund a passive investment
The owner of the retirement funds must be an active employee of the new corporation, working in whatever capacity they see fit.