Have you ever noticed that different industries seem to have their own language? The military, health care, technology, etc., all have unique phrases, terminology, and especially acronyms. It can sometimes be hard for people outside of those circles to understand the dialogue.

My name is Cory Sanford, and I am the Head of People at Guidant Financial. Guidant helps people start, buy, and grow small businesses – we're experts in small business success. My 15 years in Human Resources, with eight of those years as a senior HR leader for small businesses, have exposed me to hiring many new employees and the incredibly rewarding experience working both in and with small businesses.

I once had the privilege of working for a wonderful hospice company, focusing on amazing end-of-life care and experiences. One time a caring daughter asked to see a nurse's recent notes regarding their mother and was appalled at seeing that the nurse had written that she was "a little S.O.B." Understandably, she was furious. It took some explanation and patience for this upset daughter to understand that this was shorthand for "a little shortness of breath." Thankfully everyone is able to laugh about it now as it highlights the extreme importance of language and our responsibility to communicate in a way that reflects understanding and empathy.

With this illustration of language, and the many opportunities available to obtain an exciting new role with a small business (they employ 47.3 percent of the private workforce), let me share with you how to speak the language of an entrepreneur or small business owner to give you the best chance at understanding each other – and hopefully of landing the job!

This language can be summarized into 4 P's: Purpose, Product, People, and Profit.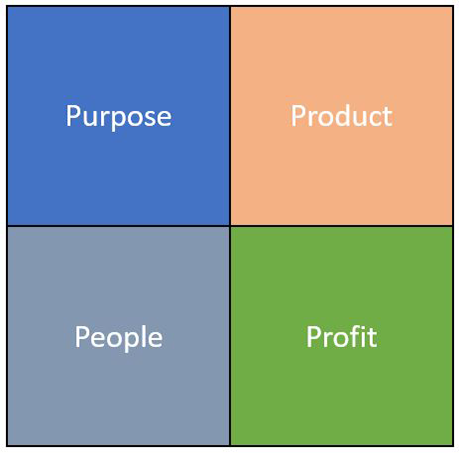 Small business owners will be looking for people aligned in each of these areas. The biggest opportunities to speak the language and consider these tips will be in your cover letter and in interviews. While I'm targeting job opportunities where the owner is directly involved in the hiring decision, these tips apply to larger companies as well.
The First P is Purpose.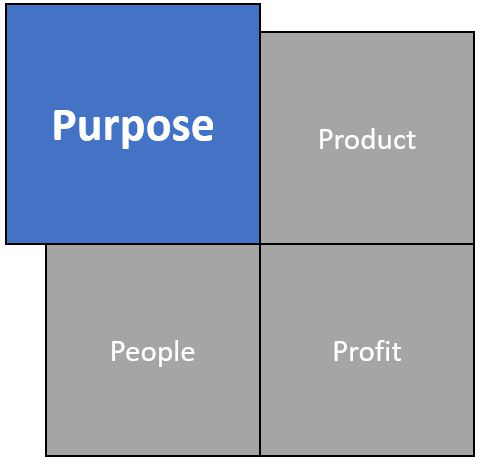 Entrepreneurs and business owners are bold, brave, and usually have a powerful motivating purpose driving their great energy towards a positive impact beyond them and their company.
Steve Jobs said, "We're here to put a ding in the universe." Recently, Clean Juice was recognized as the fastest-growing franchise, and they believe in a "HEALTHY BODY & STRONG SPIRIT" – bolded on their website to emphasize their passion. Notice if we just read these quotes, we still wouldn't know yet what their product is. That's because they first focus on the ultimate change they would like to see, the value they want to add, and the positive impact they want to make in the world. The product or service comes later as a means to achieve their purpose. Here's the way to speak the language of a business owner: understand why are they in business? What good are they trying to accomplish in the world through their business?
Small Business Interview Tip 1: Learn their purpose.
Interviewing with the owner of a gym? Talk about your own health journey and alignment with their purpose. Interviewing with the owner of a restaurant? Learn about why they started, why that location, why that menu? How are they different? Chances are there are powerful, exciting answers to those questions. Maybe it's health; maybe it's the heritage of recipes; maybe it's to serve that specific community. Speak about this purpose in a cover letter and in interviews.
Small Business Interview Tip 2: Align with their purpose.
Demonstrate knowledge around their purpose and their impact. Be genuinely interested when you ask questions about their purpose, which is something they're usually excited to talk about. For the owner of a new coffee shop, you might ask, "I know you started your business to provide local connection opportunities. Can you share some examples of how you've seen that great purpose met?" Some of the most inspiring discussions I've ever had involved small business owners talk passionately about their purpose.
The second P is Product.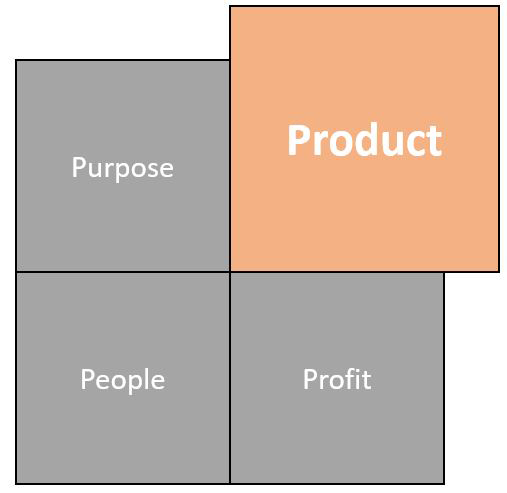 Businesses need a product vehicle to reach their purpose. For Apple, that is electronics. For Clean Juice, that is smoothies. For other purposes, it could be gyms, restaurants, schools, consulting, or even an accounting firm or bike repair shop. To speak the language of the product, be familiar with their specific product. Entrepreneurs are excited about and committed to their products.
Small Business Interview Tip 3: Be a customer.
Try goat yoga or the vegan pizza. Honestly share how you've utilized their products or services and had a positive experience.
If you hadn't had the opportunity to use their product or service – exactly like me when I was interviewing with Guidant Financial because I hadn't personally used Rollovers for Business Start-ups (ROBS) – you could do two things instead:
Speak fluently about their products. This may require some research ahead of time. Once, in a phone interview, I asked someone what they knew about our company. I literally heard them type Guidantfinancial.com and read to me word for word from our website. Please do this research before the interview.
Be familiar with testimonials of people that have used the product and speak to how aligned the product is with helping those people to achieve the company purpose.
Small Business Interview Tip 4: Withhold criticism or suggestions.
Unless asked, this is not the time to provide suggestions! I've heard candidates telling business owners how to change a recipe, update their pricing, find a new location, and even redecorate their office. First, focus on the positives of the current product. When you land the job, you can find the right time to share your other ideas.
The third P is People.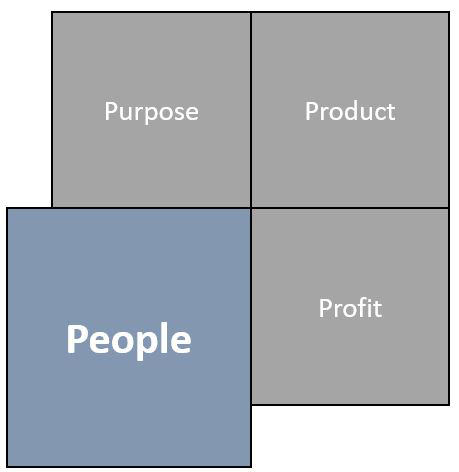 According to Gallup, small business owners work an average of 52 hours per week. This demonstrates their commitment to the first 2 P's – Purpose and Product, along with their strong desire to work these long hours with people they want to be around. Even though some wish they could do everything on their own, smart small business owners learn that to grow, they must rely on others that share their values and vision. Core values are a way companies define the type of people they want to be part of their team and what customers can expect from them.
Small Business Interview Tip 5: Learn their core values.
Memorize the business's core values if they're available. Be able to recite them, incorporate them into the cover letter or interview, and give very specific examples of how you have demonstrated them in the past and will demonstrate them in this new role.
If they don't have posted core values, here are three options:
Ask in the interview. You can ask directly, "What are the core values of the company?" or "What do you all value most in team members?" Be ready to identify the values that resonate the most with you and give specific professional examples of how you've demonstrated this value.
Use LinkedIn or your network outside of LinkedIn to try finding people that work there now. Ask for their help to determine if you would be a good fit by asking them about the company's values. I've found the best way is to ask my favorite question around culture, "What kind of people thrive there?" This gives you time to make sure it's a place you want to work and will be successful and to share examples during the interview of how you fit.
Extract values from what the company has published. Even though Tesla is not a small business, because they don't have core values published on their website, they provide a good example of how to implement this tip. On their webpage, they say, "Tesla was founded in 2003 by a group of engineers who wanted to prove that people didn't need to compromise to drive electric – that electric vehicles can be better, quicker and more fun to drive than gasoline cars. Today, Tesla builds not only all-electric vehicles but also infinitely scalable clean energy generation and storage products." I could infer that collaboration and innovation might be key skills that Tesla would value, and I would speak to those if I were to interview at or write a cover letter to Tesla: "I imagine collaboration and innovation are incredibly important at Tesla, here is how I've demonstrated those qualities…"
Small Business Interview Tip 6: Be job description fluid.
Small businesses need utility players that can flex to support other roles. Talk about how you performed useful and applicable functions outside of your prior job descriptions and with a willingness to learn new things and support other team members. At the beginning of the COVID-19 pandemic, Guidant had to rethink a lot of our processes. We had a finance team that was amazing yet stretched thin. I asked how I could support them, and they asked me to do some simple data entry processes every day for a few minutes and for a few months. I gladly jumped in to help, knowing that even though it was easy, it was making a big difference for them.
Entrepreneurs are dreamers! They need to be confident that you share the values, dreams, and commitment to be a successful contributor to the team.
The 4th P is Profit.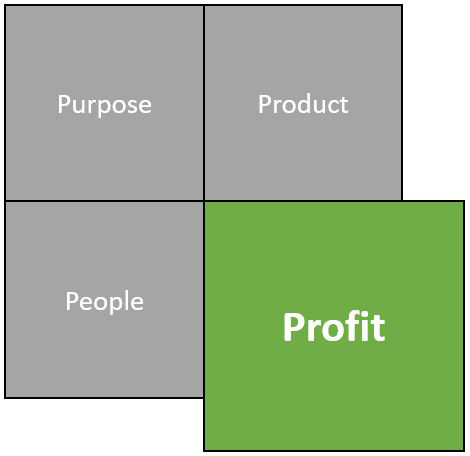 At my prior healthcare company, we had some of the most amazing nurses with the biggest hearts on this planet. Some joked that they hated hearing about business financials and profitability and that they would give away care for free if they could.
Profit might sound like a dirty word to some, but I assure you it's not at all for small business owners. If it helps you and them communicate, you could use words like growth, revenue creation, and expense management. In the case of not-for-profit organizations, it could be grants or other funding. Whatever you call it, it's money, and it's important.
Small Business Interview Tip 7: Money talks, talk money.
Understand that profitability is necessary for the business to thrive and meet its purpose. This profitability is often used to invest in team members or to expand the business, which creates new opportunities and more stability. Or it can be invested in additional ways to help gain more customers or support the company vision and make a positive impact. If you're aligned with the first 3 P's this should be exciting to you. Speak confidently about your desire to see the company grow and increase its impact. A nurse might say, "I want to help this company be profitable because I believe in the purpose and trust the company to invest in team members and clients in a way that makes a positive impact towards that purpose."
Small Business Interview Tip 8: You're in sales.
For every role, add sales to it. Fitness instructor plus sales. Bike repair person plus sales. Barista plus sales.
With a small business, everyone is in sales. In my interview at my prior healthcare company, the owner asked me what my biggest entrepreneur experience was to gauge my experience with small business and sales. I started my career in Human Resources for many reasons. One reason is I thought that I wouldn't have to sell anything or have my own business, yet here I was interviewing for an HR leadership role and still being asked about my own business and sales experience. It was a great question that I should have had a better answer to. Now you will.
What relationships can you bring to the table that could expand customers, cut expenses, or improve service delivery? How do you plan to go above your role to seek out new customers? Think about your network groups, alumni networks, LinkedIn connections, friends and family, other businesses that could partner. You can't promise results, but you can promise effort.
In Summary
That's it! I hope the 4P's and these eight tips were helpful as you apply and interview for jobs with small businesses. Be ready to both understand and fluently speak the language of the entrepreneur so you can establish that connection and excitement together around the 4 P's! Hopefully, you'll interview so well they'll be "a little S.O.B."
Good luck!