Business and consumer confidence levels have hit all-time highs for the first time in over three decades. With small business success relying so heavily on strong confidence levels, 2018 offers favorable circumstances for current and aspiring business owners.
---
Small business owners haven't felt this confident about the economy and the direction of small business trends since the days of Michael Jackson's Moonwalk and President Ronald Reagan. Simply put, entrepreneurs consider the economy ripe for business growth.
Small business confidence is in its 16th consecutive month of historical highs since the National Federation of Independent Business (NFIB) began gathering data 45 years ago. The NFIB's monthly Index of Small Business Optimism reached 104.7 in March, down slightly from 107.5 in February, but still among the highest in survey history and for the first time since 1982. These increased numbers mean good things for small businesses across the board, especially when it comes to growth.
Experts say it was the 2016 election that caused the surge in optimism. Small business owners were waiting for better policies from Washington. Suddenly they got them, and from that point, the economy came back to life. Since the election, the optimism rating among small businesses increased has increased 9.2 points from 98.4 in November 2016.
Small Business Confidence Spans the U.S., Particularly in Southeast
Data on small business trends from our own State of Small Business survey showed similar business confidence nationwide. In our survey, done in partnership with LendingClub, 63 percent of small business owners ranked confidence in today's political state of small business as a seven or above on a scale of 1-10. Only 37 percent ranked it a six or below. More broadly, three-quarters of all business owners rated their happiness level as an eight or above.
Confidence varied across the map. In the northeast, Massachusetts and Vermont, along with West Virginia, had the highest confidence in today's economic climate. However, the highest concentration of optimism centered around the Southern states — from Texas to North Carolina. States in the West, such as Colorado and Idaho, were also feeling relatively confident. However, much of the West Coast and Central Plains were neutral, while Iowa and North Dakota had the lowest confidence.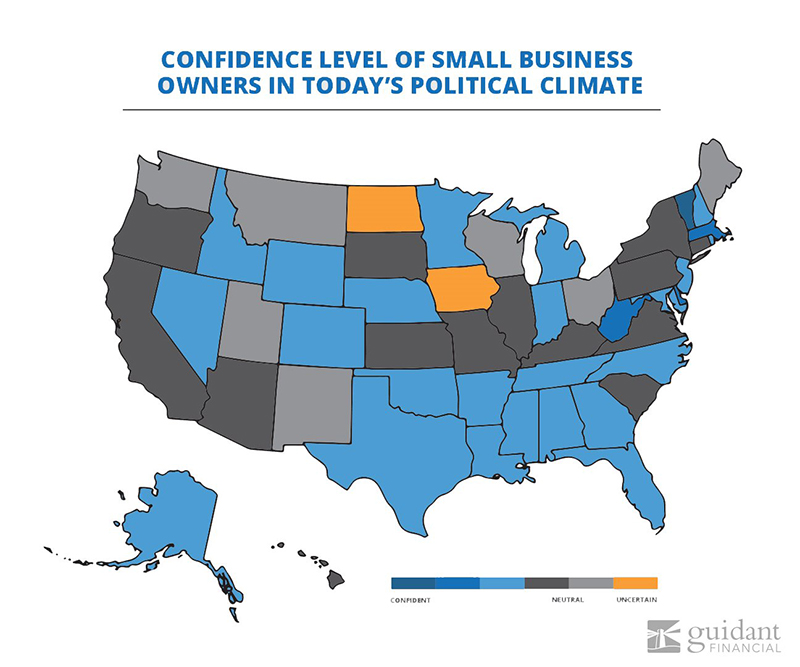 Many Women in Business Are Positive
While there are many differences between men and women in the marketplace, such as politics, securing loans and education levels, both men and women have similar happiness and confidence ratings — a positive omen for small business. In our State of Small Business survey, women in business were positive: 40 percent of female entrepreneurs rated their happiness as a 10 out of 10, and as a whole, they averaged a seven out of 10 as a level of confidence.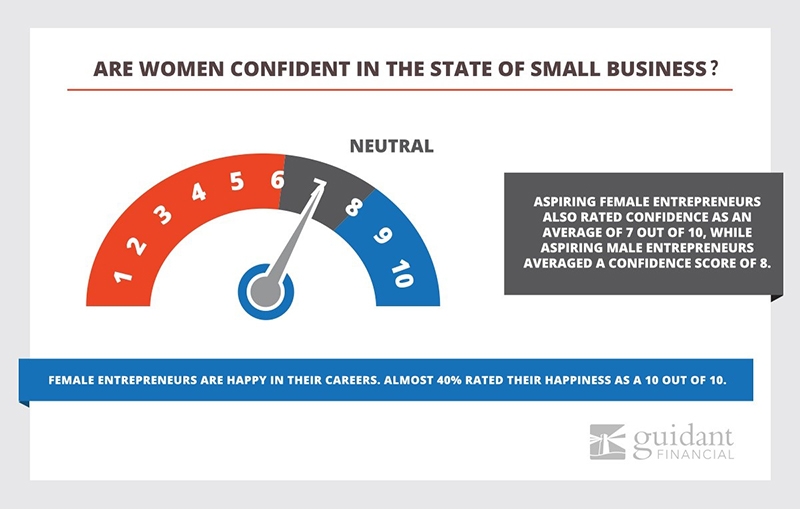 Consumer Confidence Also Boosts Small Businesses
Consumer confidence, measured by The Conference Board by Nielsen, was also at record highs in February, and experts predict that confidence will remain strong in 2018, citing the solid job market, stock market increases and tax reform as the main reasons behind the spike.
Consumer confidence plays a large role in the success of small businesses since confidence levels can influence spending. With high confidence levels, consumer spending remains strong, which can bolster small business.
Small business success also depends heavily on how consumers react to the market. Confidence in the economic market drives growth, employment and spending, which can all enhance the economy. NFIB placed much of 2017's optimism on the election of President Donald Trump. The stock market was up $7 trillion last year, over 2 million new jobs were created, capital spending lifted off, and housing is running at full tilt.
Economic Growth to Continue in 2018
Economists are predicting economic growth in 2018 of up to 3 percent, a potential 43 percent increase since recovery from the last recession in 2010. The International Monetary Fund said it projects the U.S. economy to grow 2.7 percent in 2018, while Wells Fargo economists were even more optimistic at 3 percent.
While there have been a few fluctuations in the marketplace 2018, all things point to another favorable year for new and existing small businesses. If you've been thinking about pursuing your entrepreneurial dreams in 2018, there's never been a better time to make the leap. Even for those who believe it may be too late, the economy is ripe for entrepreneurs of all kinds, and there are numerous financing options that will allow you to get started without breaking the bank.