Women entrepreneurs have come a long way in the past few decades — with women-owned businesses tripling from just over 4 million to nearly 13 million over 30 years. Now, women run more than 43 percent of American small businesses and generate roughly $1.6 million in revenue. 
The 1988 Women's Business Ownership Act expedited this impressive growth, abolishing gender-based discrimination regarding business documents or loans and establishing the National Women's Business Council.
Women have earned their place in the business world, generating economic growth and achieving remarkable success. But there is still a long way to go. Women entrepreneurs struggle with unique challenges compared to their male counterparts, such as accessing capital — and women of color face even steeper funding challenges.
For example, startups with a woman at the helm receive just over two percent of venture capital funding. The percentage of Latinx women receiving funding is even less, at 0.4 percent. For many women, raising a family adds another layer of complexity to their business goals — not only do they have the pressure of managing both home life and work duties, but they often need to dedicate even more time solely to keep the household running. 
Even with these challenges, women entrepreneurs continue to make waves in the small business world. As Women's History Month closes, let's appreciate some of the remarkable women entrepreneurs that have made invaluable contributions across America. From trailblazers to trendsetters, these modern marvels inspire us all with their ambition and achievements. 
Stories of 5 Women Entrepreneurs and Trailblazers
Here are the stories of successful women business owners who changed the small business game or developed a unique business model in their respective industries. From big-city life to small-town America, women across the U.S. have taken a stand to become creators, innovators, and founders — revolutionizing the small business world.
Daniella Cornue, Le Village Cowork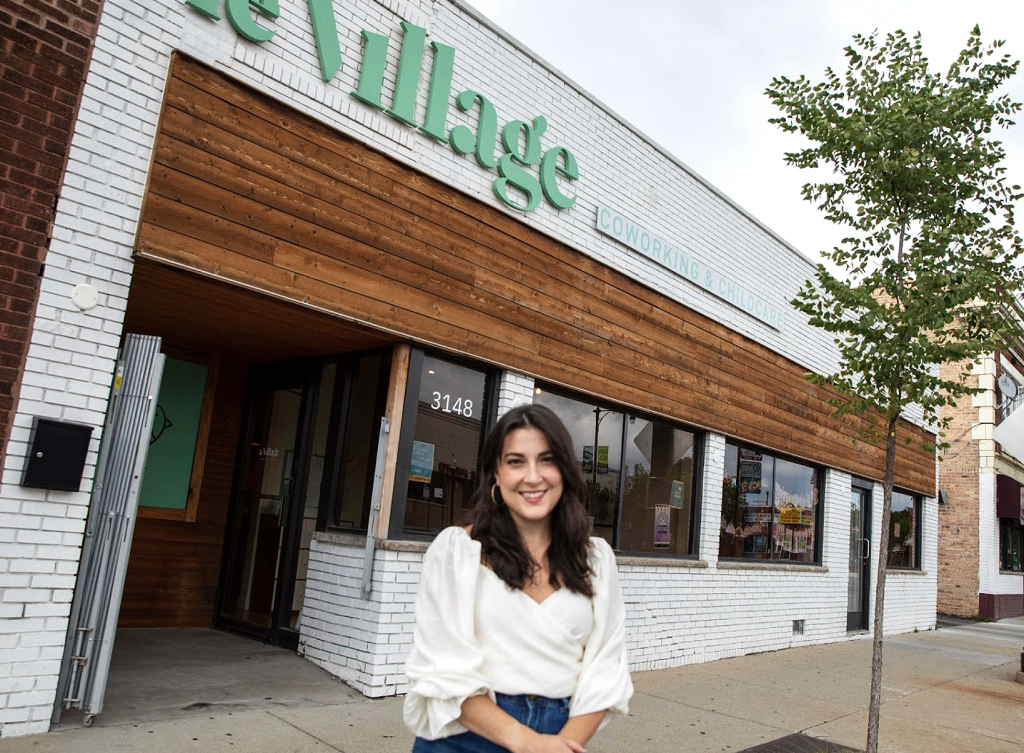 Daniella Cornue achieved an incredible feat — she launched a thriving business during the pandemic and then went one step further by creating her own franchise to empower other women entrepreneurs. 
After spending over 15 years growing in her marketing career, Daniella's trajectory shifted when she took on another title: Working mom. She couldn't choose between her career and her child. And she didn't believe other parents should have to, either.
"I found myself kind of at a precipice where I loved being a working woman. I had spent my entire life building my career. It was central to my identity. But now I had this new tiny person in my life, and all of a sudden, she was also very central to my identity."

— Daniella Cornue, Guidant Financial
That's why Daniella created Le Village Cowork. Le Village provides working parents with state-of-the-art co-working facilities alongside an onsite daycare center, allowing a unique balance of work and play while nurturing children's development through educational resources.
Her business aims to offer more parents the flexibility of working while also spending time with their children throughout the day. Daniella believes parents should never miss out on pivotal moments of their child's development, such as their first steps or words. Le Village lets parents put both their careers and children first. 
As a Hispanic business owner, Daniella is also very aware of the importance of diversity in business. Over 60 percent of her employees are women of color. She hopes to offer more opportunities for women entrepreneurs through her franchise model —and empower a new wave of ambitious business owners from all backgrounds.
Daniella's first Le Village Cowork started in Illinois. Currently, she's looking to expand the franchise model across the midwest.
Her advice to other aspiring women business owners? 
"It's never going to be perfect. There's always going to be a reason not to do it. But when you get started, and it starts to fly, it's the most amazing experience. And you're going to create the balance and the control for yourself that you've always wanted."

— Daniella Cornue, Guidant Financial
Discover Daniella Cornue's inspiring story and others like her on our Guidant Client Stories page.
Bonnie Comley, Broadway HD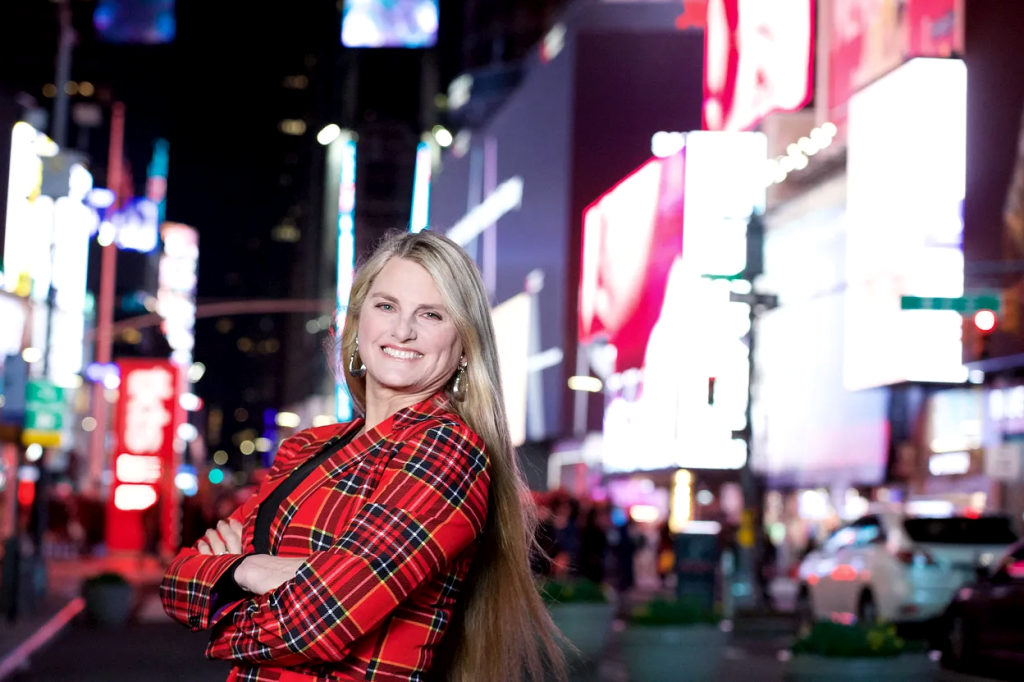 Bonnie Comley's entrepreneurial idea also grew out of her life experiences — in her case, as an award-winning producer of live theater. Her company, BroadwayHD, moves beyond live plays in a specific location to provide an online streaming platform to theater lovers worldwide.
BroadwayHD opens up the theater experience by offering more than 300 streaming stage plays and musicals. The company is active in 123 countries, 50 percent of which do not have access to live touring companies — bringing live performances straight into homes across the globe. 
Bonnie's company also focuses on opening theater experiences to a new demographic. In the U.S., stage performances attract an older audience, with an average age of over 40. But BroadwayHD users are much younger, with most ranging from 18 to 34.
As an unstoppable force in the theatre industry, Bonnie now holds the title of Board President of The Drama League and has achieved three Tony Awards and a prestigious Oliver Award for her production work. With over 40+ films and five Telly awards, nothing can stop this award-winning producer.
Women entrepreneurs can find motivation in Bonnie's wise words — learning to persevere and stay true to their goals despite the risks. Her advice encourages the youth that they have what it takes to take on entrepreneurship:
"You have skills like no other generation in history. You grew up using technology that some of us are still struggling to navigate. Your predecessors created and invented things like plastic and the internet that solved some problems but caused others, and you will inherit the good with the bad. 

The pandemic has accelerated conversations around practices, policies, and systems that needed re-examining — and you will be part of the reset. … Living through this historic time has prepared you for theatre, art, and life on the other side of the pandemic; a life filled with unlimited opportunity, endless uncertainty, tremendous highs, and devastating lows. Welcome to show business." 

— Bonnie Comley, Theatre Art Life
Arlan Hamilton, BackStage Capital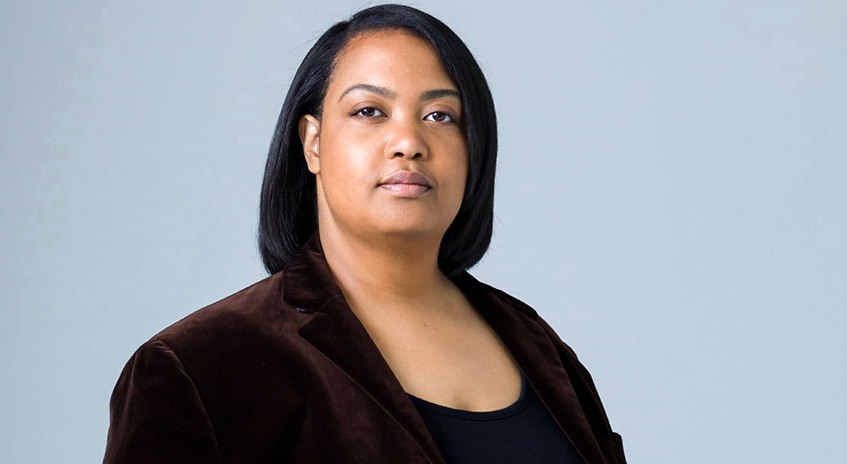 In 2015, living on the floor of San Francisco Airport, Arlan Hamilton took a big step toward her dream — becoming a venture capitalist. Despite having no college education or experience in the VC world, she was determined to make it into this elite industry that white males historically dominated. Fast-forward six years, and Hamilton has already made strides far beyond what even she could have imagined.
Her firm Backstage Capital has invested over 20 million dollars across almost 200 companies — focusing on empowering the traditionally underrepresented. While venture capital firms exist to fund startups, women have historically not benefited from their largesse. Less than 10 percent of venture capital agreements support founders who are women, people of color, or in the LGBTQ community, for example.
Arlan saw an opportunity despite these challenges and set out to create something with a purpose: Become the first venture capital company dedicated to companies founded by women, people of color, and LGBTQ individuals. She created Backstage Capital as the first venture capital company focused on companies whose founders are like her.
Arlan is also an educator. Arlan's Academy offers online courses on Teachable, ranging from maximizing cash flow to business strategy. Arlan's Academy offers her interviews with business leaders and venture capitalists, such as Mark Cuban. Additionally, Arlan hosts a stand-alone podcast, "Your First Million," and has published a book with the same title.
To succeed as an entrepreneur and business owner, Arlan emphasizes the importance of staying true to yourself. Authenticity is key in discovering and creating your own unique path:
"The advice I give to leaders, especially those who are underrepresented, is to remain true to themselves and to stay authentic and not to change for someone else — and especially not to change for a dollar."

— Arlan Hamilton, Business Insider
Esther Jh Kim, Consider Beyond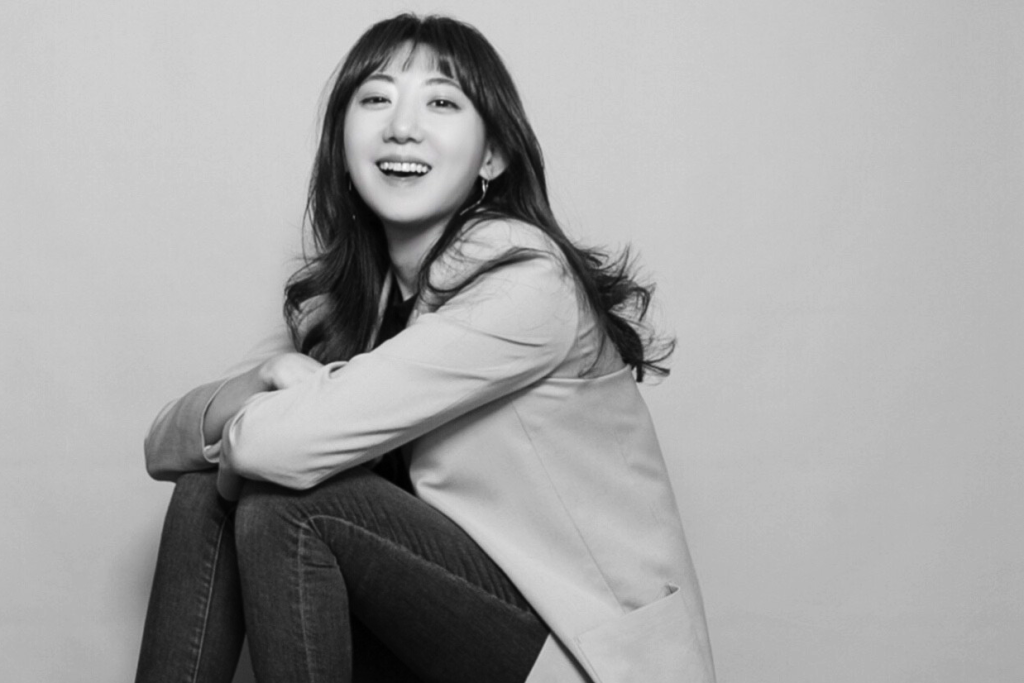 Esther Jh Kim began her journey with a single Excel sheet. Now, as an ESG analyst, impact investor, and sustainability management consultant, she's at the forefront of tackling global issues. She recognized early on that paying attention to environmentalism was essential — long before most others did.
Esther worked as a management consultant dedicated to sustainability and impact investing. Through this career, she realized that companies and investors were not the only audiences interested in sustainability and related issues. Small businesses and consumers were also interested in supporting these initiatives — but they had far less information at their fingertips. That's why Esther decided to focus on consumer education. By leveraging her contacts, including impact investors, she founded an app: ConsiderBeyond.
Consumers increasingly want to choose products that reflect their values. But, aside from brands that advertise themselves as promoting specific values (such as Patagonia and its well-known focus on sustainability), how can consumers tell what values a brand supports? Most brands don't publicize their values.
ConsiderBeyond helps consumers discover brands that support their values of sustainability and environmental consciousness. The app also lets consumers know whether these brands are geographically in their area and are searchable by category.
In the few months since its launch, ConsiderBeyond has made an impression on users across 70 countries. With access to hundreds of brands worldwide and a range of third-party certified sustainability ratings, consumers can easily find products that align with their values no matter where they are. It's already proven itself as a hot commodity, as contacts from more than 20 different countries have come knocking for onboarding and potential partnerships. 
Despite doubters and naysayers, Esther refused to back down — believing in her vision. She worked hard to make it a reality, never giving up on the potential of her idea. Now, ConsiderBeyond offers multiple services, including verification by sustainability experts, creative services, and expert insights.
"When I started my career in sustainability, there was a lot of convincing to do to get people excited and interested. The trend for sustainability has been accelerating over the past ten years, and it is more recent that its traction has gone mainstream by the global audience.

From sustainable developments by the UN to the Paris Climate Accord and now Biden's $2.25 trillion plan for infrastructure package and climate mitigation, the movement for "more green" has undoubtedly become a top global agenda. I believe this wave is going to impact a new way of thinking for consumers. Consumers will start to see what is beyond the price tag."

— Esther Jh Kim, WeWhoDo
Loretta Markevics, Sēd Communications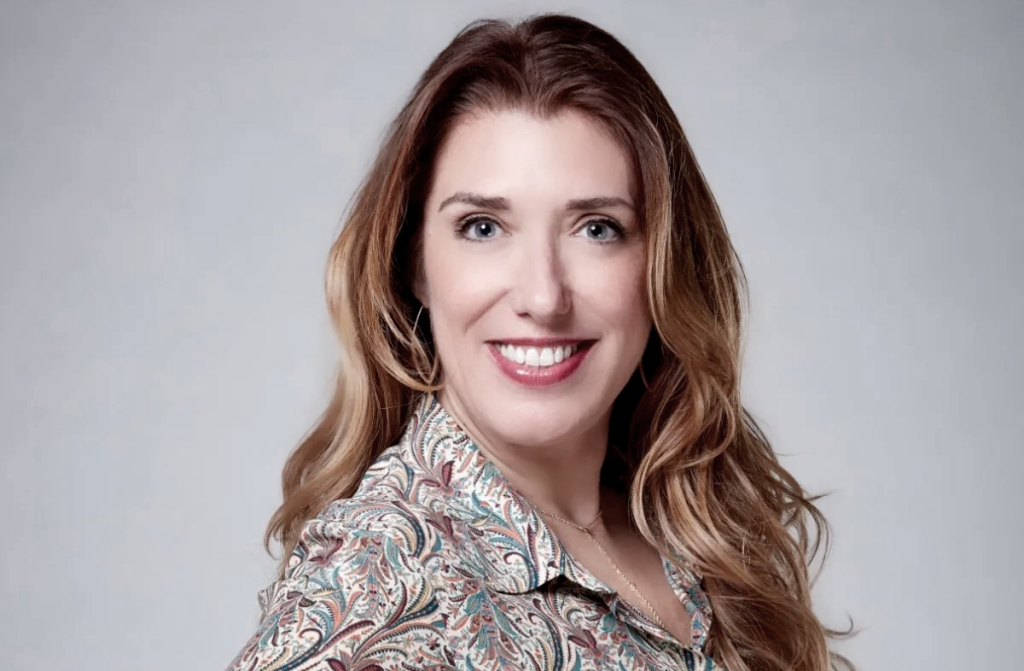 Loretta Markevics is an inspirational leader and strategic powerhouse who has propelled global brands to success. With over two decades of communications experience as a top executive, she has revitalized some of the world's best-loved names — from Hewlett Packard to Samsung to beauty favorites like Pantene and Olay. As if that wasn't enough, Loretta took a leap in 2020 into startup culture with Sēd Communications. 
Loretta founded Sēd Communications to help other entrepreneurs by focusing on helping them differentiate from competitors. As a long-time public relations and marketing executive who understands the power of disruption, her experience with major companies and brands helps start-up businesses and entrepreneurs alike thrive.
She further developed a startup incubator within Sēd, known as The Greenhouse, explicitly targeting the types of products and branding the startup community needs. For example, one of its brands, The Farmers Finds, is an opportunity for startups developed in farmer's markets to expand their audiences through a subscription service.
As a young and ambitious women entrepreneur, Loretta has certainly experienced her fair share of ill-informed advice when starting out. Her advice to other women just beginning their journey? Leverage your unique femininity as a superpower:
"A woman I worked with shared the book 'Nice Girls Don't Get the Corner Office.' I read it when I was 22. There was a part I remember that instructed you not to bring cookies or candy into the office, not to smile too much, and suggested trying to fit into the boys club. My ambition was always to lead a company and get that corner office, so at first, I mistakenly tried to follow some of these rules.

A more informed piece of guidance should have been that there were no rules. That you should be yourself. That if you work to be an intelligent and inspirational leader, the right people will follow you, even if you're a 'nice girl' supplying endless mini chocolate bars in your office — which I currently do happily. What I realized was that fitting in was the opposite of what good leaders did. Standing out in my bold, quirky, and yes — female uniqueness — was where I found my strength."

— Loretta Markevics, Authority Magazine
Ready to take your business idea off the ground — but need a little financial help? Check out our Top 7 Business Grants for Women Entrepreneurs.
Resources and Support for All Entrepreneurs
Are you an entrepreneur looking to take your business to the next level? Guidant Financial has helped over 30,000 Americans — including Daniella Cornue — transform their dreams into realities.
We provide fool-proof guidance on flexible funding strategies, including Rollovers for Business Startups (ROBS) and SBA loans. Plus, we offer a suite of business services — including payroll, accounting, and tax services. Let our team of experts make funding and running your business a breeze, so you can focus on growing your business. 
Call us today at 425-289-3200 for a free, no-pressure business consultation to get started — or pre-qualify in minutes for business financing now!
---
"I knew that I needed a funding partner that would be a reflection of the community we are trying to serve — and that is really where Guidant shines."
— Daniella Cornue, Le Village Cowork