The Franchise Disclosure Document (FDD) is notorious for being long and complicated. Never fear: in this chapter, we'll cover what the FDD is, outline each of its 23 sections, and point out a few things to watch out for while reading it. While we hope you feel like an expert after reading this section, we highly suggest you review the FFD with an experienced franchise attorney prior to making a decision.
What is the Franchise Disclosure Document?
The first incarnation of the FDD was actually the UFOC: Uniform Franchise Offering Circular, created in 1979 by the Federal Trade Commission. It was updated by the trade commission in 2007 and became the Franchise Disclosure Document. The trade commission requires franchisors to disclose specific "essential information," in the form of the FDD, to the potential buyer at least two weeks before signing any contract.
Every franchisor is required to include information on 23 specific items in their FDD. This is the meat of the document.
This section gives you an overview of the brand: a full history of the business, with information on the ownership and any affiliated companies. Requirements around licensing or permitting are also detailed here.
Here you'll find a list of the key individuals who lead your brand — where they've worked in the past and what kind of experience they have (or don't have) in the world of franchising. Think of this section as the leadership's resume, and make sure to ask yourself if the people leading your potential new franchise have the type of experience you feel comfortable following.
Item 3 lays out any civil or criminal litigation the brand or management have been involved in. In particular, you'll learn if any of the executives have committed a felony or been held liable for fraud, franchise law violations, deceptive or unfair practices, or a settlement of civil actions surrounding the franchise covenant.
Additionally, any action that has been taken by the brand against a franchisee is laid out here and may include lawsuits for non-compliance with franchise rules, failure to pay fees or trademark infringement.
Have any of the brand's executives had a personal bankruptcy, or been on the team of another franchise that filed bankruptcy? If yes, you'll find out in this section. This can be a potential red flag and something you may want to learn more about.
Here we move away from the people involved with the franchise and start digging into the financial requirements. The Initial Fees section is an important one, for obvious reason: here you'll find out just how much this brand will cost up front.
These fees can include the initial investment (often a range), deposits, inventory, equipment, signage, royalties and leases. If there is a range, sometimes this section will detail the determining factors for who pays what. If it doesn't, be sure to ask!
This section details out the fees that will come after all of the initial costs. Typically, these include advertising and training. For example, you may need to pay for transportation to and lodging during your training at brand HQ, among other things.
This information is presented in the form of a table and brings together all of the fees detailed in prior sections. Item 7 provides you with the final (estimated) amount that you will pay as your upfront investment.
8. Restrictions on Sources of Products and Services
As you know, the beauty of a franchise is the tested repeatability of the model. Part of that repeatability is sourcing your products and services from the same place all of the other franchisees do. This ensures uniformity. This section lists the suppliers your franchisor has pre-approved.
9. Franchisee's Obligations
This section details the things you need to do to keep up your end of the bargain. It is an all-inclusive list of your obligations once you sign the contract with your franchise brand.
In Item 10, the brand will lay out any financing option they have. The terms and agreements are often very similar to that of a bank loan, with all of the attending pros and cons. Franchisors also often partner with companies or lenders that specialize in franchise and small business financing. Ask your brand who they recommend, so you can have a full picture of your financing options.
11. Franchisor's Assistance, Advertising, Computer Systems and Training
Here you will see all of the ways in which the franchisor will support you: training, marketing, systems, etc. Not all franchises provide the same amount of support, so make sure your chosen brand provides the level of support you're looking for.
Franchisors often use a system of protected territories, which ensures no geographic area becomes overly saturated with franchisee locations. When you have a protected territory, only you will be operating with that brand in that territory. Not all brands use this system, however, and even the ones that do can be modified upon contract renewal.
This is a list of all the trademarks and trade names associated with the franchise.
14. Patents, Copyrights and Proprietary Information
Similar to the above, this is a list of the patents, copyrights and proprietary information of the brand.
15. Obligation to Participate in the Actual Operation of the Franchise Business
This title is talking about your obligation. Can you hire somebody to manage your store for you, or do you need to be involved in the daily operations of your location? You'll find the answer in this section.
16. Restrictions on What the Franchisee May Sell
Here you'll see exactly which products and services you are permitted to sell at your location. 
17. Renewal, Termination, Transfer and Dispute Resolution
Here is the outline of what will happen if you choose to renew your franchise agreement, terminate, transfer the rights to your location to another franchisee, or need to resolve a dispute with your brand.
In the event your brand uses a celebrity or other "public figure" for marketing purposes, this section will lay out the details of that agreement.
19. Financial Performance Representations
Here's where things get a little tricky: in theory, this section should tell you about the finances of single locations. However, most franchises do not disclose profits or income  — and if they don't, they have to tell you that. So, pay extra attention to this section and keep an eye out for things like location figures, gross sales, average earnings and how sales differ by region.
20. Outlets and Franchisee Information
This is your friend-making section, where the franchise provides a list of locations that have opened, terminated, transferred or cancelled within the last three years. You'll receive the contact information of these owners, so start making some calls! These individuals are excellent assets to you, and can shed light on what the day-to-day ownership of this brand is really like. Additionally, with this list you can see how many franchisees choose to renew or close — a telling statistic.
But wait, you ask, didn't we go over finances in Item 19? Yes, we did — for franchise units. This section looks at the overall, combined financial health of the brand by providing audited balance sheets and profit and loss statements. This is another one to pay close attention to, particularly the income difference between sales and royalties (hint: sales income should be higher!).
Here is a list of each agreement you will be required to sign to become an official franchisee.
And last but not least, you'll be required to sign a receipt that confirms you have received the Franchise Disclosure Document. 
You can also take a look at real or sample FDDs through online resources like this one. And, again, we highly recommend you go through any FDD you're considering with an experienced franchise attorney.
That was a lot, so thanks for sticking it out. In the next chapter, we'll figure out how to pay for it.
Pre-Qualify Today!
Rollover for Business Start-ups SBA Loans | Portfolio Loans | Unsecured Loans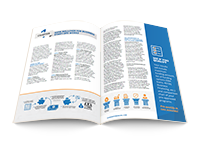 Download the Guide
Download the Complete Guide to 401(k) Business Financing – you can save it for later or print it at your leisure.