If you're a current or aspiring small business owner, events designed for entrepreneurs can provide excellent opportunities for networking, business-building, and learning.
But how do you know which ones to attend and how to maximize your time once you're there? Here, we highlight some leading conferences and share tips on how to make the most out of attending networking events, including how to prepare beforehand and how to follow up with contacts.
Ready to start your business? See our 10 Steps to Starting a Business.
Top 5 Best Upcoming Entrepreneur Events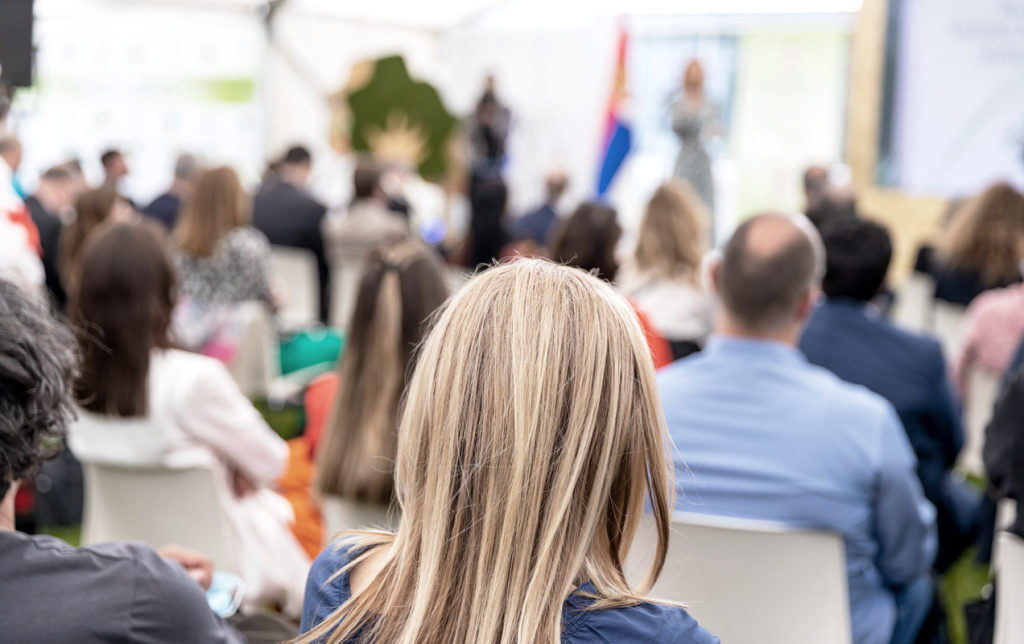 It's important to realize that entrepreneur events range from large to small and in-person to virtual. Their purpose also varies. Some focus on business leaders discussing strategies and trends, while others key in on how-tos for start-ups. Others are gatherings of specific industries or sectors.
That's why we put together a list of the top five entrepreneur events — for both current and aspiring small business owners. The best part? Our list has a mix of in-person and virtual events across the U.S., so you're bound to find one that fits.
Keep reading if you're ready to level up your entrepreneurial skills and learn how to get the most out of these small business networking or webinar events. Check here for a frequently updated list of online events for entrepreneurs.
1. EY Strategic Growth Forum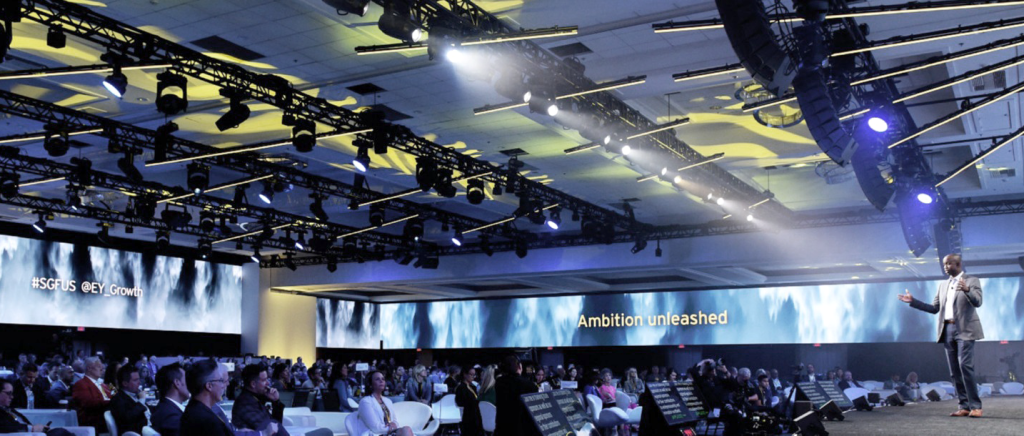 Location: Palm Springs, California
Upcoming Event Date: November 9-12, 2023
Description: "All Forum attendees are invited to tour the Illumination Experience and enjoy a welcome dinner on Wednesday, November 8. The Forum kicks off on Thursday, November 9, at 8:30 a.m. PST."
— Strategic Growth Forum Agenda
Best for: Entrepreneurs, chief executive officers, and other leadership roles
EY's Strategic Growth Forum is a very high-level annual conference that bills itself as forging connections between chief executive officers — one of the largest events to do so. It offers keynote speeches with industry leaders of some of the nation's largest companies, panel discussions, and hands-on workshops, as well as success stories of leading entrepreneurs. The closing ceremonies feature the Entrepreneur Of the Year® Dinner and National Awards celebration, which have been spotlighting successful entrepreneurs since the 1980s.
2. Small Business Expo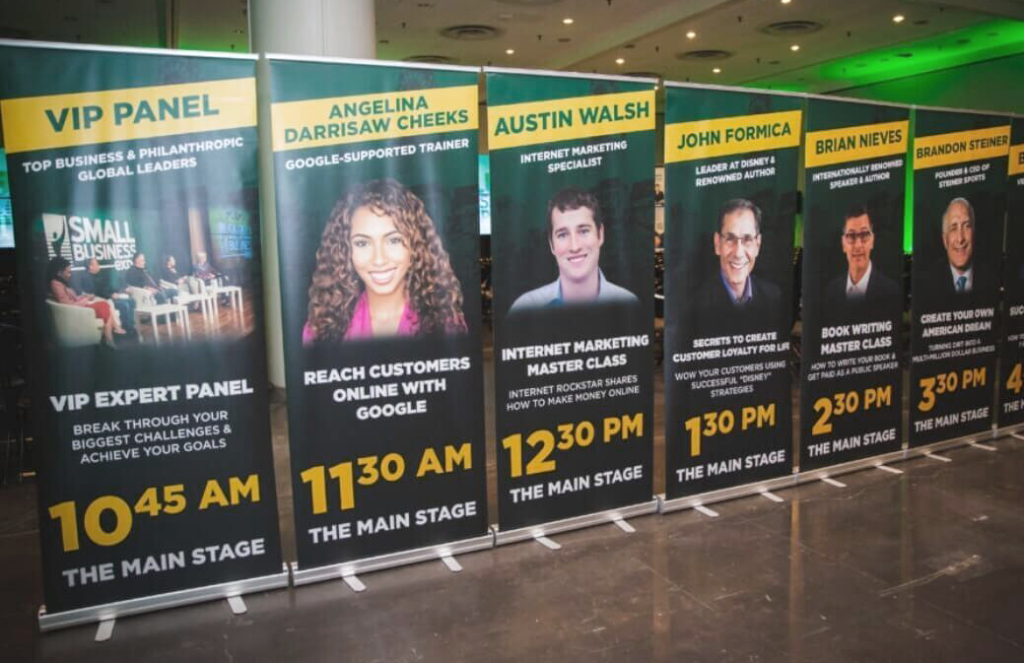 Location: Multiple cities
Upcoming Event Date: August – December
Description: "Ignite your entrepreneurial spirit at America's BIGGEST business-to-business trade show, conference & networking event of the year! Small Business Expo helps small business owners, start-ups, and entrepreneurs like you take their business to the next level." — The Small Business Expo
Best for: Aspiring and current small business owners
Small Business Expo is one of the leading conferences specifically focused on small business owners, start-ups, and entrepreneurs, with keynotes and seminars by business leaders, workshops to stimulate immediate action, breakout sessions, and a vast exhibit hall, among the offerings: multiple speed-networking sessions to facilitate connection with other attendees. Small Business Expo rotates throughout the country each year, with expos in multiple cities, including New York City, Philadelphia, Miami, Boston, San Francisco, and Dallas.
3. SXSW Conference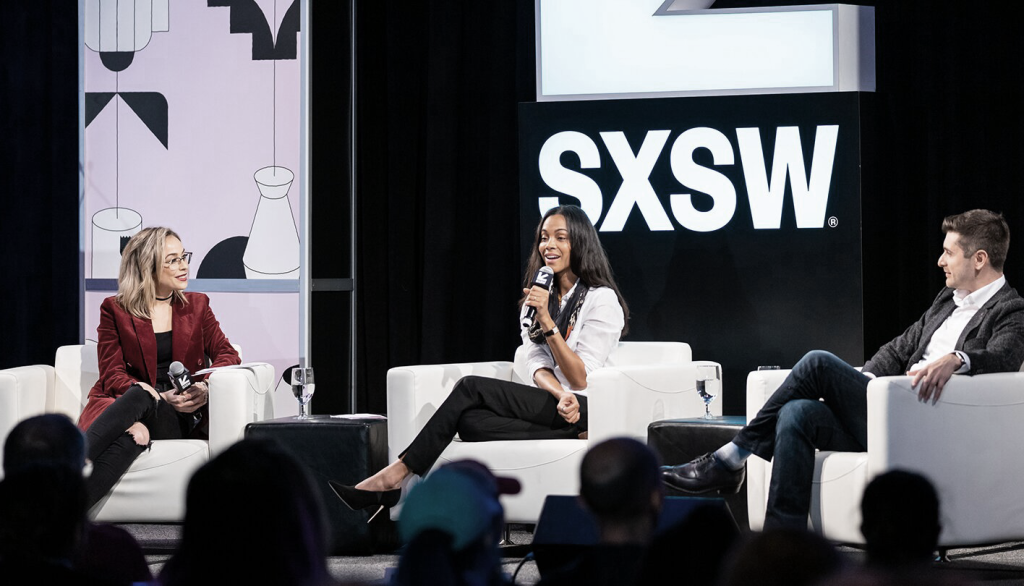 Location: Austin, TX
Upcoming Event Date: March 8 – 15, 2024
Description: "The SXSW Conference provides an opportunity for the global community of digital creatives to encounter cutting-edge ideas, discover new interests, and network with other professionals who share a similar appetite for forward-focused experiences." — SXSW
Best for: Creatives, entrepreneurs, and influencers
If your business is engaged with digital creativity, Austin, Texas-based SXSW is one of the largest and most well-known conferences. It covers all aspects of the technology industries, as well as food, design, and music. Attendees include key thought leaders, entrepreneurs, and influencers. Entrepreneurs interested in startup events can also apply to pitch products at SXSW Pitch. SXSW also offers videos of some past panels of experts from last year's conference that can help focus on whether an in-person visit would be beneficial to your business.
Looking to boost your marketing strategy now? Check out our latest guide in How to Market Your Business Successfully in 2023.
4. What You Need to Know About Buying a Franchise in 2023

Location: Virtual
Upcoming Event Date: January 19th
Description: "Join us for our free webinar, as Scott Greenberg, author of The Wealthy Franchisee, shares his insights on what you need to know before buying a franchise in 2023." — Entrepreneur
Best for: Prospective franchise business owners
"What You Need to Know About Buying a Franchise in 2023" is an example of the type of an on-demand webinar offered to help aspiring small business owners succeed in various corners of the economic landscape. If you're considering franchise ownership, the webinar provides valuable insights, including a broad overview of possible brands, what to consider when thinking about your choice of franchise, and tips from successful franchise owners.
In this upcoming free webinar, Scott Greenberg — renowned author of 'The Wealthy Franchisee' — will detail key insights for prospective franchise owners in 2023. Drawing from over a decade of experience as an internationally recognized franchise owner, Scott will navigate through critical topics such as evaluating franchise opportunities, working with brokers or consultants, and weighing the pros and cons of purchasing a new franchise versus an existing one.
Stay ahead of the competition and explore the Top Five Growing Franchise Industries and Industry Trends.
5. Adweek's Social Media Week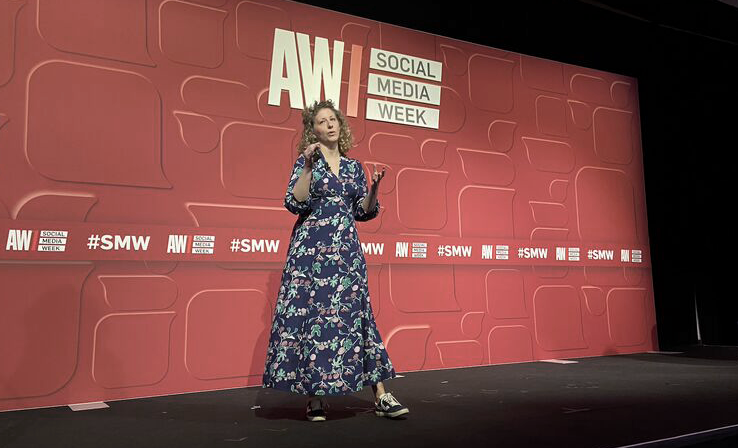 Location: New York, Virtual
Upcoming Event Date: May 16 – 18
Description: "The Creatorverse: Navigate the next chapter of social media. Discover how your business can harness the rising influence of creator marketing." — Adweek
Best for: Creative entrepreneurs, marketers, digital content creators, and social media managers
For many businesses, social media is a vital marketing and analytics tool. If yours is among them, Adweek's Social Media Week is an annual event on the practice and future of social media. (Adweek is a leading publication in media and advertising.) Attendees can choose either to travel to the live conference or to purchase a virtual pass for a select number of days. Speakers include brand leaders, creators, and agency executives, all of whom discuss cutting-edge trends, engagement opportunities, partnerships, and more.
Making the Most of Attending Entrepreneur Events Before
To get the most out of an entrepreneur event or webinar, you'll want a plan, goal, and actionable steps. It's important to research what is available to you — because there are a variety of events! First: Ask yourself what you're looking for.
Are you looking to increase your sales prospects or boost your marketing strategy? Meet vendors or potential collaborators? Learn about the latest trends in your industry to stay ahead of the competition? The more you focus on your key needs, the more benefits you'll gain from a conference or webinar.
Most events have a schedule or agenda available online, so don't forget to read it before going! You'll want to find activities and topics that meet your key needs. If you want to increase your sales prospects, for instance, zero in on discussions or networking events where the sales prospects will be. If the key need is obtaining knowledge about strategic growth metrics, focus on talks or discussions about them. And if the event is one for which an elevator pitch or specific sales talk is appropriate, it's a good idea to rehearse it before you go!
During Entrepreneur Events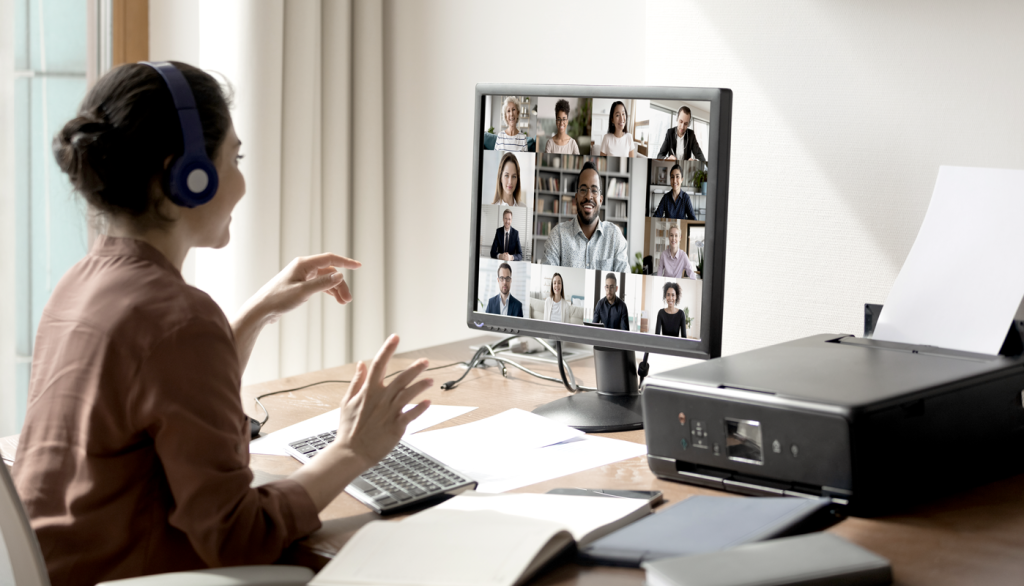 Remember that one of the leading functions of entrepreneur events is simply making connections and gaining knowledge. You do not have to make a sale; for example, you want names and contact information that you may approach for sales later. Make a plan to network: approach and chat with people for a short time, exchanging business cards if appropriate. Feel free to lead with small talk (such as sports or asking if they've attended prior events); an immediate focus on business can stop the flow of conversation and connection. If you walk through an exhibit floor, keep your focus on what is helpful to you, or the sales pitches of exhibitors can drain your time.
When planning what parts to attend, remember that many conferences have dinners beforehand, which can be a valuable space to network informally.
After Entrepreneur Events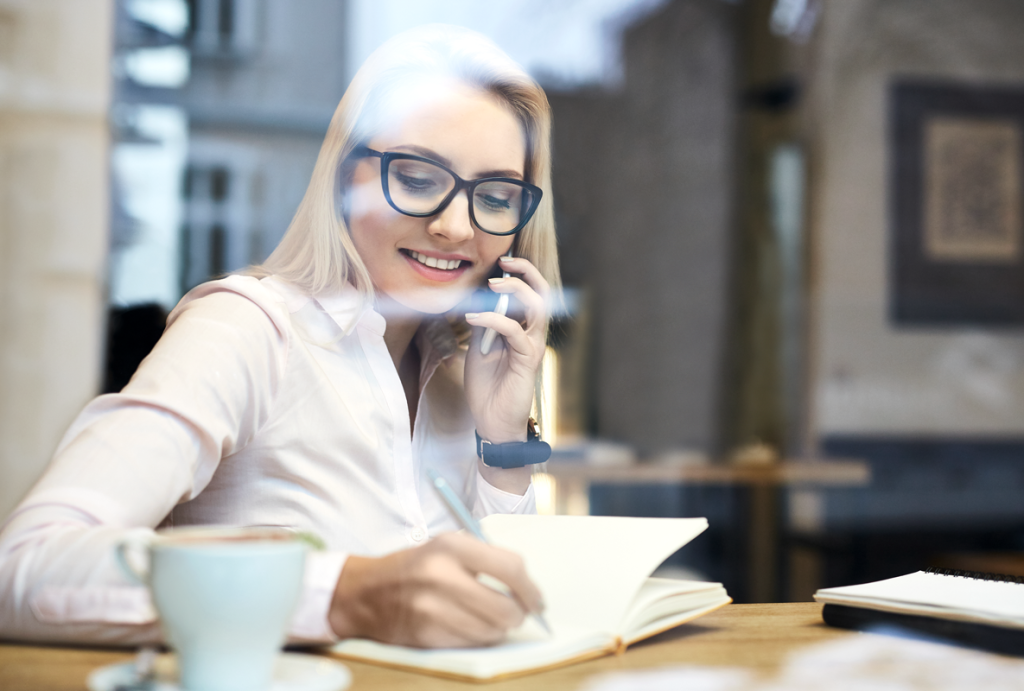 Be sure to follow up in a way that furthers your business goals. Did you collect contact information for potential sales leads? After the conference, get in touch. Briefly recap your meeting, and then ask for their time or briefly pitch your company. If you want more information on strategy, develop what you learned. Did you hear a speaker outline a winning strategy? Plan to develop it for your company. Check out podcasts or articles with more information now that you've developed a list of thought leader names.
Discover the latest trends and insights into the small business world in Top Trends and Challenges Facing Small Businesses: Guidant's Small Business Trends 2023.
Make Your Small Business Dream Come True with Guidant
Ready to bring your dream to life and become your own boss? Looking for fast financing or support? At Guidant, our team of experts can mentor you every step of the way — simplifying the process of applying for small business loans or using 401(k) financing using your qualified retirement funds. And if you need to maximize your own time by finding administrative, tax, bookkeeping, Guidant can help there, too.
Whatever your dream is, let us help you get started. Call our team today at 425-389-3200 to book your free, no-pressure business consultation!
Call us today at 425-289-3200 for a free, no-pressure business consultation to get started — or pre-qualify in minutes for business financing now!
---