Each year, Guidant surveys small business owners across America — providing insights into the current state and future outlook of small businesses. Our small business survey covers a wide range of topics and small business trends, including up-and-coming industries, key challenges, and the top business plans for 2023.
It's no secret that the economic landscape is constantly changing. Staying on top of industry trends can help current and aspiring small business owners stay competitive and plan for success — especially in today's uncertain economy. What does the future of small businesses look like? How have small business owners responded to current challenges? Which industries are thriving?
In this post, we'll highlight some of the key findings and trends among small business owners across America from our 2023 Small Business Trends study, painting the current landscape and future of small businesses.
The Future of Small Business
Despite having to adapt to an ever-changing economy and recover from the long-lasting economic aftermath of the pandemic, American small business owners are keeping an upward momentum going this year. In fact, a majority of small businesses have reported profitability this year (66%) and are confident they will outlast current economic challenges (76%). The future of small businesses looks brighter this year — and most of our surveyed respondents agree.

Let's take a closer look at some of the key findings and trends from our 2023 Small Business Trends study:
Small Business Trends 2023: Key Findings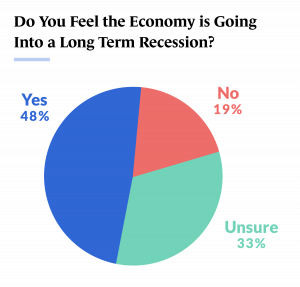 Many small business owners predict a long-term recession. Out of the surveyed small business owners, nearly half stated the US is going into a long-term recession (48%), and 19 percent of small business owners don't believe we're headed toward a long-term recession. A significant amount of business owners also felt unsure (33%).
Among small business owners surveyed, a majority reported increased prices (27%), loss of revenue (15%), and increased wages (13%) as the top three ways the economy has impacted their businesses. Six percent of respondents also suffered a loss of inventory due to supply chain issues.
Even with ongoing and new economic challenges, small business owners' confidence levels in the economy remain steady this year. Among respondents surveyed, 35 percent reported feeling somewhat to very confident.

A majority of respondents surveyed are happy as business owners — with 37 percent reporting feeling "very happy" and 35 percent feeling "somewhat happy."
The most significant challenge facing small business owners continues to be hiring and retaining skilled employees. Nearly half of the business owners surveyed described the staffing process as "very difficult" (23%) or "somewhat difficult" (24%) compared to other years.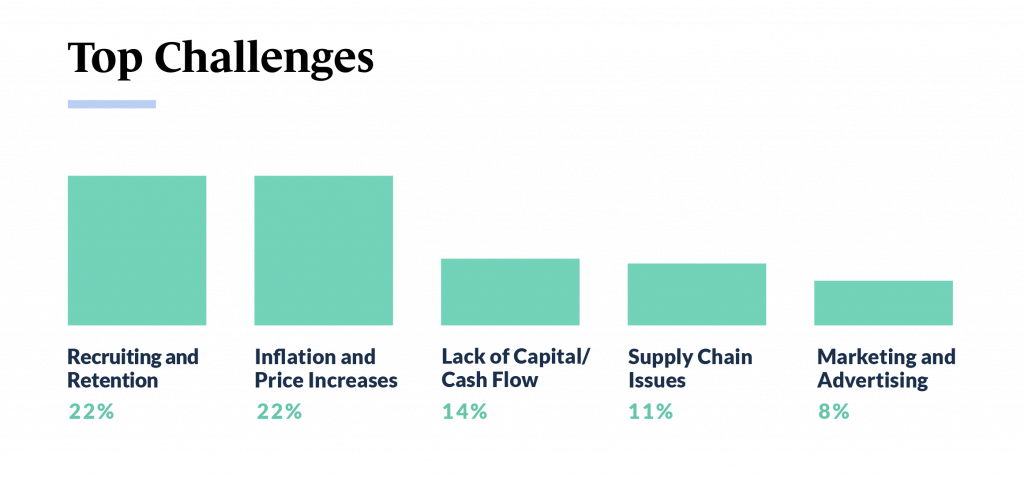 Behind recruitment and retention, inflation and price increases (22%), a lack of capital (14%), and supply chain issues (11%) were the biggest challenges among small business owners in 2023.
With a brighter future in sight, small business owners are proactively strategizing for success and the continued growth of their businesses. Most small business owners plan to invest in marketing (28%), increase staff (26%), and expand or remodel their businesses (18%) this year.
Top Small Business Trends
Starting a business in a competitive and changing economy can be expensive, with only a small percentage of owners (14.2%) reporting launch costs below $50K (3.7%). Most businesses cost between $50K and $175K (26.2%) and $250K – $500K (27.3%).
More than half of surveyed respondents (52%) used Rollovers for Business Startups (ROBS) to fund their new business this year — followed by cash (19%) and SBA loans (13%), highlighting the preference for these financing options among business owners.
A majority of small business owners (33%) purchased an existing independent business in 2023, taking advantage of an established business and a ready-made customer base. A smaller amount of small business owners (21%) started from scratch, showing a decrease of 23 percent from last year's study.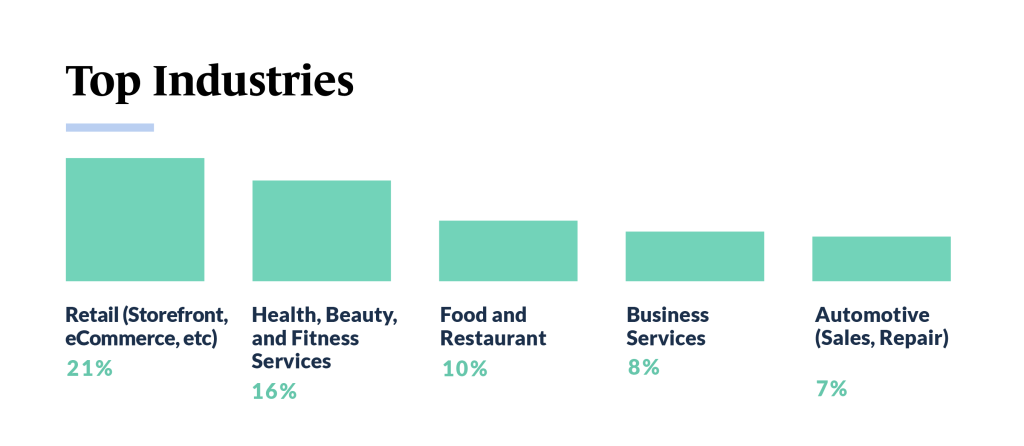 Across the board, the top three trending industries for small businesses were Retail, Food and Restaurant, and Health, Beauty, and Fitness Services.
The popularity of franchising has been rising, with the number of franchisees growing by approximately 12 percent since last year. Out of the respondents surveyed, franchisees made up 46 percent of small businesses — and most franchisees chose to start a new franchise location (35%) over purchasing an existing franchise (11%).
The ongoing challenge of hiring and retaining skilled employees has likely led to increased investment in employee training and development. This year, small business owners increased compensation (27%), improved retention efforts (16%), and expanded recruitment marketing (11%). Many also increased benefits, offered hiring bonuses, and expanded training programs (20%).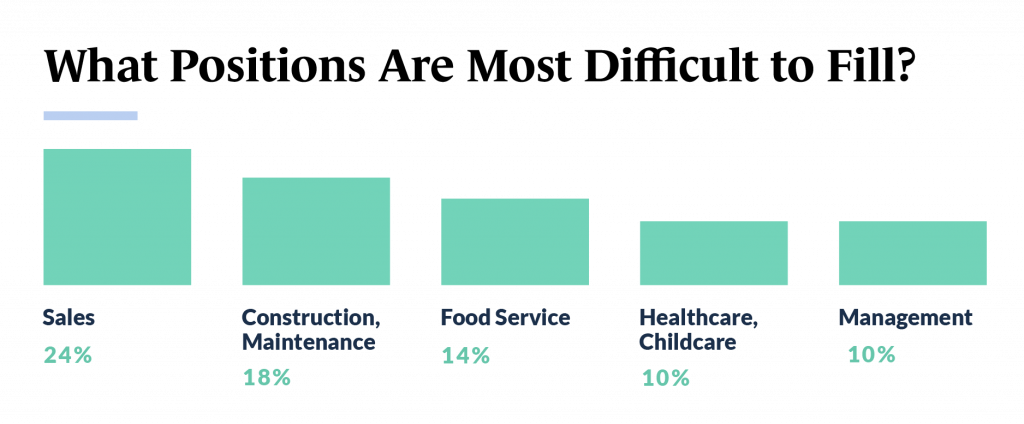 While recruiting and retaining employees remains a top challenge, there was a 16 percent drop in business owners who struggled with staffing this year. This data suggest that many small businesses are seeing positive results from their increased recruitment and retention efforts.
Small business owners faced a variety of staffing challenges in 2023, mainly due to a lack of interest from candidates (27%), candidates with inadequate work experience (18%), and competition from other employers (17%).
Small business owners faced a significant challenge in finding sales staff this year (24%), but that difficulty wasn't exclusive — food service (14%) and construction or maintenance roles (18%) were also in high demand.
Small business owners are shifting away from traditional political parties, with roughly 10 percent fewer identifying with both Democratic and Republican affiliations in the last two years. Meanwhile, the number of business owners who feel disconnected from political parties has risen by 22 percent since 2022.
Looking Ahead: 2023 Small Business Trends Summary
Guidant's 2023 Small Business Trends study shows promising growth among American small business owners. Despite facing challenges in light of the COVID-19 pandemic crisis, the Great Resignation, and inflation, the majority of small businesses remain optimistic and anticipate continued growth in the coming year. What's more, most entrepreneurs surveyed were profitable this year — and that's with a majority being new business owners.
For current and aspiring small business owners, these insights from the study serve as a reminder that small businesses can have a remarkable ability to overcome obstacles and achieve success no matter the circumstances.
Can't get enough of the latest trends in small businesses? Discover more insights into the world of small business in our full 2023 Small Business Trends report.
Turn Your Business Dreams into Reality with Guidant
Have you been dreaming of starting your own small business? We can help make that happen. With our education-focused and people-first approach, Guidant Financial is the go-to provider for small business owners seeking financial freedom and tailored support. Guidant has funded and supported over 30,000 American small businesses to date.
Our team of financial experts provides custom, innovative funding strategies customized to meet your unique business goals and needs. Plus, we can support you throughout the lifetime of your business — offering affordable and reliable Business Services, including Accounting & Tax and Payroll.
Reach out today and discover how Guidant can help take your business dreams to the next level!
Call us today at 425-289-3200 for a free, no-pressure business consultation to get started — or pre-qualify in minutes for business financing now!
---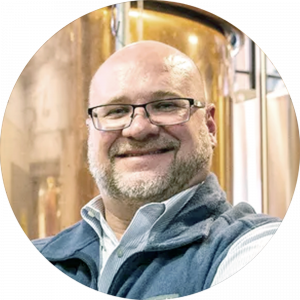 "I owe a sense of gratitude to Guidant for helping me get here. It was a turning point for us moving forward."
— Stephen Such, Falling Sky Brewing