We all build up equity in different aspects of our lives, whether in the homes we own or in our retirement accounts. But did you know you can offer equity in your small business in exchange for funding? Or that you can use your retirement equity to buy shares in your company? Many entrepreneurs like you offer equity in a business for funding that can help improve cash flow and increase the chances of owning a thriving small business.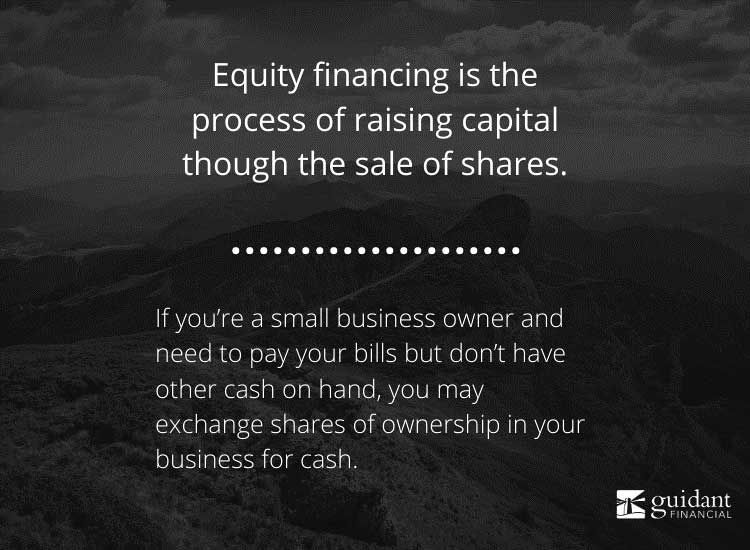 Who buys equity in your business? You can look to friends and family to buy shares in your company, or you may search for funding from angel investors, venture capital firms, strangers (through crowdfunding websites), and Rollovers for Small Business Start-ups (ROBS). Let's look at the top equity financing options in more detail, including how to get started with each.
Do Friends and Family Come First?
Everyone's situation differs, so it's up to you and your friends and family to see if asking them for funding is an option for you. Equity funding through friends and family is one of the most common methods of financing a small business, whether it's a loan to be repaid, a gift with no repayment terms, or an investment with equity in your business. The benefits are incredible if it does work: you won't have another loan to repay and your cash will flow easier.
The critical item to remember when arranging to receive money from friends and family is that you write down everything about your plan, so all parties are clear. You want to save yourself from damaging these important relationships with future confusion. Plus, if these are close friends or family that you will see often, you should be prepared to discuss your business decisions with them every time you see them. If that's going to be hard for you, then skip this funding method.
How to Ask Friends and Family for Funds
Asking for money is a tricky subject, of course, but prepare the same as if you were seeking financial assistance from someone you didn't know. Have your business plan set, your resume updated (to show your successes and experience), and an idea of what you are looking for as far as the amount of money you're seeking.
Tip: If you're giving equity in your company in exchange for cash, you'll need to decide on the business structure of your equity investment. Examples include a general partner or a limited liability company (LLC).
For help figuring out how fast you'll "burn" through your cash reserves, you can try a burn calculator. You'll also want to do a post-money and pre-money valuation to determine how much your small business is worth now and later. When it comes to determining how much equity to give up in your company, this handy tool will help guide you.
The Rewards of ROBS
If you're interested in equity financing but don't want to ask friends and family or deal with investors, Rollovers for Business Start-ups (ROBS), can be a great fit. With ROBS (also known as "401k business financing"), you can use your 401(k) or other eligible retirement accounts to fund your business without hefty early withdrawal tax penalties.
---
Tailored Funding Options for You
---
To get started, you'll want a minimum of $50,000 in an eligible retirement account. ROBS isn't a loan, so you won't have any debt to repay, and it doesn't require a high credit score. For more about how ROBS works, check out our Complete Guide to ROBS.
Rolling into ROBS
Here's a quick overview of how to get started with ROBS:
Set up a C Corporation. To be able to trade stock, your business will need to be a C Corporation. Learn how to form a C Corporation here.
Arrange a retirement plan for this C Corporation. Usually the plan type is a 401(k), but some small business owners select a profit-sharing or defined benefits plan. Fidelity, Charles Schwab, Merrill Lynch, or another custodian can help you manage the investments in the plan you choose.
Roll over the funds into the new retirement plan. You'll roll your retirement funds from your original account into the new C Corporation retirement account.
The new retirement plan buys stock in the C Corporation. The plan purchases stock in the C Corporation through a Qualified Employee Securities (QES) transaction.
Use the funds. Once your QES transaction is finished, you can use the money to operate your new small business.

ROBS is a great way to leverage equity financing without being beholden to others, but it can be a complicated process to set up. To learn more about how Guidant can help you use ROBS to start your small business, contact us online, or call us at 888-472-4455.
Funding with Angels
When you think of angel investors, you may think of Shark Tank. That's because "sharks" Barbara Corcoran, Daymond John, and Mark Cuban, among others, are strong examples of angel investors. On the show, these experienced investors watch entrepreneurs and small business owners try to prove why their business is worth investing in. In real life and on TV, some aspiring entrepreneurs do receive equity investments in exchange for a percentage of their businesses. Ranges vary on what you can expect from an angel investor, but anywhere from $25,000 to $150,000 is common.
This relationship isn't a one-way street, however, and you will need to give the angel investor a percentage of stake in your business. This means if your business succeeds, you will be paying that money back later. If you need funding and you're wondering how to attract an angel investor, the following tips will help you prepare your business.
Tip: Think of pitching your business to an angel investor like staging your home for a sale. You want your business to look impeccable and sell quickly.
According to an Inc.com article, here's what to do:
Create a top-notch team. Investors want to know that the people behind the business have strong ideas, passion, and keen business sense. Experience and credibility will also propel you in the game.
Build a better business plan. You wouldn't invest in a business that had no written plan, so don't expect anyone else to do the same for yours. And don't be hasty when putting this together. It should be well-written and well-thought-out. Check out our How to Write a Winning Business Plan ebook for a place to start.
Recognize the true value. Ensure you've matched the monetary investment you're asking for with the appropriate value of the business. If this equation is off, the angel investor won't be interested.
Embody trust and integrity. Similar to the first item on the list, trustworthiness and integrity are two traits you want to portray during this process. You can't build a relationship – even in business – without trust.
Realize the risk. This means you should respect the concerns of the interested angel investor. Of course, be positive, but also realistic.
The process with angel investors may be lengthy and include many meetings and extra-large cups of coffee, but the results could be well worth it. Google and Facebook both used angel investors – and look at them now!
How to Call on Angels
If you're entering a new industry and aren't sure about the ins and outs of how to succeed in an unfamiliar marketplace, angel investors are a smart bet. That's because another part of their job is to provide advice when you need it. While most angel investors are experts on business in general, many also have expertise in certain industries such as food/beverage or consumer goods. In general, angel investors also lend your business an air of credibility that's otherwise hard to achieve.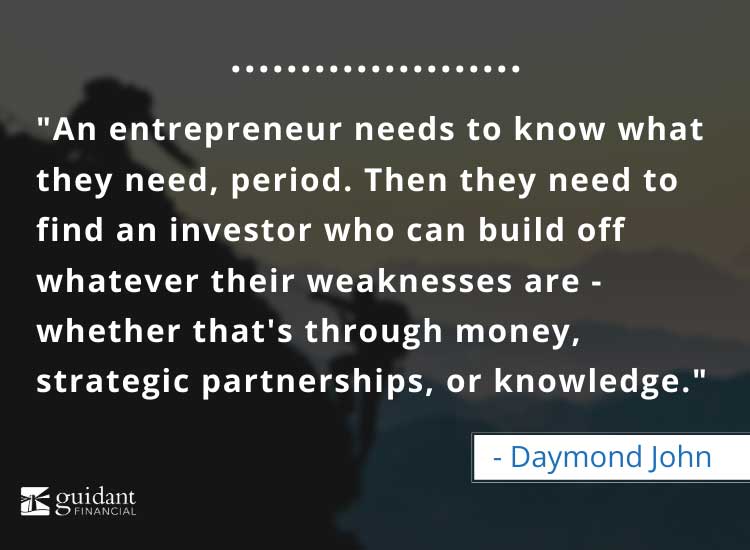 When you're ready to seek funding from an angel investor, put together a business plan (with an executive summary), and even a slide deck to highlight key points visually. Then, you can browse websites such as AngelList, Fundable, and Crowdfunder, as well as local networks in your area. Learn some more quick and easy ways to locate angels.
Now that you know more about how to look for an angel investor note that there is one more extremely important item angel investors will be looking for in your small business: their return on investment (ROI). These expert investors are looking for 10 percent ROI, and you want your small business to be one of the ones to make the cut.
Adventuring into the World of Venture Capital
Do you have a risky business that falls into the technology or healthcare fields? Does your business pose the potential to explode into something profitable? Are you looking for $1 million or more in capital? If you answered "Yes" to these questions, then venture capital – not angel investors – may be for you.
The people who work at venture capital firms spend their days looking for up-and-coming start-ups. Since this is a high-risk business, however, venture capitalists will require a high return on their investment, as well as ownership of a piece of your company.
Note: If your company is successful, venture capitalists will hope to sell their shares back to you or through an initial public offering (IPO) to the public.
Soliciting Venture Capital
Similar to getting your business idea in front of angel investors, you'll want to write a business plan and create a flawless pitch deck. After that, put your savvy business skills to use and search your social networks such as LinkedIn to find venture capital companies. You can also explore online options such as MicroVenture and Crunchbase.
Just like with angel investors, venture capitalists will be looking to gain a quick and substantial ROI, so be prepared to go on a wild ride and lose some control of your company while the venture capitalists gain a spot on your board of directors. The upside of this arrangement is you will get access to all of the expertise (in addition to the funding) of a seasoned venture capital firm.
Capturing Capital with Crowdfunding
You've likely received a Gofundme.com request before, and maybe even donated to a worthy cause to help a friend – or even a stranger. This is an example of crowdfunding that most people have encountered. Before we go any further about crowdfunding, however, know that Guidant Financial's 2020 Small Business Trends survey found only about 1 percent of small business owners surveyed used this funding source, making crowdfunding one of the least popular choices for reliable business financing methods.
Note: There are two types of crowdfunding, and their purpose (and outcomes) vary significantly.
Reward-based crowdfunding is usually for raising money for social causes or independent product projects. Known brands include Kickstarter and Indiegogo. Equity crowdfunding (direct public offerings, or DPOs) is another type that is often the most applicable type for small business owners. Made available in 2012 through a congressional act, equity crowdfunding differs because the government regulates it. Additionally, with equity-based crowdfunding, you can use platforms (see the list below) to raise your funding or you can use a DPO, which is "a way to raise money from the public without the inconvenience and expense of going public on a stock exchange." Famous food companies Annie's Homegrown and Ben and Jerry's ice cream are both popular brands that raised millions with direct public offerings.
Financing with a Crowd
Tip: If you decide you want to give a direct public offering a try, enlist the help of a professional as this is a complex process.
The simplified three steps of a DPO include:
Prepare your financial records. You are working towards creating an Offering Memorandum.
Submit your records to both the state and the federal government. There will be a wait time following your submission.
Sell your offer. Note there is a time limit on selling.
Evaluating if Equity Financing is Right for You
If you've made it this far, you either have a small business that needs a financial boost, or you're an entrepreneur thinking about starting your dream business in the future. Either way, you've now taken the first step in learning more about equity financing in its various forms. Whether angel investing or crowdfunding, remember that each financing method has its own set of pros and cons, and it's always best to find the one that suits your business and personal situation. Finding funding for your venture can be difficult, but equity financing gives you options for avoiding big down payments, collateralizing (and risking) your home or other assets, and lasting debt.