---
Key Findings:
With signs of new business growth in Michigan, Pennsylvania, and New Jersey, the Steel Belt is showing signs of resurgence.
High population states like California, Florida, Arizona, and Colorado are struggling to make room for new business owners.
Oregon has increased to the 5th most popular location for senior care businesses – likely a trend to continue considering that it's the second most popular state of relocation.
Michigan, California, and Texas are some of the most popular states with Millennial and Boomer small business owners.
Wisconsin showed the worst year over year growth at -86%.
With agriculture as the state's top industry and nearly 50% more pet ownership than the national average, Montana is the place to go for pet and farm animal care businesses.
Vermont is a top spot for tourism businesses. With state programs focused on turning tourists into residents, there's potential opportunity for new small businesses.
Each state has its own personality that goes beyond a unique state bird or local cuisine. Each state also has its specific climate, challenges, and opportunities when it comes to small business.
To gain more insights into the ever-changing landscape of American small business, Guidant partnered with online lending marketplace Lending Club to survey more than 2,700 current, new, and aspiring small business owners. Here's a closer look at the fascinating state-based small business trends revealed in our State of Small Business survey.
Top Small Business Trend: Steel Belt Resurgence
Parts of the country negatively affected by deindustrialization and U.S. manufacturing declines aren't typically considered the hot spots for small business, but that may be changing. Year over year, new businesses in Michigan have grown by 80%, which could in large part be due to the growing popularity of Detroit — a city offering both a cultural diversity, a lively city center, and affordability. Just less than six years ago, the city filed for bankruptcy but bounced back quickly, and now investors are pouring in.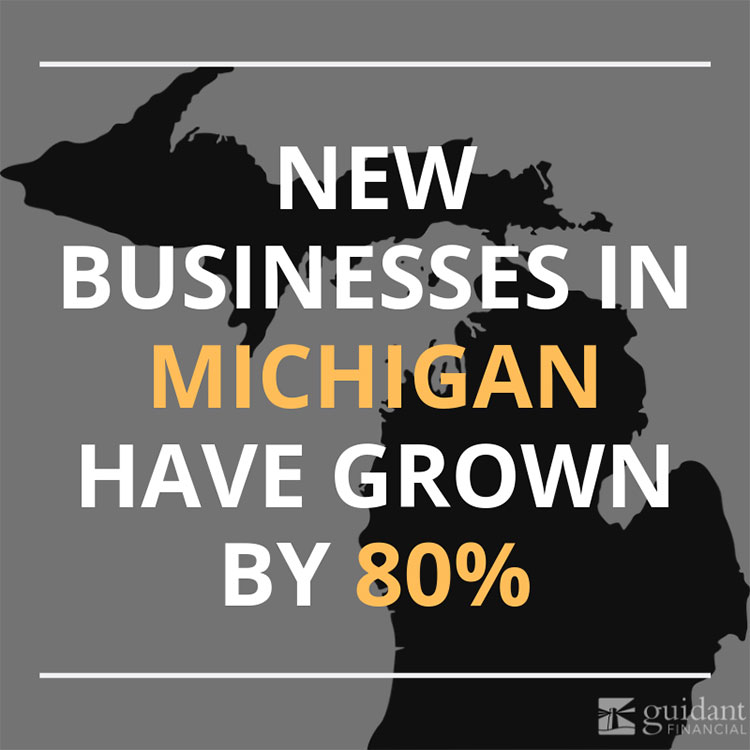 Millennial and foreign-born resident growth for Detroit also far outpace the national average, which indicates diverse business ownership.
---
Create the life you want with a thriving small business. Learn about starting your business debt-free and cash-rich with 401(k) business financing.
---
In Pennsylvania, where we saw 63% growth in new businesses year over year, the unemployment rates are finally dropping to be more in line with the national average. Reports from the Bureau of Labor Statistics reports show that since 2015, the Pennsylvania unemployment rate has trended significantly higher than the rest of the nation. Hopefully, this trend will continue as more entrepreneurs set up shop in the Keystone State.
Maryland and New Jersey also saw significant year over year increases for new business growth at 50% each. Maryland is offering unique support for small business owners, such as ADVANCE Maryland, which functions similarly to a Small Business Development Center. While in New Jersey, local government is working to help young tech companies succeed.
Additional states with notable year over year growth for starting a new business included Tennessee, Mississippi, and New York — each with over 35% increases in the last year.
Slow to Grow States Struggle for a Variety of Reasons
While taking a closer look at the best states to start a business in 2019, we also found that some parts of the country are struggling when it comes to making room for new business owners. California, Florida, Arizona, and Colorado were among the top states to see decreases in year over year business growth — each seeing over a 10% decrease with Colorado and Arizona at -40% and -57% respectively.
One reason for slowing business growth may be related to the fact that these busy, populated states have a healthy amount of competition when it comes to small business — California and Florida have recently topped our Top States For Small Business lists. Another commonality among these states is high percentages of their labor force include immigrants who haven't received work authorization. With deportations rising 13% in 2018, there's bound to be an impact in states with unauthorized immigrants making up a significant portion of the labor force. So much so that some studies estimate unauthorized workers make up 8 to 9% of the U.S. labor force in several industries including agriculture, construction, leisure, and hospitality.
Wisconsin – which reported the worst growth in our study at -86% new businesses year over year – is struggling for very different reasons. Interestingly, small businesses in Wisconsin have a higher than average survival rate — the Kauffman Index reports that more than half of Wisconsin small businesses survive their first five years. But it's not exactly clear what's causing a high barrier to entry for new entrepreneurs in Wisconsin. Some rural areas in the state still struggle with a reliable Internet connection, and some critics blame Wisconsin's growing income gap for the lack of startup activity. Fortunately, for hopeful business owners in the area, the state is taking action by launching programming meant to serve entrepreneurs, such as Startup Week Wisconsin. For now, Wisconsin may not be the best state to start a business, but it's one of the best places to be a business owner.
Highly Populated States Top Every Service Industry
When looking at which states were the most popular for common industries, it came as no surprise that the most highly populated states — California, Texas, Florida, and New York took the top spots across the board. California took the top spot for Automotive, Business Services, Food and Restaurant, Health and Beauty, General Retail, Senior Care, Sports and Rec, and Technology Industries. Florida proved to be the most popular state for Cleaning and Maintenance and Pet Care. Texas-based respondents had the most Home Services and Education focused businesses in our survey. And New York, as an extremely popular tourist and business travel destination was the most popular state for Travel and Lodging businesses.
While the most obvious locations were the most popular states for each industry, there were some exciting results. Vermont, which has the second smallest population in the U.S. made the list for one of the top states for travel and lodging businesses. Vermont has become a hot spot for tourism. Known for its skiing options and beautiful outdoor recreation areas, the state draws 13 million visitors annually, most of whom are looking for lodging. There may be opportunities for small business owners in other industries though, as Vermont's state-funded programs are aimed at getting more tourists to stay permanently.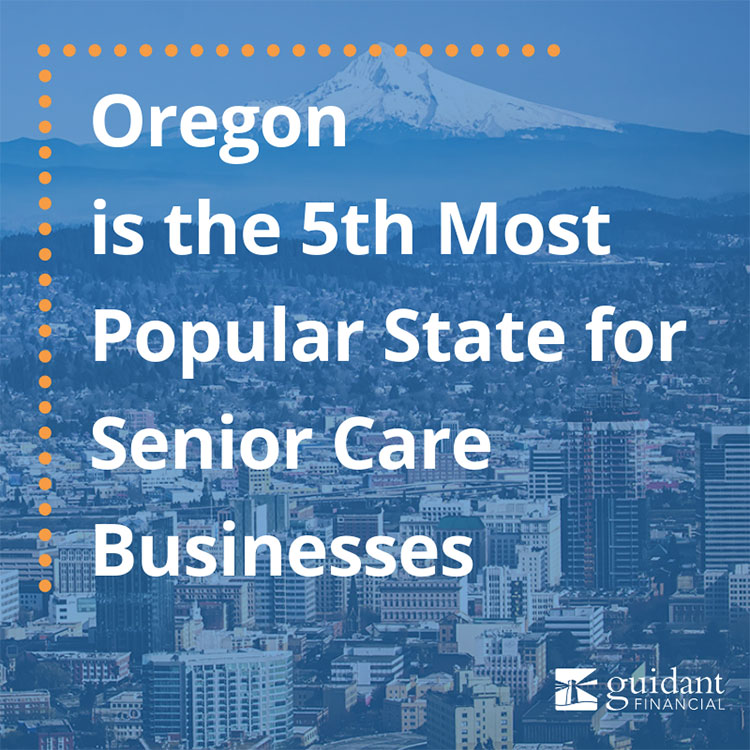 Montana was another state that made the top ten for a specific industry despite its small population. Agriculture is Montana's number one industry, which means there are plenty of animals that need care. There are more cows in Montana than people — roughly 1.06 million human residents and 2.28 million cows. Even the number of sheep outnumbers the combined population of the three most populated cities. Montana is also the second-highest state when looking at households that own dogs (52% compared to a national average of 38%). Whether small business owners are focused on services for large or small animals, there's definitely a market for pet care in Montana.
---
Try Guidant's two-minute pre-qualification tool to learn what financing methods are a good fit for you.
---
Another notable trend that showed up this year was Oregon state claiming the fifth most popular location for senior care businesses. Between 2010 and 2014, Oregon saw its population of citizens over the age of 65 grow by 18% — well above the national average for the same timeframe of 14.2%. And though Florida, Arizona, and other warm weather states are often thought of as top retirement destinations, Portland attracts more 40 and older college-educated people than any other U.S. metro area. Oregon is likely to remain a good place to set up shop, as it's also the second most popular state for relocation.
State Popularity Consistent Across Different Demographics
Even when you're your own boss, age, race, and gender can cause challenges at work. We looked at the most popular states for business owners based on demographic factors to see the most trending locations for business owners who identify with varying demographic groups. Though the data is not weighted based on state population, our survey produced interesting results.
The most popular state for women small business owners is California. Though that's not too surprising given California's high population, the Golden State is taking action toward gender equality, which may be a draw for more female entrepreneurs. For example, California is now the first state to require all public companies to have at least one woman on their board of directors — setting the standard that women can and should be in business.
The only demographic for who California was not the most popular state was African-American business owners. California came in fourth as the most popular state for this group behind Georgia, Texas, and New York. It's no fluke that African-American small business owners are more likely to build their businesses in these parts of the countries — data from the SBA Office of Advocacy shows that some states are doing a better job serving minority entrepreneurs. For example, New York and Georgia both have one minority-owned business for every 15 small businesses. Compare this to states like Iowa and South Dakota, where the numbers were a lot more discouraging at only one minority-owned business for every 40+ businesses.
According to our survey, Latinx small business owners are most likely to live in California, Florida, and Texas. And despite challenges accessing funding for minority business owners, Latinx-owned businesses contribute $700 billion to the U.S. economy each year. Asian-American small business owners were also likely to live in California and New York, but Washington and Hawaii were also popular spots for Asian-American business owners to set up shop. Though the cost of living and startup prices in Hawaii can be high, Asian-American small business owners can benefit from community-focused entrepreneurial groups like the Hawaii Chapter of National Association of Asian American Professionals.
Both Millennials and Boomers tend to set up shop in states with large populations, with California and Texas the top two for each. Michigan also showed up as a popular state for both Boomers and Millennials, which makes sense given the 80% year over year business growth reported in that state.
Just as there's no one right age, race, or gender required to become a successful business owner, there's no one place to become an entrepreneur. Each state offers a different set of benefits and challenges and very different markets. The key to success is finding the right place for your unique business, where you feel at home.
No matter where you want to set up shop, Guidant is here to help. Learn more about your financing options today by talking to one of our expert financial consultants or using our free pre-qualification tool.