If you're running a small business, gathering and analyzing data can help you maximize profitability, outpace the competition, segment and grow the product line, forecast sales and profits more accurately, and much more. More than 90 percent of business leaders say that data should drive decision-making by providing actionable insights.
Many notable business success stories use business data to hone their competitive advantage. Both Netflix and Spotify, for example, use data to analyze customer interests and engagement and to drive business strategy. They develop and curate new experiences that will foster continued engagement and conversion. Netflix develops new series that builds upon highly rated shows and purchases existing content that maps to customers' demonstrated interests. Spotify tracks the most played music and curates content based on top-performing artists and albums, promoting continued engagement and use.
But data can also be used to optimize expenses. For example, UPS has slashed expenses through GPS technology, artificial intelligence — and data-driven mapping, enabling drivers to use the most cost-effective and time-efficient routes.
So, how do you go about becoming a data-driven business? Here are five steps to take to improve your business performance!
5 Steps to Becoming a Data-Driven Business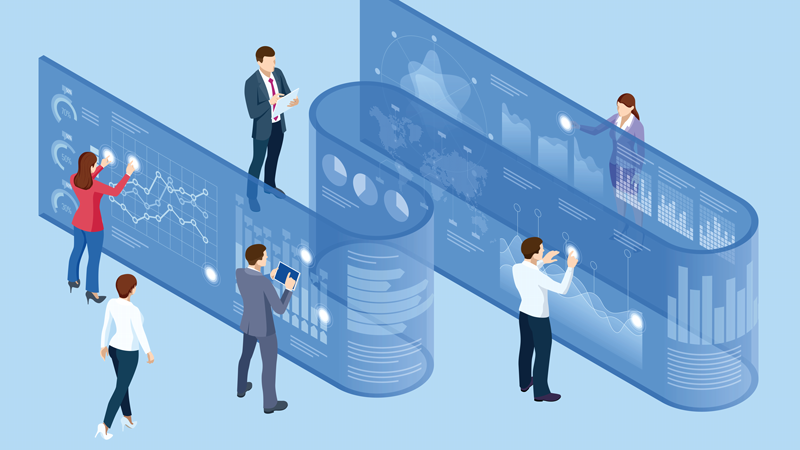 Step 1: Gather and Review Your Data
Gathering data has become relatively easy with advancing computer systems and programs. But to become a successful data-driven business, you'll want to do more than gather data.
It's a good idea for business owners and managers to actively review and analyze data. Reviewing and analyzing your business data lets you reap its benefits of it and make use of its valuable insights.
Your first step is to gather your business data — and understand what data can do for your business. Before diving into how data can benefit your business, let's briefly review some different types of data you'll want to track.
Types of Business Data
Product Development
Data can identify new markets for your products and products that your existing markets might like to see by tracking their engagement and purchases. It can drive your customers from engagements on social media channels to purchases. And using product development data can help segment your customer base to grow products and services on a spectrum from high-end products to affordable ones.
Finance
Financial data can help you forecast cash flow, sales, expenses, and profits. By tracking your finances, you can create plans to grow sales and profits or cut expenses. That's why analyzing your financial data can help drive your profitability and business growth!
Business owners and managers can forecast the total revenue a customer will deliver over time — or figure out their most profitable customer profile (and then plan to gain more customers). And your finance data can contribute to critical business decisions, such as analyzing burn or keeping track of your cash flow.
Sales
Sales data can help small business owners forecast sales over time — increasing revenue and creating achievable business plans. It can be used to set quotas and targets for specific salespeople and identify promising new customers and potential upselling that can yield business advantages.
Marketing
Don't forget about your marketing data, too! Marketing data can help you analyze past marketing campaigns to improve engagement and conversion to a product. Consider how data can help you achieve business insights and improve your business models. For example, look at how many followers, likes, or shares are on your social media platform. How can you increase those numbers within a year? Setting specific goals is key! (See Step 3 for more marketing data insights.)
Just getting started in marketing? Here are 6 Tips for Small Business Marketing.
Step 2: Create a Data-Driven Culture
Now that you know the ins and outs of your business data, you'll want to focus on creating a data-driven culture. But what does that mean — or look like?
A data-driven culture is when a company uses data to make decisions at every organizational level. And to achieve a data-driven culture, your company culture must also understand and utilize data.
One helpful strategy is to define a problem and then utilize data to achieve business insights. Let's say your business sells ice cream cakes to grocery stores and high-end bakeries. You currently track the total number of cakes sold per week and month. But if you had more data on what specific cakes sell best in each store, you could reduce returns — and boost sales.
Through a data-driven plan, you can gather data on each store. This allows you to fine-tune your production and delivery to each venue. For example, you may deliver more chocolate ice cream cakes to the stores that typically sell out and less vanilla ice cream cakes to stores that consistently return those.
The net effect is streamlined production. That means you can increase sales at some stores — and fewer returns at others. All of these moves help your profit picture.
So, help your managers and employees get into data, too! You'll want to promote buy-in on how it augments the overall success of your company. When you educate your employees on how data works, they're more likely to track your business data correctly and more consistently — and help you convert that data into profit.
Do you know the economic value of your business? See How to Value a Business.
Step 3: Devise a Data-Driven Marketing Strategy
Marketing is the channel that connects your products and your customers, both current and potential. And the third step in building a data-driven business is to devise marketing strategies using your data!
The type of marketing strategies you develop will depend on your business and its activities. Here are several helpful and proven strategies for small businesses owners:
Find your target audiences. Data allows you to analyze your customer base by almost every metric imaginable: age, gender, income status, family role, ethnic identification, the preferred manner of shopping (online or physical store), other products purchased or browsed, and more. All these factors can influence how your target audience likes to shop for products, engage — and convert their engagement into sales.
Develop marketing plans based on the target audience metrics. For example, if your data reveals that your customers are more likely to purchase cakes for a holiday party, you can develop content for multiple channels advertising your products for major holidays like Valentine's Day, the Fourth of July, Labor Day, Thanksgiving and the winter holidays like Christmas and New Year's.
Boost sales for the holidays and beyond with these 5 Effective Seasonal Promotion Ideas to Boost Holiday Sales.
Step 4: Build a Data-Driven Customer Experience
Your customers are the lifeline of your business. And to sustain or grow your business, you'll want to keep or make your customers happy. That's where data comes in!
You can use your data-driven strategies to help optimize your customers' experiences. The better the experience, the more likely they will purchase your products and services — and become repeat customers.
One of the best ways to help improve your customer's experience is by asking for product recommendations and advice in real-time. Let's say your business is an auto repair shop. Usually, you provide customers with detailed sheets showing their car mileage and when they need service. But using data-driven methods, you can specifically remind them when it's time for a major service or oil change, using the best communication method (i.e., e-mail, text, social media).
You can also use data to customize the experience by recommending relevant automotive-related products, such as keychains, air fresheners, maps, car wastepaper bins, or even toys for children in the car waiting.
But, most importantly, you can also prospect new revenue streams. Is your customer base increasingly interested in electric cars, for example? If so, your business can focus on providing information about electric cars, offering electric car model recommendations, or introducing local charging stations for electric vehicles. Potential customers will associate your business with electric cars, giving you an opening into that increasing market share.
Data will reveal what products customers are most interested in, and those insights can be used by businesses to package products and make recommendations to promote sales.
Step 5: Create a Data-Driven Roadmap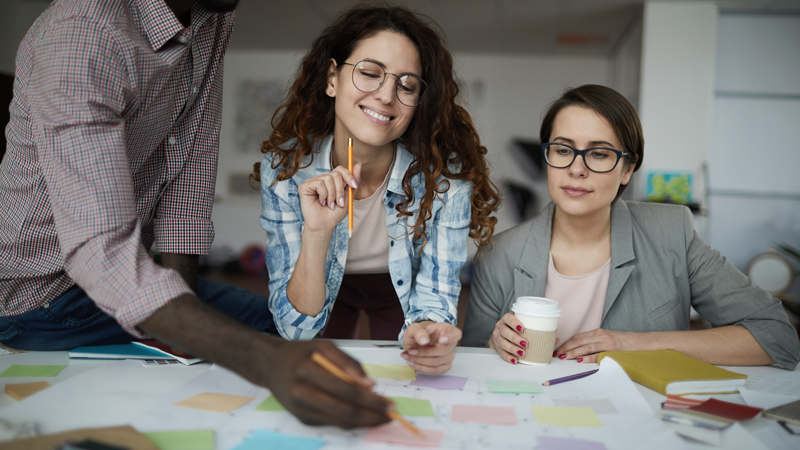 And last but not least… Take what you've learned through steps one to five — and start building your own roadmap! Data can allow you to develop new services or products.
Let's say you're in the business of ice cream cakes. Your data research shows that your target audience is parents with children under five who prefer smaller portions and more convenient dessert options. They prefer cupcakes, cake pops, or bite-size cake pieces because those are easier for small children to manage — and less messy for parents to clean up.
Once you offer and market those products, data may also reveal that many of them are purchased for birthday parties. And these parties often feature entertainment, such as clowns and bouncy castles. An analysis of how prevalent this is leads you to segment the market further and develop a new line: partnering specifically with bouncy castle rental companies or birthday party clowns in a package deal with your desserts.
The key point? Data helps you build more profitable products and potential partnerships by unearthing market trends, customer interests, evolving patterns, and behaviors of your customers.
So, remember to regularly review and analyze your marketing channels as you develop and market new products! Social media platforms like TikTok and Instagram are trendy now, but platforms fall and rise with time. So, promote directly to your target audiences' favorite social media channels! And you'll also want to try engaging with customers who prefer different channels. Direct mail and billboards are potential channels for some customer segments! Be sure to analyze data for each marketing channel on conversion and engagement.
Finally, ensure that your managers and employees have full access to data, allowing the business to benefit from their insights too!
Your Data-Driven Process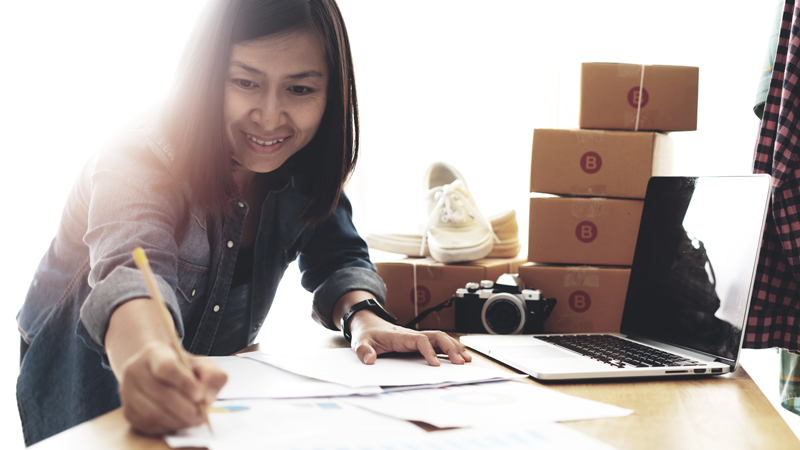 As you now know, data can help you in almost any endeavor! Think first through your primary areas: Product development, finance, sales, and marketing. And remember: Data has to be integral to what you do.
Tip: Don't forget to set specific goals based on your business and needs! Your data-driven marketing strategy needs specific goals to help you track your progress — and business growth.
Grow Your Business with Guidant
As your business grows, your time becomes more and more valuable. Your company may need to expand or need more backend support to keep up. And we can help.
Whether you're looking for the best business financing plan to grow your business or streamline tedious backend work — like accounting and taxes or payroll — our team of small business experts can support you every step of the way.
But don't just take our word for it. Hear what our clients (and real business owners) have to say about their Guidant experience.
Pre-qualify today for business financing, or call us at 425-289-3200 to book your FREE business consultation!