"Hockey stick growth" is a frequently used phrase in business. But what does it mean? It's the kind of rapid, accelerated growth that looks like a hockey stick if sales data are converted into a chart. There's a brief period in which sales are flat — representing the blade, the part of the hockey stick that hits the puck — followed by exponential growth that goes straight up (the stick shaft). That's the quick version. Let's take a closer look at what "hockey stick growth" means…
Getting ready to start your own business? See 10 Steps to Starting a Business.
What is Hockey Stick Growth?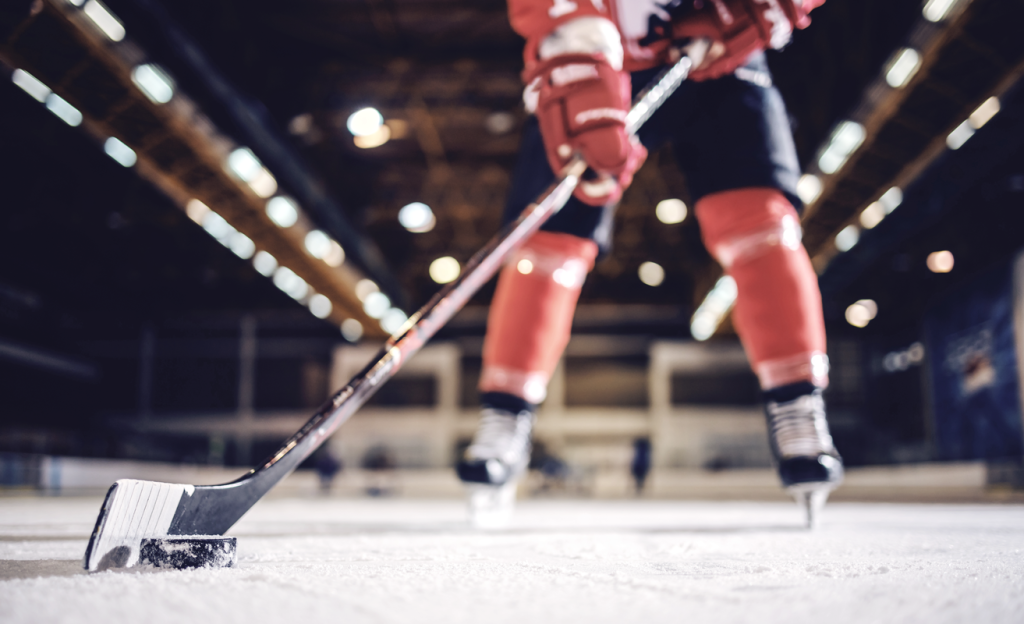 Business analysts actually break hockey stick growth into four stages. When growth is relatively flat and could be represented as a blade, the business is in the "tinkering" stage. The business owner may have only an idea but is working on it. Tinkering is followed by the "blade" stage, where a business is in its early years. Revenue is likely to slow and low and look flat if charted.
The blade years are followed by a "growth inflection point," where revenue starts to climb rapidly. For the first time, the straight-up growth of the hockey stick actually appears. The final stage is "surging growth," where growth continues, and the small business owner's job is sustaining and managing the growth.
Now that we've defined hockey stick growth, let's answer a hot question for many small business owners: How can you drive hockey stick growth in your own company? We'll look at seven strategies to help accelerate the growth of a small business — and discuss potential pitfalls to watch out for when planning hockey stick growth.
Leave the office behind — and become your own boss this year. See How to Start a Business with these Top 3 Startup Strategies.
How to Drive Hockey Stick Growth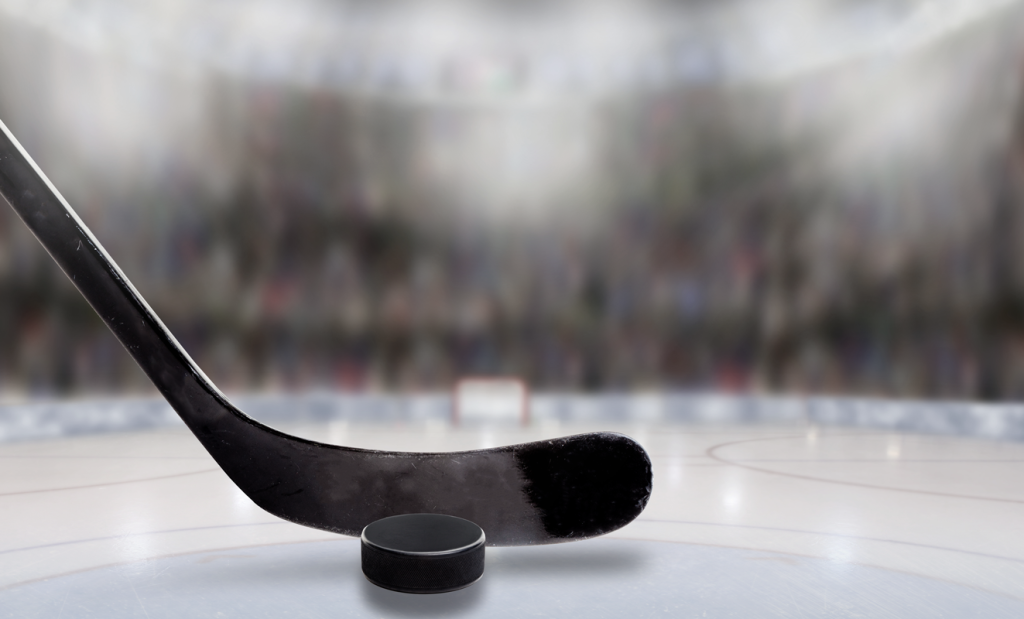 It's safe to say that no one makes hockey stick growth happen without creating a buzz around a product. But buzzes don't just happen. As you're developing your product and service, focus on your unique selling proposition. What differentiates you from competitors? Once you know that, it's the basis for your sales and marketing.
The unique selling proposition of the fledging Airbnb, for example, was "less expensive lodging by staying somewhere in a private home." That was the message to travelers. Buzz around the company was created by getting that message out in a widening geographic circle and following up with the provision of the service.
So, how do you get the message out there? Read on.
1. Leverage Social Media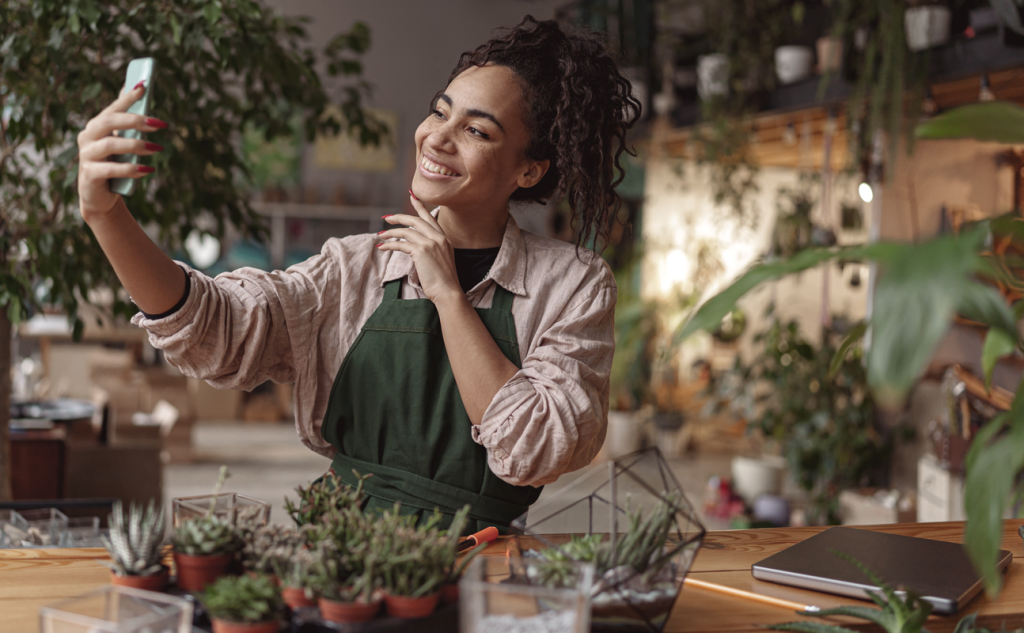 Social media can help you find you find your customers, and your customers find you. Determine which channel can most drive engagement for your product or service.
Many small businesses work with the analytics provided by Google and Facebook. Remember the key differences between these. Most potential customers access Google for research to answer a question. The question can be "Where are computer stores near me?" or "Where can I find construction materials for a new patio?" And if your business answers those questions, Google can be a valuable tool for you. Facebook is a vehicle for more general sales messages aimed at potential customers anywhere along the sales pipeline, from initial exposure to your company name and products to engaging with sales.
Both Google and Facebook provide key analytics for small businesses. Use these to hone in on the characteristics and behavior of your customer base. In many cases, a relatively small percentage of customers will provide the great majority of your sales. Crunch your data to find out who your most active customers are.
2. Develop a Creative Marketing Campaign
Creative marketing campaigns pull potential customers in and create an interest in your company. When developing a campaign, it's important to know who your customer is and how you appeal to them.
Dropbox, for example, is a file hosting company that offers cloud storage and file sharing. It drove growth via a marketing campaign that offered limited-time free services to college students. Why? Because college students are guaranteed to need computer files and storage, especially since they may be working between the institution's computers and their own.
Stop chasing the market. Make the market come to you in How to Market Your Business Successfully.
3. Build Strategic Partnerships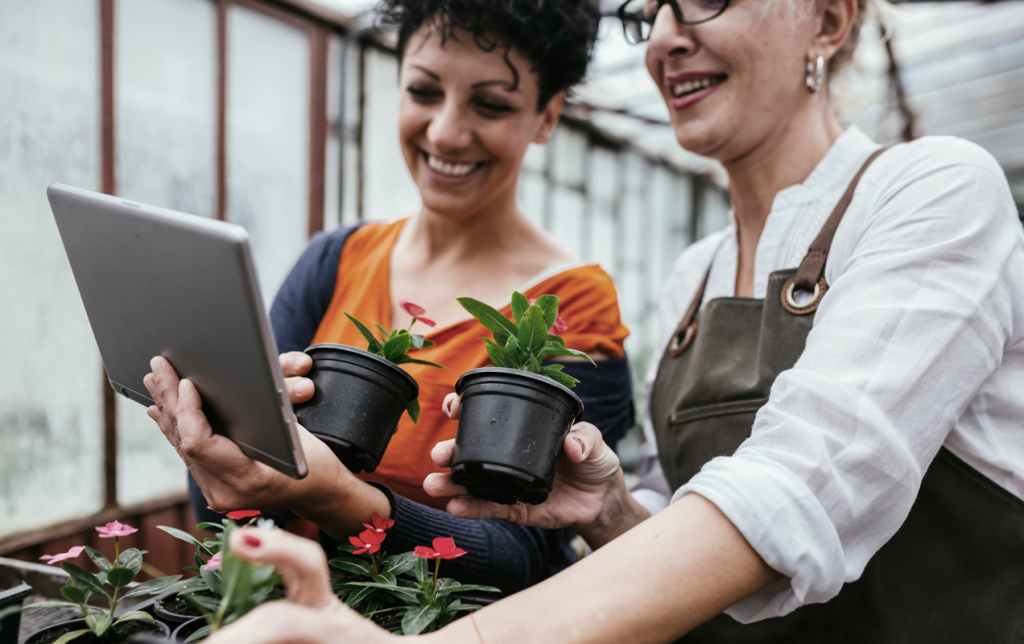 To hit hockey stick growth, it helps to have synergies. One of the chief methods of creating synergies is to build strategic partnerships. What products or services integrate well with your own?
Let's say that you own a business that sells customized birthday cakes. Your business's social media analytics reveals that one of your key customer bases is parents planning children's birthday parties. Then, you further learn that these parties are often large events with entertainers such as jugglers and clowns.
You decide to form a strategic partnership with the leading children's party entertainers. When they're booked, their business cards and marketing materials mention your business, and vice versa. You build a business because all the attending children's parents see your products and services and know where to go for the next party's birthday cake.
What similar strategic partners might work well for your business? If you're not sure, how can you find out? Whether you search social media or do on-the-ground research, finding and building partnerships can help boost your business.
4. Getting to the Inflection Point
Hockey stick growth occurs at an inflection point, where growth suddenly becomes explosive. But how do you get to an inflection point? Getting to the inflection point is not a matter of chance but a result of strategic efforts, meticulous planning, and understanding your target audience.
First and foremost, it's crucial to identify and focus on your core product or service, ensuring it meets a specific need in the market. Once you've nailed your offering, you can invest in creating a robust feedback loop with early adopters. Their insights can be instrumental in fine-tuning your product and strategy. Simultaneously, you'll want to keep an eye on market trends and shifts — positioning your business to be at the right place at the right time.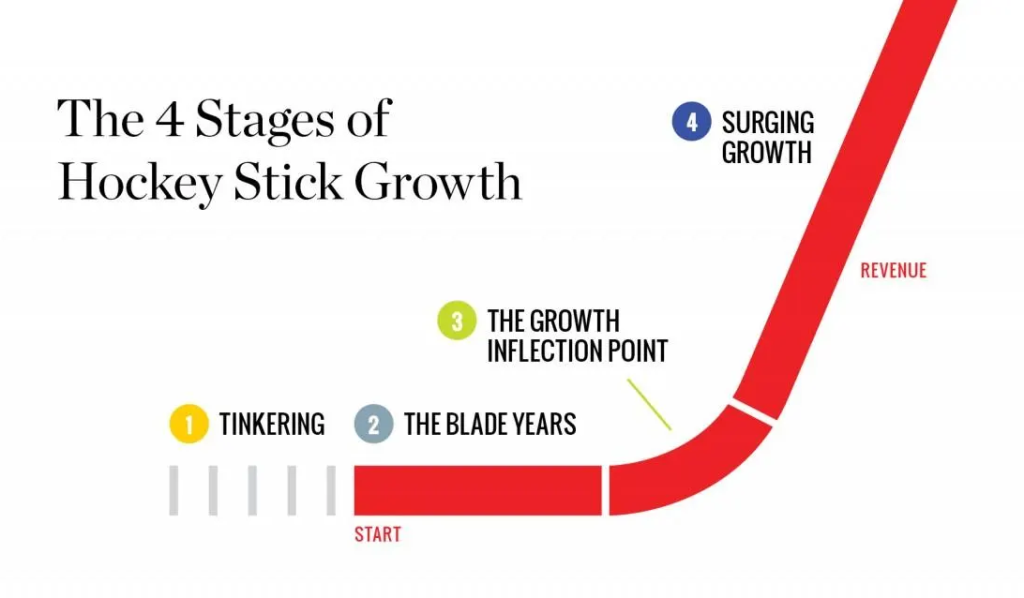 Don't forget: Collaborative partnerships can also play a role in reaching that pivotal moment faster. By aligning with complementary businesses or influencers in your industry, you can amplify your reach and impact. But don't underestimate the power of scalability. As your business grows, ensure your operations, team, and infrastructure can handle rapid expansion.
Keep reading to learn more about product improvement and other growth strategies that can help you get to the inflection growth point in your hockey stick trajectory.
With a time-proven business model and marketing strategy, franchising is becoming an increasingly popular option for a reason. Discover the Top Five Franchise Industries and Industry Trends.
5. Product Improvement
One strategy is to continuously improve your products. Find out what your customers like and do more of it, or find out their pain points and eliminate them, or both.
The original appeal of Netflix is a case in point. Currently, most people know Netflix as a streaming giant. But Netflix began in the pre-streaming era when folks wanting to watch a movie at home rented videos from brick-and-mortar stores. Netflix's competitors early on were stores where videos could be rented. These stores were only open during certain hours, of course, rented videos for only a few days, and often charged fees for late returns.
Enter Netflix. They relieved customer pain points in several ways. First, they provided video rentals through the mail. (No more requiring customers to travel and timely return rentals at an on-site location.) Second, they established that videos could be returned at any time with no late fees. The result? Their competition was decimated (Netflix's success was an extinction event for video stores). Netflix was on its way to becoming a major company. They continued to innovate by eventually pioneering the stream-directly-into-home service they are now known for.
The story of Netflix's success highlights the power of continuous product improvement. By understanding customer preferences and pain points, businesses can evolve their offerings to better meet customer needs, leading to significant growth and market dominance.
6. Find Your Growth Engine and Double Down
One of the best strategies for fueling growth is simply to find out what's driving your sales and do more of it.
Let's say your business is a mobile truck that dispenses frozen yogurt. One of your scheduled stops is near a park. Children and their parents stream out at one point, and 80 percent of them buy frozen yogurt from you. You find out that the park offers swimming classes, and you arrive near their end by accident. What do you do?
First, you can figure out the schedules for these activities — and adjust your schedule to hit the end of all of them! Then, you can ratchet up the number of parks you visit, with your timing keyed to the end of all children's activities and their walking out of the park. Remember, how and when you position your business can be a game changer in boosting your revenue.
10 Effective ways to Find Your Growth Engine
Target Specific Events. Identify local events, festivals, or gatherings that align with your product or service and strategically position your business nearby to attract event attendees.
Collaborate with Complementary Businesses. Form partnerships with businesses that offer complementary products or services. Cross-promote each other to tap into each other's customer base and increase revenue.
Offer Special Promotions. Create time-limited or exclusive promotions to incentivize customers to make purchases. Limited-time offers can create a sense of urgency and drive sales.
Implement Loyalty Programs. Establish a loyalty program to reward repeat customers. Encourage customer retention by offering discounts, freebies, or exclusive perks.
Expand Online Presence. Utilize social media platforms and create an online store to reach a broader audience and increase sales beyond your physical location.
Explore Delivery and Catering. If applicable, consider offering delivery services or catering options to reach customers who may not visit your physical location regularly.
Participate in Local Events. Engage with your community by participating in local events, sponsorships, or charitable activities. Building a strong local presence can boost your brand image and attract loyal customers.
Leverage Data Analytics. Use data analytics to gain insights into customer behavior, preferences, and purchasing patterns. This information can help you make data-driven decisions to enhance your business strategy.
Encourage Referrals. Offer incentives for customers to refer their friends and family to your business. Word-of-mouth marketing can be a powerful tool for generating new customers.
Introduce New Products or Services. Continuously innovate and introduce new offerings to keep your customer base engaged and attract potential customers with exciting updates.
Remember: To find your growth engine, you may need to experiment and adapt your business model. You'll want to continuously monitor the results of your strategies — and be prepared to adjust your approach based on customer feedback or market trends.
7. Dealing with Rapid Growth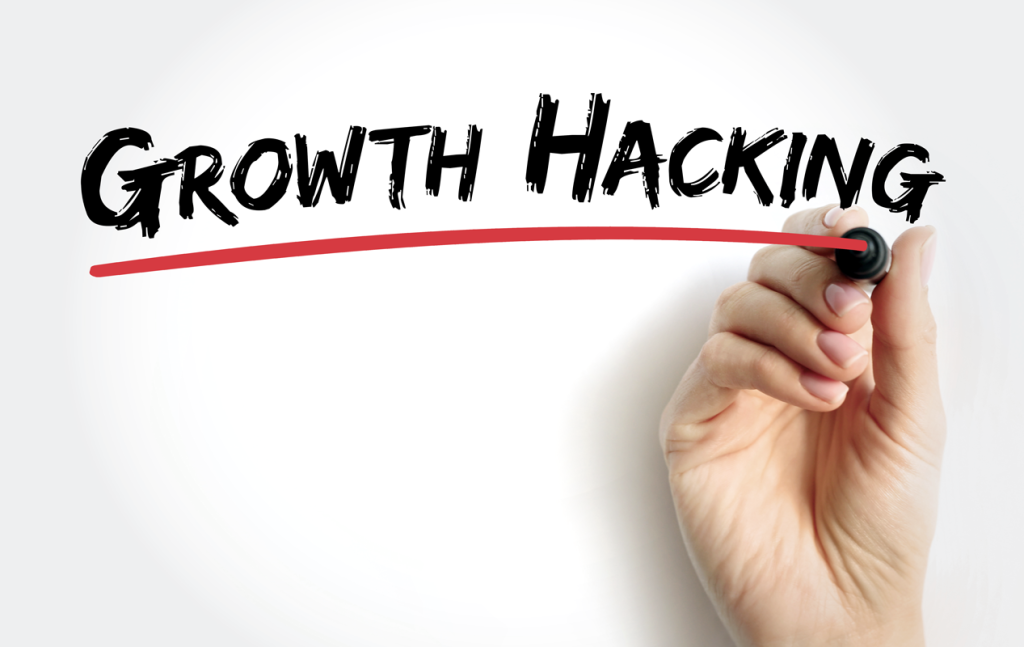 Small business owners tend to think of rapid growth as an unalloyed good. It certainly can be — no business survives without sales, and more sales are usually positive. But rapid growth can have drawbacks.
First, dealing with rapid growth will likely take up a lot of time. You may suddenly need much more of the product or service your customers want. You could be in a scramble to obtain more supplies, more workers, or more outlets.
That can take time away from activities that may seem less pressing but are also crucial for the long term, such as strategic planning, building a strong infrastructure, paying attention to the economic and administrative nuts-and-bolts, and more. If these are neglected, your business can suffer down the road.
Second, rapid growth can destroy a business with its pace. The hockey stick grows as you reach more and more customers. But at some point, almost all products and services will reach a customer saturation point. When that happens, you'll need to pivot to a new product or set up your business for sustainable growth at less of a rapid pace.
One final note: When considering hockey stick growth, consider whether your business model is a viable candidate for it. Not all businesses are!
For example, let's say your customers are home builders installing security systems in new houses. That means your business depends on new homes being built. New house construction may fluctuate, but it's generally not at a high pace. In this case, your best bet is to aim for sustainable growth — not growth whose chart will look like a hockey stick. A good rule of thumb is diversifying your customer base and income streams to support times of slower growth.
Get the latest insights and learn about up-and-coming industries, key challenges, and top business plans for small business owners across the U.S. this year in Top Trends and Challenges Facing Small Businesses.
Grow Your Business with Guidant
If you're looking to grow your business, you may have multiple needs — including financing for expansion. At Guidant, our term of financial experts can help you plan your business funding with all types of financing strategies, ranging from traditional small business loans to alternative methods such as 401(k) business financing.
Whether you're looking to fund your business hassle-free or support your business with affordable services tailored specially for small businesses, Guidant can help. Call us today at 425-289-3200 to set up your free, no-pressure business consultation or learn more about our services!
Call us today at 425-289-3200 for a free, no-pressure business consultation to get started — or pre-qualify in minutes for business financing now!
---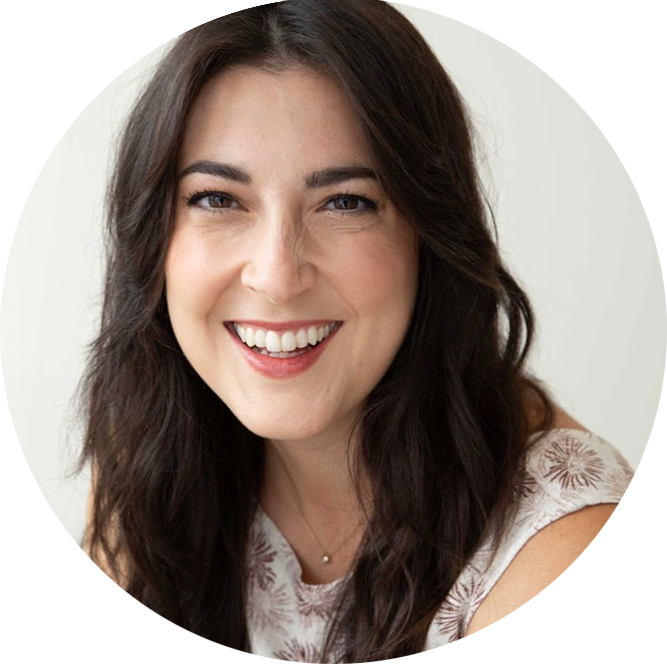 "I knew that I needed a funding partner that would be a reflection of the community we are trying to serve — and that is really where Guidant shines."
— Daniella Cornue, Le Village Cowork