Have you heard of Juneteenth? Does your small business already celebrate this national holiday? If you'd like to learn more about Juneteenth — and how it fits into the world of small business — this article will get you started.
Despite its significance, Juneteenth is an often overlooked event in our nation's history though being widely celebrated since the late 1800s. In fact, Juneteenth was only declared a federal holiday in 2021. Keep reading to explore some of the history and importance behind this holiday for all Americans and small businesses.
This year, Juneteenth lands on Monday, June 19th. Entrepreneurs and small business owners can take steps to honor Black history, celebrate progress, and promote diversity and inclusion. As a small business owner, celebrating and acknowledging the significance of this day is a great idea for your business, employees, customers, and community.
What is Juneteenth?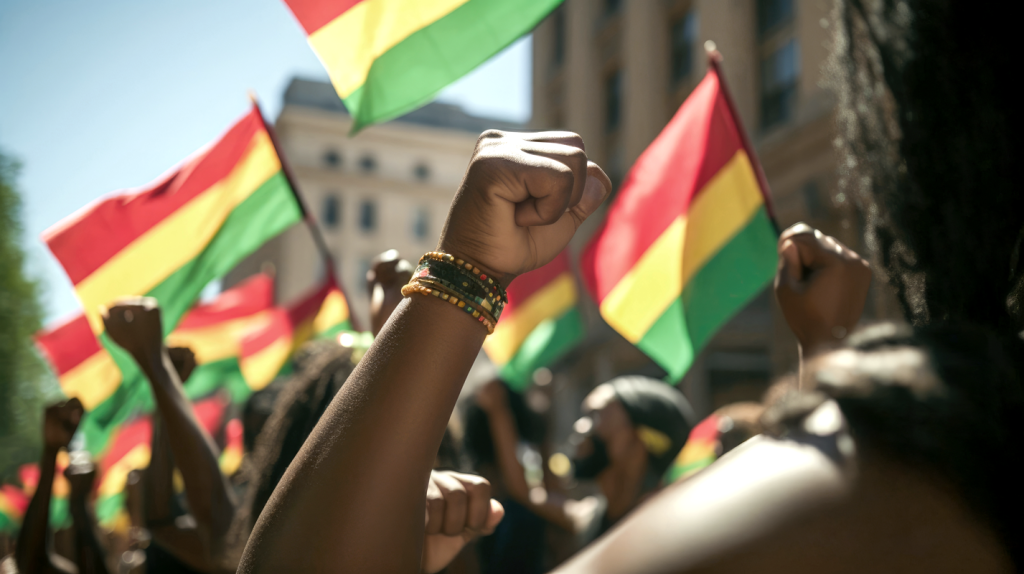 Before moving on, let's look at Juneteenth's history. The first Juneteenth took place on June 19th, 1865 — over 158 years ago — after President Abraham Lincoln signed the Emancipation Proclamation. On that day, Union troops arrived in Galveston Bay, Texas, with news of freedom — and more than 250,000 African Americans embraced freedom by executive decree in what became known as "Emancipation Day," or "Juneteenth."
Since 2021, Juneteenth has been a U.S. federal holiday recognizing the anniversary of the day when Black American slaves were freed. While the Emancipation Proclamation occurred in 1863, the last group of slaves wasn't freed until 1865. According to Harvard Business Review, some historians consider June 19th the true Independence Day, stating that "July 4th, 1776, symbolizes the day when white Americans became free. Enslaved black Americans did not." Others consider Juneteenth a second Independence Day.
Juneteenth not only commemorates the emancipation of enslaved African Americans — but has now become a symbol of the ongoing struggle for racial justice and equality. The Black Lives Matter movement, born out of a need to address police brutality and systematic racism, ignited change. In the wake of the nationwide protests against police brutality in 2020, the push for federal recognition of Juneteenth gained new momentum. Congress quickly pushed through legislation in the summer of 2021, eventually declaring Juneteenth as a federal holiday once and for all. Learn more about the history of Juneteenth and how it became a national holiday here.
Juneteenth is also sometimes known as "Freedom Day," "Jubilee Day," "America's Second Independence Day," or "Liberation Day." Whatever you call the holiday, know it's a significant part of American history — and a time to honor Black history and elevate Black-owned businesses.
Celebrating Juneteenth
Juneteenth is a day of celebration and togetherness, often observed by gathering with family and friends. It's a time to come together with loved ones and celebrate the freedom the day stands for. Across the U.S., Juneteenth celebrations and traditions include public readings by authors such as Maya Angelou, outdoor reunions and street fairs, and singing and dancing.
Businesses around the U.S. recognize Juneteenth and honor Black history on this day. To commemorate Juneteenth, organizations large and small are giving employees a day off or offering a floating holiday to celebrate, learn, and honor Juneteenth. For many companies focusing on Diversity, Equity, and Inclusion (DEI), this is a great holiday to discuss in conversations and work groups.
Why Does Juneteenth Matter in Small Business?
This recognition of freedom matters to our collective effort to fight for equity and justice for all. So, if you're a small business owner who takes time to honor Juneteenth, you're showing your employees, customers, and community what you value.
10 Ways to Celebrate Juneteenth for Small Businesses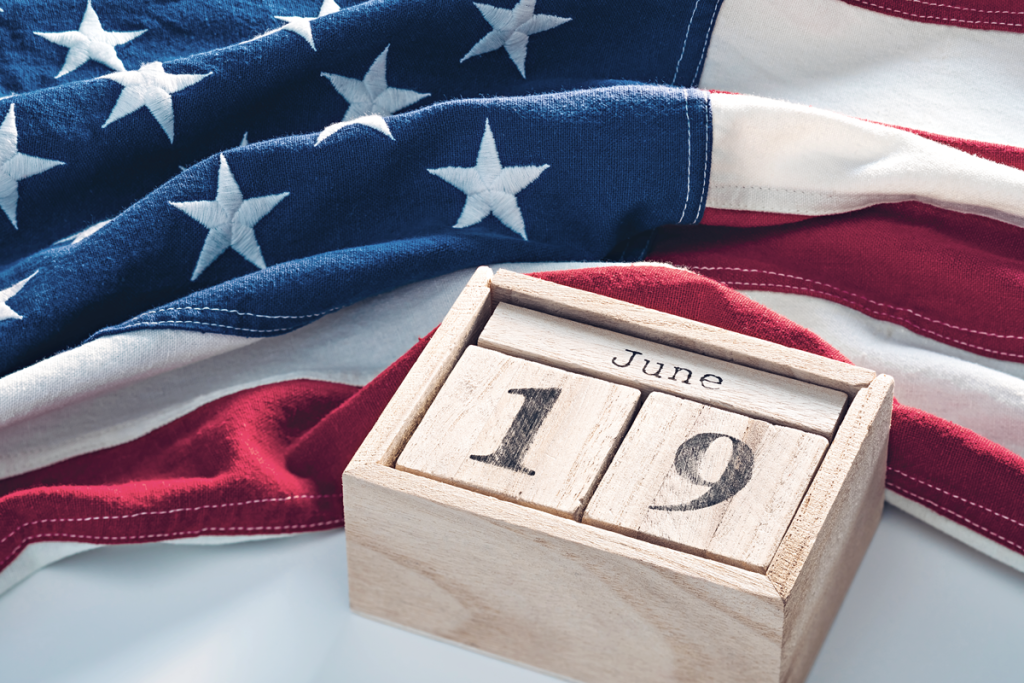 Love the idea of celebrating Juneteenth — but aren't sure where to start? Here are ten ideas to get you started:
1. Celebrate with Events
There's no better way to bring the community together and honor Juneteenth than by hosting an event at your store or place of business. It could be anything from a cultural showcase featuring local artists, a pop-up market for other Black-owned businesses, to a meet-and-greet where people can connect and share their stories. See the 6 Do's and Don'ts for Engaging in Juneteenth Conversations.
The key is to make it a celebration of freedom and Black history. You can host educational or more fun events honoring Juneteenth — whether online or in-person — and promote the holiday on social media channels. You can also find virtual or local Juneteenth events to join or get inspiration from. Here are some fun virtual ones coming up:
See more online Juneteenth events from EventBrite here.
2. Provide a Company Holiday
Let your employees decide how best they want to honor Juneteenth. Bigger businesses, such as Nike, Best Buy, and Target, continue to observe the day with time off or extra pay, setting a company standard to follow. Your employees may choose to take the day off to attend a community event, or they may choose to stay home and celebrate with friends and family.
Supporting Juneteenth could be as simple as offering your employees the option of a day off or a floating holiday to mark the occasion in their own unique way.
3. Support, Share, and Collaborate with Black-Owned Businesses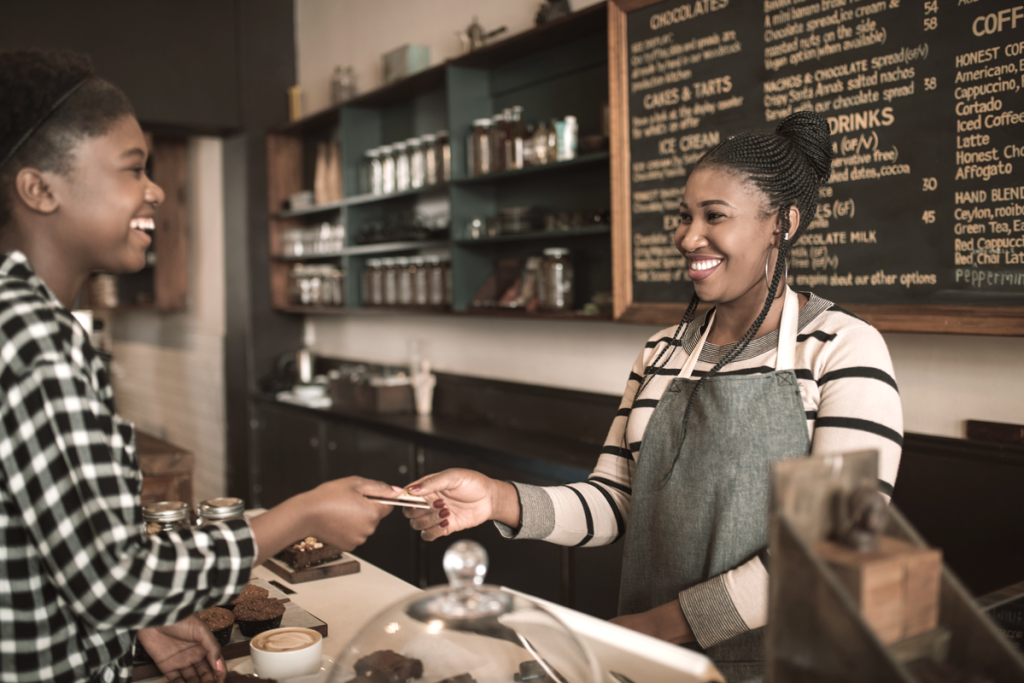 Now is an especially great time to feature, collaborate with, and support Black-owned businesses. Small businesses can partner with Black-owned businesses for special promotions, events, or joint marketing initiatives that honor and celebrate the day's historical significance. These partnerships not only showcase your commitment to an inclusive community — but also enrich your service offerings and attract a wider customer base.
Supporting Black-owned businesses with your own business is another great idea. Remember: Writing reviews and sharing their businesses on social media can go a long way, too! See 150+ Black-owned businesses to support in 2023 and beyond.
Check out the Top 5 Best Black Entrepreneur Grants and Resources for Black entrepreneurs seeking extra support.
4. Honor Non-Profits & Charities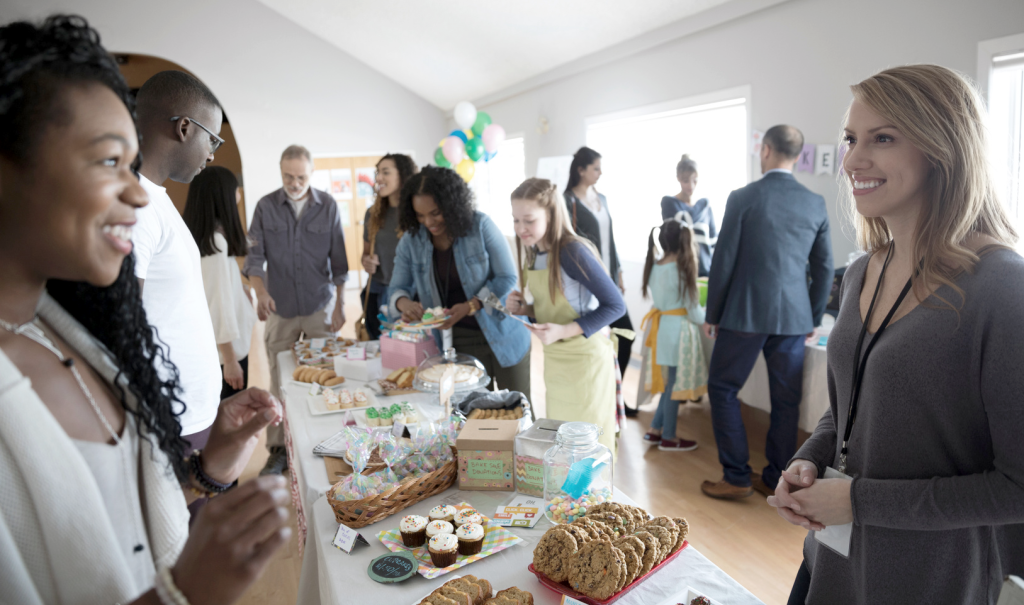 Try supporting a local charity or nonprofit — or organizing a fundraiser or donation drive to support a cause related to social justice. Historically, charities and nonprofits have played a critical role in the upliftment and empowerment of Black communities, providing the necessary services and resources to work toward equity. When we donate to these organizations, we're acknowledging and contributing to their important work.
If you're a small business, consider organizing a fundraiser or donation drive for a charity that supports social justice, which gives these causes financial support and raises awareness. For example, you can encourage your customers to donate by offering a discount or special promotion for those who show proof of their donation.
In choosing a charity to support, you may want to consider its mission, the work they do, and its impact. You might support charities that provide scholarships for Black students, advocate for social justice and equality, support Black entrepreneurs, or provide services for underserved Black communities. Here are some charities you can donate to in honor of Juneteenth from the Better Business Bureau.
5. Create a Positive Work Culture
Diversity, Equity, and Inclusion (DEI) initiatives have emerged as valuable tools for fostering an equitable work environment. If your organization hasn't implemented a DEI initiative, it's never too late to start! Creating an inclusive and diverse workplace is an ongoing process — and one that benefits your employees and your business as a whole.
Implementing DEI initiatives is a deliberate and intentional action. It involves assessing current workplace demographics, practices, and attitudes. It often involves setting measurable goals, developing comprehensive policies, and providing DEI training. Such initiatives can range from bias training workshops and diverse hiring practices to equitable promotion policies and creating Employee Resource Groups (ERGs). Here's How to Create Employee-Resource Groups at Your Business from Business Insider.
Remember: Building an inclusive and diverse work environment isn't just about ticking boxes or meeting quotas. It's about fostering a work culture that respects and appreciates differences, advocates for fairness, and ensures everyone has an equal opportunity to succeed. By integrating DEI initiatives, small businesses can unlock a wealth of talent and innovation, improve employee satisfaction, and help uplift the markets they serve. See Diversity Initiatives: How Small Businesses Can Walk the Walk and Keep Pace with Enterprises.
Ready to level up your workforce? Here are 6 Steps to Building an Inclusive Small Business Team.
6. Share Your Personal Story and Uplift Others
As a Black American entrepreneur, telling the story of your lineage, principles, and personal journey can deeply resonate and inspire others. Equally important is using your platform to elevate diverse voices in your company and the larger community.
Let your business's platform be a stage where the stories of your team members and local trailblazers are spotlighted and celebrated. Remember: You never know who you might inspire. This is also a great time to share and uplift the stories of your diverse team members or entrepreneur friends.
Looking for inspiration? Here are five inspiring stories of Black Business Owners Making Waves in small business.
7. Practice DEI Year-Round
While honoring Black Americans and their significant contributions on Juneteenth is important, don't forget to extend this recognition beyond a single day. Real and meaningful change requires the consistent integration of diversity, equity, and inclusion practices into your workplace throughout the year.
Practicing DEI is a continuous journey that involves supporting the underrepresented, building an inclusive culture, and providing equal opportunities for growth and development. By leveraging available resources and collaborating with others, businesses can actively support the upliftment of marginalized communities. See why Forbes Business Development Council members say DEI is integral to business success.
8. Work for Social Justice
Whether it's a campaign or post on social media, or in person, you can get involved in social justice efforts by volunteering your time and expertise. Visit Juneteenth.com for ideas of organizations you can get involved with or read more about how to support the holiday.
9. Avoid Using Juneteenth to Sell
Keep in mind that "Freedom Day" is not an occasion aimed at boosting your profit margins. If you choose to keep your office, store, or place of business open on Juneteenth, consider holding a celebration or event to honor Juneteenth. Juneteenth.com suggests decorating or hosting an opportunity for music, singing, or reading with light refreshments for attendees. Another idea is inviting a speaker knowledgeable about the holiday. Here are nine other Ways to Celebrate Juneteenth at Work for more ideas.
10. Learn and Share with Your Community
Talk about Juneteenth and discover what your friends and coworkers know — or don't yet know — about this holiday. Share resources about Juneteenth, such as videos, books, and articles. Here are some great resources you can explore and share:
Embracing History, Inspiring Change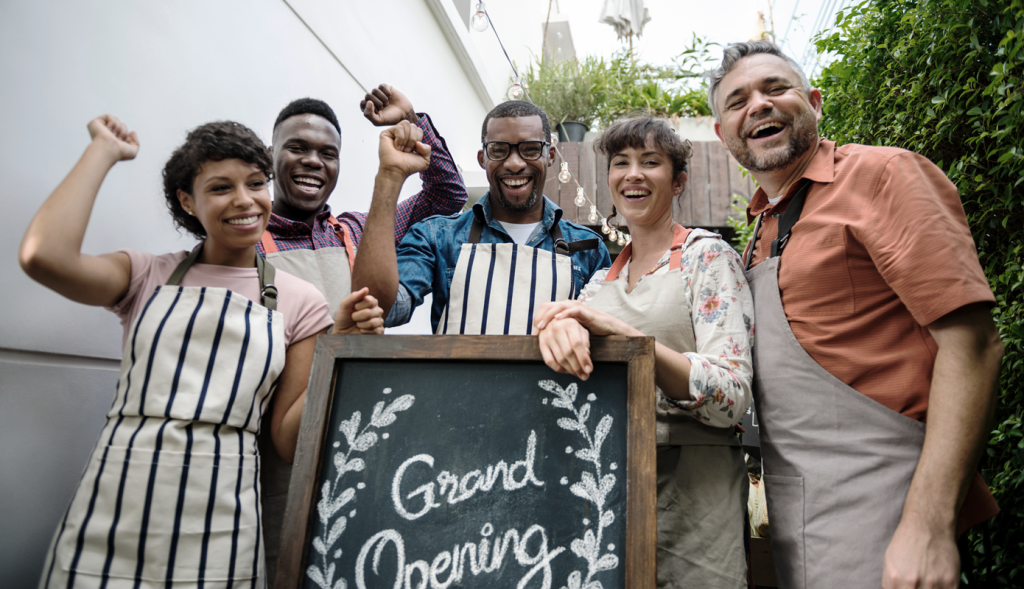 Now that you know more about Juneteenth, you're ready to celebrate this year's holiday. Whether you choose to host or join an event, don't also forget to celebrate the day with your loved ones, honoring what Juneteenth stands for: Freedom and togetherness.
Remember that you can choose to celebrate in small or big ways, and you don't have to do everything this year. You can start by learning more about the history behind the holiday and supporting local Black-owned small businesses or maybe even joining an event or two. Who knows? You might be inspired to host your own event next year or start your own business fundraiser — and make lasting connections.
Your Partner in Small Business
Your business might be small, but your needs aren't. As one of the leading small business financing partners in the industry, Guidant knows every small business is unique. That's why Guidant offers a suite of services and plans tailored to meet your every small business need — whether that be Business Financing, Payroll, Accounting & Tax, or HR. Remember: Starting or running a business doesn't have to be stressful. And you don't have to do it alone.
At Guidant, you'll have a team of experts to support you through every stage of your small business. We're here to save you time, money, and frustration — so you can focus on building the business of your dreams. Call us today at 425-289-3900 for a free, no-strings-attached business consultation to get started.
Call us today at 425-289-3200 for a free, no-pressure business consultation to get started — or pre-qualify in minutes for business financing now!
---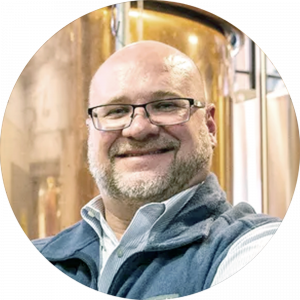 "I owe a sense of gratitude to Guidant for helping me get here. It was a turning point for us moving forward."
— Stephen Such, Falling Sky Brewing