Women in Business – 2020 Trends
A look at Women-owned businesses in 2020
2020 Trends for Women in Business
To learn about small business and its future, Guidant Financial became a founding member of the Small Business Trends Alliance (SBTA), a group of companies dedicated to supporting small businesses with data trends and insights. To achieve this goal, Guidant Financial and SBTA companies surveyed over 3,100 small business and franchise owners nationwide.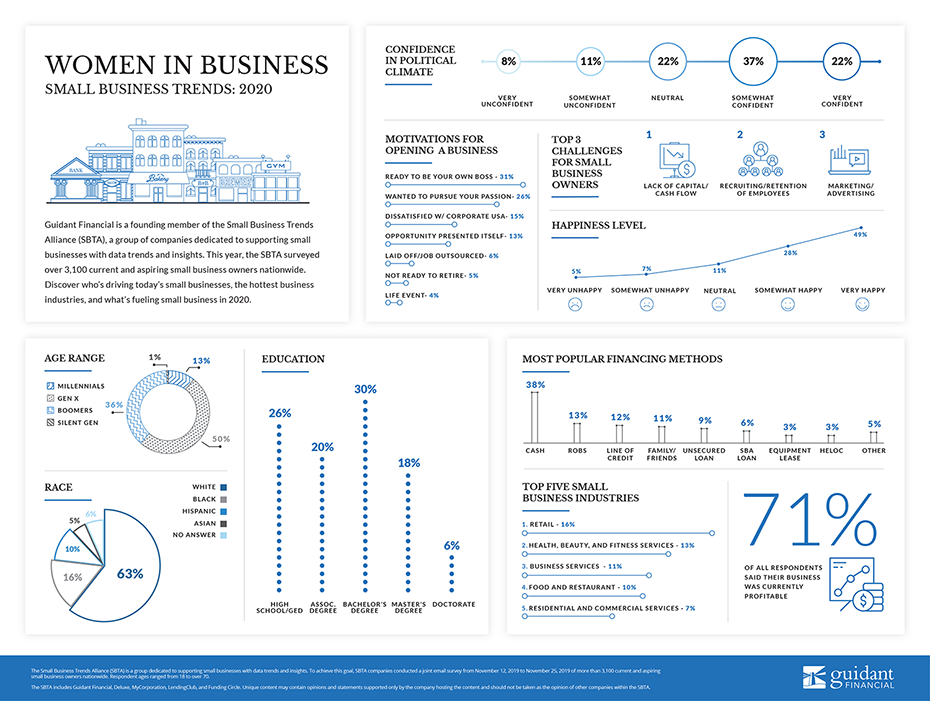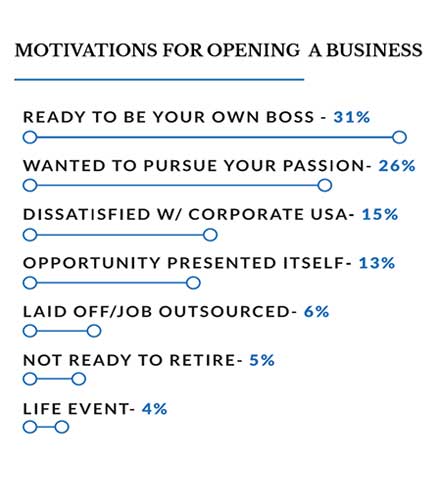 For this report, we dove into what women who own and operate their own businesses or franchises say about current business trends – from their biggest obstacles to their future outlook.
Twenty-seven percent of all small business or franchise owners are female, according to this year's Small Business Trends survey results. The number of women who own their own businesses has been growing (albeit slowly); this is a four percent increase year over year.
Compared to the average small business owner, women who start their own business do so for a wider variety of reasons. While more than half of average business owners (55 percent) are motivated to open a business to be their own boss, just 31 percent of women share in that motivation. Twenty-six percent of female small business owners started their own business to pursue their passion, while 15 percent found dissatisfaction in Corporate America and struck out on their own.
Women who lead small businesses don't vary far from the average entrepreneur when it comes to their feelings about business in today's politics. Women entrepreneurs, on average, rate their confidence about small business in the current political climate as "somewhat confident," as does the average small business owner. Only eight percent of female entrepreneurs feel "very unconfident," while 11 percent feel "somewhat unconfident." Reflecting their confidence in the state of small business, nearly half (49 percent) of women small business owners are "very happy" as business owners, while 28 eight percent are "somewhat happy."
While a lack of capital and/or cash flow continues to be the number one challenge for women small business owners (a trend for over three years), recruiting and retention of employees has moved into the next biggest challenge. Like many business owners in a time of sustained economic growth and historic unemployment rates, female entrepreneurs are finding it challenging to attract and retain workers. Marketing and advertising round out the top three challenges for women small business owners – another long-standing trend.
Compared to the average small business owner, women in business skew significantly younger. Half of female entrepreneurs are Gen X (born between 1965 and 1980), compared to 44 percent of average small business owners. On average, 41 percent of small business owners are Boomers (born after 1965), but only 36 percent of women who own small businesses are part of this age group. Women, however, meet the 13 percent average of Millennial (born after 1980) small business owners, at 13 percent.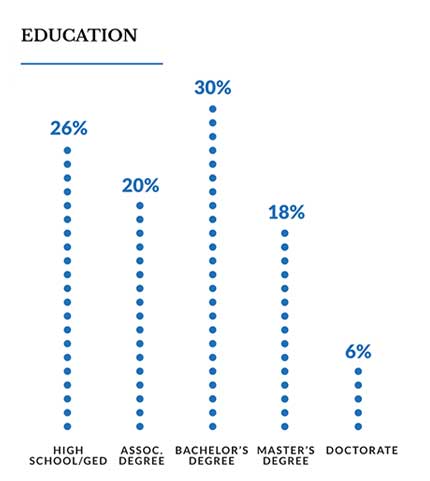 Women small business owners continue the trend of being more educated than the average entrepreneur. Thirty percent of women small business owners have a Bachelor's degree, compared to 17 percent of the average. While female entrepreneurs with Master's degrees match the average at 18 percent, more women do have Doctorate degrees compared to the average, at six percent to four percent.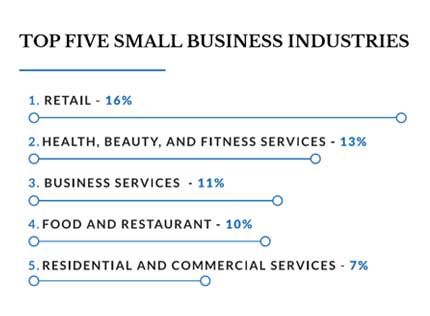 Retail is the most popular industry for women-led small businesses, with 16 percent of respondents owning retail businesses of some type. Health, beauty, and fitness services such as gyms and salons come in next, at 13 percent. Business services such as bookkeeping and CPA services are the third most popular, while food-related businesses and restaurants follow at 10 percent. Finally, residential and commercial services, such as landscaping or property management, come in at the fifth spot at seven percent.
Cash remains the most popular form of small business financing method for women small business owners year over year, at 38 percent of respondents having used cash to start their business. Other popular methods women used to fund their businesses include Rollovers for Business Start-ups (ROBS, also known as 401k business financing) at 13 percent*, a line of credit at 12 percent, and support from friends and family at 11 percent.

Ready to use your retirement funds to start your business?
Don't have any more questions about ROBS? Great, let's get the process started today!